Milan Bergamo Airport, located in the centre of Lombardy,
is only 5 km from Bergamo and 50 km from Milan.
After the inauguration of its civil aviation activities in 1972 with the first passenger flight, it became an
airport of primary importance
from 2003, when Ryanair opened an operating hub here, choosing it as its airport of reference in
northern Italy
. The arrival of
low-cost flights
ensured that
Milan Bergamo
became
one of the
top destinations in Europe
and the
Mediterranean area.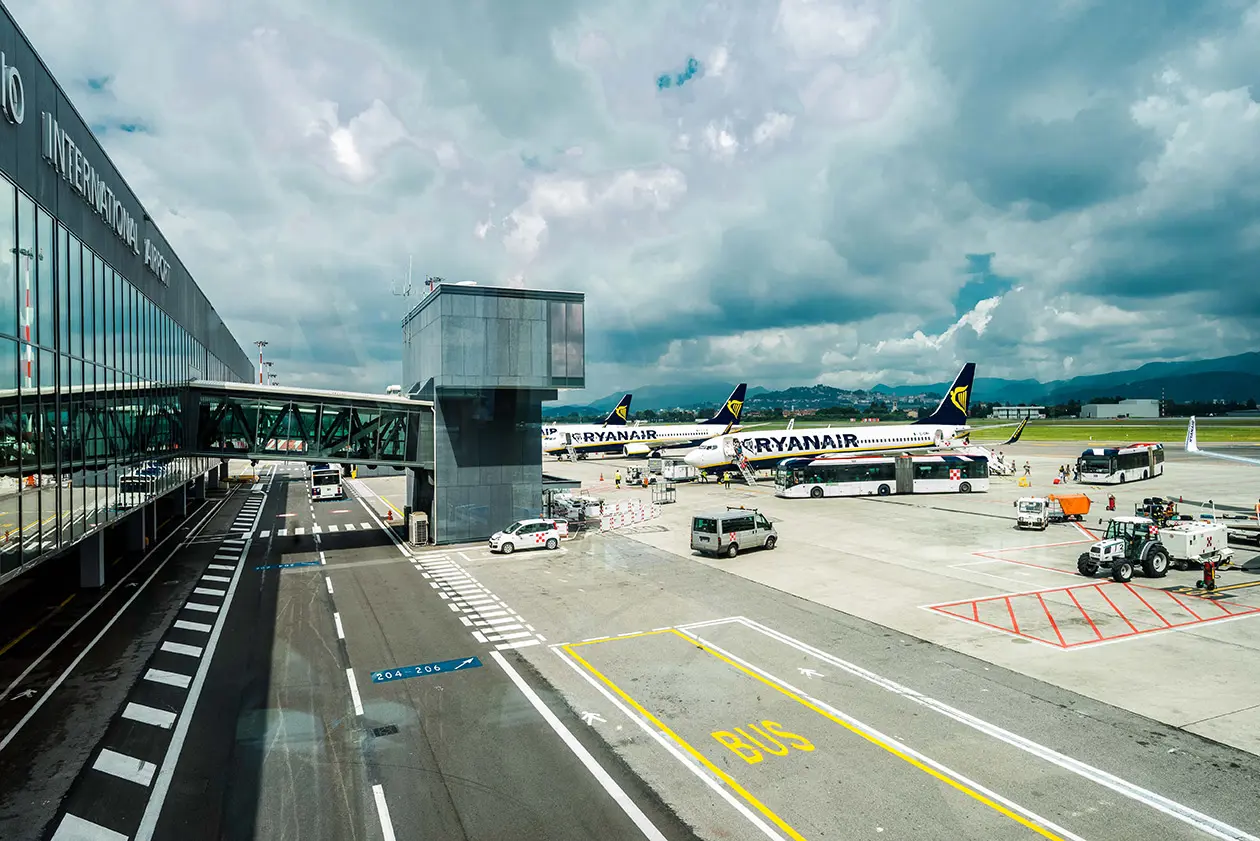 Aircraft apron in Milan Bergamo Airport. Photo: Copyright © Sacbo
The Milan Bergamo Airport is located in the heart of the most interesting
tourist area of northern Italy.
Well-known
ski resorts
, for the winter season, are located a short distance away; the
lakes
, for summer, and many important
Lombardy's art cities
are also found nearby. Due to this fact,
Milan Bergamo Airport
has seen increasing numbers of passengers each year, who are attracted by the easy access, efficiency of operations and a
network of connections
to all areas in
central-southern Italy
and
Europe
.
The new departure area
It is arranged on two levels and covers a total area of 11,600 square metres and on the upper level offers
greater comfort
for passengers
with areas dedicated to many
retail stores
and
refreshment spaces
.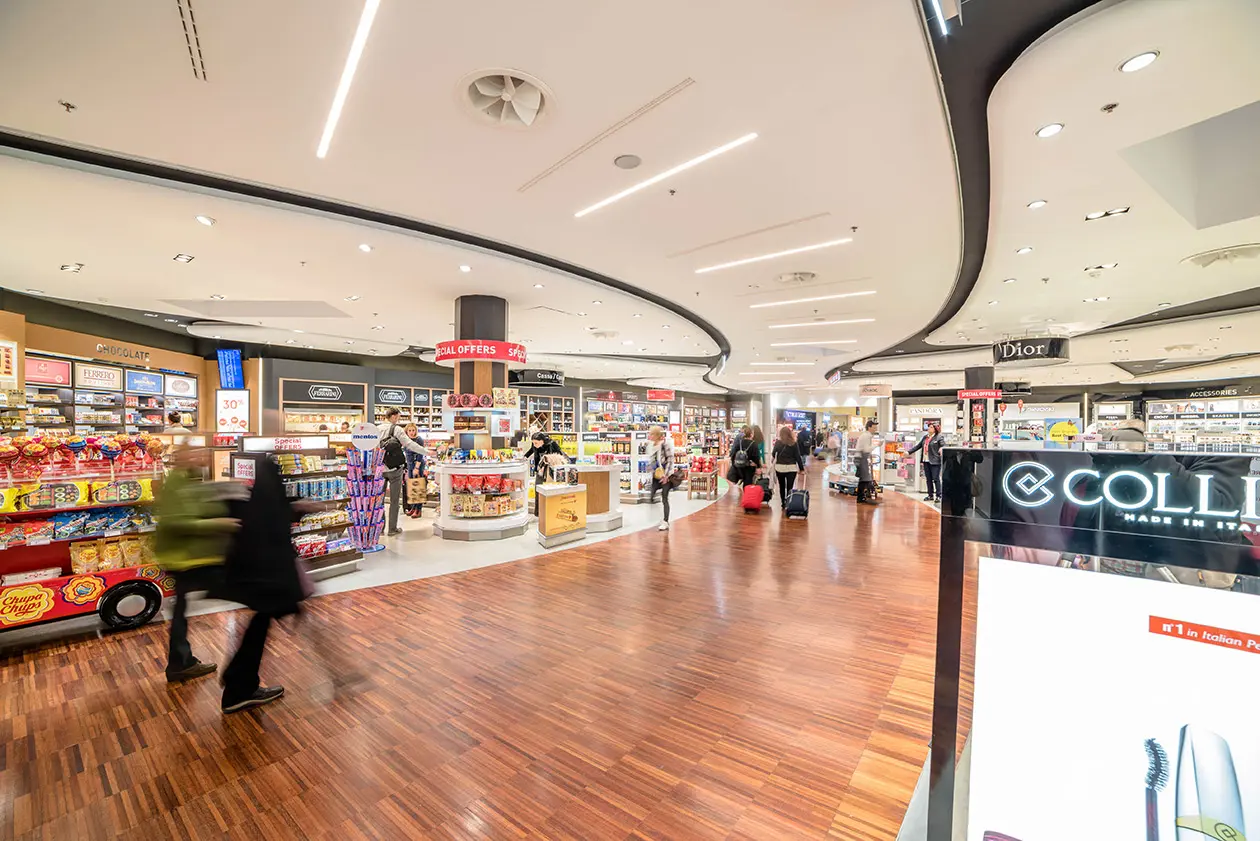 Duty Free in Milan Bergamo Airport. Photo: Copyright © Sacbo
The airport has two VIP lounges: the Check-in Lounge located before the security checks and the new HelloSky Lounge located in airside area, and both welcome areas are equipped with specially designed services for all types of travellers. In HelloSky in particular, a unique experience is offered, a full-service refuge for the traveler who will also have at his disposal a meeting room and the possibility of freshening up thanks to the premium showers in a reserved and clean space before departure. Furthermore, a new service has been activated, the Fast Track Plus, so passengers can use the Check-in Lounge only to carry out check-in operations and subsequently take advantage of the priority passage to security checks through the Fast Track gate, with service active 24 hours, and from here it is possible to reach the boarding area of the terminal faster.
The airport has a functional layout with 14 lanes for security checks and 25 boarding gates, a new "Sala Amica" (special assistance room) for passengers with reduced mobility, and a smokers' area with patio.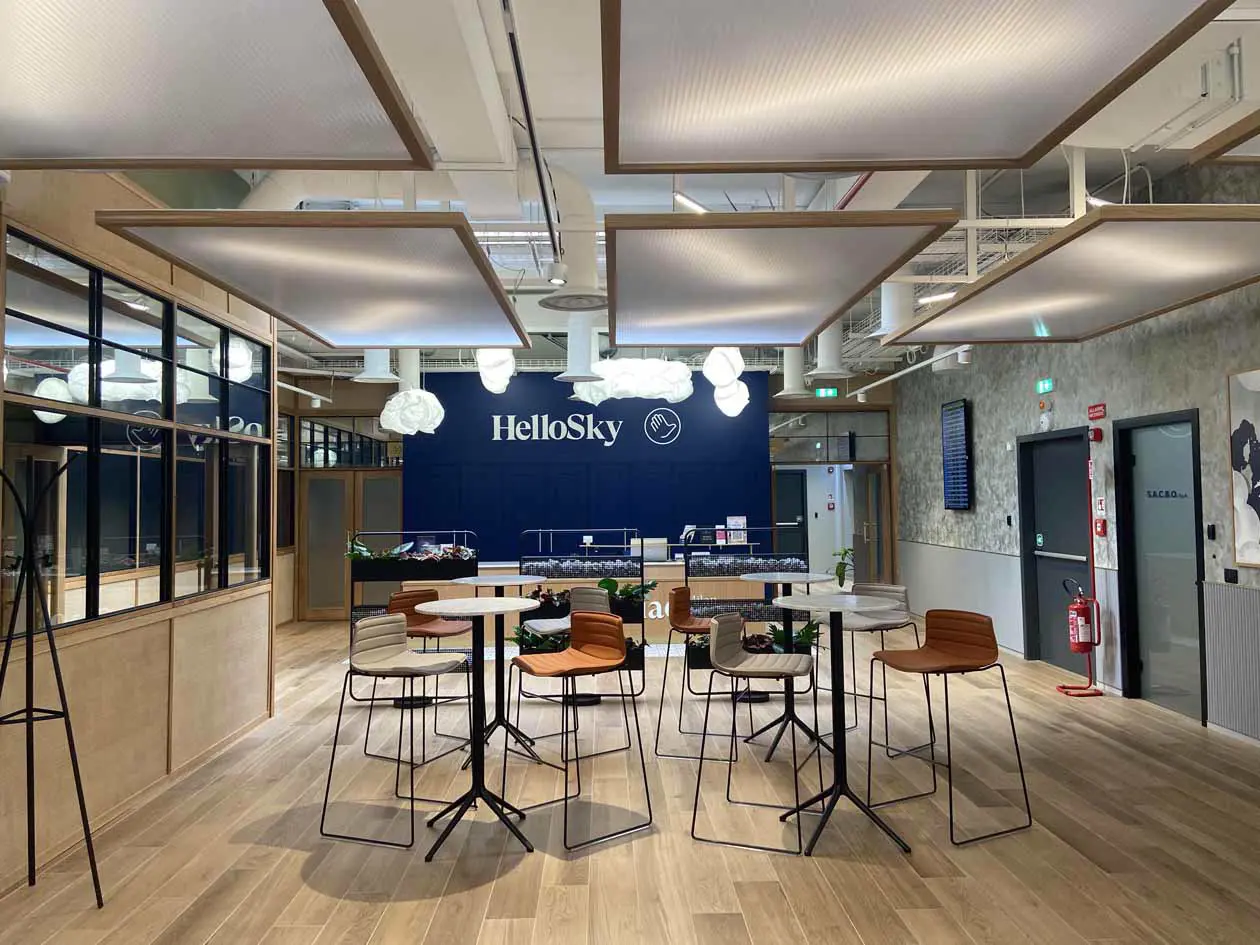 Hallo Sky Lounge in Milan Bergamo Airport. Photo: Copyright © Sacbo
The different areas of the airport
The walls of the departure terminal are covered with large designs depicting luggage label barcodes with the IATA code BGY of Milan Bergamo Airport.
The colour of the code distinguishes the individual areas:
green for the area dedicated to Schengen flights
orange for non-Schengen flights
blue for security check areas
passenger flows while the yellow color characterizes the Food Court.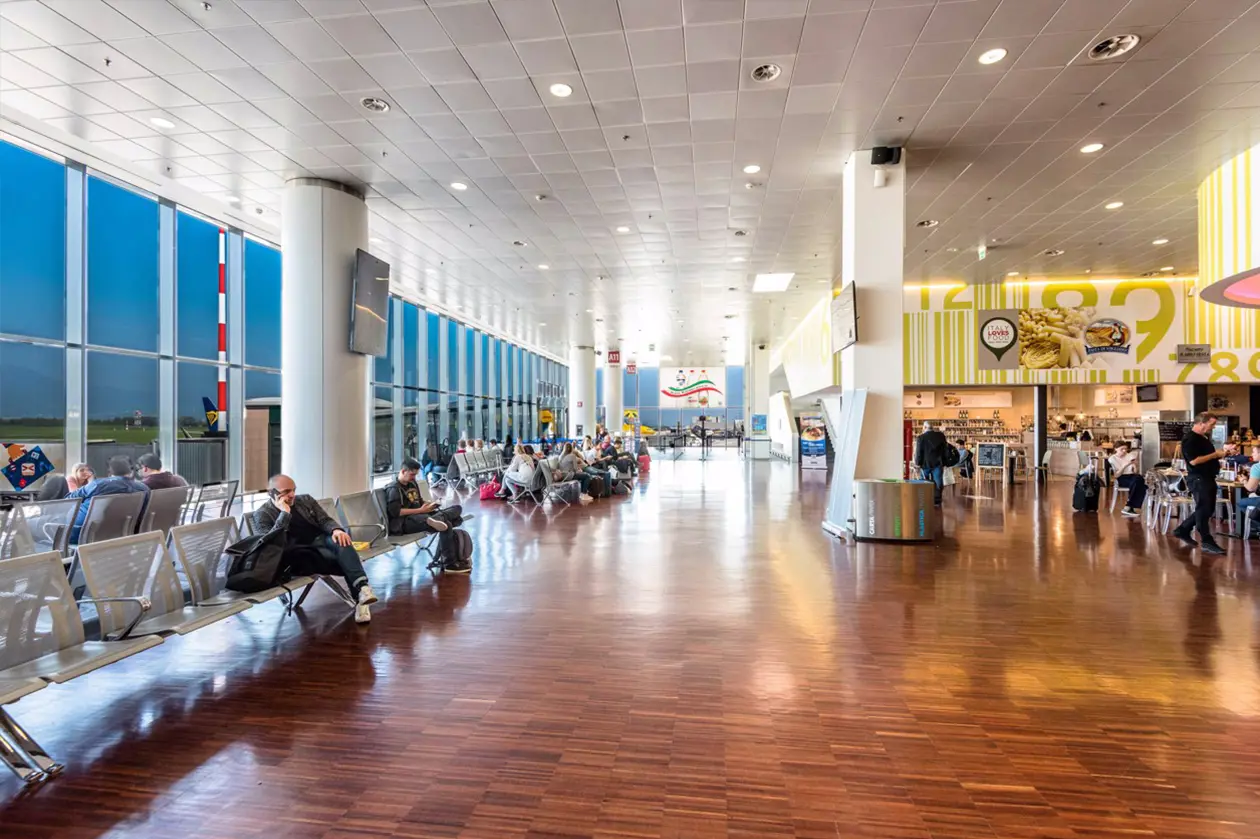 Gate area in Milan Bergamo Airport. Photo: Copyright © Sacbo
The new non-Schengen boarding area of Milan Bergamo Airport includes:
2 new boarding towers
10 new Extra Schengen gates (1 with loading bridge) on two floors
new duty free and food area.

The expansion of the Schengen boarding areas and Arrivals inaugurated on December 15, 2021 includes:
6 new gates for Schengen destinations
new retail and food spaces
expansion of arrivals areas with new baggage delivery belts.
Schengen boarding areas and Arrivals Video: Copyright © Sacbo
INFORMATION
Management company:
SACBO SpA
Address:
Via Aeroporto 13, 24050 Orio al Serio (Bergamo) - Italy
Telephone no.:
+39 035 326323
Website:
www.milanbergamoairport.it
TECHNICAL DATA
IATA Code: BGY
ICAO Code: LIME
Country code: IT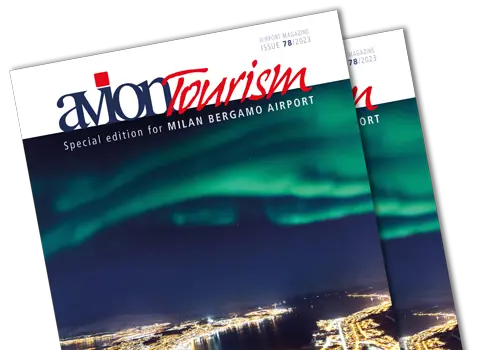 AVION TOURISM AIRPORT MAGAZINE for BGY
read the airport magazine
Discover: Long-haul flights from Milan Bergamo - The Northern Lights - The best tours in the desert of Sharjah - Unforgettable city break in Rotterdam - Serbian cuisine dishes and the flavors of Belgrade.
Transportation to/from the airport
Train
You may arrive at Bergamo Railway Station by train (TreniItalia) and then take the ATB bus service, which, in only 10 minutes, will bring you to Milano Bergamo Airport.
The Milan Bergamo Airport is also connected with the Fair of Milan (Rho-Pero) and Malpensa Airport (with stop at Monza; the journey takes 50 minutes).
Direct bus service to/from Milan Central Station, with over 120 daily departures per direction (duration 60 minutes).
The urban bus connects the airport to Bergamo Station, the center and the old town every 20 minutes.
Bus service (Autostradale, Orioshuttle, Terravision) from the railway stations of Milan (Central Station), Brescia (Autostradale).
Also daily direct bus lines from Milan Bergamo Airport to over 100 destinations including Turin, Venice, Verona, Florence, Perugia, Bari, Genoa, Parma, Naples, Rome, Pisa, Peschiera del Garda, Rimini, Cortina d'Ampezzo, Courmayeur, Lugano, Geneva or Zurich with Flixbus and Itabus.
FlyShi Shuttle transports passengers from Bergamo airport to the following ski resorts: Paganella, Pinzolo, Campiglio, Folgarida, San Martino di Castrozza, Primiero, Val di Fassa, Val di Fiemme, Val di sole, Passo del Tonale, Valle dell'Adige, Alpe Cimbra and Monte Bondone.
Motorway A4 from Milan, Bergamo exit, continue to Orio Al Serio (5 km).
Motorway A4 from Brescia, Seriate exit, continue to Orio Al Serio.
Car Rental
At Milan Bergamo Airport you can find a good choice of car rentals: Autoeuropa/Sicily by Car, Autovia, Avis, Budget, Drivalia, Europcar, Hertz Firefly, Goldcar Interrent, Italy Car Rent, Locauto, Maggiore, Noleggiare, Ok Mobility, Rental Pl7us, Sixt and Viaggiare which are located in the arrivals area.
Destinations found in the vicinity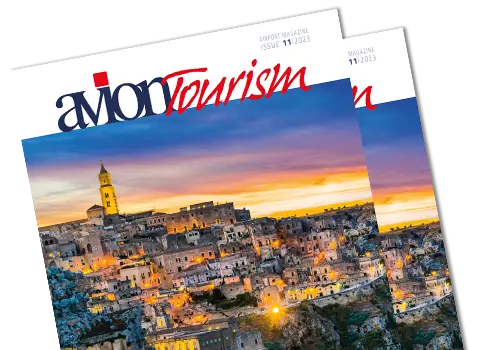 AVION TOURISM MAGAZINE
in digital version
On this issue: The World Heritage Sites of Basilicata and Puglia.