Marrakech Airport is situated about 3 km from the center of Marrakech, and is operated by ONDA which owns a network of 15 airports in Casablanca, Agadir, Marrakech, Tangier, Rabat, Oujda, Fez, Laayoune, Nador, Al Hoceima, Ouarzazate, Errachidia, Dakhla, Tetouan and Essaouira.
The airport has one runways and two terminals: T1 and T2. 
INFORMATION
Management company: National Airports Authority - ONDA and Royal Air Force 
Address: B.P 13201 Marrakech - Morocco
Telephone no.: 080 1000 224.
Website: www.onda.ma
TECHNICAL DATA
IATA Code: RAK
ICAO Code: GMMX
Country code: MA
Flights

Transport to/from the airport
Bus
A bus shuttle service city-airport-city is provided every 20min.
Car
Leaving the airport: direction Marrakech city center. Heading for airport: Essaouira direction.
Taxi
Taxis are available 24 hours a day, seven days a week.
Car hire
At the airport (T1) there are different car rental companies, including: Locasom/Budget, Europe Car, Air Car, Ennasr Car Plus, Ebooking Car Com, Starc Hertz, Scal Avis, Dbilij Car, Location Auto.
Text by Alisè Vitri
Photo: Sisterscom.com, 
Shutterstock
Copyright © Sisterscom.com
Updated September 2018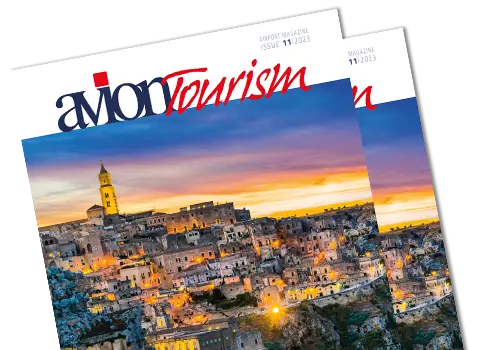 AVION TOURISM MAGAZINE
in digital version
On this issue: The World Heritage Sites of Basilicata and Puglia.