Preparations for the construction of Luqa civil airport of Malta started in 1956 and it was inaugurated in 1958 and then renovated in 1977 with a longer runway and an extension of the air teminal for the continuous increase of air traffic. In 1987 a new air terminal along Park 9 was built and inaugurated  in record time 29 months later, in 1992. Malta International Airport became fully operational on March 25, 1992, and the old Luqa airport terminal was effectively closed down after 35 years. In 2002, the Government of Malta sold 40% of its equity to the Malta Mediterranean Link Consortium Ltd. and a further 40% to the general public that opening a new chapter for MIA as it is now a fully-fledged privatised company.

INFORMATION
Management company: Malta International Airport plc.

TECHNICAL DATA
IATA Code: MLA
ICAO Code: LMML
Country code: MT
Flights


Transportation to/from the airport
Bus
Public Transport in Malta is operated by Arriva Malta. There are four airport express services, X1, X2, X3 and X4. These routes make it easier to get directly to and from the airport.
Malta Transfer is the official Airport Shuttle Service offering airport to hotel shuttle service throughout Malta and Gozo. passengers can avail of a fixed price when booking on-line via the web site of the airport. Alternatively one can also book the service upon arrival at the booking desk located in the baggage reclaim area.
Taxi
Taxi service is available 24 hours a day from Malta International Airport to any destination in Malta. Fixed rates are applicable and pre-paid tickets can be purchased from the ticket booth inside the Welcomers' Hall on Arrivals.
Car hire
Upon exiting the Baggage Reclaim Area, into the Welcomers' Hall there are the Car-Rental desks where you may collect the keys for pre-booked vehicles. If no arrangements have been made beforehand, you may rent a vehicle at one of the desks.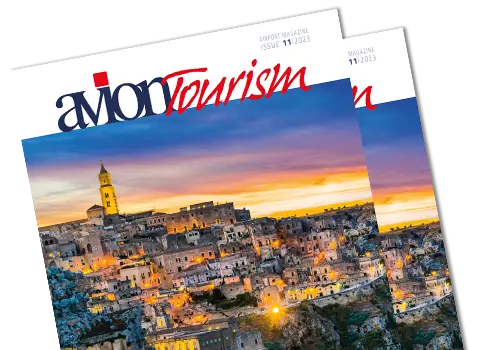 AVION TOURISM MAGAZINE
in digital version
On this issue: The World Heritage Sites of Basilicata and Puglia.