The Sal Airport,"Amilcar Cabral", is the main port in the country and landing point for carriers operating between Europe, South America, Africa and North America.
The International Airport "Amilcar Cabral" is located on the Sal Island and has a runway of 3.270 meters. Is located approximately 5 minutes from Vila de Espargos and about 20 minutes from Saint Maria. In addition to international flights, the airport is also used for all flights between the islands of Cape Verde and is the largest airport infrastructure Cape Verde.
INFORMATION
Management company: Asa - E.P., Empresa Nacional de Aeroportos e Segurança Aérea
Address: Espargos - Sal Island - Cape Verde
Telephone no.: (238) 241 13 72
Website: www.asa.cv
TECHNICAL DATA
IATA Code: SID
ICAO Code: GVAC
Country code: CV 
Flights

Transportation to/from the airport
Taxi
Taxi service is available to/from the airport for each destination on the island of Sal.
Car hire 
You can rent a car at the airport. To know the rental companies available at the airport it is advisable to contact the airport.
Destinations found in the vicinity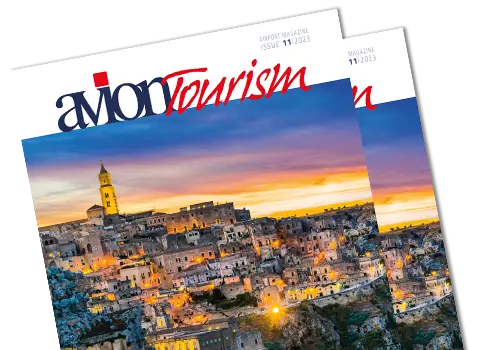 AVION TOURISM MAGAZINE
in digital version
On this issue: The World Heritage Sites of Basilicata and Puglia.