Pantelleria Airport was built in the second half of the 1930s as a military stronghold to guard over a strategic geo-political point in the Strait of Sicily.
After World War II, the Americans restored the airport, which at the end of the 1940s was equipped with two runways. To bring the second runway to its current dimensions, between 1976 and 1982 work was carried out to resolve irregularities in the land, even by excavating a hill to allow aircraft of larger dimensions to land.
In 1976, work was carried out to construct the previous terminal, which was decommissioned in 1989 when construction of the present terminal began, which was finished in July 2012, the date on which the new airport of the Pantelleria Island was inaugurated.
Pantelleria Airport
is managed directly by
ENAC Servizi Srl
and has two slopes, one main and one secondary. Since 1999 the G.a.p. S.p.A. operates as a handler, established by a group of local entrepreneurs in 1997 and subsequently Save S.p.A. was added (Management Company also for the
airports
of
Venice
,
Treviso
,
Verona
and Brescia) and also the Municipality of
Pantelleria
.

INFORMATION
Management company: ENAC Servizi Srl
Address: Viale Venezia, 32 - 91017 Pantelleria (Trapani), Sicily - Italy
Telephone no.: +39 0923 911398
Website: www.aeroportodipantelleria.it

TECHNICAL DATA
IATA Code: PNL
ICAO Code: LICG
Country code: IT
Text by Alisè Vitri
Avion Tourism Magazine
Photo visual: Copyright © Sisterscom.com /
Shutterstock
Flights departing and arriving from Pantelleria

Find a flight to and from Pantelleria

Transportation to/from the airport of Pantelleria
Bus
To reach the
airport of Pantelleria
from all the surrounding areas is possible to use the public services.
Bus line: Pantelleria - Airport.
Bus line: Pantelleria - Buccuram - Sibà - Airport.
Bus line: Pantelleria - Kamma - Tracino.
Bus line: Pantelleria - Scauri - Rekale.
Bus line: Pantelleria - Bugeber.

Car
From
Pantelleria
, take Via San Nicola and Via Madonna della Margana. Distance 4 km, 8 minutes journey time.

Taxi
A taxi service is available at the airport.

Car hire
Different local car hire firms offer a car hire service in airport: Car Hire Console, Car Hire Mehari, Car Hire Policardo, Blu Car Srl, Pal's House & Car Rentals and PantelRent.
Destinations found in the vicinity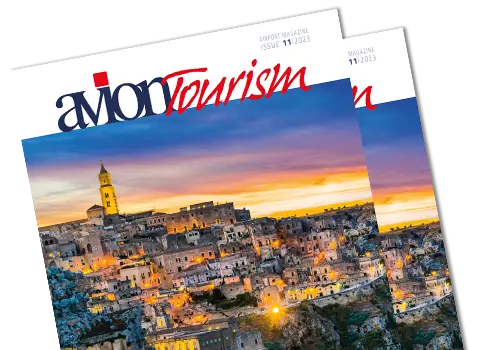 AVION TOURISM MAGAZINE
in digital version
On this issue: The World Heritage Sites of Basilicata and Puglia.