In 1938, Charles II of Romania, decreed the creation of
Craiova Airport
at the current position. From 1972 to 1989, the airport built: the waiting room for passengers, the emission center and the airport lounge protocol. Beginning in 1995,
Craiova
Airport was opened to traffic on domestic and international charter flights. While in 2007, were officially launched the company's flights Carpatair on the route Timisoara-Craiova, to destinations in Italy, Greece and Germany.
Situated at a distance of 7 km from the centre of
Craiova city
, along the Craiova-Bucuresti route, the airport serves the entire Oltenia region, being the closest airgate for the 5 counties: Dolj, Gorj, Mehedinti, Olt and Valcea. The airport has been endowed with separate arrival and departure terminals.

INFORMATION
Management company: Dolj County Council
Airport CRAIOVA
Address: Cl. Bucuresti Street nr. 325 A -
200785 Craiova, Dolj - Romania
Telephone no.: +40 (0)251 416860
Website: www.aeroportcraiova.ro

TECHNICAL DATA
IATA Code: CRA
ICAO Code: LRCV
Country code: RO
Text by Alisè Vitri
Avion Tourism Magazine
Photo visual: Copyright © Sisterscom.com /
Shutterstock
Flights departing and arriving from Craiova
Find a flight to and from Craiova

Transportation to/from the Craiova airport
Metro
Links from the city of Craiova to the airport of Craiova and vice versa.
New Craiovita raseu 9 (Craiovesti) - Center - Metro - New Craiovita
Route 24 (Craiovesti - Metro)
Route 28 (Craiovesti - Cases)
Route 24 (Craiovesti - Castling- Station-Metro)
Station Number 37 (Craiovesti - Metro)
Station Number 39 (Craiovesti - Cases)
Station Number 36 (Craiovesti - Castling- Station - Metro)
Frequent
Days
5:30 to 9:30 p.m. (Craiovesti - METRO) 30 minutes
Nr. 3 Vehicles
Departures: 7:20 and 4:20 p.m. Craiovesti (Craiovesti - Cases);8:00 and 17:00, departures enclosures - Center - New Craiovita
Departures: 6:50 Craiovesti (Craiovesti - Castling - Station - Metro)
Departures: 3:30 p.m. Metro - Castling - New Craiovita
Non-working days: 6:30 a.m. to 8:30 p.m. (Craiovesti - Metro)
Frequency: 30 minutes.
Car
Proceed on road Aeroportului/DC88 Road and then on Calea Bucureşti/DN65 Road Barbu Lazareanu. Journey time: 10 minutes.

Car hire
Avis make a car rental service with Airport Craiova.
Destinations found in the vicinity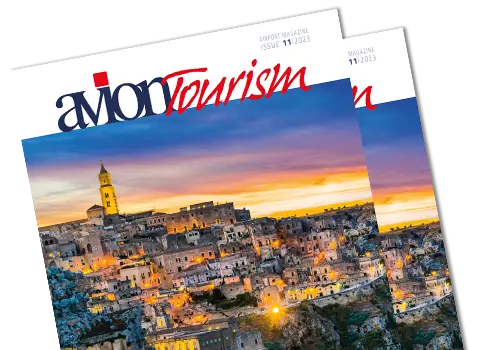 AVION TOURISM MAGAZINE
in digital version
On this issue: The World Heritage Sites of Basilicata and Puglia.