Airport Pyrzowice is located near the town of Pyrzowice about 30 km north of Katowice. 
The structure has two passenger terminals (A and B), one for domestic flights and one for international ones, and a long track 2800 m. The airport, operated by the Górnośląskie Towarzystwo Lotnicze SA, is open to commercial traffic. The Passenger Terminal B, officially put into operation on 2007, has enabled handling up to 3.6 million passengers annually. The International Airport in Katowice is constantly developing. In the very neare future is planned the construction of a third passenger terminal and a new runway strip.
INFORMATION
Management company: Górnośląskie Towarzystwo Lotnicze S.A.
Address: ul. Wolności 90 - 42-625 Ożarowice - Poland
Telephone no.: +48 32 39 27 200
Website: www.katowice-airport.com
TECHNICAL DATA
IATA Code: KTW
ICAO Code: EPKT
Country code: PL
Flights


Transportation to/from the airport
Bus
Public transport connections Public transport buses run daily on lines: Bytom-Airport; Mierzęcice-Airport; Katowice-Airport-Airport Bus.
PKM Katowice Buses - Airport route run everyday: Katowice Centre-Katowice International Airport; Katowice International Airport-Katowice Centre.
Matuszek Buses run everyday: Kraków-Katowice International Airport-Kraków.

P-Air Pyrzowice Ekspres Bus Services (Wizz Air official carrier). Routes: Kraków–Katowice Airport; Częstochowa–Katowice Airport.
Tiger Express minibuses provide a connection to the Czech Republic: Ostrava, Bohumín, Katovice Airport.
Car
The airport is located about 30 km from the city center of Katowice. Proceed to the south-west to Józefa Piłsudskiego, continue on road 913, DK86, S86. Exit to DK79 continue to Katowice.

Taxi
The 'Airport Taxi Service Association' office is located in Terminal B, next to the escalator. Taxi ranks are right in front of the exits from Terminals A and B.
Car hire
The car rental companies present at the airport at the Terminal A and B are: Gtl Service, Jolcar, Silvercar, Gt cars, Alamo, Budget and Express.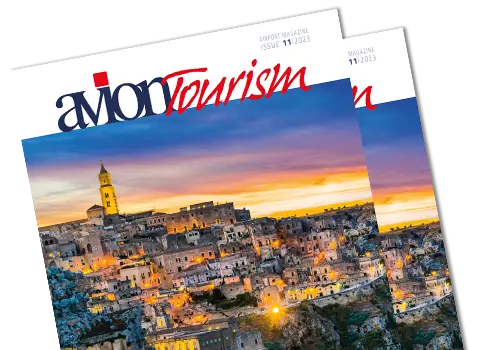 AVION TOURISM MAGAZINE
in digital version
On this issue: The World Heritage Sites of Basilicata and Puglia.