Brussels South Charleroi Airport is located at 45 minute from
Brussels
city centre, south of the Netherlands, north west of France, Luxemburg and western Germany, at two hours drive time from major cities such as Cologne, Paris and Amsterdam. The history of the airport began in 1916 as a school of aviation in Gosselies airfield. The following year the company SEGA began to use the airport as a center for aircraft maintenance work, becoming in the early thirties the main aviation hub in Belgium. After the Second World War Gosselies became a public airport and was managed by the Belgian air transport RVA. In 1954, the construction company SABCA Aviation opened a factory in Gosselies, and in 1978 was the turn of SONACA (which replaced the company Fairey). In 1991 was created the BSCA (Brussell South Charleroi Airport) and with the law of 1992, which provided for the transfer of management of regional airports by the State to the regions, the Walloon region decided to entrust the management of the airport to BSCA. The revival took place, however, in 1997 with the inauguration of the flight to Dublin by the Irish airline Ryanair. Charleroi Airport is the second airport in Belgium. In 2008 was inaugurated the new terminal, designed for a traffic of more than 5,000,000 passengers.
INFORMATION
Management company
: Brussels South Charleroi Airport (BSCA)
Address
: rue des Frères Wright 8 - B-6041 Charleroi
Telephone no.
: 0902 02 490
Website
:
www.charleroi-airport.com

TECHNICAL DATA
IATA Code: CRL
ICAO Code: EBCI
Country code: BE
Flights


Transportation to/from the airport
Bus
A bus connects directly the airport terminal to the train station Charleroi in 20 minutes.

Shuttle
Every 30 minutes a shuttle coach leaves the airport to take you to the main Brussels railway station (Brussels Midi). The shuttle coach stop is at the crossing of rue de France and rue de l'Instruction. Duration of the journey: 1 hour.
There are also shuttle connections to Luxembourg (Metz, Thionville, Luxembourg and Arlon) and Lille (Gare de Lille Europe).

Car
Brussels South Charleroi Airport is situated close to the A54 and E42 motorways. This special location offers easy and rapid access to the European motorway network.

Taxi
Taxis are always available outside the passenger terminal.

Car hire
The main car rental companies are present at Brussels South Charleroi Airport: Avis, Hertz, Europcar, Sixt and Budget.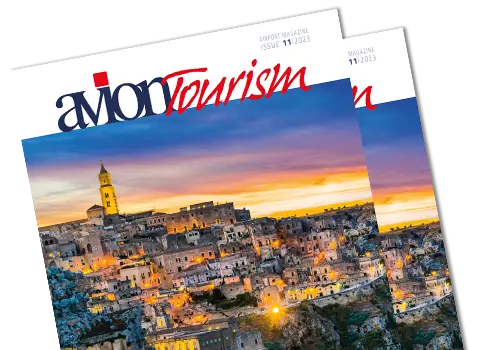 AVION TOURISM MAGAZINE
in digital version
On this issue: The World Heritage Sites of Basilicata and Puglia.