Zaragoza airport is located south-west of the city, 10 km from the city centre. It is a joint civil-military aerodrome. Aena has carried out major renovation of the infrastructure to adapt and modernise the airport for the 2008 Zaragoza International Expo. In 2008, the new passenger terminal with all its auxiliary facilities was opened, and the apron, parking area and external roads were extended. This was followed by further improvements, beginning in 2008, such as the new cargo terminal for general goods, to meet the demand for this activity and separate it from perishable goods. The airport is currently experiencing a significant increase in passenger traffic. Due to its excellent location, with over twenty million people concentrated within in a radius of three hundred kilometres, it is an important goods distribution centre. In 2012 it was the third airport in the Aena Aeropuertos network, after Madrid-Barajas and Barcelona-El Prat, in terms of cargo volume.

INFORMATION
Management company: Aena Aeropuertos S.A.
Address: Ctra. Airport s/n. - 50190 Zaragoza (Spain)
Telephone no.: (+34) 91 321 10 00 - 902 404 704
Website: www.aena.es 
TECHNICAL DATA
IATA Code: ZAZ
ICAO Code: LEZG
Country code: ES
Flights

Transportation to/from the airport
Bus
The bus runs between the airport and Paseo Maria Agustín in Zaragoza, with stops at PLAZA, Plaza Imperial and the rail, and bus station. Another bus service links Zaragoza Airport with Tudela and Pamplona. It is specially scheduled to coincide with flight departure and arrival times. On one of the buses also goes to San Sebastián.

Car
Airport Route N-125.  Journey time 15 minutes.
 
Taxi
Taxi service to the airport (Aragon Taxi, Taxi Cooperative, Taxi Zaragoza). The connection from the airport to Zaragoza has an extra cost.
 
Car hire
Car rental at the airport is managed by Enterprise Atesa, Europcar and Hertz.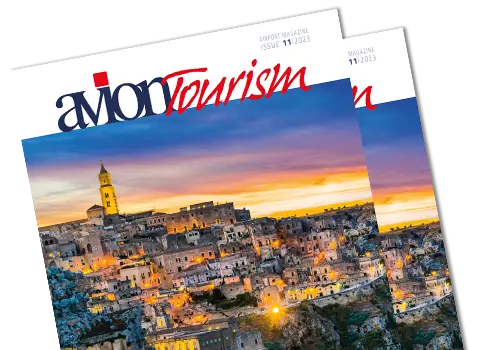 AVION TOURISM MAGAZINE
in digital version
On this issue: The World Heritage Sites of Basilicata and Puglia.