Lappeenranta Airport is Finland's oldest operating airport. It belongs to the network of 25 airports operated by Finavia, the Finnish Airport Operator, untill 2016. Founded in 1918, it has played a significant role in Finnish aviation history. In 1998, the airport's runa was estende to 2,500 metres in length. Of all Finnish airports, Lappeenranta has the most international profile, as it mainly serves passengers travelling to European destinations and offers no regular domestic routes. The airport is situated only 200 kilometres from the St. Petersburg economic region with its millions of potential customers. 40 percent of the airport's passengers are Finnish, while 50 percent are Russian. Lappeenranta Airport is located about 2 kilometres from
Lappeenranta
city centre and 30 kilometres from Imatra.
In 2016 the City of Lappeenranta acquires ownership of the airport of Lappeenranta.

INFORMATION
Management company
: City of Lappeenranta
Address
: Lentokentäntie 21, 53600 Lappeenranta - Finland
Telephone no.
: +358 (0)40 7462 432       
Website:
www.finavia.fi

TECHNICAL DATA
IATA Code: LPP
ICAO Code: EFLP
Country code: FI
Flights


Transportation to/from the airport
Bus
A bus connection (line 4) between Lappeenranta Airport and the city centre is operated regularly. There is no a bus connection between the railwaystation and the airport. Is recommend to take a taxi.  

Car
Lappeenranta Airport is located about 2 kilometres from Lappeenranta city centre and 30 kilometres from Imatra.

Taxi
Taxis (Taksi Saimaa) operating in the Lappeenranta region are on call at the taxi stand in front of the airport during the scheduled arrival times. You can book a taxi before arriving at the airport.

Car hire
You can continue your journey from Lappeenranta Airport with a rental car. The following car rental service desks are located in the check-in area of the terminal: Avis, Budget, Erenta, Europcar, Hertz and Sixt. The car rental service desks are open only on pre-order. 
Destinations found in the vicinity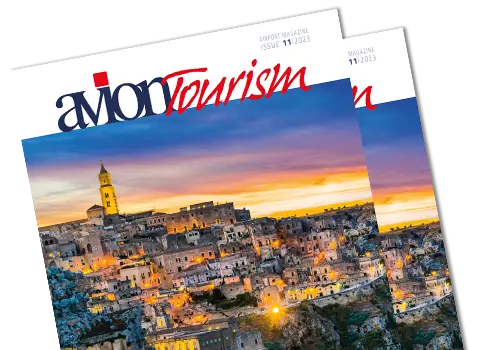 AVION TOURISM MAGAZINE
in digital version
On this issue: The World Heritage Sites of Basilicata and Puglia.