Bergen Airport
(also known as
Bergen Flesland Airport
or
Flesland Airport
) is an international airport located in
Flesland in Norway
, approximately 20 kilometers from the city of
Bergen
. The airport is managed by the state-owned company Avinor.
Bergen Airport
is the second
largest airport in Norway
and the main airport on the west coast. Inaugurated in 1955, Bergen airport has undergone expansions and adaptations. New terminals opened in 1988 and 2017, and also in 2017, Bergen's light rail was extended to the airport.
Several airlines offer flights to domestic
destinations in Norway
(of which the busiest route is
Oslo
) and
international destinations
. Among the main companies operating in Bergen airport there are
Scandinavian Airlines (SAS)
,
Norwegian
,
Norwegian Air Shuttle
as well as several helicopter companies that connect offshore oil platforms in the North Sea and which use a dedicated terminal.
INFORMATION
TECHNICAL DATA
IATA code: BGO
ICAO code: ENBR
National code: NO
Text by Alisè Vitri
Avion Tourism Magazine
Photo for editorial use only: © Avinor / Nordic - Office of Architecture
Flight to and from Bergen

Transportation to / from Bergen airport
Subway
Line 1 of the
Bergen Light Rail (Bybanen)
is the cheapest way to get
from Bergen Flesland Airport to Bergen city centre
. It takes about 45 minutes from the airport to central Bergen. Line 1 of the Bergen light rail starts right at the
Flesland airport terminal
and terminates in central Bergen.

Bus
A quicker way to reach central Bergen is with the Airport Bus (Flybussen in Norwegian), which normally takes 20 minutes. The bus has several stops in central Bergen, including the Bryggen in the Bergen area. You can find the bus just outside the Flesland arrivals terminal.
These are the different bus routes just outside the airport's main terminal building:
- Airport Express Bus: follows a route from Fyllingsdalen and takes approximately 20 minutes to Bergen Bus Station. With stops in the city centre, Flybussen stops within walking distance of most hotels. After alighting in the city centre, Flybussen continues its service to Åsane.
- Local bus: to Loddefjord, Storavatnet and Sotra. Bus interchange for the city center at the Dolvik terminal.
- Bus to Flesland Pier: stops just outside the terminal building.

Taxi
A taxi from Bergen Flesland Airport to Bergen city center costs around NOK 500, but prices vary depending on the time of day and the number of passengers. Taxis are parked just outside the arrivals terminal.
Destinations found in the vicinity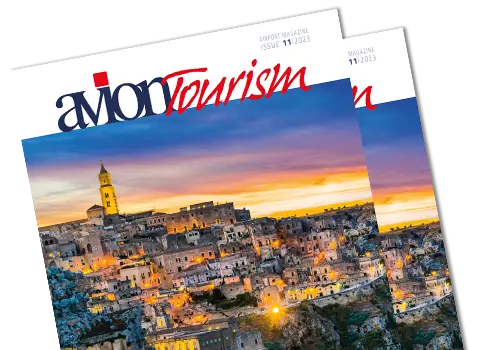 AVION TOURISM MAGAZINE
in digital version
On this issue: The World Heritage Sites of Basilicata and Puglia.