Eindhoven Airport is an airport located near the Dutch city of Eindhoven, in the province of North Brabant, and is the second airport for passenger traffic Netherlands. Eindhoven Airport opened its new terminal, after a renovation period of almost two years. With this realisation Eindhoven Airport is able to facilitate the passagers growth till 2020. The airport connects mostly European cities.

INFORMATION
Management company: Eindhoven Airport NV
Address: Luchthavenweg 25, 5657 EA Eindhoven, Netherlands
Telephone no.: +31 (0)40 289 6133
Website: www.eindhovenairport.com

TECHNICAL DATA
IATA Code: EIN
ICAO Code: EHEH
Country code: NL
Flights


Transportation to/from the airport
Bus
Next to the terminal there is find the bus stop. Eindhoven Airport can be reached from Eindhoven Central Station by bus and vice versa. AirExpressBus offers a bus line between Eindhoven Airport, Den Bosch, Utrecht and Amsterdam. These busses bring you from the airport to these cities on a daily basis and on multiple times per day.

Car
To get to the airport follow the directions from the city towards the southeast. Journey time 14 minutes.
 
Taxi
The taxi companies (Taxicompany Cibatax, Connexxion Taxi Services, Jansen Taxi) have signed an agreement with Eindhoven Airport and are certified. Taxis can be found in the official lane near the city busses.
Car hire
Various car rental companies have desks at the office building located at Luchthavenweg 13, left of the terminal. The main car rental companies present are: Avis, Hertz, Europcar and Sixt .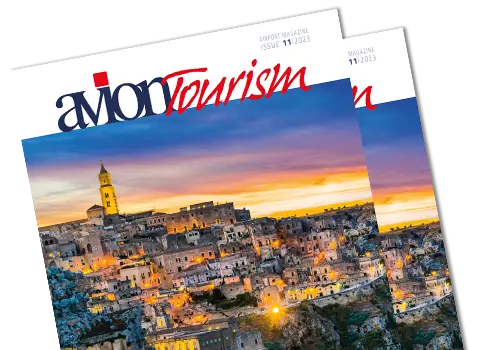 AVION TOURISM MAGAZINE
in digital version
On this issue: The World Heritage Sites of Basilicata and Puglia.