11 September 2018
Low cost flights
What are low-cost flights?
Questions and answers for getting to know the world of "low-cost " travel
Why are low-cost flights so cheap?
"Low-cost" airlines are companies which have developed organisational characteristics that allow for substantial savings compared to traditional airlines. The optimisation of management costs allows them to offer tickets to passengers at competitive prices.
Is flying with airlines that practice an aggressive commercial policy with "super
discounted " prices safe?
Flying with "low-cost" airlines is safe.
These airlines are fully comparable to flag carriers with regards to safety as they have to adhere to the same rigid and
inflexible national, European and international regulations. In addition, almost all the fleets of "low-cost" airlines, especially in Europe, are made up of new and modern aircraft. Many "low-cost" airlines are "spin offs" (100% controlled
subsidiaries with a different name) of national flag carriers.
Yes, the deals are real, but reservations need to be made as soon as possible because places are always limited.
"Low-cost" airlines are always offering new deals for flights at competitive rates compared to flag carriers and this is
possible due to a 'lean' organisation that eliminates unnecessary costs, thereby avoiding their effect on final ticket prices.
It's no coincidence that in technical jargon "low-cost" airlines are called "no frills" airlines.
Text by Alisè Vitri
Photos: Sisterscom.com,
Shutterstock
Copyright © Sisterscom.com
Published on Avion Tourism N47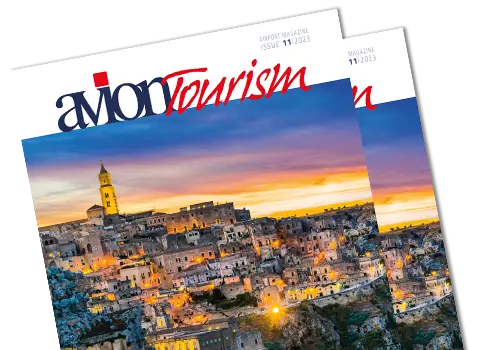 AVION TOURISM MAGAZINE
in digital version
On this issue: The World Heritage Sites of Basilicata and Puglia.