Lamezia Terme Sant'Eufemia Airport
is situated in the homonymous district of the
city of Lamezia Terme
and is the
main airport of Calabria
. The airport connects Calabria with numerous Italian and European cities, with scheduled and charter flights.
In a few years, starting in 1990, the airport has increased air traffic and renovated the Terminal, making the airport functional and comfortable. During 2019 further improvements were made to the airport services: a panoramic lift, routes for the blind and partially sighted with updated tactile maps, improvements for video surveillance systems and the construction of a new connection to the runway. Furthermore, further improvements are being made to the flight infrastructures to increase the safety and capacity of the airport.
The
S.A.CAL. SpA, Società Aeroportuale Calabrese
, manages of the three
Calabrian airports
(
Lamezia Terme
,
Reggio Calabria
,
Crotone
) and administers the airport infrastructures, coordinating and controlling the activities of the various private operators present at the airport, for the purpose of business safety of call and the maintenance of adequate service standards. SACAL is a joint venture, with 50.76% of the shares held by public bodies and the remaining 49.24% in the hands of private investors.

INFORMATION
Management company:
S.A.CAL. SpA,
Società Aeroportuale Calabrese
Address: International Airport of Lamezia Terme - 88040 Lamezia Terme (Catanzaro), Calabria - Italy
Telephone no.: +39 0968 414385
Website: www.lameziaairport.it

TECHNICAL DATA
IATA Code: SUF
ICAO Code: LICA
Country code: IT
Text: Alisè Vitri
Photos for editorial use only: © Sisterscom.com,
Shutterstock
Copyright © Sisterscom.com
Updated July 2020
Flights in real time to/from Lamezia terme
Search a flight to/from Lamezia terme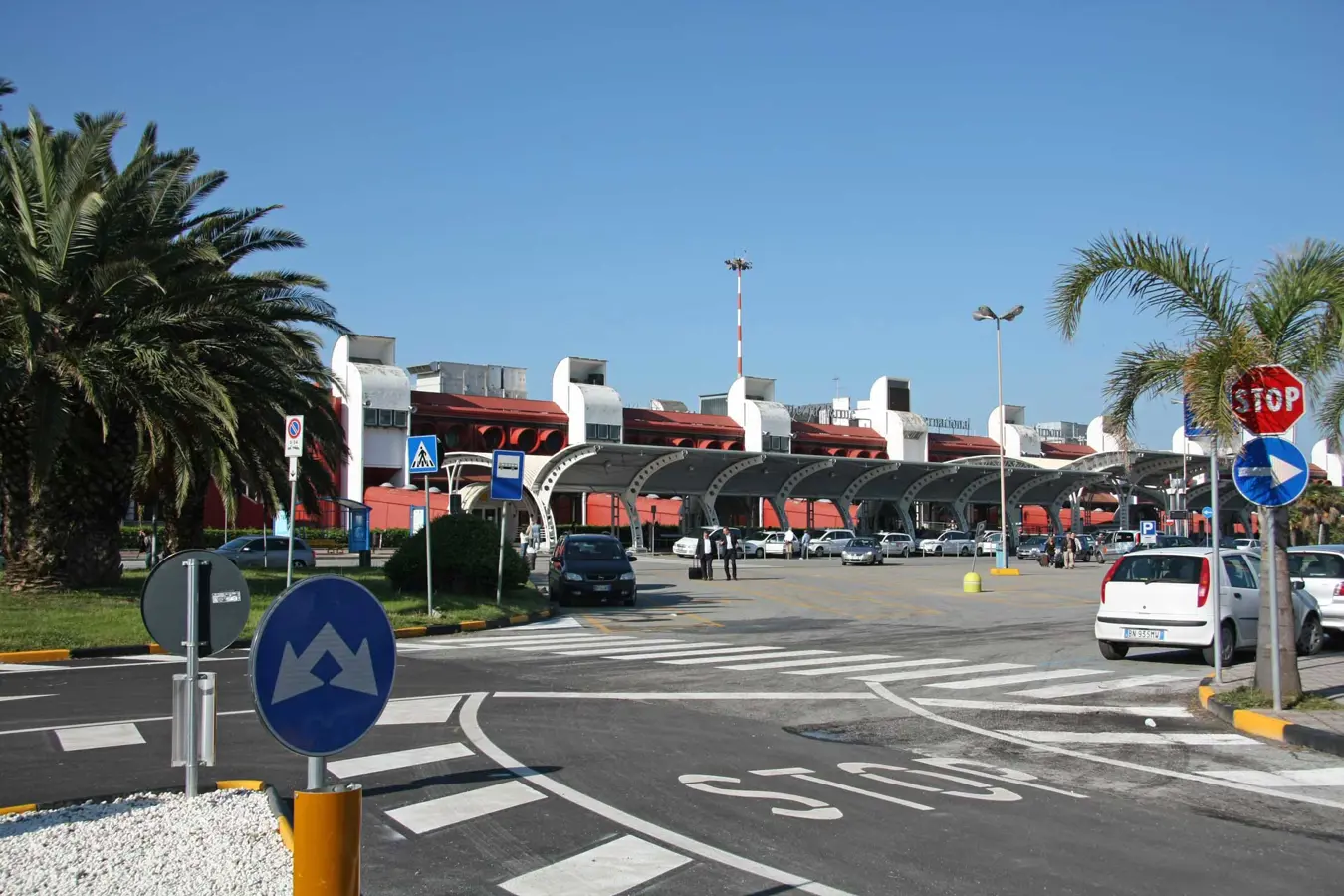 Lamezia Terme Airport. Copyright © Sisterscom.com / Vera Kalyuzhnaya /
Shutterstock
Transportation to/from the airport
Train
The airport is connected to the Central Railway Station of Lamezia Terme by bus, taxi and through a public high-frequency shuttle service.

Bus
From the airport it is possible to reach the city center of
Lamezia Terme
with urban bus lines.
Lamezia Terme airport
is also connected to some of the main
Calabrian
and
Southern Italy cities
, with buses managed by various companies for:
Catanzaro
,
Catanzaro Lido
,
Cosenza
,
Crotone
,
Germaneto
,
Rende
(
University of Calabria
),
Paola
,
Falerna
,
Martirano Lombardo
,
Nocera Terinese
,
Vibo Valentia
,
Tropea
,
Locri
,
Soverato
,
Angitola
,
Rossano
,
Reggio Calabria
,
Villa San Giovanni
,
Palmi
,
Gioia Tauro
,
Corigliano
,
Acri
,
Messina
,
Taormina
and
Catania
. In the summer, other bus lines are added, which connect the airport with some
tourist locations
(
Praia a Mare
,
Sibari
).
Car
From Catanzaro: take state road SS280. From Cosenza: take the A3 motorway. From Crotone: take state road SS106 to Catanzaro and then SS 280. From Reggio Calabria: take the A3 motorway or state road SS18. From Vibo Valentia: take the A3 motorway or state road SS18.
Taxi
Taxis are available at the airport to/from Lamezia Terme railway station.
Car hire
Several companies offer airport service for car rental, including: Autovia, Avis, Budget, Europcar, Hertz, Maggiore, Locauto, Sixt, Sicily by Car and Winrent.
Sponsored content
Car hire at Lamezia Terme airport
Landed in
Lamezia Terme
you can
rent a car at the airport
. You can book in advance directly on the websites of the companies that offer this service, so you can take advantage of the best offers. Among the most renowned international car rental companies that also operate at
Lamezia Terme Airport
are:
Avis
,
Budget
,
Europcar
,
Leasys
,
Maggiore
or
Sixt
.
Parking at Lamezia Terme airport
At Lamezia Terme Airport there are several airport parking lots. The official car parks of Lamezia Terme airport are P1 (a few meters in front of the airport, for short stops) and P2 (in front of the freight terminal, for long stops).
It's better to book an
airport parking
in advance online. On the websites of
MyParking
and
Looking4Parking
you can compare prices and buy
low cost parking near Lamezia Terme
with shuttle service.
Find a hotel near Lamezia Terme airport
Destinations found in the vicinity