Tallinn Airport Ltd operates and develops airports belonging to the company in order to ensure the provision of service of aircrafts, passengers and goods on the ground. The company manages airports that are located in Estonia, which besides Tallinn Airport include the airports of Tartu, Pärnu, Kuressaare, Kärdla, Kihnu and Ruhnu. The stock holder of Tallinn Airport Ltd is the Republic of Estonia and the company belongs to the administrative field of Ministry of Economic Affairs and Communications of the Republic of Estonia.  Is an airport located 4 km south-east of the capital of Estonia, Tallinn. The airport is located along the Tartu Maantee, in the municipality of Rae and at the east coast of Lake Ülemiste. The airport is open to commercial traffic with domestic and international flights, mainly into Europe.

INFORMATION
Management company:  
Tallinn Airport Ltd
Address
: Tartu mnt 101 - Tallinn 10112- Estonia
Telephone no.:
 +(372) 605 8888
Website
:
www.tallinn-airport.ee

TECHNICAL DATA
IATA Code: TLL
ICAO Code: EETN
Country code: EE
Transportation to/from the airport
Bus
The bus stops are located on floor 0, by the car park that is located at the front of the airport, next to the so-called lower entrance.
From bus stop 1, bus route no. 2 departs towards the city centre.
From stop 2, long-distance buses depart from as well as arrive to
Tallinn
.
When departing from Tallinn, busses from the 'Lux Express Hourly Express' bus company also stop at the airport.
In addition, bus line no. 158 stops at the airport at 23:05 and departs from Tallinn to Tartu. The bus stops at Kose crossroad and the Mäo and Puhu crossroads.
Other Tallinn busses serve stop 3 (no. 2 which goes in the direction of Mõigus as well as no. 65).
Car
Tallinn airport is located 4 km south-east of the capital of Estonia, Tallinn. Proceed on Tallinn-Tartu-Võru-Luhamaa Road 2 to
Tallinn
.
Taxi
The taxi are at the arrivals door. Is better to use one of contractual taxi partners of the airport, which are Tulika Takso, Tallink Takso and Tulika Business.
 
Car hire
The following car rental service desks are located in the check-in area of the terminal: Avis, Budget, Europcar, Hertz, Nu Car Rentals and Sixt.
Destinations found in the vicinity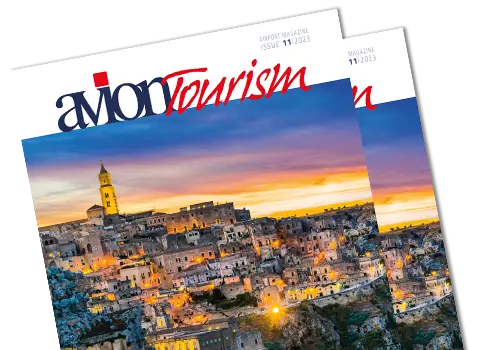 AVION TOURISM MAGAZINE
in digital version
On this issue: The World Heritage Sites of Basilicata and Puglia.