CONNECTIONS FOR THE WINTER SEASON 2022/23
From Milan Bergamo Airport flights leave for 115 destinations in 39 countries
The winter flight timetable presents a wide-ranging network of flights to 115 destinations. This travel offer reflects the confidence of the airlines (16 scheduled airlines operate out of Milan Bergamo) in the Winter 2022/23 season and in the continuation of the traffic recovery trend currently underway at the airport, where passenger movements exceeded 70% of the figures for 2019.
Among the latest news, on 14th November the airline Aeroitalia will begin operating flights to Rome (Fiumicino), Catania and Bacău in Romania, instead, from 5 December flies to London (Heathrow), flying with 189-seat B737-800 aircraft. While, on 7th December Air Arabia will inaugurate a new connection to Sharjah in the United Arab Emirates.
We would also like to remind readers that at the end of March Transavia began operating a new flight to Rotterdam in the Netherlands, while in February the new Norwegian airline Flyr inaugurated a flight to Oslo (Gardermoen Airport), and in November 2021 Eurowings began flying to Düsseldorf (DUS International Airport), complementing the flight already operated by Ryanair (Düsseldorf Weeze Airport). These flights also continue during Winter 2022/23.
Ryanair is also offering new destinations such as Funchal in Portugal (flight in operation since March), Karlsrue - Baden Baden in Germany, Lodz in Poland, Newcastle in Tyne and Wear, a few kilometres from England's east coast (flight in operation since March) and Zagreb in Croatia.
Lastly, remaining in operation are the flights to Paris (Orly Airport) operated by Vueling and by EasyJet (Charles de Gaulle Airport), which also flies to London (Gatwick Airport). These complement the flights operated by Ryanair to the airports of Paris Beauvais and London Stansted.
THE AIRLINES THAT FLY FROM BGY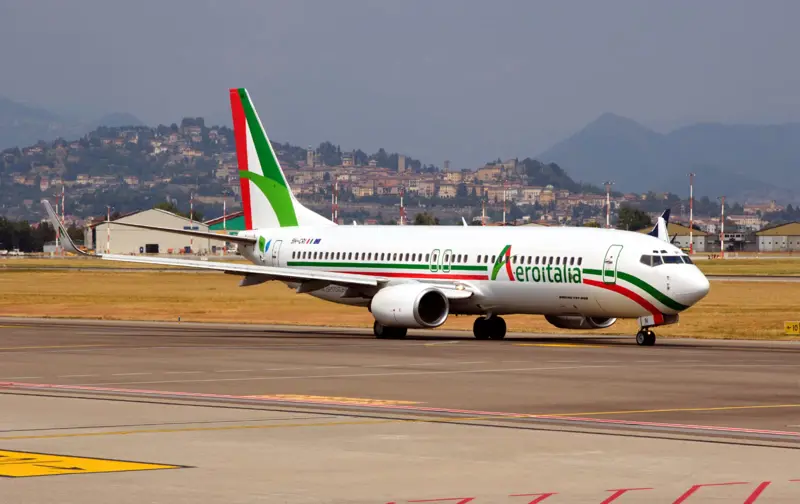 AeroItalia. Photo: Copyright © Sisterscom.com / Depositphotos
AEROITALIA
Aeroitalia
began flight operations in 2022 and its headquarters are located in
Rome
while the hub is in
Forlì
.
Aeroitalia airline operates charter and regional scheduled routes to destinations in Italy and Europe with a fleet of Boeing 737-800 aircraft (with 189 seats in economy class).
---
AIR ARABIA EGYPT
Air Arabia Egypt
is an
airlines
of the
Air Arabia Group
and is an
Egyptian low-cost airline
with headquarter in
Alexandria
. The company of Air Arabia Egypt is ajoint venture between
Air Arabia
and the
Travco Group
, the Middle East's largest travel and hospitality group, and is based in
Alexandria Burj Al Arab Airport
.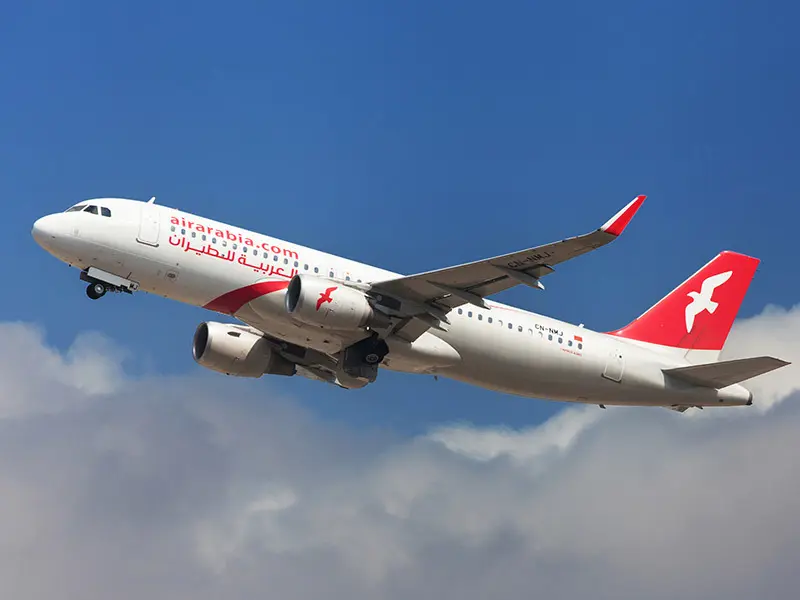 Air Aabia.
Photo: Copyright © Sisterscom.com / Santi Rodriguez /
Shutterstock
---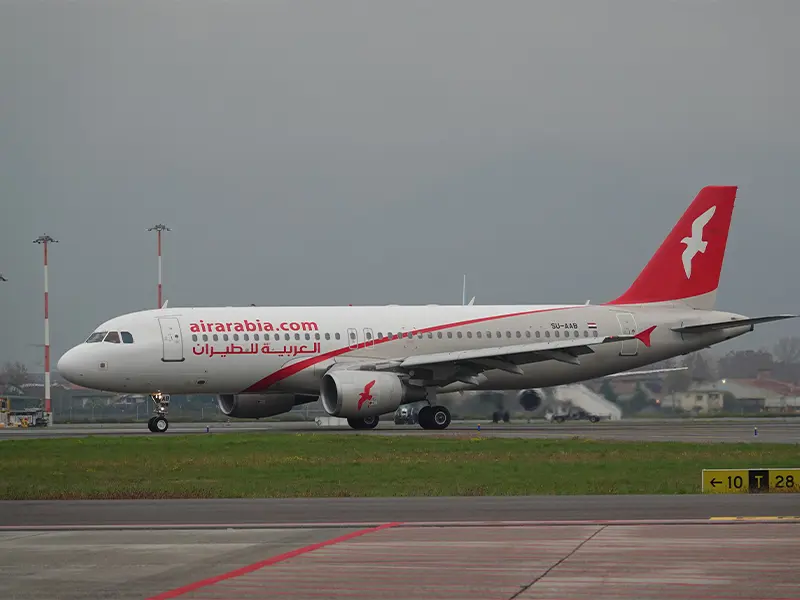 Air Arabia. Photo: Copyright © Milan Bergamo Airport.
AIR ARABIA maroc
Air Arabia Maroc
is a
low cost airline
based in
Mohamed V Airport
of
Casablanca
in
Morocco
.
AIR ARABIA UAE
Air Arabia is the Middle East and North Africa's first and largest Low Cost Carrier (LCC). Air Arabia fly to destinations in Middle East, North Africa, Asia and Europe.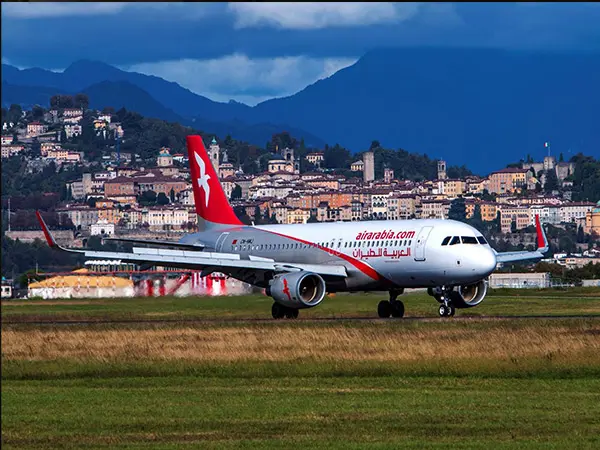 Air Aabia UAE.
Photo: Copyright © Sisterscom.com / Santi Rodriguez /
Shutterstock
---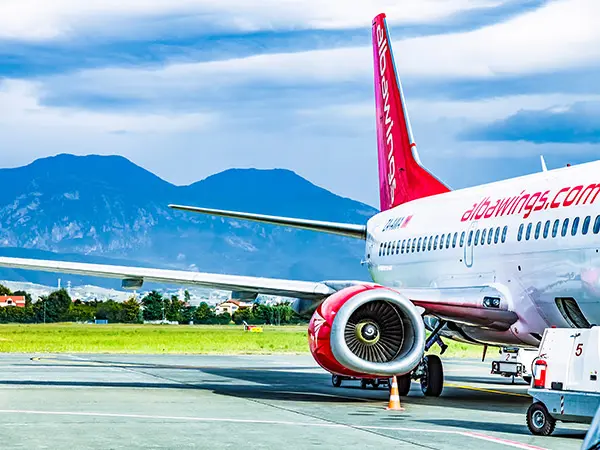 Albawings. Photo: Copyright © Milan Bergamo Airport.
ALBAWINGS
Albawings
is a low-cost airline based in
Tirana
in Albania and was founded in 2015. The company offers
flights to and from Albania
to
destinations
in Europe.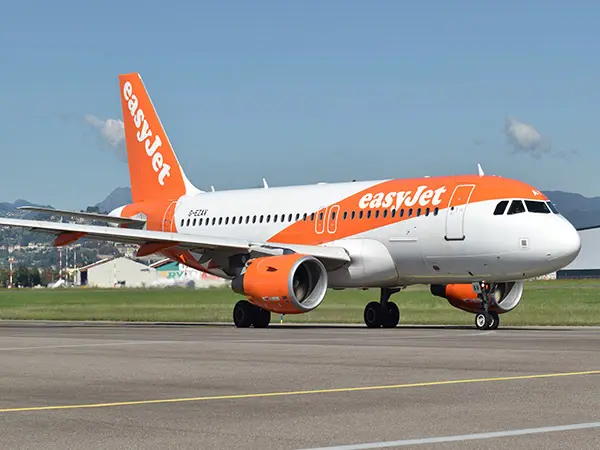 easyjet Photo: Copyright © Milan Bergamo Airport. ​​
easyjet
easyJet is a low-cost European point-to-point airline offering a combination of connections from major European airports and at affordable fares.
---
eurowings
During 2015, in Eurowings was integrated Germanwings, the low-cost airline of the Lufthansa Group specializing in direct flights to Germany and European destinations.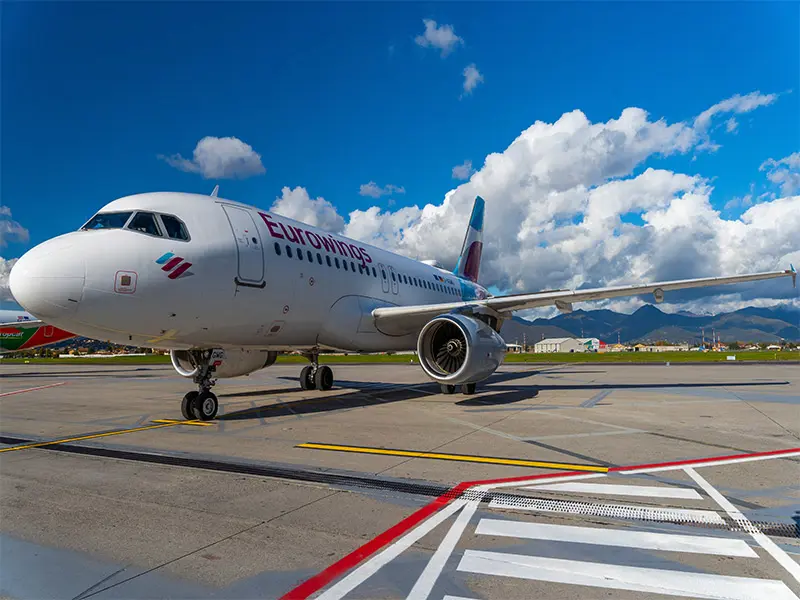 Eurowings. Photo: Copyright © Milan Bergamo Airport.
Flyr. Photo: Copyright © Flyr.
Flyr
Flyr is a Norwegian low-cost airline that connects the cities of Norway and the most popular destinations in Europe.
INTERNATIONAL
Oslo
(Gardermoen OSL)
---
HISKY
HiSky
is a
Moldovan airline
based in
Chișinău
in Moldova and is a 100% privately held company.
HiSky airline
was certified in Romania and the Republic of Moldova as a Moldovan Air Operator in January 2021 and as a European Air Operator in December 2020..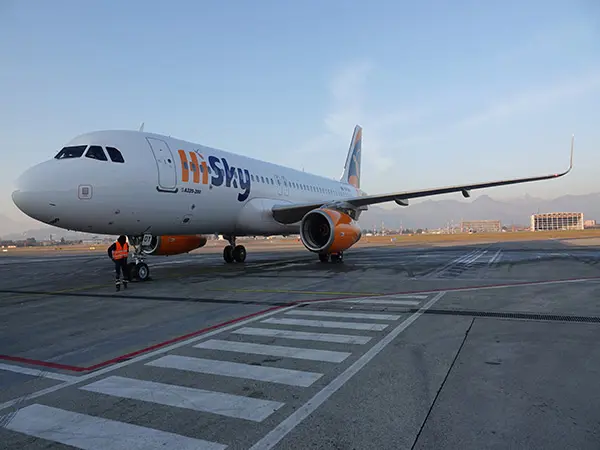 HiSky Photo: © Uficio stampa HiSky.
Sponsored content
Skyscanner
allows you to
search the flights
of different
airlines
easily and quickly for any
destination
. The search engine
compares the flight prices
and offers the possibility to choose even the carriers that sell
flexible air tickets
. On the site you can compare all available
flights in real time
and find the best prices among millions of flights,
without commissions or additional costs
.
Eco-sustainable airlines
can also be selected to choose only
flights with reduced CO2 emissions
.

NEOS
Neos is an Italian airline owned by Alpitour SpA. Established in 2001, Neos began flying in 2002 after obtaining the Certificate of Air Operator from the National Agency for Civil Aviation (ENAC).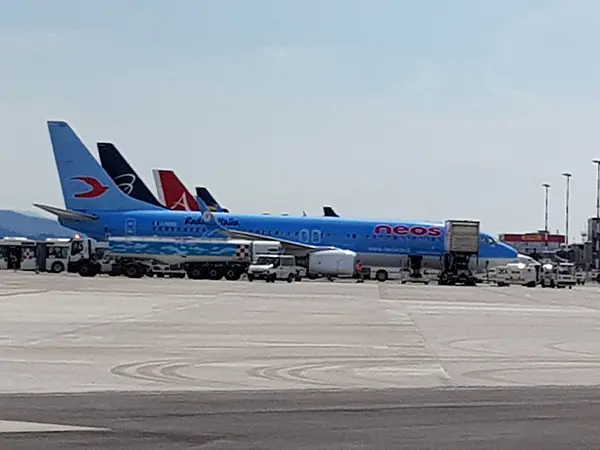 Neos.
Photo: Copyright © Sisterscom.com / Michele Capelli /
Shutterstock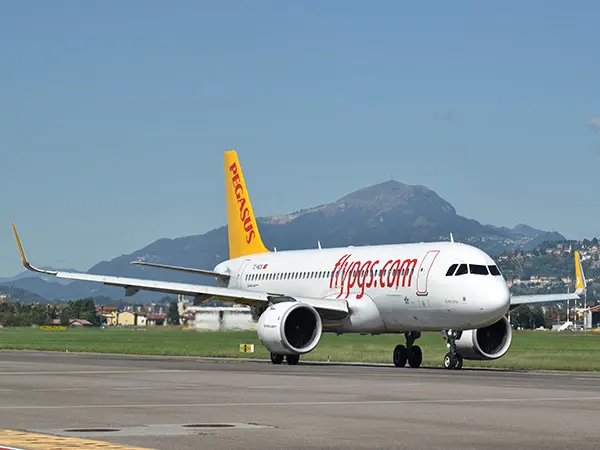 PEGASUS
Pegasus
has been flying for 20 years and is
Turkey's private airline
.
Pegasus was founded in
Istanbul
in 1990 as a joint venture with Aer Lingus, Silkar Investments and Net Holding. Pegasus' first low-cost flight took off in 1990 and, in 2005, the company was acquired by Esas Holding.
---
RYANAIR
Ryanair
is an
Irish airline
with headquartered in
Dublin
. Ryanair was founded in 1985 by businessman Tony Ryan. In 1991, Michael O'Leary got the job of restructuring the company by adopting the economic model "low fares/no frills ".
Ryanair Holdings Plc, the largest European air group, is the company of Buzz, Malta Air, Lauda, and Ryanair. The group carries 165 million passengers p.a. on over 2,500 daily flights from 88 bases, connecting about 230 destinations in 36 countries.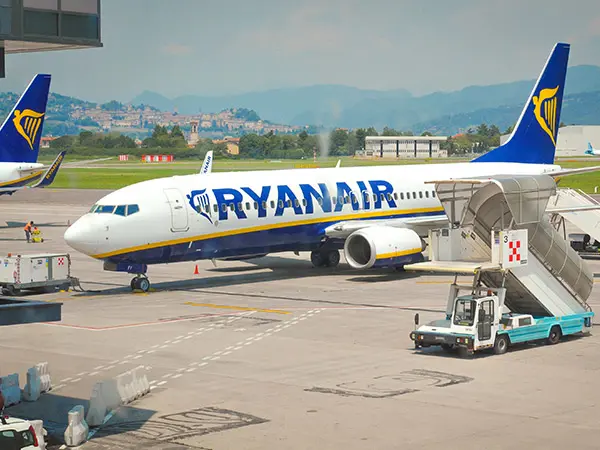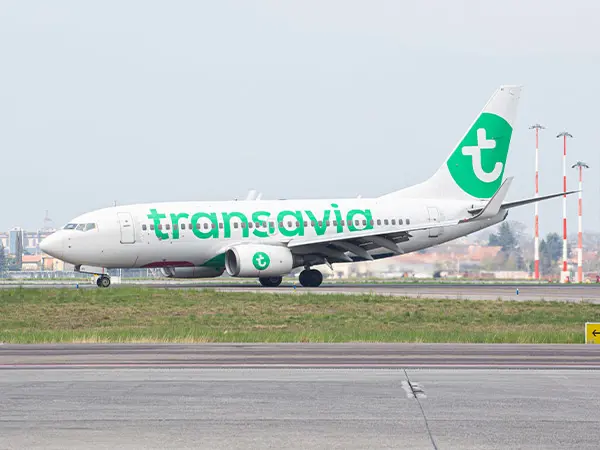 TRANSAVIA
Transavia is a low-cost airline that flying passengers to destinations in Europe and North Africa.
Transavia, founded in 1965 as Transavia Holland, is a full subsidiary company of KLM, which is part of the Air France KLM Group.
Sponsored content

TURKISH AIRLINE
Turkish Airlines
is the flag carrier airline of Turkey, headquartered in
Istanbul
and its main hub at Istanbul Atatürk Airport in Arnavutköy.
Its secondary hubs are at Istanbul Sabiha Gökçen Airport, Ankara Esenboğa International Airport and Izmir Adnan Menderes Airport.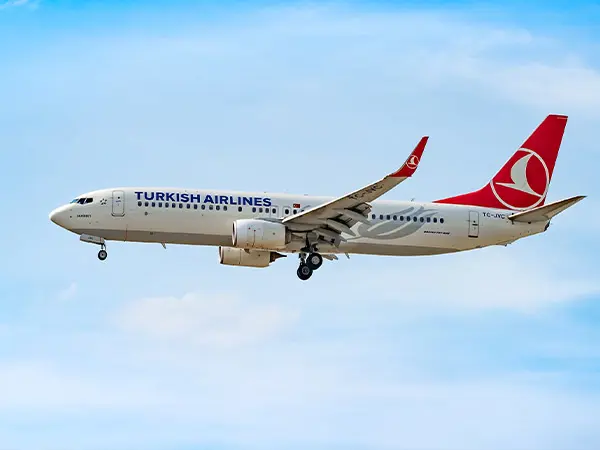 Turkish Airlines
.
Photo: Copyright © Sisterscom.com /
Depositphotos
---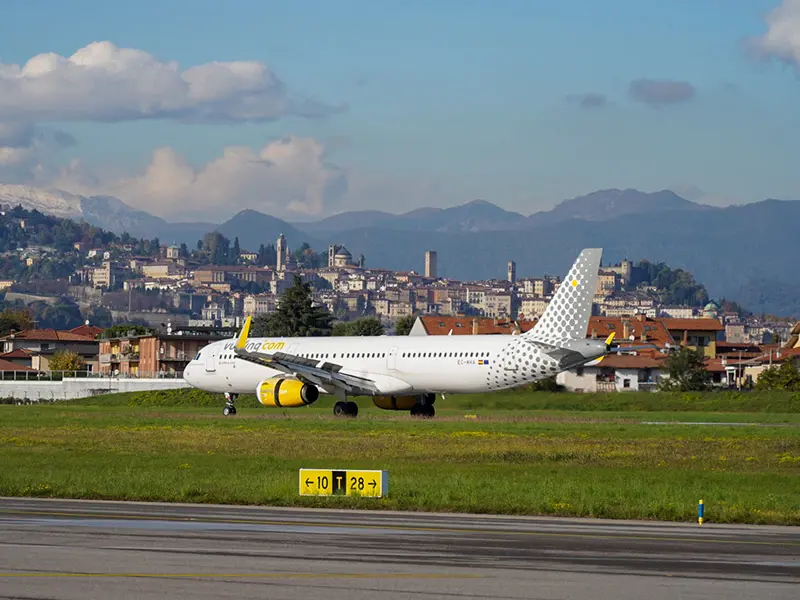 Vueling. Photo: Copyright © Milan Bergamo Airport.
Vueling
Vueling, part of the IAG Group, is a Spanish airline and one of the main low-cost airlines in Europe, leader in the connection between Spain and Europe.
INTERNATIONAL
Paris
(Orly ORY)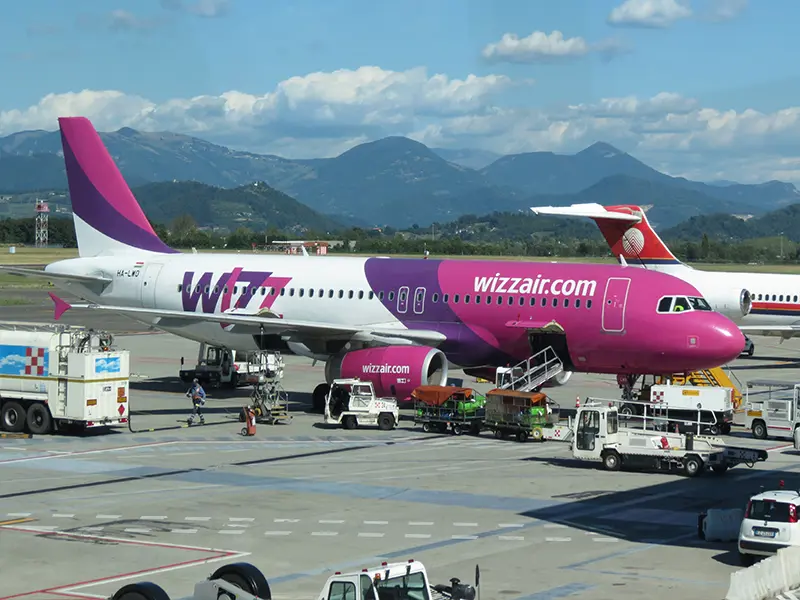 Wizz Air
.
Photo: Copyright © Sisterscom.com / Markus Mainka /
Shutterstock
WIZZ AIR
Wizz Air
was founded in 2003 by professionals in the field and József Váradi, president of the company. The first flight took off in 2004 from
Katowice
, in Poland. Wizz Air airline offers low cost flights to European destinations from several major and minor airports in Central and Eastern Europe.
The main
hub
of Wizz Air
is located in
Budapest
, Hungary, the secondary hub in Katowice, Poland, and also has several bases.
Sponsored content
Find the best deals on your own to travel anywhere using airline connections on the website of
Kiwi.com
.

The Html digital edition of Avion Tourism Magazine enables anyone to read the contents published on any device and access the website pages and multimedia content. It can be read vertically, scrolling the articles DESTINATIONS AIRPORTS AIRLINES NEWS & USEFUL INFO and horizontally, passing directly from one item to another in the navigation menu found under the header or by licking on the Blue arrows < >. After reading the in-depth articles proposed, you can return to the Html digital version of the magazine by clicking on the relevant key "Return to Avion Tourism Magazine".
Avion Tourism Magazine N76/2022 Special Edition for Milan Bergamo Airport
Issue closed by Editorial Staff on 8 November 2022
Editor in chief: Angela Trivigno. Contributors: Alisè Vitri, Anna Glik, Enzo Cuppatri, Lisa Maria River, Luca Lembi, Maria Salini, Nicolò Villa. Translations: Halewood Juliet Anne. Cover photo: Copyright © Sisterscom.com Snc / boule1301 / Depositphotos.com. Photos: Copyright © Sisterscom.com Snc with image usage license purchased from Shutterstock.com and Depositphotos.com (Photo for editorial use only: Copyright © Sisterscom.com Snc / Photographers specified under each published photo / Shutterstock.com / Depositphotos.com). Press Office: Tourism boards indicated in the published tourist destinations; Sacbo S.p.A.. Avion Tourism Magazine Special Edition for Milan Bergamo Airport N.76/2022: issue closed by Editorial Staff on 8/11/2022 and published on www.aviontourism.com Registration: Registered at Bergamo Law Court Bergamo N.1 of 09/01/2003 and N.9/2019 of 03/07/2019. Periodicity: semiannual. Publisher, Editing, Administration and Advertising: Sisterscom.com Snc - Via Piave, 102 - 23879 Verderio (Lc) - Italy. P.Iva/C.F. 03248170163 - Registro delle Imprese di Lecco Numero LC-304260. Literary and artistic property: Copyright © Sisterscom.com Snc. All rights reserved. Reproduction prohibited in any form and medium.