AIRPORT SERVICES FOR PASSENGERS
---
THE EXCLUSIVE HELLOSKY LOUNGE
The Vip Lounge welcomes passengers with 130 seating capacity and 10 different areas
with meeting room, work area, F&B area, smokers' room, bar, catering and more
The new Hello Sky Lounge, with a dimension of 750 sqm and 130 seating capacity, will be dedicated to international and domestic traffic in Milan Bergamo Airport. It is located in airside right before the new passport control area of the terminal extension (extra-Schengen) carried out in 2020.
Video: Copyright © Milan Bergamo Airport.
The lounge is divided in 10 different areas as; relax zones, work area, meeting room, F&B area, smokers' room and toilets with shower which this variety of areas allowing passengers to enjoy the space and services as they prefer. The lounge will offer a tailor-made experience that adapts to the priorities of its valuable guests' demands. The cluster of services appears as hospitality, bar, catering, à la carte dining, including with business entertainment and resting areas which will be presented by a friendly and welcoming staff.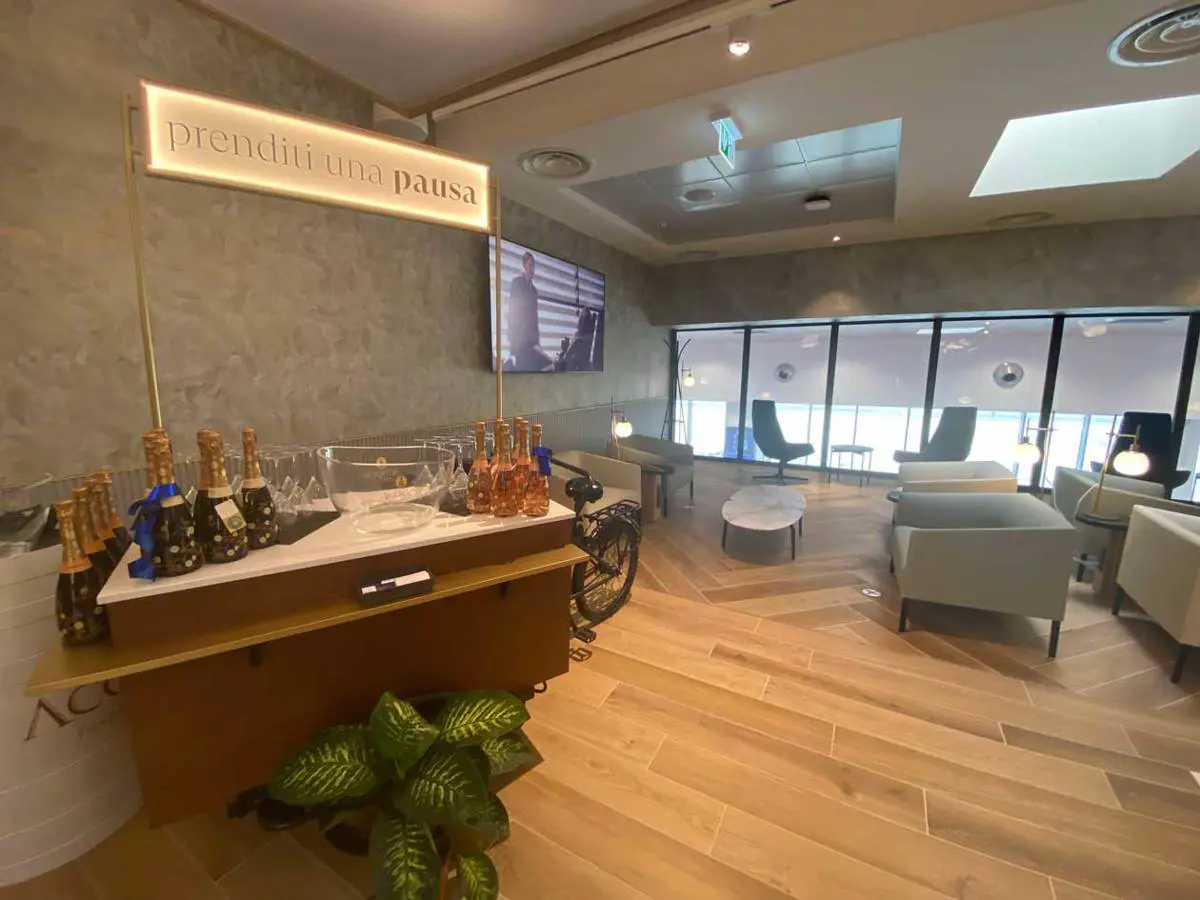 Hellosky Lounge - Milan Bergamo Airport. Photo: Copyright © Sisterscom.com
HelloSky offers a new concept of Vip Lounge, which focuses on the sustainability and recycling. The creation of an oasis in the customer journey through the stimulation of senses and the purpose of sustainability focus. It is a modern and well-designed lounge, with elegant style and furniture that offers a high level of quality and comfort to customers. With natural light and materials, passengers will feel the relaxing atmosphere during their stay.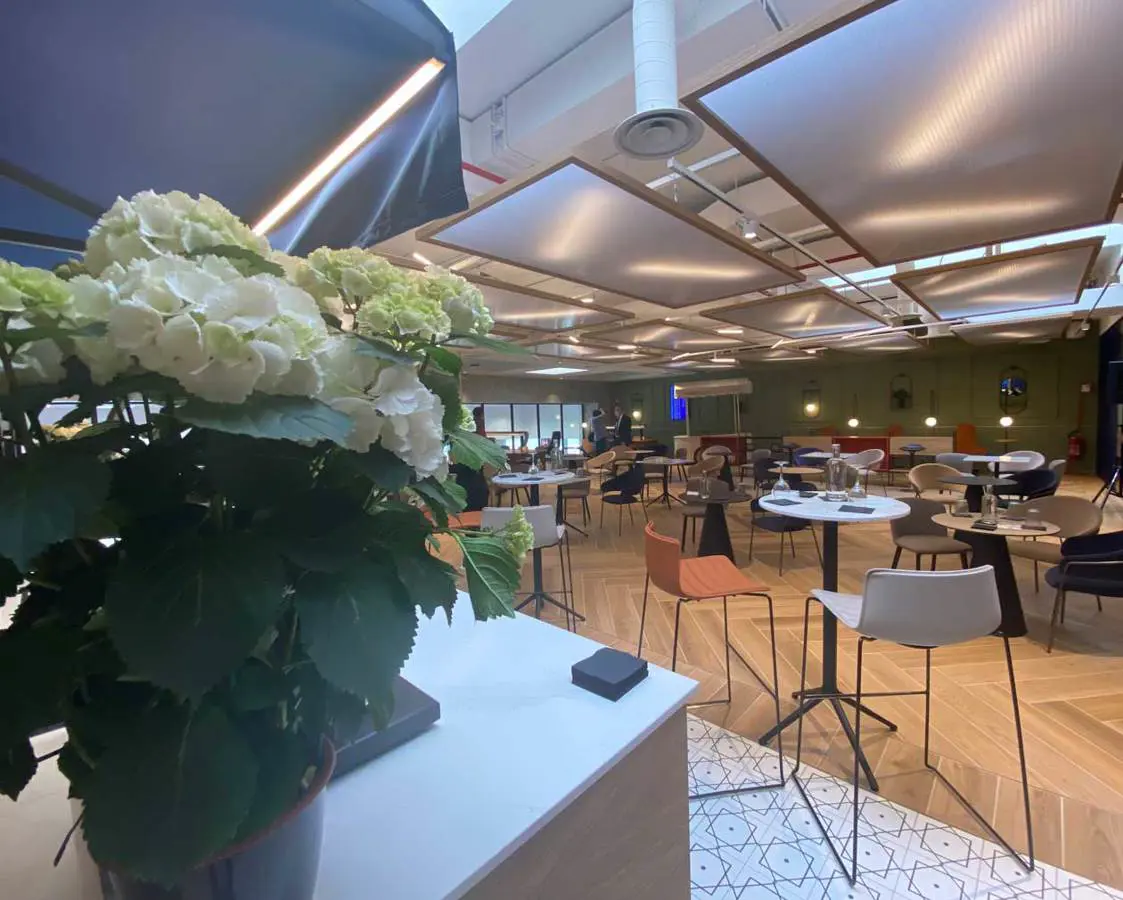 Hellosky Lounge - Milan Bergamo Airport. Photo: Copyright © Sisterscom.com
In the HelloSky Milan Bergamo lounge all amenities are perfectly designed to serve any need of passengers including shower areas or reading spaces. The menu is served with a dynamic approach and adapted to different hours of the day providing a variety of selection including local taste. Pay-per-use premium options will also be available for convenience.
CHECK-IN LOUNGE
Milano Bergamo Airport has one Lounge which allow you to wait for your flight in a welcoming setting equipped with services and facilities especially designed for all types of travellers. The Check-in Lounge is situated in the departures area beside the security checks (open from 04:30 to 20:00). The maximum stay in the Lounge is 3 hours.
Video: Copyright © Milano Bergamo Airport
---
Fast Track plus
Photo: Copyright ©Milan Bergamo Airport
Fast Track Plus is a service that speeds up check-in operations, providing access to the Check-in Lounge for check-in and luggage check-in procedures with a dedicated member of staff. The service also includes priority access to security controls, allowing passengers to quickly get to the gate.
Fast Track is a reserved lane which gives fast access to security checks. Access to the Fast Track is through an optical reader and is active 24 hours a day.
Video: Copyright © Milan Bergamo Airport.
---
bgy top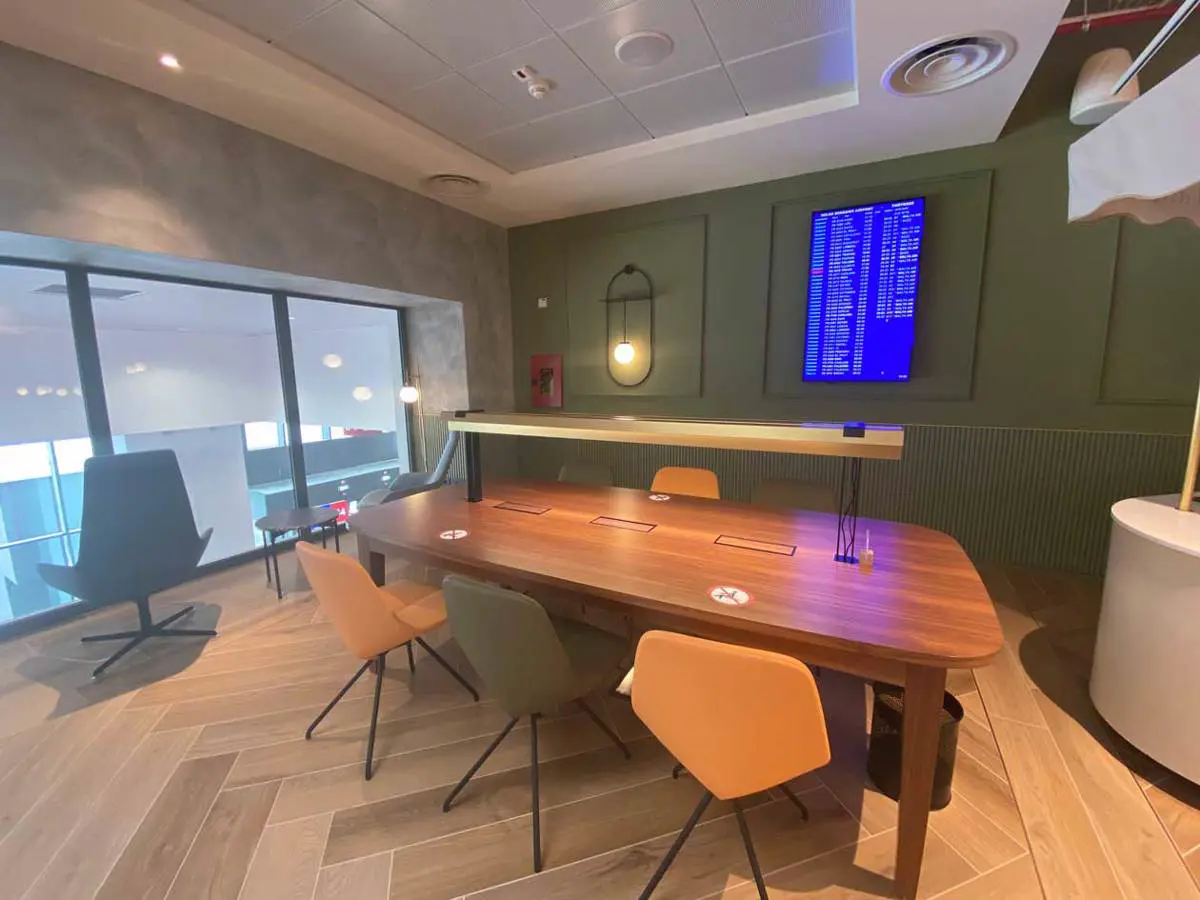 Hellosky Lounge - Milan Bergamo Airport. Photo: Copyright © Sisterscom.com
For those who want an exclusive airport experience, BGYTOP provides a luggage porter service, a welcome service from a dedicated hostess in the Check-in Lounge and a check-in procedure assistance service which is also extended to travel companions. The BGYTOP service also allows access to the HelloSky Lounge located in the departures area before passport control.
AIRPORT PARKING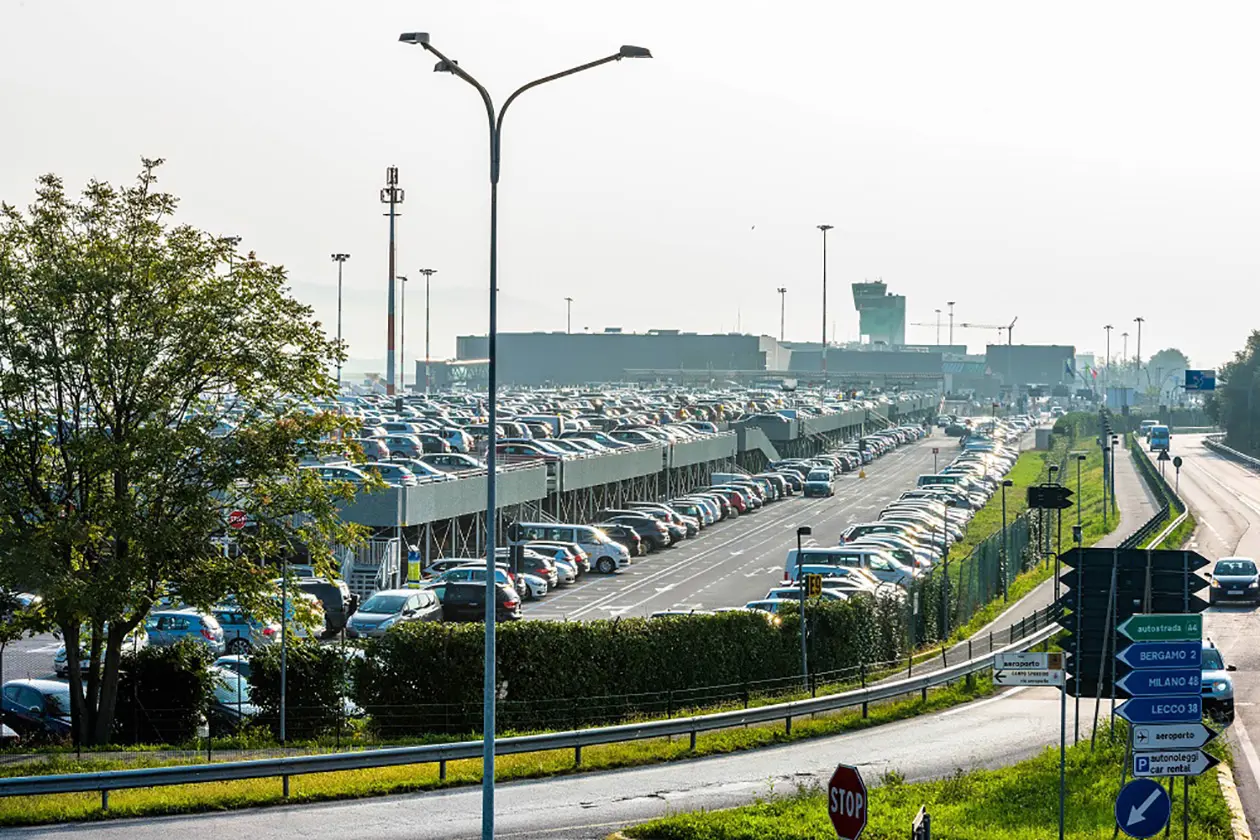 Parking at the airport Photo: Copyright © Milan Bergamo Airport
There are approximately 8,000 parking spaces in the airport, with plenty of options for rates and sectors, offering a wide range characterised by quality and convenience at competitive prices. With ViaMilano Parking, you can park in the airport and take your car keys with you. The parking area is staffed 24 hours a day, 7 days a week.
---
WIFI AT THE AIRPORT
Milan Bergamo Airport has increased the performance of the Wi-Fi network within the terminal, in order to supply a constantly improved service, capable of catering for the devices of the thousands of passengers and staff present over the course of every 24-hour period.
To offer greater clarity regarding use of the SACBO Wi-Fi network, a video tutorial has been produced, providing step-by-step explanations on how to gain access to the service and utilise its capacity to the full.
Video: Copyright © Milan Bergamo Airport.
AIRPORT SHOPPING
Milan Bergamo Airport is home to a variety of businesses with a wide range of offerings and products, in a spacious and comfortable environment. There are many retail businesses in the departure terminal, with well-known brands from the international fashion scene.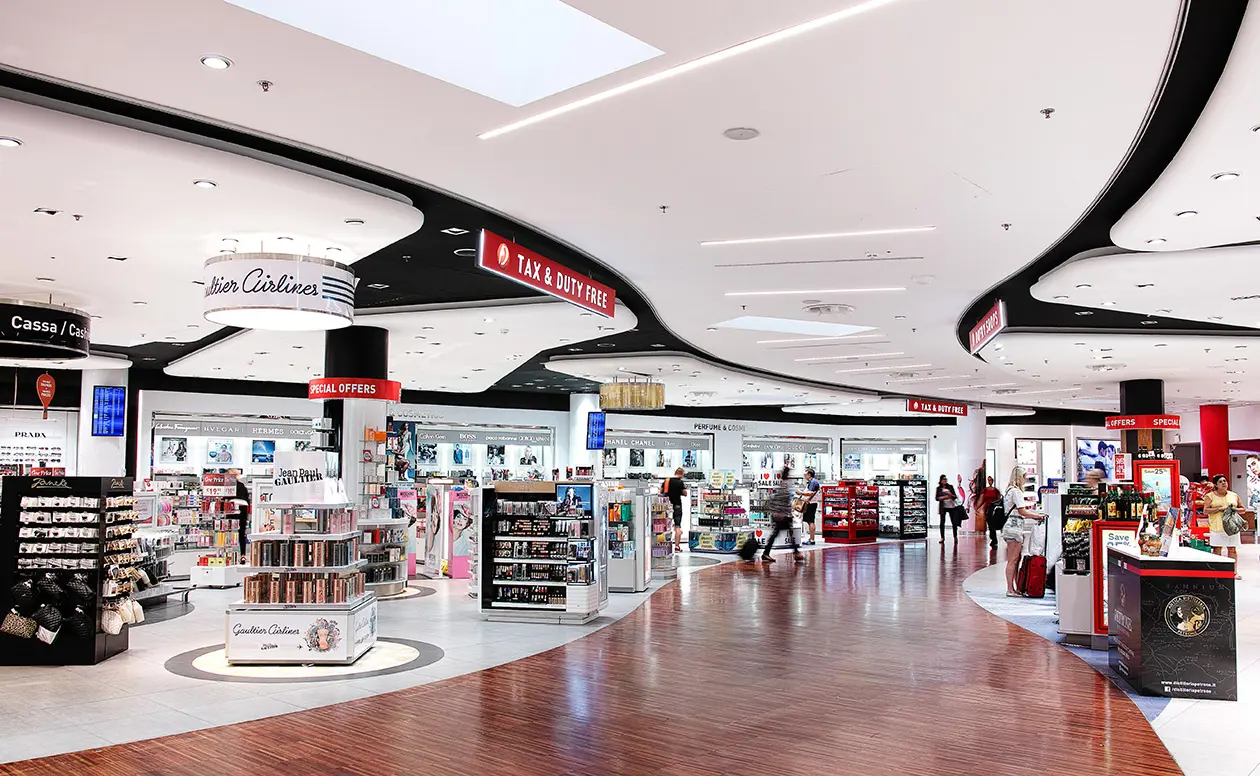 Duty Free - Milan Bergamo Airport. Photo: Copyright © Milan Bergamo Airport
Milan Bergamo Airport hosts a rich and varied selection of stores, in an area featuring wide-open and comfortable spaces. The departures terminal has numerous retail stores, with well-known brands from international fashion. The duty-free shop managed by the Dufry Group can be found on the way to the gates.
An open, welcoming and completely walkable space, with a pleasing and attractive design, offering a wide assortment of Italian and international products and brands. These include specialist food and drink, top-quality liqueurs and internationally renowned brands. The perfumery and cosmetics area is generously stocked, and the many highlighted promotions offer irresistible bargains.
Sponsored content
At
airports
the
shopping
is a fundamental part of the
journey
.
Shopping
and moving from one
boutique
to another makes the
wait for a plane more fun
. There are many brands to
brighten up your time
in the airport
, which offer the latest promotions and collections in
stores
or
Duty Free
; collections that can also be bought conveniently online, such as on the websites of
Bottega Verde
,
Desigual
,
Legami
,
L'Occitane en Provence
,
Pandora
or
Canon
.

food AND BEVERAGE
Passengers arriving and departing from Milan Bergamo Airport can enjoy sampling delicacies in a spacious area dedicated to food, which offers bars and cafés run by important culinary brands such as 120Z, Al Volo, Balzer Airport, Kimbo, Berry & Coffee, La Marianna, Juice Bar, Green Bar Gnam, Heineken Bar, Delice Maison, Briciole, Serge, Viva la Mamma, I love Poke, Santa Cristina, Mc Donald's, Panino Giusto, Tentazioni, F.lli Beretta, Calecc, Placibus, Elav, Winebar Franciacorta, Bottega del Grano e Caffè, Workeat.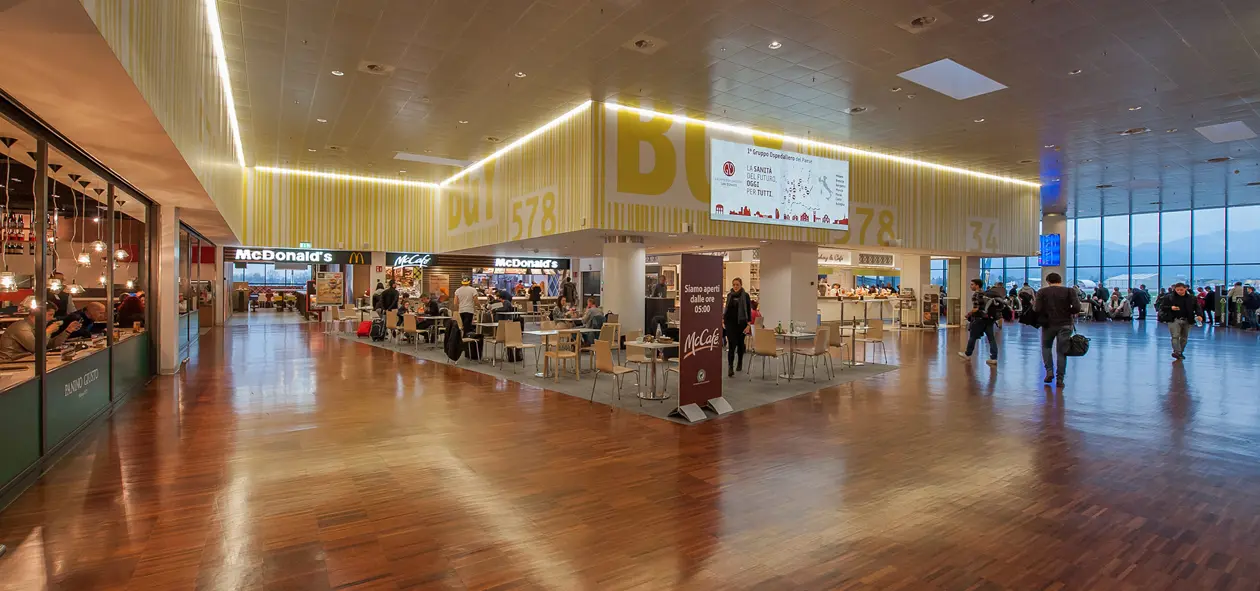 Area Food Airside, Milan Bergamo Airport. Photo: Copyright © Milan Bergamo Airport
The Food Court lets you sample and buy delicious products representing the excellence of Made-in-Italy cuisine from Taste&Buy, Bottega dei Sapori and Balzer Airport.
In the Schengen departures terminal, passengers have the opportunity to taste high-quality products and appreciate the wealth of Italian, Lombard and Bergamasque cuisine. Made-in-Italy products can be purchased in the airport before departure; an ideal souvenir to take home.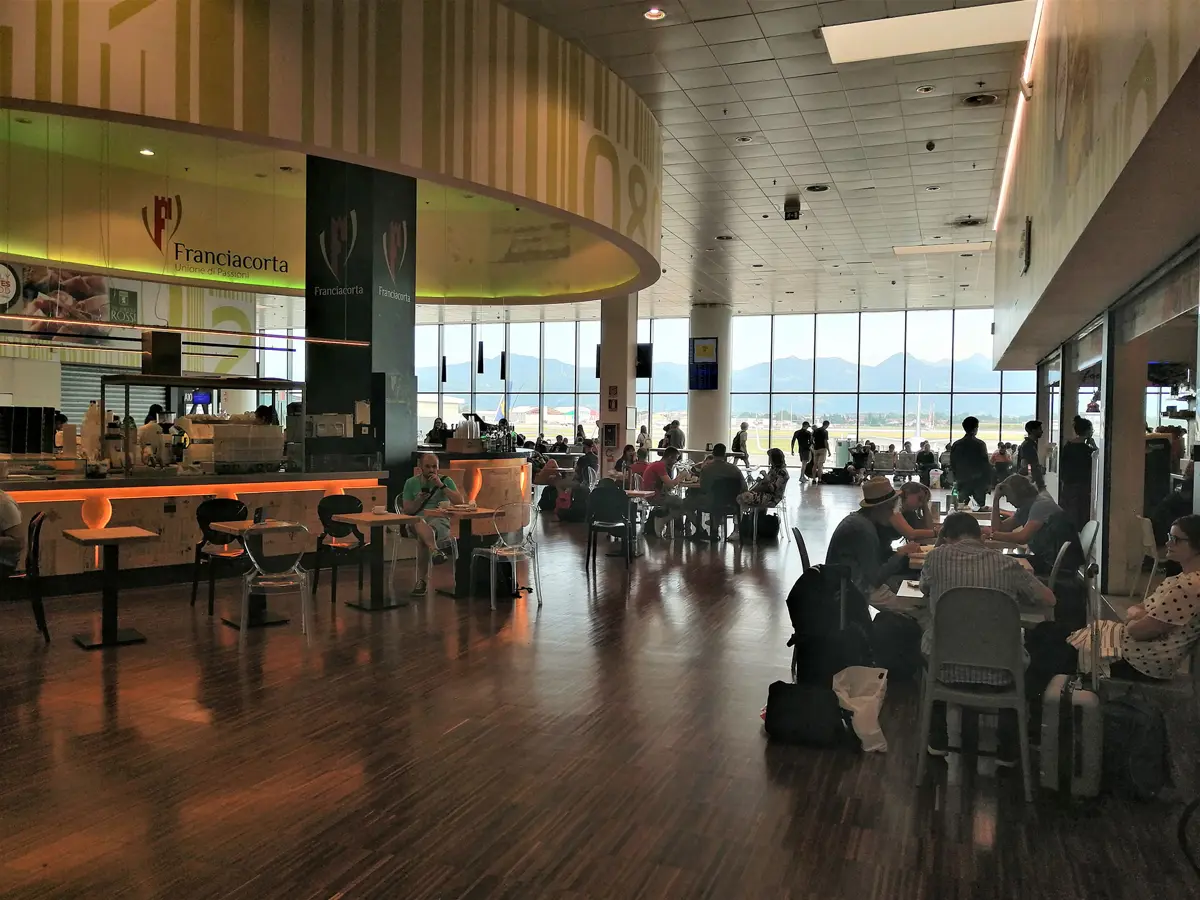 Italy Loves Food - Milan Bergamo Airport. Photo: Copyright © Milan Bergamo Airport.
Lastly, lovers of Neapolitan food can take a tasty break before their trip at the RossoPomodoro restaurant, with its Grignano pasta, buffalo mozzarella from Campania, pizzas, pasta dishes, main courses and desserts.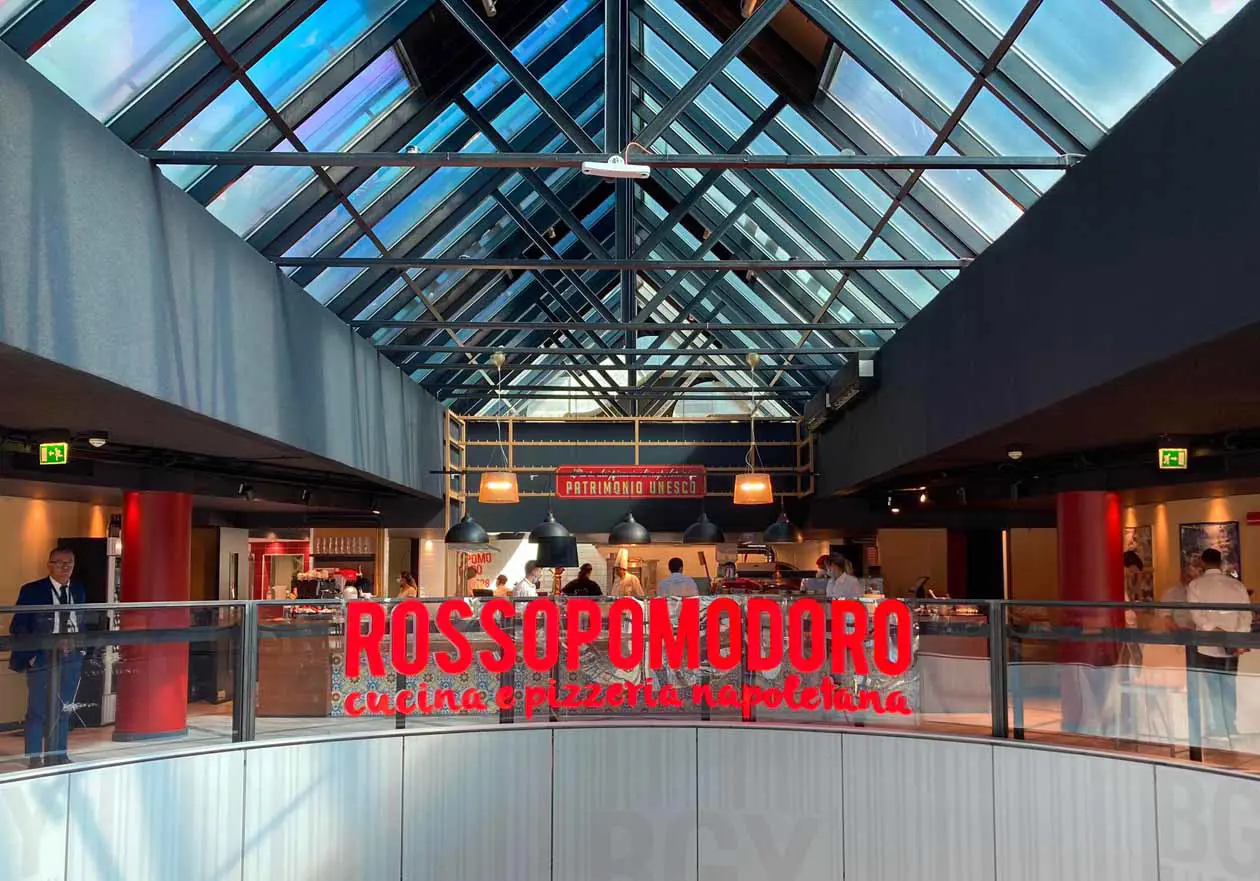 Rossopomodoro at Milan Bergamo airport in the arrivals area. Photo: Copyright © Rossopomodoro
The Html digital edition of Avion Tourism Magazine enables anyone to read the contents published on any device and access the website pages and multimedia content. It can be read vertically, scrolling the articles DESTINATIONS AIRPORTS AIRLINES NEWS & USEFUL INFO and horizontally, passing directly from one item to another in the navigation menu found under the header or by licking on the Blue arrows < >. After reading the in-depth articles proposed, you can return to the Html digital version of the magazine by clicking on the relevant key "Return to Avion Tourism Magazine".
---
You might be interested in
Avion Tourism Magazine N76/2022 Special Edition for Milan Bergamo Airport
Issue closed by Editorial Staff on 8 November 2022
Editor in chief: Angela Trivigno. Contributors: Alisè Vitri, Anna Glik, Enzo Cuppatri, Lisa Maria River, Luca Lembi, Maria Salini, Nicolò Villa. Translations: Halewood Juliet Anne. Cover photo: Copyright © Sisterscom.com Snc / boule1301 / Depositphotos.com. Photos: Copyright © Sisterscom.com Snc with image usage license purchased from Shutterstock.com and Depositphotos.com (Photo for editorial use only: Copyright © Sisterscom.com Snc / Photographers specified under each published photo / Shutterstock.com / Depositphotos.com). Press Office: Tourism boards indicated in the published tourist destinations; Sacbo S.p.A.. Avion Tourism Magazine Special Edition for Milan Bergamo Airport N.76/2022: issue closed by Editorial Staff on 8/11/2022 and published on www.aviontourism.com Registration: Registered at Bergamo Law Court Bergamo N.1 of 09/01/2003 and N.9/2019 of 03/07/2019. Periodicity: semiannual. Publisher, Editing, Administration and Advertising: Sisterscom.com Snc - Via Piave, 102 - 23879 Verderio (Lc) - Italy. P.Iva/C.F. 03248170163 - Registro delle Imprese di Lecco Numero LC-304260. Literary and artistic property: Copyright © Sisterscom.com Snc. All rights reserved. Reproduction prohibited in any form and medium.