Captivating wellbeing destination in Morocco
Located in a splendid position near the foothills of the Atlas Mountains and overlooking the sea, Agadir is also one of the most captivating destinations for getting back in shape. Thanks to its environment rich in iodine, oxygen and sun - which warms the air for some 300 days a year - the city has seen the blossoming of numerous thalassotherapy centres and spas for regenerating body and mind. Almost all the finest hotels have luxurious hammams run by qualified staff, who treat their guests with natural local products such as argan oil, henna, seaweed and rhassoul, a valuable natural clay used for centuries by local women as a beauty elixir.
The beaches of Agadir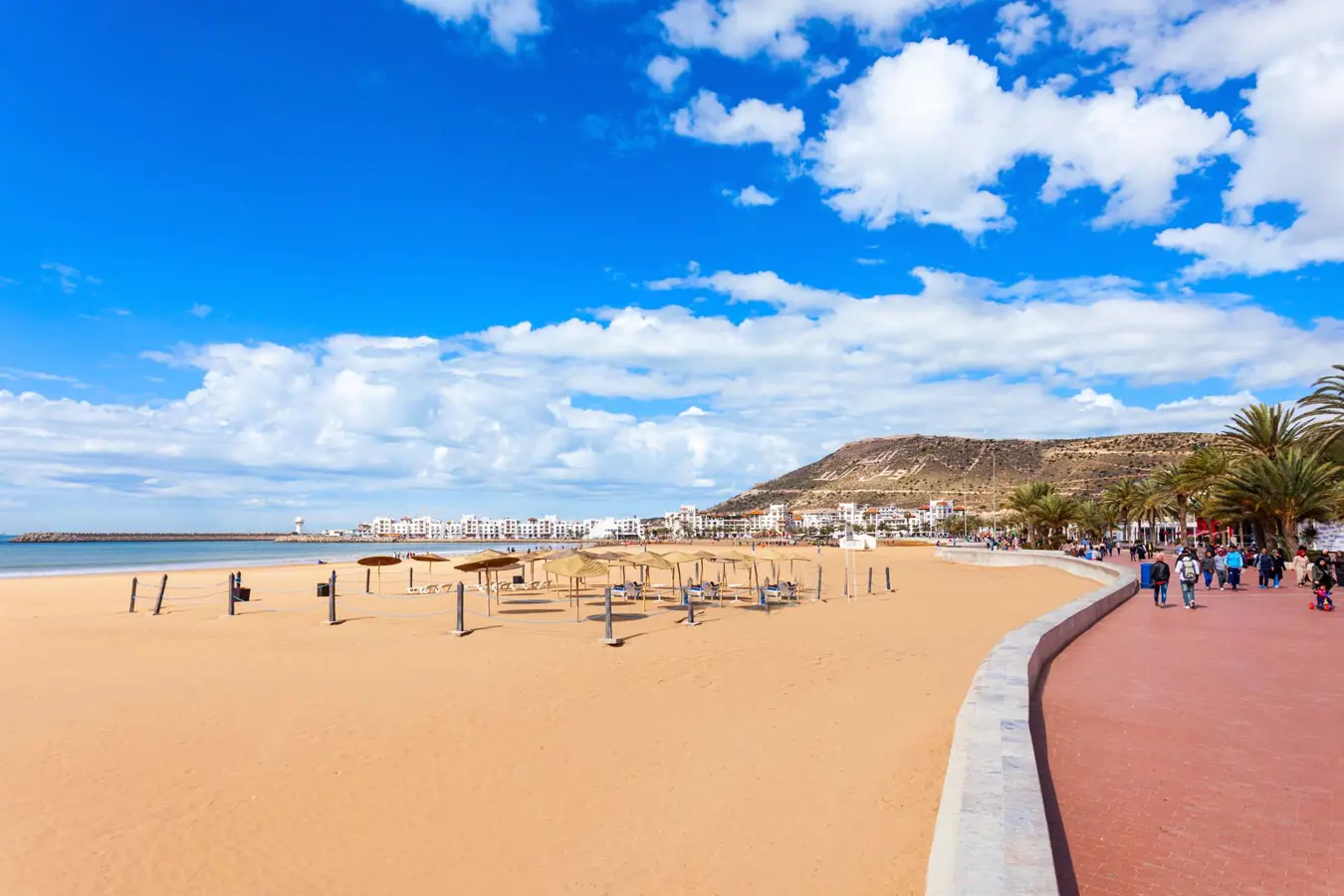 The beach of Agadir.
Photo: Copyright © Sisterscom.com /
Shutterstock
The ten kilometres of beach that extend from the sea to the provinces of the Sahara form a spectacular half-moon-shaped bay surrounded by eucalyptus, tamarind and palm trees. The bay is considered one of the 10 most beautiful in the world.
Golf courses on the sea and marine sports in Agadir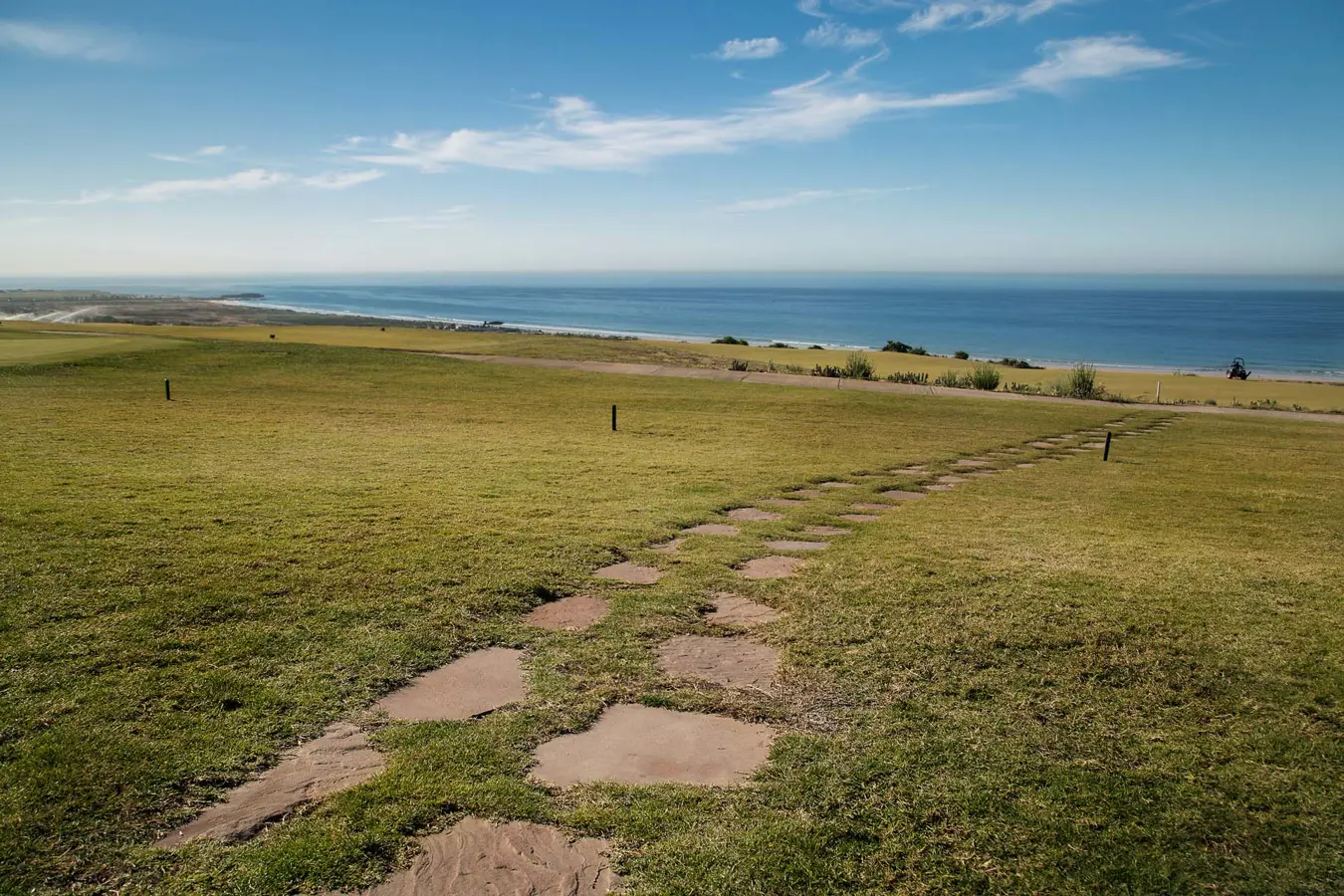 Golf courses overlooking the sea. Agadir.
Photo: Copyright © Sisterscom.com /
Shutterstock
This lively tourist city is also renowned for its numerous and impeccably maintained golf courses, including the Soleil Golf Club, Ocean Golf Club and Royal Golf Club, which are wonderful green oases even for non-players.
The continuous breeze also makes it an ideal location for water sports such as sailing and surfing, and its busy promenade, the Corniche, is abundant with characteristic bars, cafes and pubs as well as enticing shops. Lovers of gambling will enjoy the numerous all-night casinos.
The Port of Agadir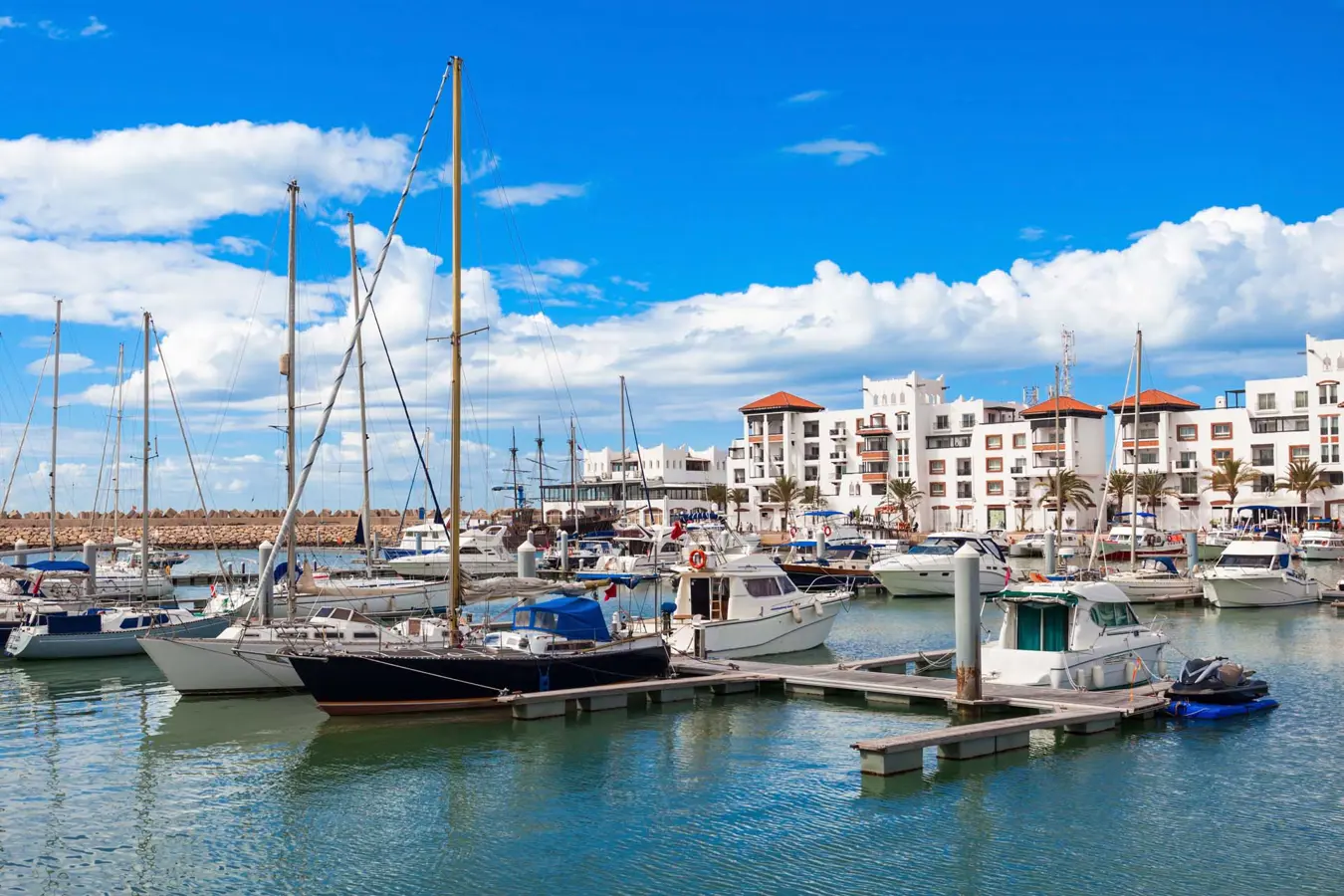 The port of Agadir.
Photo: Copyright © Sisterscom.com /
Shutterstock
Capital of the Souss Massa region, Agadir is a crossroads of art and culture between Africa, the East and old Europe, which made it an important economic centre. Its well-equipped vessel port can hold 300 yachts of any dimension all year round. Trade is also very important in Morocco's largest port where fish is exported worldwide, as are locally grown products such as citrus fruits, vegetables and flowers.
Agadir, green city, modern and welcoming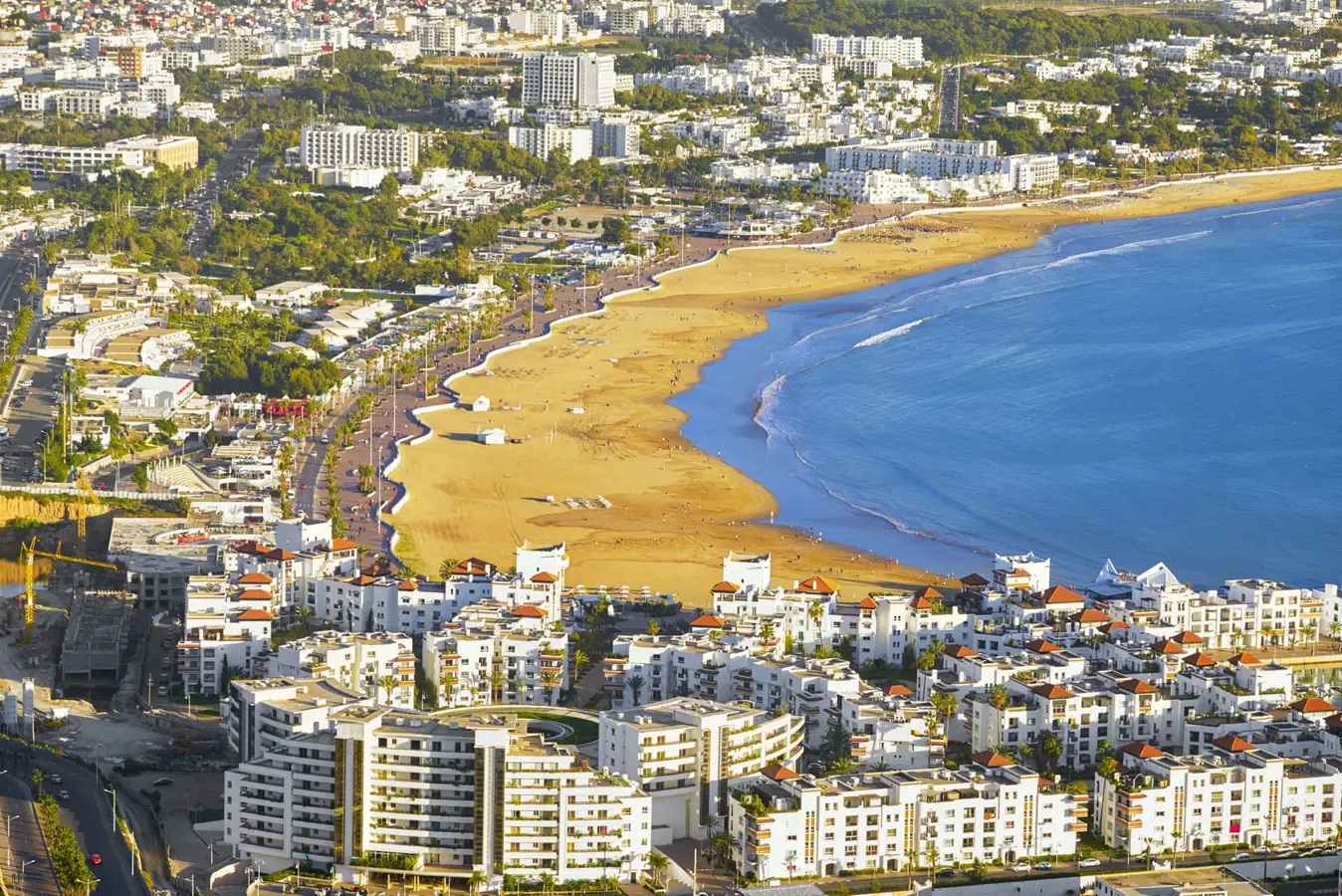 The city's architecture is modern - Agadir was largely rebuilt after the dreadful earthquake of 1960 - with a predominance of the colour white with touches of blue, and interspersed with vast parks, flower-filled gardens and wide avenues.
Olhao Garden. Agadir. Photo Copyright © Sisterscom.com /
Shutterstock
Birds Valley, where birds of many species can be found together with monkeys, kangaroos and llamas, is particularly interesting, as is Olhao Garden, named in honour of its Portuguese sister city, which is a triumph of exotic flowers and palms, with lakes and streams that bring a feeling of coolness under the boiling sun.
Culture and traditions of Agadir
Although the imposing walls of the old Kasbah, situated on high ground above Agadir, no longer stand, being almost totally destroyed by the earthquake of last century, a climb to the top is well worthwhile to enjoy the extraordinary spectacle of the bay and city below.
The city's festivals, which include the famous Timitar festival dedicated to world music and in particular traditional Berber Amazigh songs, as well as the ornate, symbolic jewellery - silver bracelets, enamelled buckles and headdresses decorated with coral, amber and even coins - worn by the local women with pride during festivals, offer an insight into the traditions and customs of the Berbers.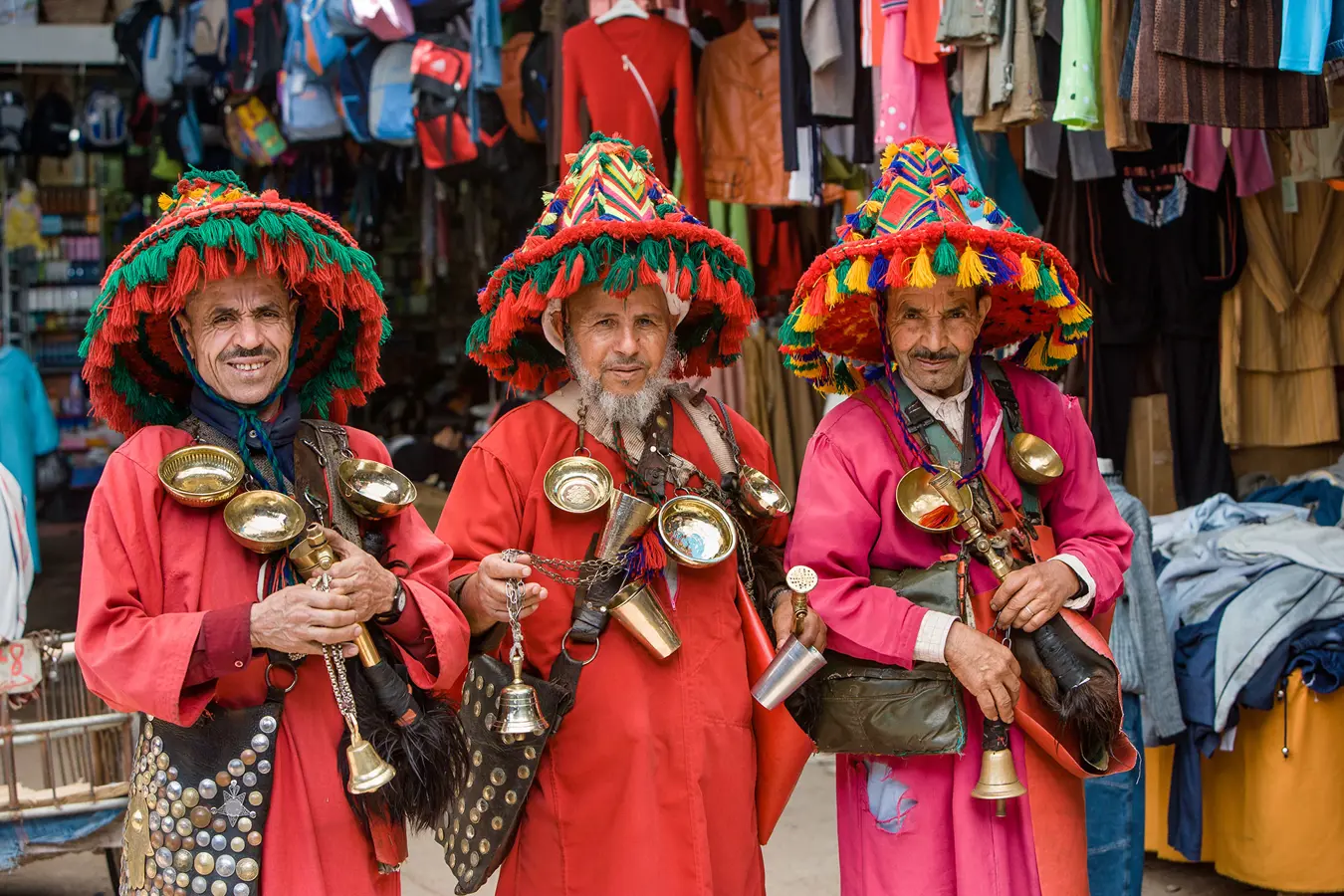 Souk of Agadir.
Photo Copyright © Sisterscom.com / Laurens Hoddenbagh /
Shutterstock
For a more comprehensive overview, tourists can pay a visit to the city's museums, such as the Amazigh Heritage Museum, which displays the musical instruments, rugs, vases, jewellery and weapons of the ancient Berber people.
Lastly, in order to fully engage in the spirit of the place, the Great Mosque is well worth a visit, as is the large Souk of Agadir, a popular marketplace with over 6,000 shops selling every kind of local product, including spices such as cinnamon, cumin, sesame and coriander that fill the air with aromas.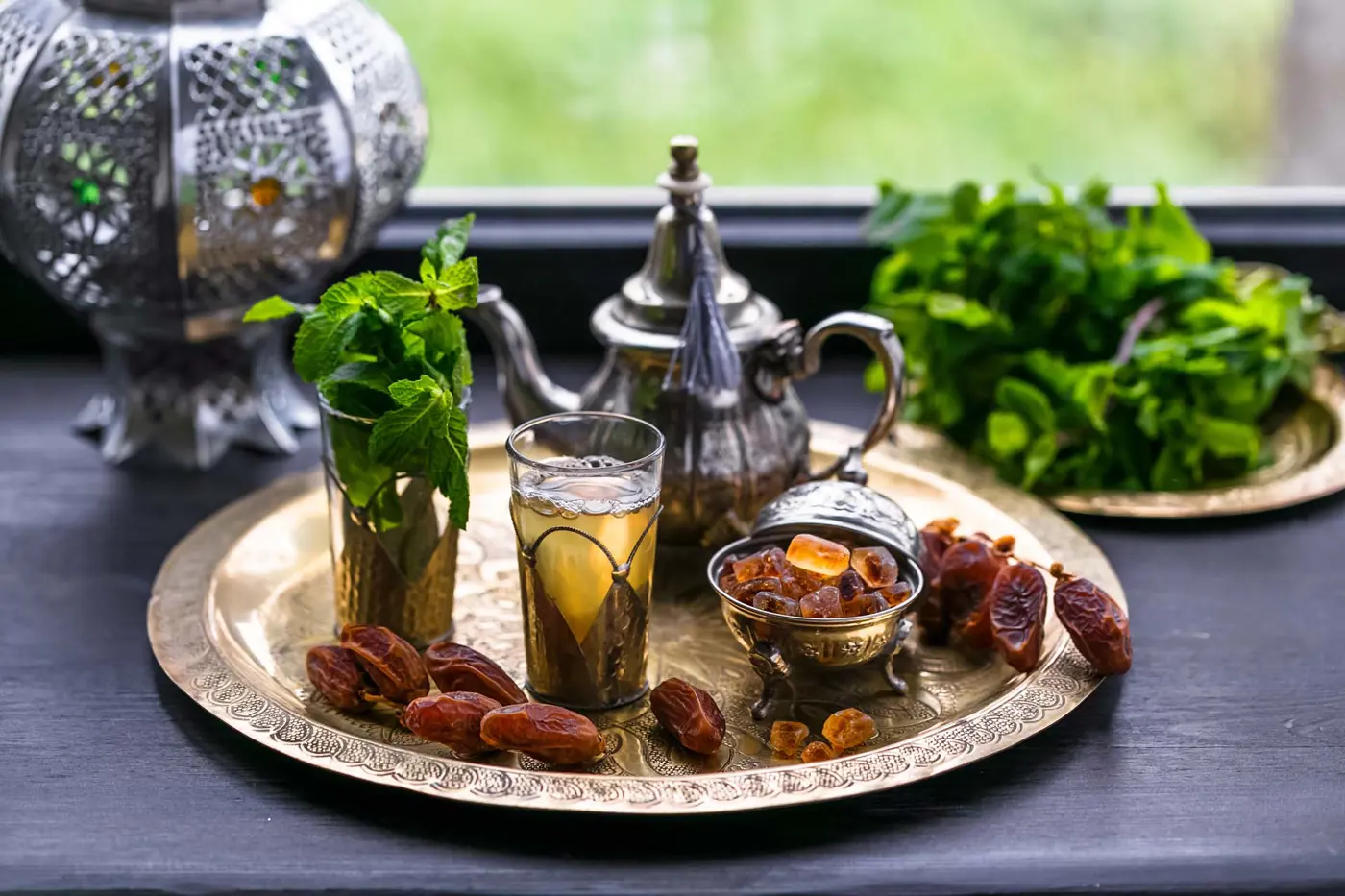 The culinary specialties of Agadir
These are the spices that add zest to the local cuisine, which offers interesting dishes such as tuna with raisins, monkfish with saffron, bean soup and chicken tagine with almonds and honey, another superb local product celebrated with its own festival in May.
While the Moroccan ritual of sipping an aromatic mint tea is the ideal way to quench your thirst during the day.
Text by Anna Glik
Avion Tourism Magazine
Photos: © Sisterscom.com, Shutterstock
All rights reserved. Copyright © Sisterscom.com
Tourist board
visitmorocco.com
Where to sleep in Agadir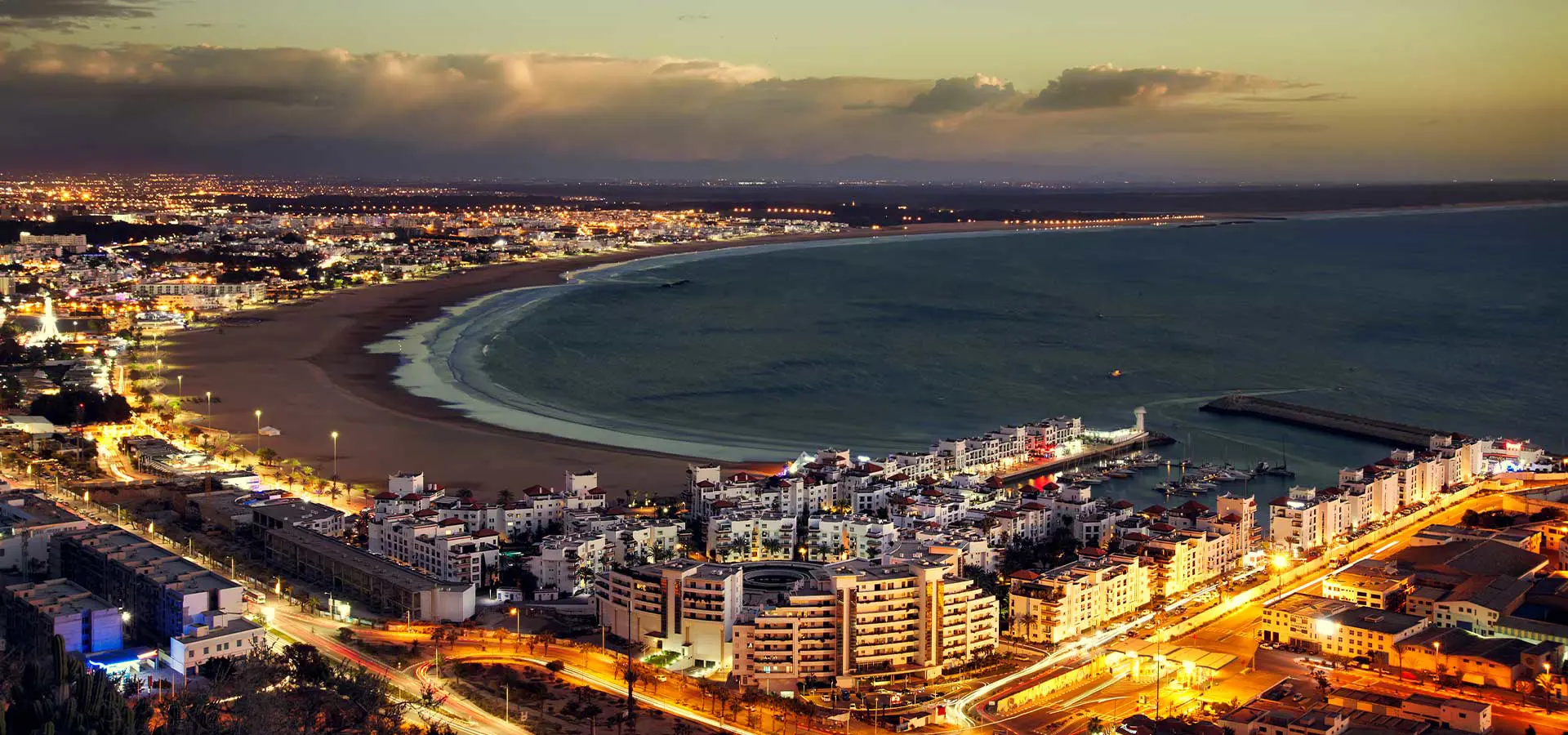 Agadir
is a welcoming city and offers different possibilities for accommodation.
To find the ideal hotel and the best offers you can do a search for the stars but also for districts or landmarks.
STARS
Hotels for stars, differentiated by type of services:
DISTRICTS
Hotels in the districts
LANDMARKS
Hotels in tourist areas
AIRPORT
Hotels near the airport
SURROUNDINGS
WHERE TO GO in agadir
Places of interest in Agadir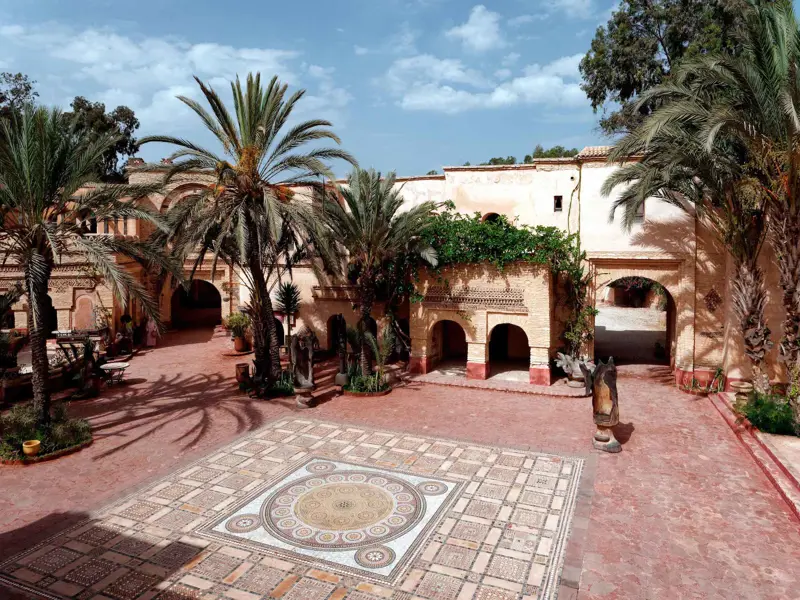 THE NEW MEDINA
Rebuilt in 1982 by the Italian architect Coco Polizzi, the New Medina of Agadir has been beautifully designed with many wooden sculptures. It creates a striking corner of the city with its narrow alleyways and numerous shops selling fabrics, spices and Berber jewellery. In summer the amphitheatre hosts important events.
THE GRAND MOSQUE
Surrounded by palms, with a towering minaret and beautiful doors with detailed plasterwork and geometric motifs, this Mosque is worthy of a visit for its solemn interior with monumental arches and tall columns, artistic decorations on the walls, brightly-coloured tile flooring and the atmosphere inside.
Museums of Agadir
AGADIR AMAZIGH HERITAGE MUSEUM
Situated in the city centre of Agadir in a beautiful modern building, the Museum offers a comprehensive overview of Amazigh, or Berber, traditions, with an impressive collection of jewellery crafted according ancient methods and valuable rugs. Many interesting items include documents rolled up and stored in wooden tubes and marriage contracts written on wood.
MEMORY MUSEUM
Situated to the south east of the very beautiful Olhao Garden, in the modern centre of Agadir, this museum illustrates with images and documents the events of the dreadful earthquake of 1960, which destroyed the city and caused the death of 18,000 people. It displays a vast collection of photos of places before and after the city's reconstruction.
Excursions in Agadir
BIRDS VALLEY
Birds of many species, monkeys, peacocks, llamas and even camels are found among the palm trees and exotic flowers in this vast green area of the city, located near to the beach. This zoo with its many play areas is the ideal place to take the children.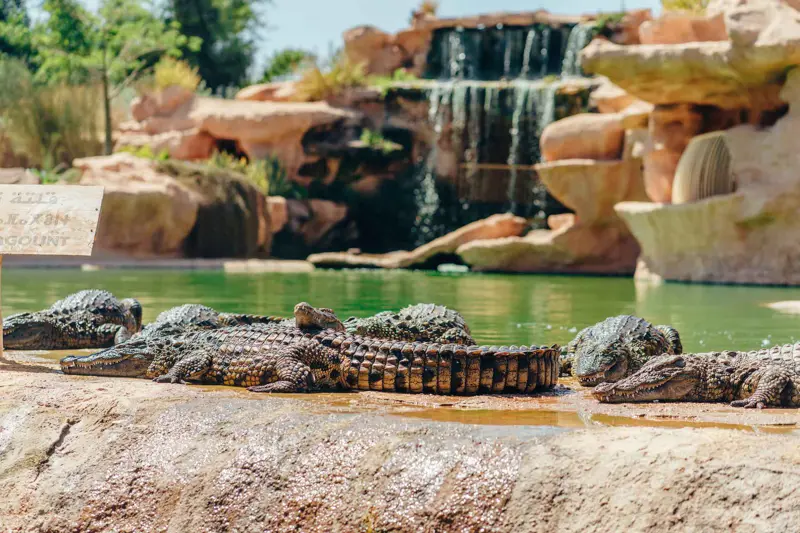 CROCOPARK
Just 14 kms from Agadir, this nature park is home to Nile crocodiles in an environment that has been carefully created to mimic their natural habitat. Plants and flowers found in the region, including orchids, bring a touch of colour to this unique place.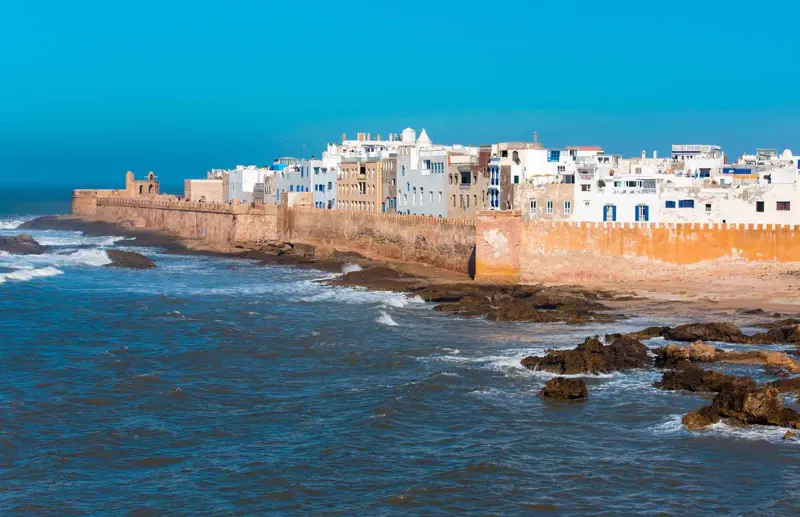 ESSAOUIRA
This seaside fishermen's town, one of the most attractive in Morocco, is well worth visiting for its extraordinary Medina - a UNESCO World Heritage Monument - and for the interesting Sidi Mohammed ben Abdellah Museum, which is located in the former residence of a pasha. It houses a collection of regional art and traditional musical items.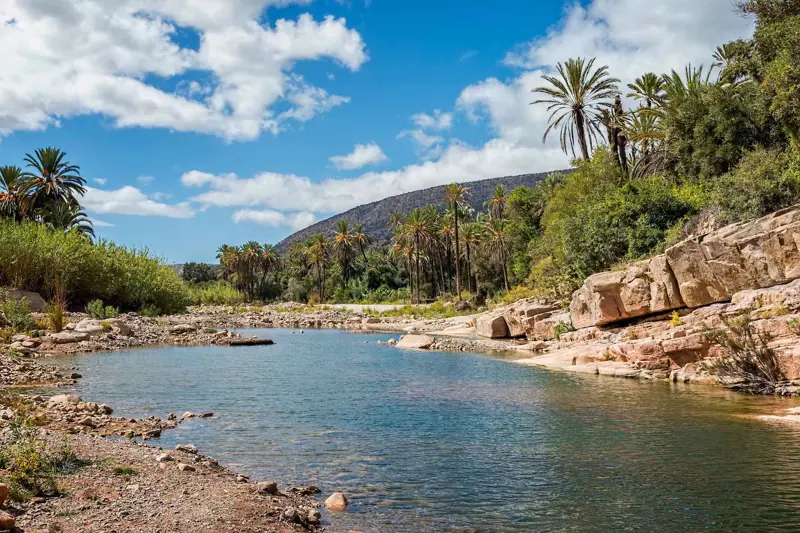 PARADISE VALLEY
A visit to this green lung, situated a few kilometres from Agadir in the middle of the desert but surrounded by eye-catching rocks, small streams and paths lined by palms, is not to be missed. It offers three waterfalls that drop into natural turquoise pools, ideal for swimming. The half-hour route passes through villages among the mountains.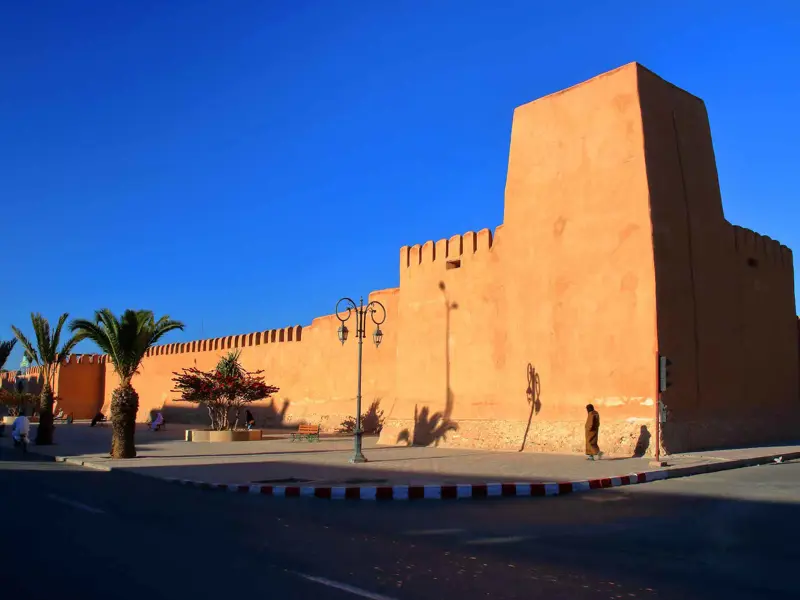 TIZNIT
Situated between the mountains and the Atlantic coast, this small seaside town is located about an hour from Agadir. A place of rocks and canyons, it is also known for silver jewellery making. Its Medina sells beautifully crafted pieces such as brooches, earrings, women's decorated headdresses and beautiful daggers for men.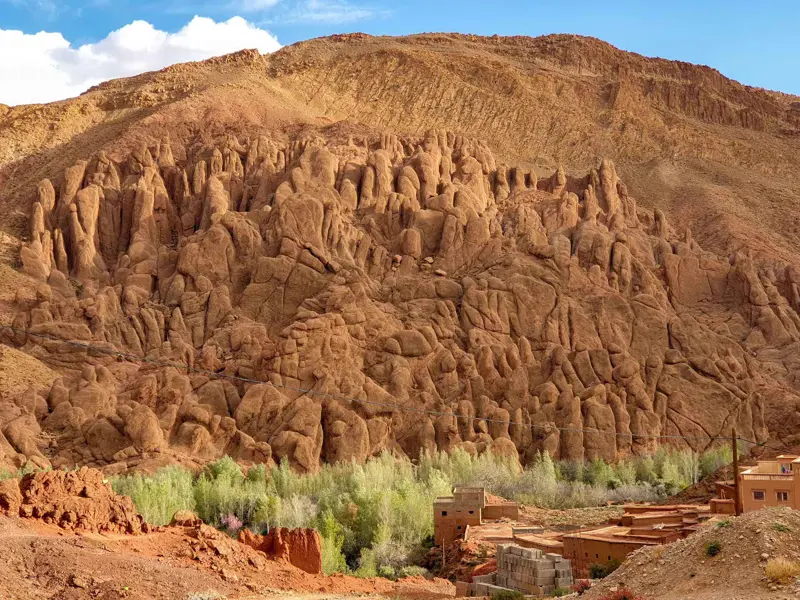 SOUSS MASSA NATIONAL PARK
This 33,800-hectare park of dunes, steppes and cliffs along the coast is found just a few kilometres south of Agadir. It features an extraordinary biodiversity of flora and fauna with hundreds of rare birds, including a large colony of bald ibis, a protected species, as well as mammals such as gazelles, hares, mongooses, foxes and even porcupines. Grown here are the famous argan trees, also known as the "tree of life" for the health properties of their fruits from which a valuable oil used in cosmetics is extracted.
Recommended tours in Agadir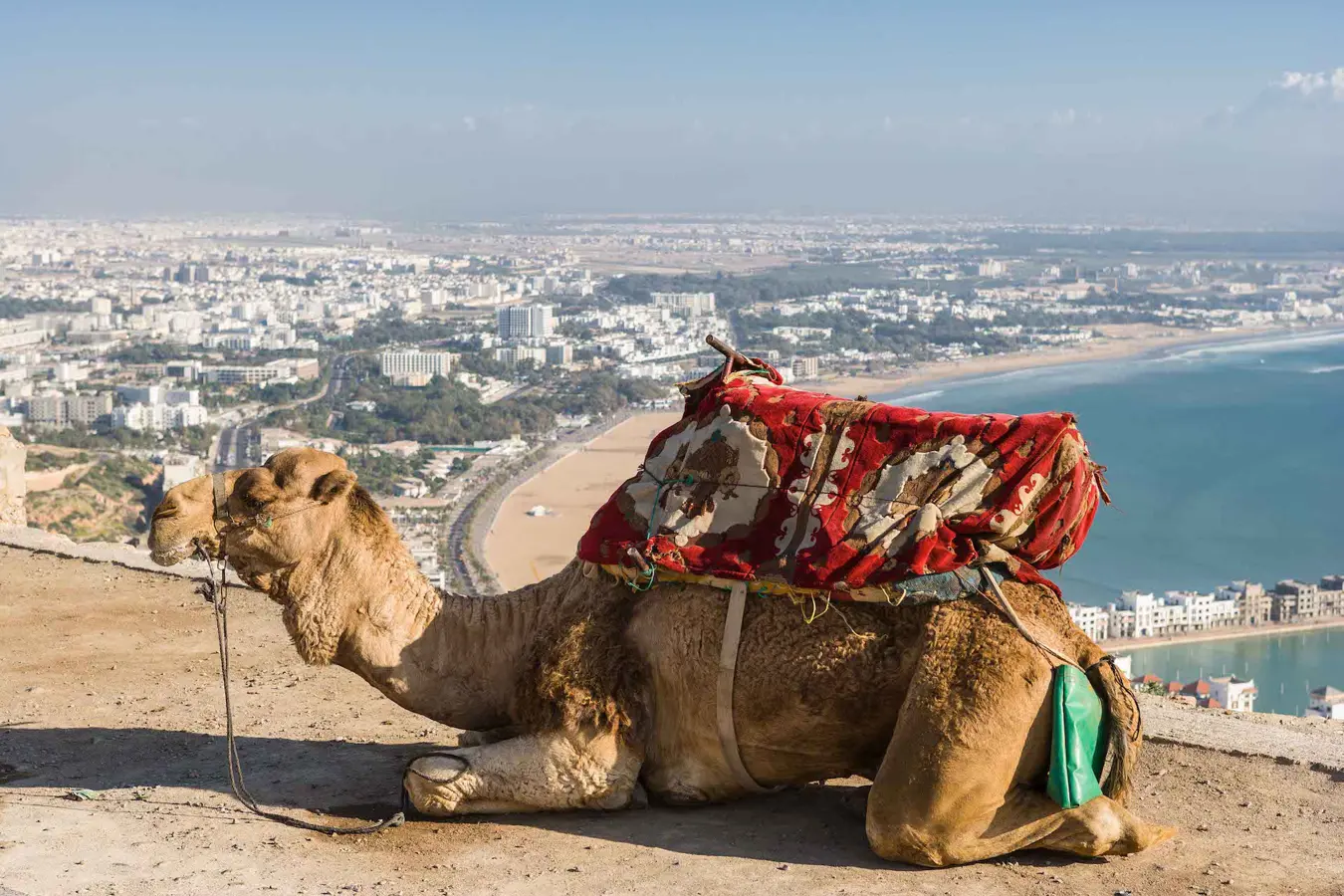 CAMEL TOUR IN AGADIR
Camel ride
to
Ranch Amodou
, along the sandy
beach
on ancient paths towards the
mountains
. An incredible experience to admire panoramas in tranquility and finish the
camel ride
with a mint tea on a local ranch.
Two-hour camel excursion in Agadir
.
SAHARA and PARADISE VALLEY
Departure from
Agadir
to admire the
dunes of Timlalin
, up to the
dunes of Tagoba
which overlook the
Atlantic Ocean
. A beautiful panorama to discover
sand dunes
and
fishermen's houses
on the
beach
. Then continue to the
banana village
, with a lunch in a local house, the pools of
Paradise Valley
in the High
Atlas Mountains
along the road to the
Paradise Valley
from
Taghazout
where you can swim and relax.
Tour: Sahara and Paradise Valley
.
Discover all tours in Agadir
You might be interested in
Destinations found in the vicinity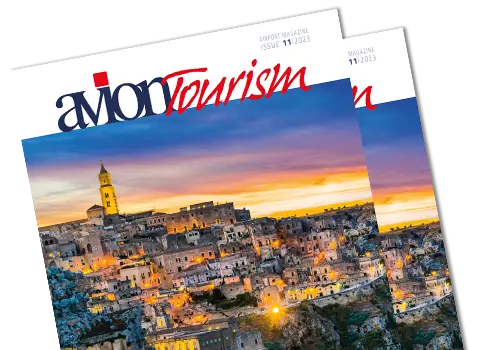 AVION TOURISM MAGAZINE
in digital version
On this issue: The World Heritage Sites of Basilicata and Puglia.