27 October 2018
Munich Airport
This weekend the winter timetable will come into effect from Sunday, October 28, 2018 until Saturday, March 30, 2019
This weekend the big day will be here again: As the clocks go back an hour, the winter timetable will come into effect at
Munich Airport
. The new schedule, which will remain in effect
from Sunday, October 28, 2018 until Saturday, March 30, 2019
, offers passengers
207 destinations in Germany
and abroad. Alongside
17 airports in Germany
, travelers in
Munich
can choose from among
139 European routes
and
51 intercontinental destinations
all over the world.
Bogotà with Avianca
On November 17, South America will be a little closer, when the Columbian airline Avianca launches a new connection from Bogotá to Munich. It is the carrier's first-ever non-stop service from the Columbian capital to a German destination, and will depart five times a week. Passengers flying to Bogotá will benefit from the wide range of connecting flights to attractive Latin American destinations offered by the Star Alliance member Avianca at its home hub.
Miami, San Francisco and Singapore with Lufthansa
Lufthansa
is stepping up its service to
Miami
this winter from three departures a week to a daily flight. This service will now be operated with an
Airbus 380
: the world's largest passenger aircraft. With the start of the winter timetable, Lufthansa will operate its Munich to
San Francisco
service with the A380 for the first time. This will increase the available capacity on that route. The German carrier will also continue the new flights to
Singapore
that it launched in the summer.
Houston, Beijing, Bangkok with United, Air China and Thai Airways
In another first, the
US airline United
is continuing its daily connection to the Texan metropolis of
Houston
into the winter season this year. And with the addition of two new weekly flights to
Beijing
,
Air China
will fly from Munich for the Chinese capital seven days a week. In the coming winter season,
Thai Airways
International will make its daily flights to
Bangkok
with a modern Boeing 777 aircraft instead of the Boeing 747 as before. This means that there are no longer any "Jumbo jets" in operation at Munich Airport at present.
Edinburgh, Katowice, Moscow with Lufthansa
Lufthansa
will depart for the Scottish capital,
Edinburgh
, twice a week this winter. Meanwhile, it will continue to operate the service to
Katowice
, Poland, launched in the summer months, and is adding a third daily flight to its service to
Domodedovo Airport
in
Moscow
.
Hamburg, Cologne, Split, Thessaloniki with Eurowings
The Lufthansa subsidiary
Eurowings
is offering 28 flights a week from Munich to
Hamburg
in the winter schedule, and will increase its services to
Cologne
to 38 weekly departures. The airline will also fly from Munich to
Split
in Croatia and
Thessaloniki
in Greece for the first time.
Alicante, Gran Canaria, Malaga, Palma de Mallorca, Tenerife and Oslo with Norvegian
New airline: BA CityFlyer
On February 16, 2019, Munich Airport will mark the debut of a new airline with the launch of 18 weekly departures to
London
City Airport
by the British carrier
BA CityFlyer
.
Flights
Text edited by Alisè Vitri
Copyright © Sisterscom.com
Source: Media Relations Munich Airport
Visual: Copyright Munich Airport
All rights reserved.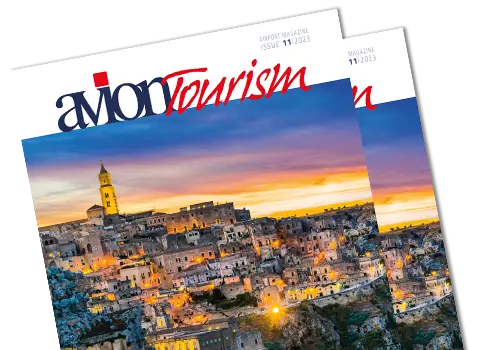 AVION TOURISM MAGAZINE
in digital version
On this issue: The World Heritage Sites of Basilicata and Puglia.