The oldest city in Germany
Is steeped in more than 2,000 years of history, which emanates from its alleyways and monuments. Its heart, the cathedral, is situated directly on the banks of the River Rhine, and is the undisputed symbol of the city, and perhaps the entire nation.
The Cathedral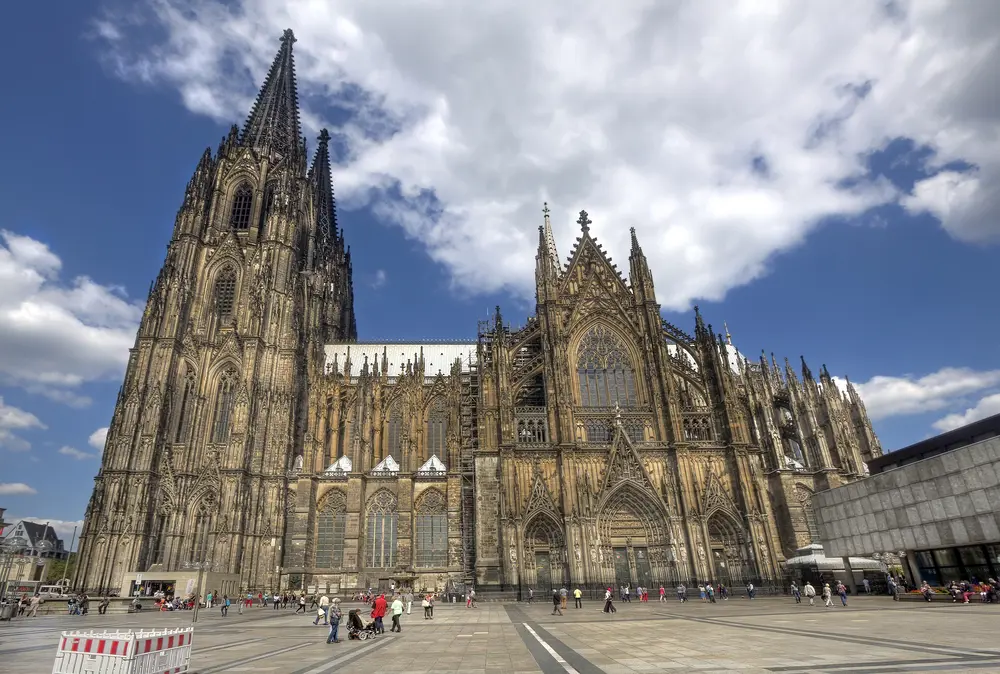 Cologne Cathedral is one of the largest Gothic cathedrals in Europe. Dedicated to St. Peter, it soars over the city with spires that reach 157 metres. It was declared a UNESCO World Heritage Site in 1996. Its construction dates back to 1248, when it was built to house the relics of the Three Kings donated to the city by Federico Barbarossa in 1164, which are still found inside. A vibrant and rich city has developed at the foot of the cathedral.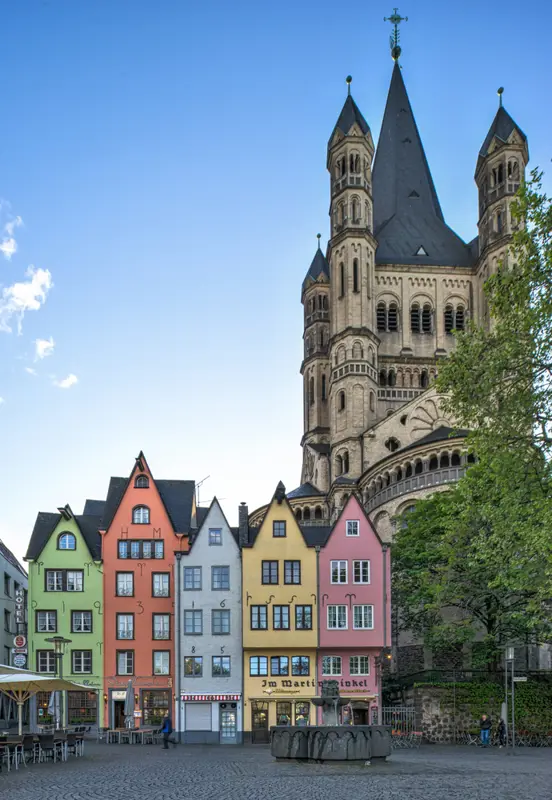 The historic centre
Cologne's historic centre, on the left bank of the Rhine, is characterised by beautifulcoloured buildings, tightly squeezed together and overlooking streets with a medieval flavour.
Amongst its most iconic buildings is the Rathaus Town Hall, located on Hohe Strasse and the twelve large Roman churches which, grouped in a semicircle, surround the old city centre.
Due to its many churches and relics Cologne was soon nicknamed "Holy Cologne" and now hosts the greatest number of places of worship of the world's major religions in Germany.
Cologne has a cosmopolitan and multi-ethnic feel and its cultural vivacity is evidenced by its large network of museums and galleries which reveal a valuable artistic heritage of all eras and styles.
Rheinauhafen quarter
With its successful blend of old and new, Cologne is an established shopping destination and a bustling and friendly metropolis. To understand this, all that is needed is a visit to the new "Rheinauhafen" quarter (literally: port on the fields of the Rhine), facing the river between the Chocolate Museum("Schokoladenmuseum") and the southern bridge ("Südbrücke"); its three spectacular buildings in the shape of cranes, suspended in mid-air over the dock, are now an unmistakable feature of the city. From here you can visit Veddel, traditional quarters with a bohemian atmosphere, where you can lose yourself among art galleries and charming cafes and finish your visit with a Kölsch, Cologne's traditional beer with a bitter flavour.
It's not just the beer that is fresh and fragrant in Cologne. Is there anyone who does not know Eau de Cologne? Synonymous with perfume throughout the world, this famous essence, created by the Farina family, is produced to this day with the "4711" mark, which is the address of the old factory that has produced the fragrance since the 1800s and is now home to a museum dedicated to its history.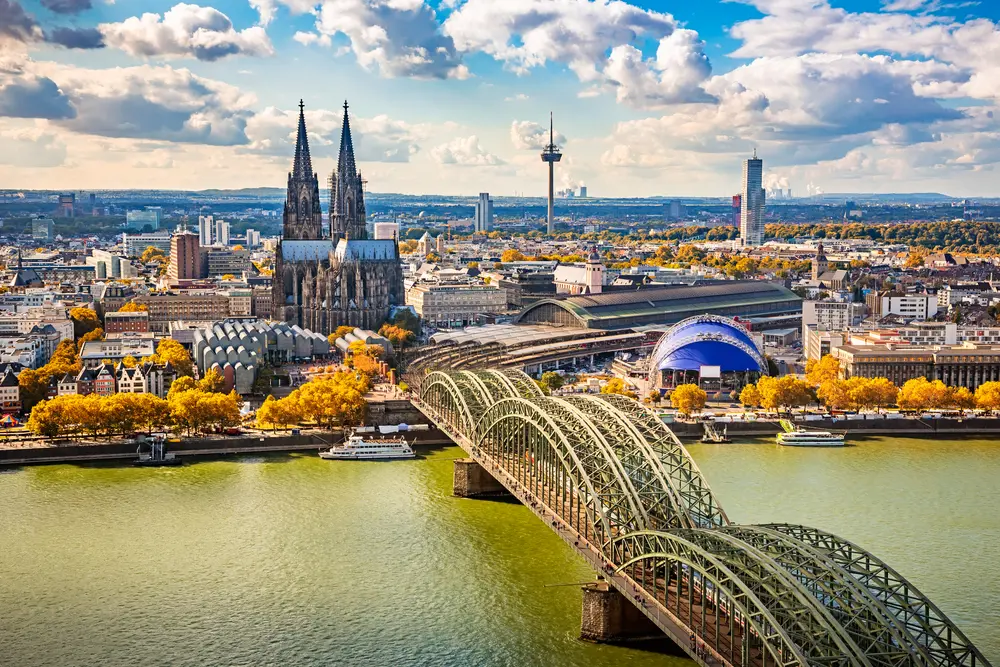 To conclude a visit to Cologne, there is nothing better than a cruise on the Rhine during which you can admire the city's splendid skyline, its ancient and modern bridges and maybe even visit the surrounding area with its panoramic views and castles.
I prodotti tipici della cucina tedesca
A livello internazionaleI i prodotti tipici più riconosciuti sono senza dubbio la birra, i crauti e le  salsicce . Ma il patrimonio enogastronomico tedesco offre 120 tipi di formaggi, vini Riesling spumeggianti e fruttati Pinot neri, prodotti 13 zone di produzione vitilvinicola. 
I biscotti come Printen, e dolci come Baumkuchen di Salzwedel a forma di albero, Il pane Brezel, sono solo alcune delle specialità tipiche da scoprire insieme alla cucina gourmet degli oltre 300 ristoranti stellati.
Where to sleep in Colonia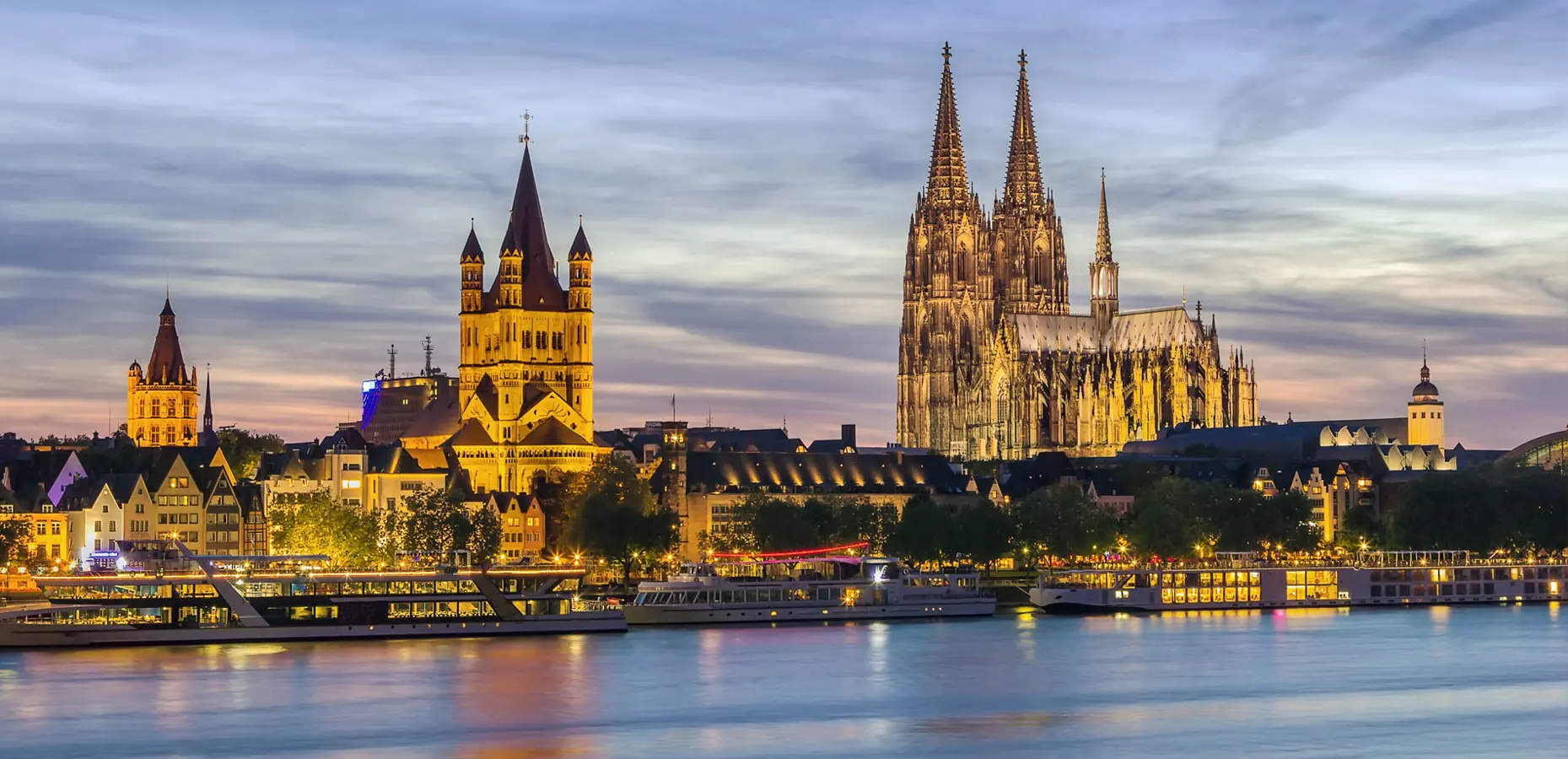 Colonia
is a welcoming city and offers different possibilities for accommodation.
To find the ideal hotel and the best offers you can do a search for the stars but also for districts or landmarks.
DISTRICTS
Hotels in the districts
LANDMARKS
Hotels in tourist areas
AIRPORT
Hotels near the airport
 
Testi di Lea Tocchi
Foto: Sisterscom.com, Shutterstock
Tourism Board
WHERE TO GO
Monuments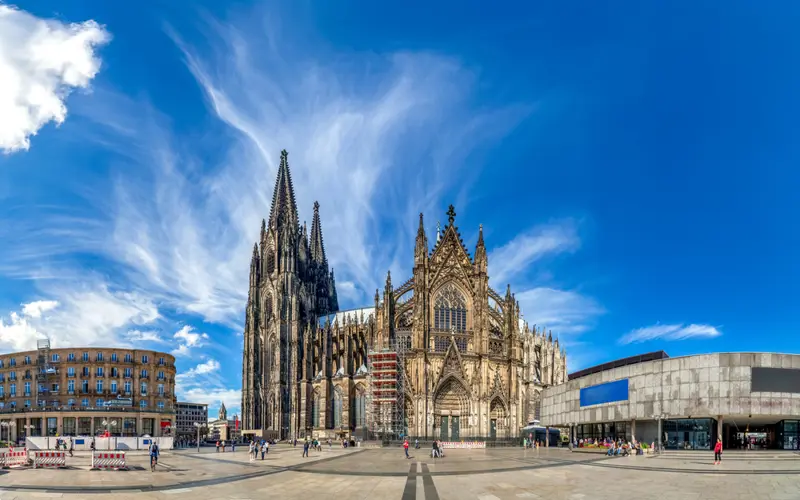 COLOGNE CATHEDRAL
Dompropstei, Margarethenkloster 5
The cathedral covers almost 8,000 square metres of floor space and can hold more than 20,000 people. Due to the building's impressive Gothic architecture, the shrine of the Three Wise Men, the outstanding stained-glass windows and the many other important works of art, UNESCO declared 
Cologne Cathedral
 a World Heritage Site in 1996.
www.koelner-dom.de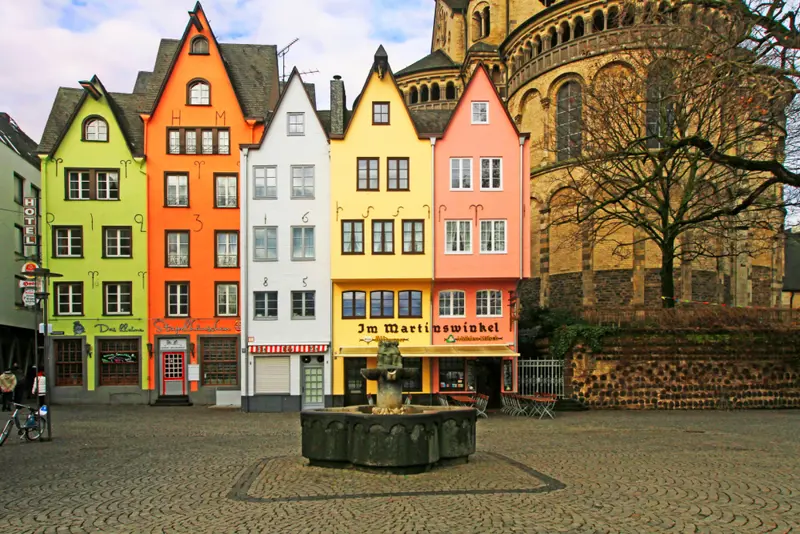 CITTA' ANTICA
Colorate case antiche (dal 14° al 17° secolo) si ergono nei pressi della Piazza del Mercato Vecchio e del centro storico (Martinsviertel) con la bella Chiesa Romanica di Groß St. Martin (1151-1240). Un bel punto storico dove soffermarsi per ammirare la tipica architettura di quest'area di Colonia. Vicino si trova il caratteristico Fish Market.
Museums
MUSEUM LUDWIG
Heinrich-Böll-Platz
The 
Ludwig Museum
 was founded in 1976 with the gift of around 350 works of modern art by the Ludwig couple. It is the first museum in Cologne to exhibit modern art.
www.
museum-ludwig.de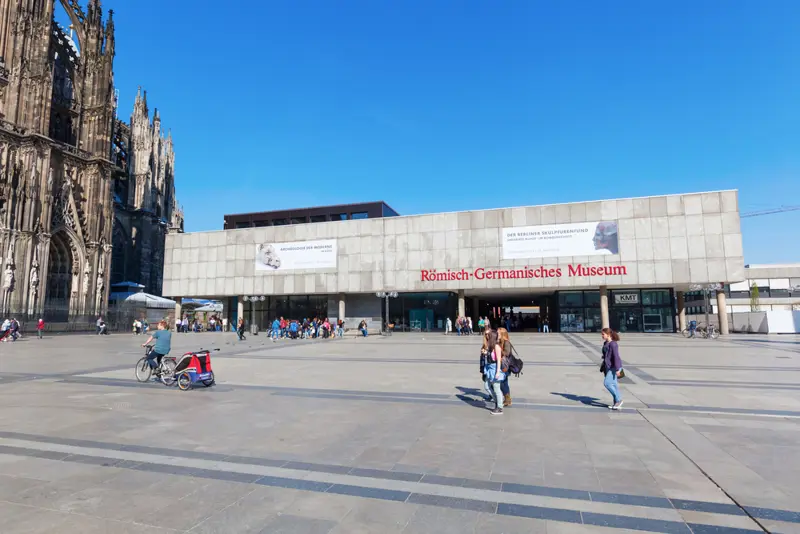 ROMANO-GERMANIC MUSEUM
Roncalliplatz 4
The museum was completed in 1974 above the place where the 
Dionysos mosaic
 was found. The collection gives a lively picture of the Roman culture on the Rhine over three floors. It is possible to see everyday objects and a precious Roman glass collection.
www.museenkoeln.de
MUSEO WALLRAF-RICHARTZ
Obenmarspforten
The museum houses the most extensive collection of Medieval Cologne paintings, as well as precious works from the time around 1500. Flemish and Dutch masters of the 16th to the 18th century, Rembrandt and Rubens included.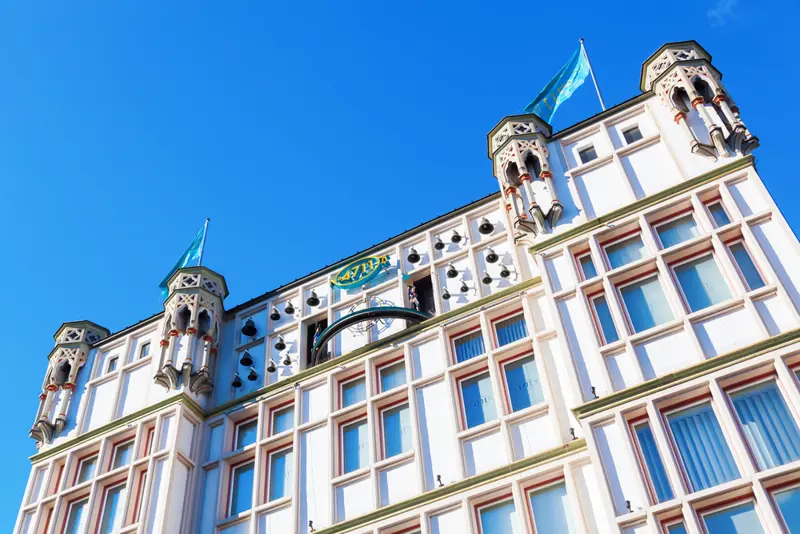 HOUSE OF FRAGRANCES 4711
Glockengasse 4
Discover the  history of the 
Eau de Cologne
, a multisensory museum.
www.4711.com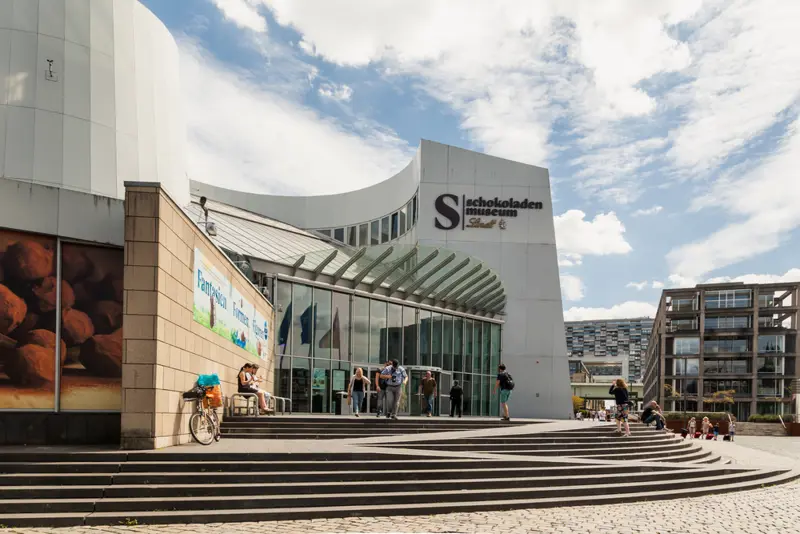 SCHOKOLADENMUSEUM (Museum of Chocolate)
 Excursions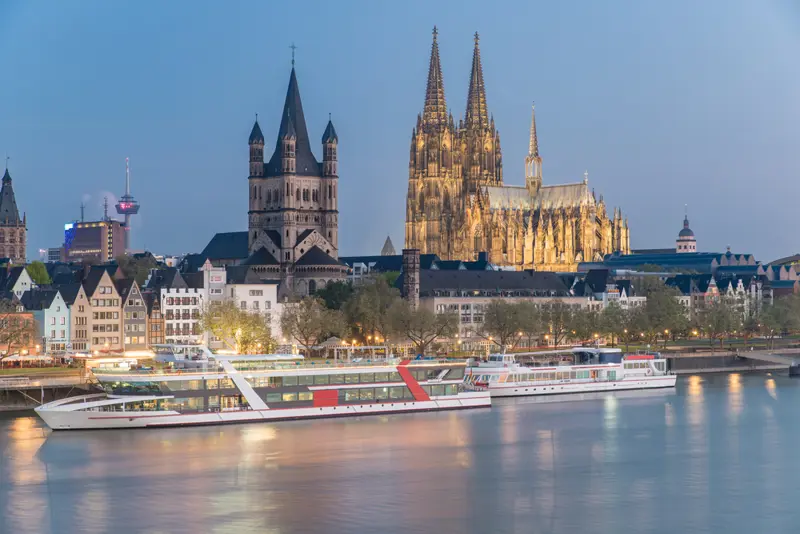 COLOGNE RHINE RIVER CRUISE
Cruise
 against the beautiful backdrop of 
Cologne's city skyline
 as you slowly meander along the river. Experience the most beautiful stretches of the 
Rhine
 with its fairytale 
castles 
and view the magnificent scenery in the tranquility of evening.
www.cologne-tourism.com/guided-tours/boat-trips.html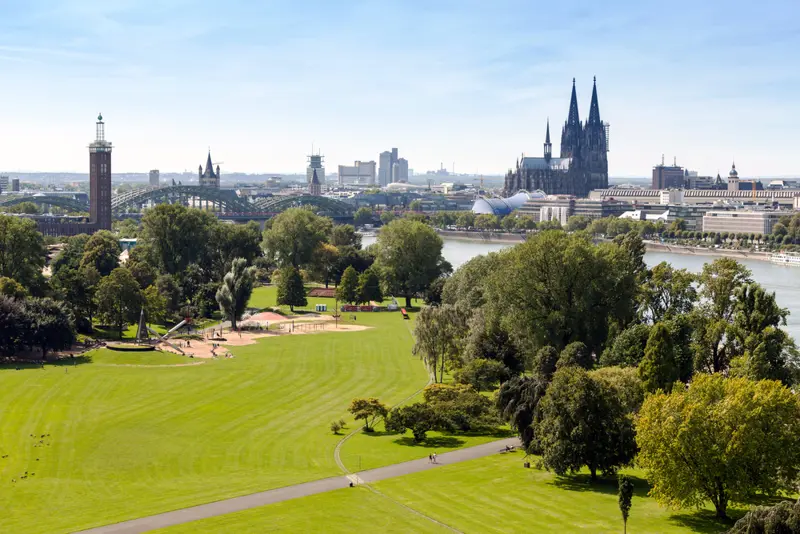 IL PARCO DEL RENO
Polmone verde nel cuore della città di Colonia, il Parco del Reno offre la possibilità di rigenerarsi nella natura o passeggiare lungo i sentieri ma anche ammirare le numerose opere d'arte che lo rendono il parco più bello della Germania. Il Parco del Reno fu progettato dall'architetto Fritz Encke e inaugurato nel 1913.
Download Avion Tourism Magazine
in digital version