29 October 2019
Air Malta Aims for yet Another Winter Record
25 destinations on offer, +7% more flights
Air Malta is setting its sights on yet another seasonal record. After registering a good winter and summer season, the Maltese Airline, is aiming to increase 7% more flights this season over last year with increased frequencies to London, Brussels and Palermo. The Airline will also introduce three new routes to/from Lyon and Prague (compared to last winter) and continue operating the newly introduced route to the Egyptian capital, Cairo.
Air Malta has increased its operations to and from London. This season the Airline is reconfirming its position as the best carrier on the Malta – London route offering the highest frequencies and choice than any other carrier. On some days Air Malta offers up to 8 daily flights with the best timing to and from London's best airports (of Heathrow and Gatwick).
Winter operations to Lyon will operate three times weekly while those to Prague twice weekly. On the back of record passenger figures last summer, Air Malta's aim is to replicate this success even in winter and improve its operational and commercial performance. With 25 scheduled destinations this season, the Airline is planning to operate 282 weekly flights, up (6.8%) from the average 264 weekly flights flown last season. This strategy follows the trend Air Malta followed this year in that it continued growing over 2018, but at a gentler pace.
Photo: © Air Malta plc, Corporate Communications.
Minister for Tourism Konrad Mizzi said that the launching of this winter schedule reflects the Government's strategy for Air Malta to increase frequencies to strategic destinations. Mizzi noted that flights to London will increase to up to 8 flights on some days and reflects our ambitions in the post-Brexit market. Moreover 10 destinations will be served on a daily basis. This offering is critical for developing Malta into a hub for business and travel.
The winter schedule starts on the 27 th October and runs up to the 28th March 2020. During this season the Airline will operate direct flights to:
No less than ten
destinations
will be served with daily or multiple daily frequencies, primarily to major
European hub airports
that offer convenient global connectivity with Air Malta's airline partners. This season
Air Malta
will operate with ten
aircraft
; (7)
Airbus A320ceo
and (3)
Airbus A320neos
. Air Malta is committed to growing inbound and outbound tourism especially during the shoulder and winter periods. The Airline aims to offer a diverse selection of services to
main city
and
hub airports
and a high level of frequencies to and from
Malta
, giving
passengers
optimum choice and optimum value for money as well as several options to connect beyond to/from
airports
nor served with
direct flights
. For more information visit www.airmalta.com, call Air Malta's call centre on +356 21662211 or log onto www.facebook.com/AirMalta.
Edited by Alisè Vitri
Text source: © Air Malta plc, Corporate Communications
Photos: © Air Malta plc. Photos only for Editorial use.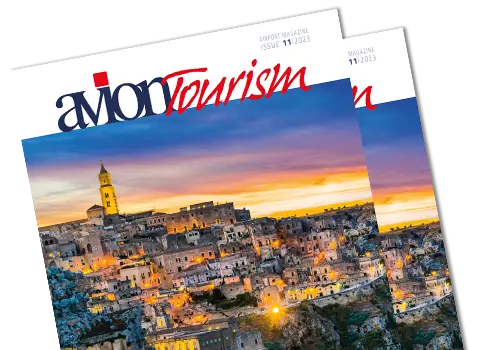 AVION TOURISM MAGAZINE
in digital version
On this issue: The World Heritage Sites of Basilicata and Puglia.