25 June 2020
UIA announces more destinations for summer 2020
New international scheduled services and domestic flights for three destinations: Kherson, Odesa and Lviv.
Ukraine International Airlines offers its passengers a more extensive range of travel destinations in July and August thanks to relaxed border crossing terms for Ukrainians travelling for tourism purposes.
Furthermore, the Ukrainian government has made a decision that makes crossing the Ukrainian border more comfortable and comprehensible. In particular, the countries of departure have been split into green and red zones. Passengers arriving from a "green zone" do not undergo observation or self-isolation in Ukraine. Passengers coming from a "red zone" must remain under a mandatory 14-day observation.
Travel recommendations for the duration of extended quarantine measures can be found here: https://www.flyuia.com/ua/en/information/travel-recommendations
As planned, the airline will gradually increase the flight frequencies and the number of routes. However, UIA do not rule out a situational revision of frequencies based on market conditions and the economics of each flight.
UIA will operate
domestic flights
covering three
destinations
–
Kherson
,
Odesa
and
Lviv
.
July
From 1 to 30 July 2020, UIA will offer non-return domestic flights to Odesa, Lviv and Kherson once weekly on Fridays, with flights back to Kyiv on Sundays. This schedule will allow for the development of domestic weekend tourism, at the same time taking into account the interests of national business migration in Ukraine.
August
In the first half of August, only the Kyiv to Odesa timetable will change, with flights to be operated on Mondays, Wednesdays, Fridays, and Sundays, and return Odesa-Kyiv services on Mondays, Tuesdays, Thursdays, and Saturdays.
From August 16 to August 31, UIA intend to add frequencies to Odesa on Thursday, and back to Kyiv on Fridays.
International scheduled services will be operated as per UIA's scheduled flight program, namely, to

At the same time, we will continue to operate recurrent flights to
Toronto
.
July
From July 1 to July 15, UIA plans to operate
Kyiv
(KBP) -
Istanbul
(IST) flights every Friday and Sunday,
Odesa
(ODS) -
Istanbul
(IST) flights every Saturday,
Kyiv
-
Tel Aviv
(TLV) flights on Thursdays and Sundays and from
Odessa
to
Tel Aviv
(TLV) on Sundays.
In addition, twice-weekly services from
Kyiv
to
Amsterdam
(AMS) are scheduled every Tuesday and Saturday, and from
Kyiv
to
Paris
(CDG) on Wednesdays and Sundays.
From July 16 to July 30, UIA is to increase frequencies by adding
Kyiv
-
Istanbul
(IST) and
Kyiv
-
Tel Aviv
(TLV) flights on Tuesdays. Flights to
Dubai
(DXB) will operate every Wednesday and Saturday. The airline also plans to expand its international routes with
Kyiv
-
Tbilisi
(TBS) flights on Fridays and Sundays, Tbilisi - Kyiv on Saturdays and Mondays, Kyiv to
Larnaca
(LCA) on Saturdays, Kyiv to
Athens
(ATH) on Sundays, Kyiv to
London
(LGW) on Mondays and Fridays.
As of the second half of July, weekly
Kyiv
to
Toronto
(YYZ) services are scheduled on Saturdays and vice-versa on Sundays.
August
In August, we aim to further expand our international destinations by adding 2-3 frequencies per week. The route map will include
Kyiv
-
Nice
(NCE), Kyiv -
Rome
(FCO), Kyiv - Baku (GYD), Kyiv -
Berlin
(TXL), Kyiv -
Milan
(MXP), Kyiv -
Prague
(PRG), Kyiv - Yerevan (EVN), Kyiv -
Chisinau
(KIV), Kyiv -
Madrid
(MAD), Kyiv -
Munich
(MUC), Kyiv -
Frankfurt
(FRA), Kyiv -
Vienna
(VIE), and Kyiv -
Barcelona
(BCN).
Throughout July, UIA will be providing more updated and detailed information on its August flights and frequencies based on objective market conditions.
Safety and
health of passengers
and crew are the top priority for
UIA
: resuming flights in new conditions and introducing enhanced safety and sanitary measures to ensure that you feel totally confident and secure throughout your journey.
All safety measures on the video of Ukraine International Airlines
Edited by Alisè Vitri
Text source, video: © Ukraine International Airlines Press Office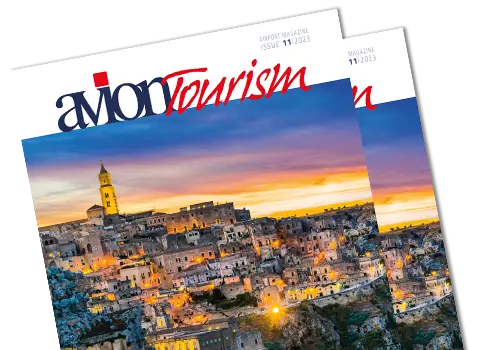 AVION TOURISM MAGAZINE
in digital version
On this issue: The World Heritage Sites of Basilicata and Puglia.