Welcoming capital of Georgia
The small eastern country of Georgia has only recently become a highly regarded tourist destination. It has, however, still maintained its agricultural traditions, from which it appears it acquired its name from the Greek geog meaning agriculture. The capital Tbilisi , where most of its inhabitants live - almost one million - is a city in the heart of the Caucasus, suspended between Europe and Asia not just in geographical terms but also from a cultural point of view, which welcomes visitors with its serene, friendly atmosphere, almost fairytale-like scenery of coloured wood houses with inlaid windows, old cobbled streets and health-giving spas.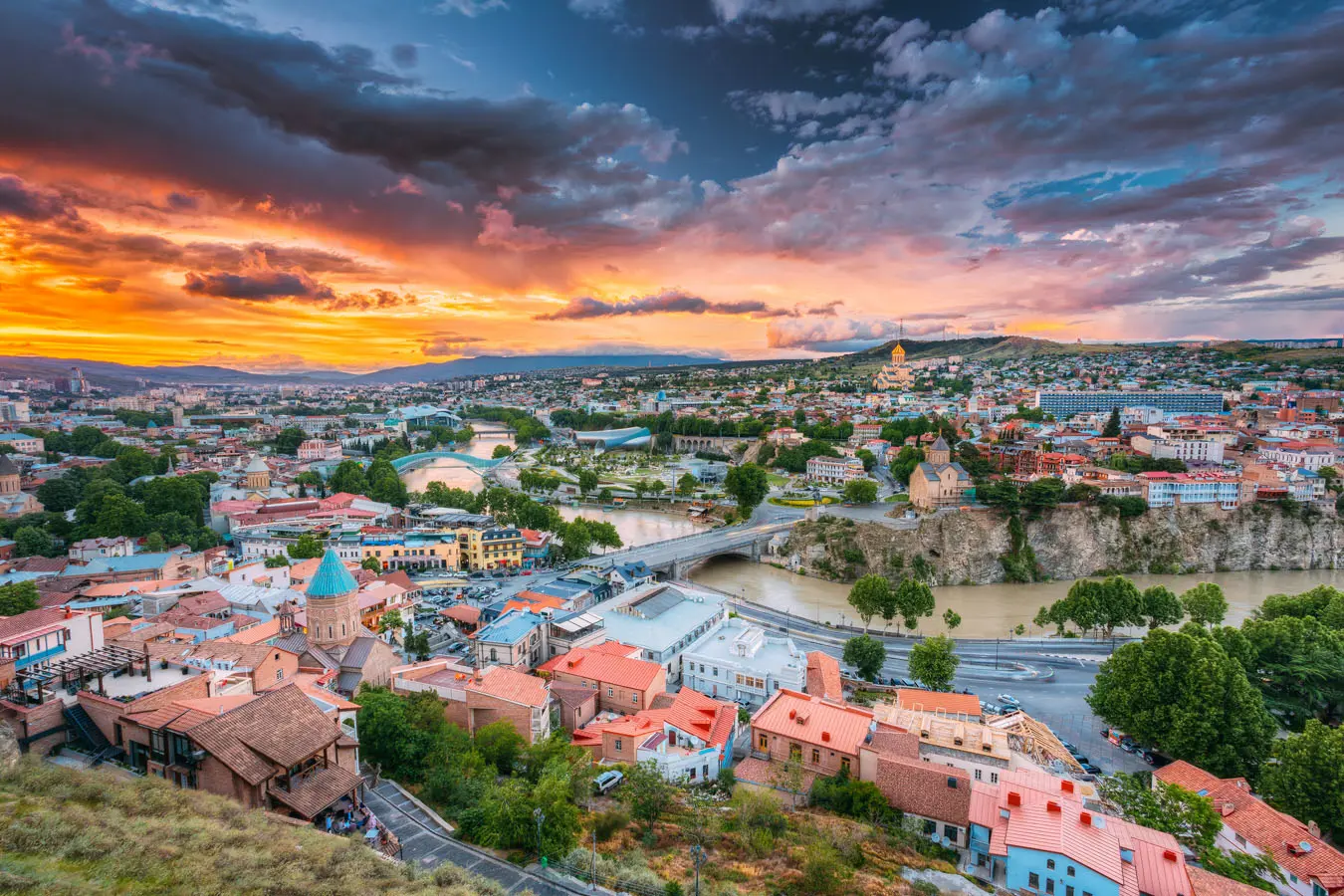 The city's history dates back to ancient times and is linked to its thermal waters: legend has it the city was founded in the sixth century by King Vakhtang Gorgasali after a hunting trip in the nearby heavily wooded region led to the discovery of a hot spring into which birds had fallen and died. He therefore felled the trees to build the city he called Tbilisi, which, unsurprisingly, derives from the word tbili meaning "hot" in old Georgian. Located on the Silk Road, the city hosted merchants travelling along this route for centuries and acquired a multi-ethnic character, which is seen in the buildings of varied styles: Persian, Roman, Byzantine, Greek and lastly Soviet. The city's main attractions are grouped in the old part, which is also famous for its numerous sulphur springs.
The area is overlooked by Narikala Fortress, which was established in the 4th century to defend the city and expanded several times in later centuries. Impressing all with its size, the Holy Trinity Cathedral (Tsminda Sameba) is the most important church of the city and the third tallest Orthodox place of worship in the world with a large golden dome.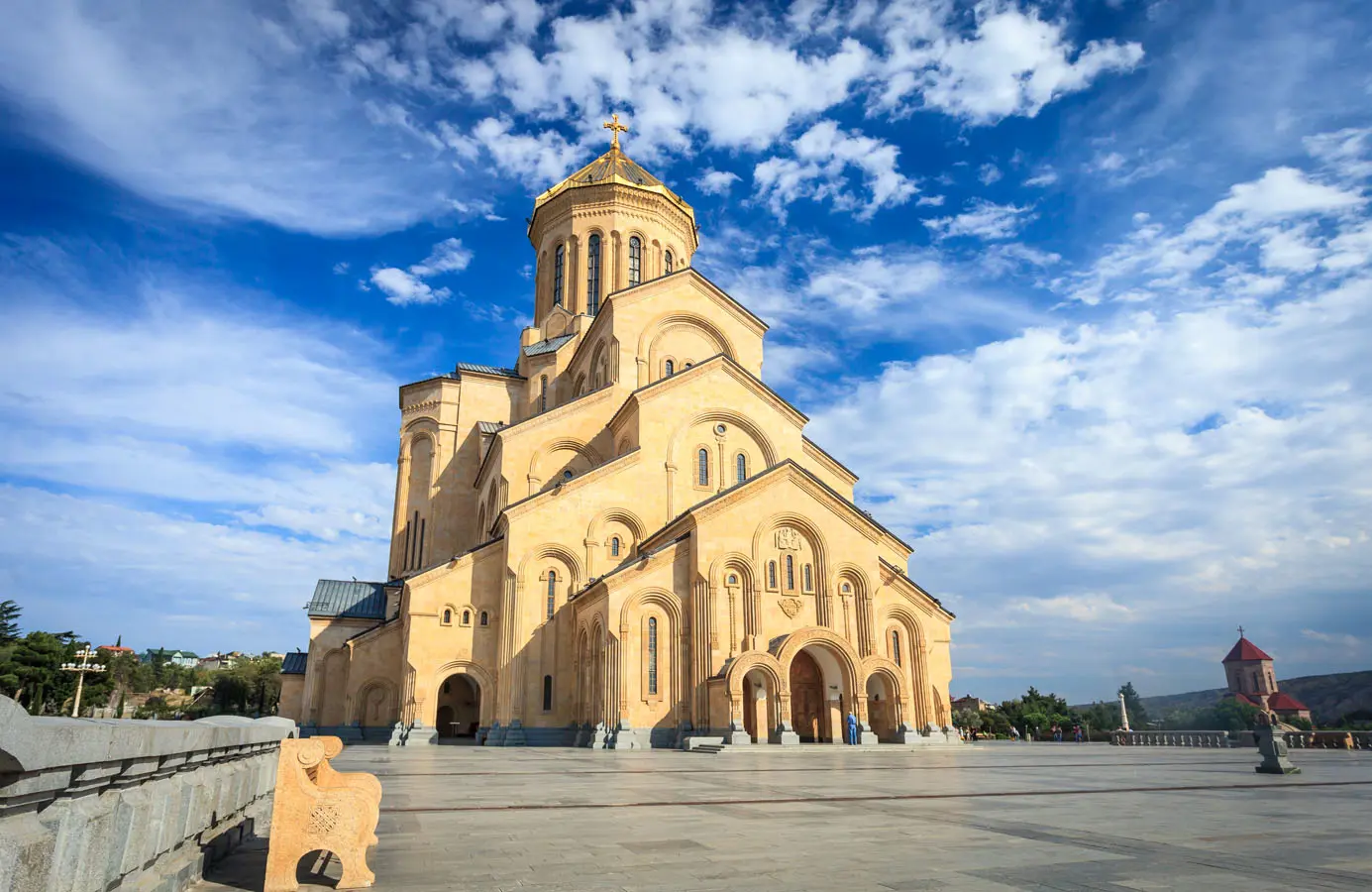 The city's complex history is reflected in the architecture of the old town, which saw the arrival and rise of numerous civilisations. It was also ruled in the past by Persia and later Russia for many decades from 1921 and from which it became independent in 1991. A walk along Agmashenebeli Avenue in the city is a must. With a length of 1.5 kms, it is filled with elegant shops and period buildings. Freedom Square features a monument dedicated to St. George, the patron saint of Georgia, which sits on top of a tall granite column.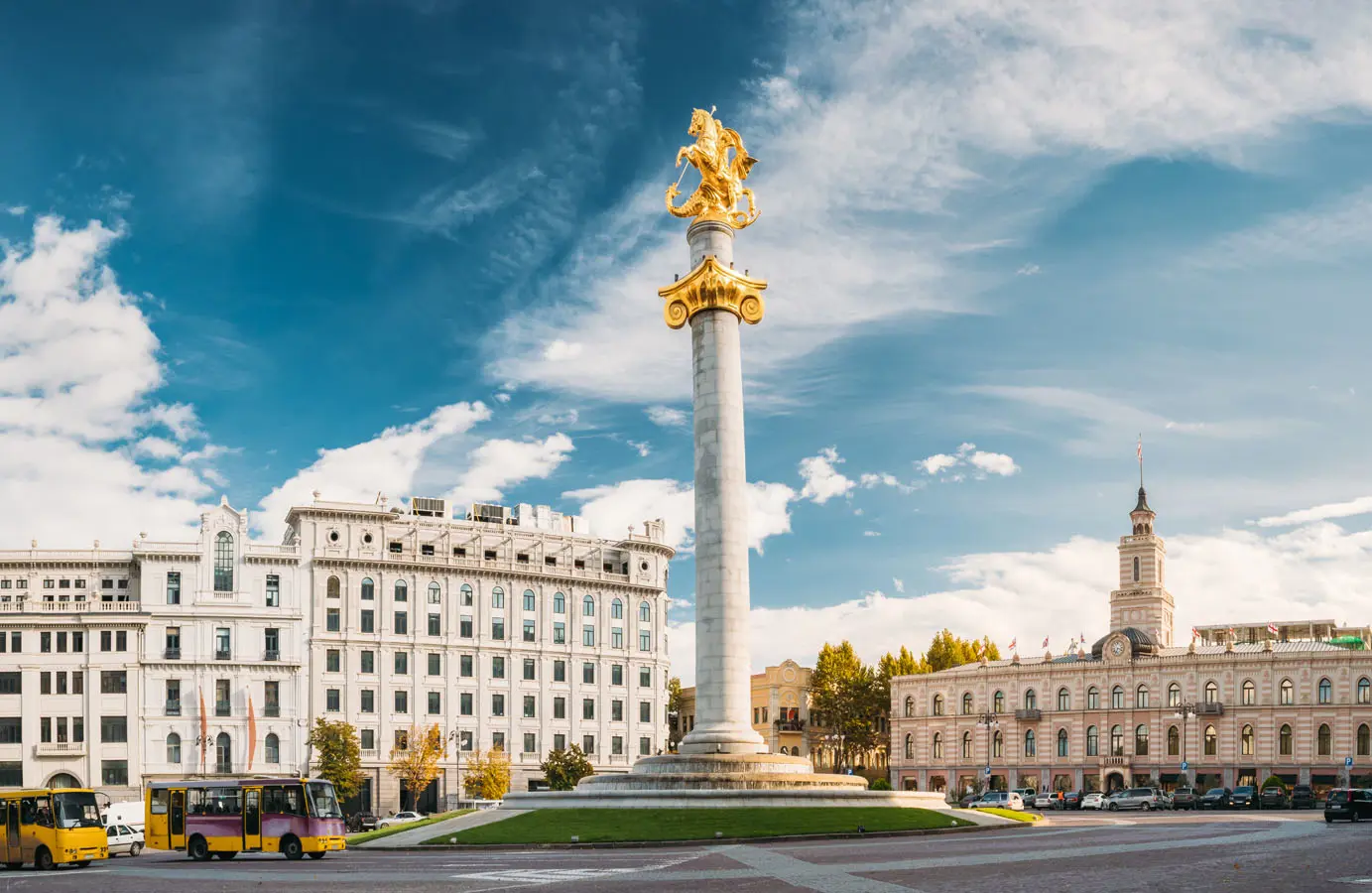 Lovers of antiques will enjoy the Dry Bridge Flea Market, where they can uncover relics of the Soviet era, vintage jewellery and interesting craft items. The funicular takes visitors to Mount Mtatsminda, where the amusement park of the same names looks over the entire city.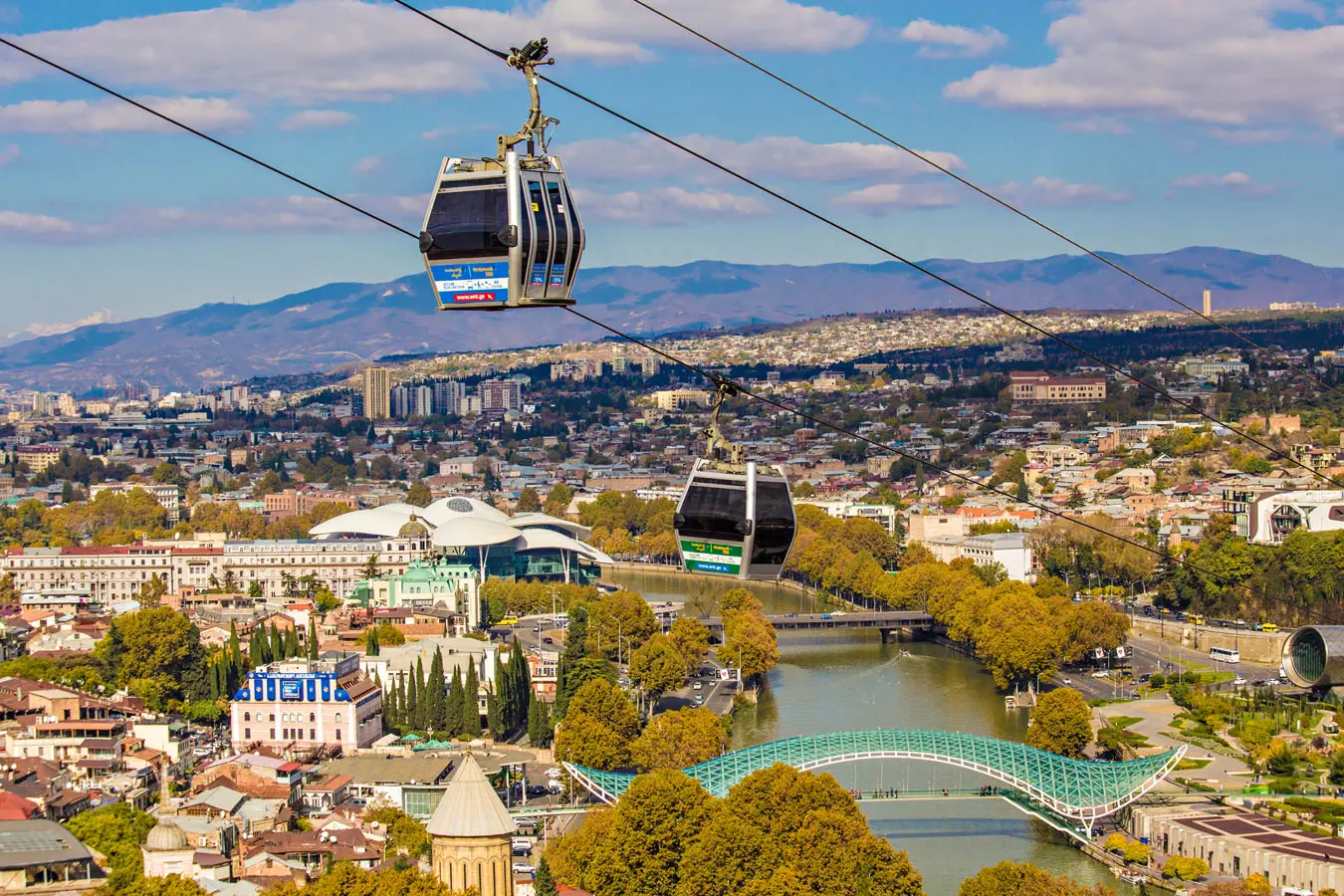 Even the city's museums illustrate the complex history of Georgia. There are many examples of Russian Neorealism art, in particular in the Museum of Fine Arts of Georgia, which was established from a private collection.
One of the country's main activities is viticulture. Wine making has been a Georgian tradition for centuries (excavations have revealed wine amphorae dating back six thousand years BC), which has given rise to world-unique production processes, such as the practice of fermenting grape juice with the skins and seeds underground in unusual clay pots called Qvevri. It seems that Stalin, who was born in Georgia, requested the production of large quantities of this wine to proudly offer to his guests. It is this bond with grapes that apparently inspired the Georgian alphabet, which, according to experts, was influenced by the shapes of vine tendrils. Vines and hospitality, therefore, are inextricably linked in this region, culminating in the ancient tradition of the Supra, a feast that brings together family and friends. It is said that the tradition of Georgian hospitality is like nowhere else in the world.
All rights reserved. Copyright © Sisterscom.com
Tourism Board
www.gnta.ge
Where to sleep in Tbilisi
Tbilisi is a welcoming city and offers different possibilities for accommodation.
To find the ideal hotel and the best offers you can do a search for the stars but also for districts or landmarks.
STARS
Hotels for stars, differentiated by type of services:
DISTRICTS
Hotels in the districts
LANDMARKS
Hotel in tourist areas
LANDMARKS
Hotel in tourist areas
AIRPORT
Hotels near the airport
WHERE TO GO IN TIblisi
Monuments and landmarks in Tbilisi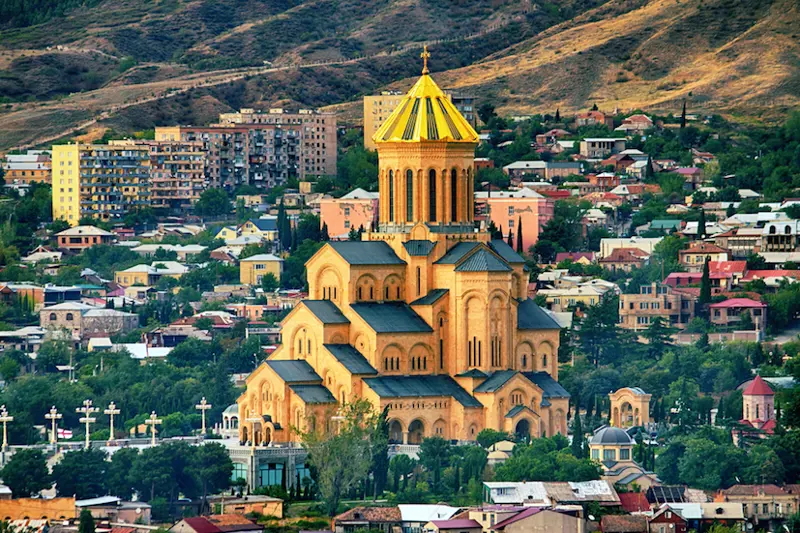 HOLY TRINITY CATHEDRAL
This is the main Orthodox Church of Tbilisi, which was built between 1995 and 2004. Construction was sponsored by donations from businessmen, industrialists and ordinary citizens and the church is considered a symbol of the Georgian national and spiritual revival. Georgian architectural motifs alternate with Byzantine revival elements. With a cross plan, the cathedral features nine chapels and frescoes and is surmounted by a giant gilded dome.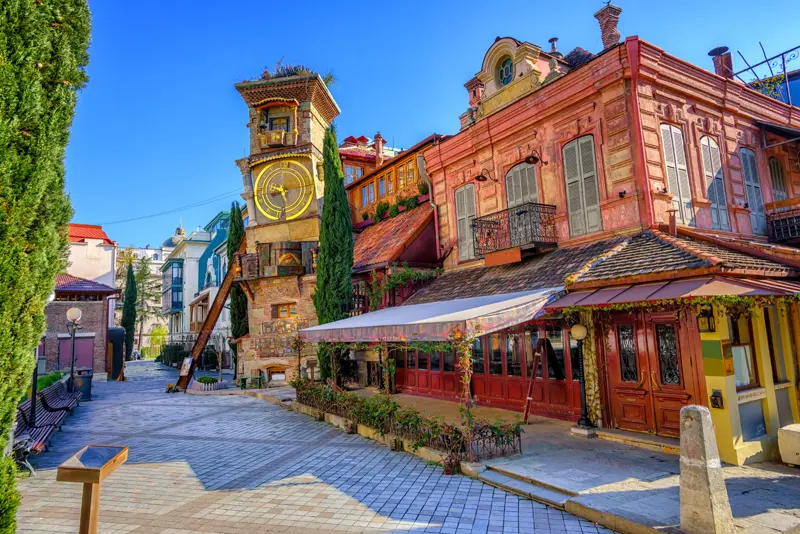 Tbilisi. Photo: Sisterscom.com / Boris Stroujk /
Shutterstock
GABRIADZE THEATRE
The theatre was founded in 1981 by Rezo Gabriadze, painter, writer, director and world-famous puppeteer from Georgia, who was extremely popular for his shows aimed at young and old alike. The pink-coloured building features a clock tower. An angel pops out of a small door in the tower to strike the hour with a small hammer. At noon and 7 p.m., instead, a second door opens, giving visitors a short marionette performance.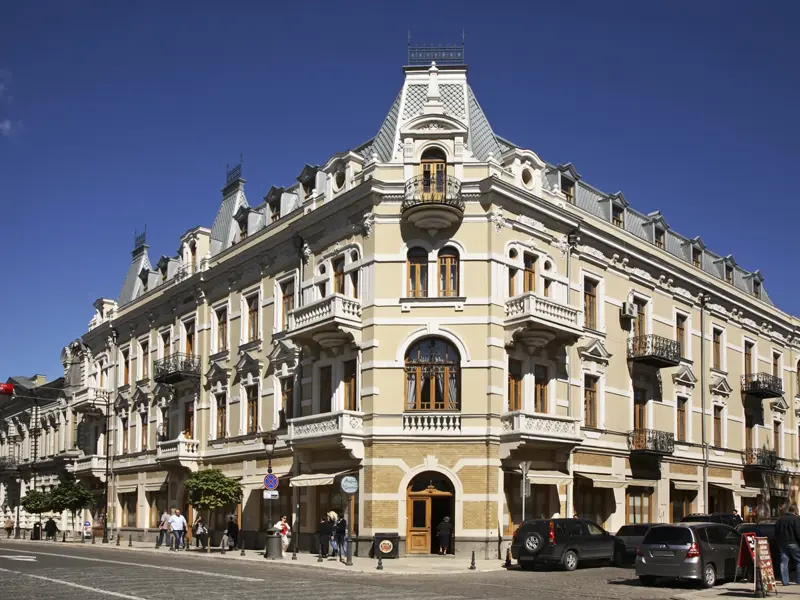 Tbilisi. Photo: Sisterscom.com / Shevchenko Andrey /
Shutterstock
AGMASHENEBELI AVENUE
Agmashenebeli Avenue is one of the main and most elegant streets of the city, which runs along the left bank of the River Kura, a river that crosses Tbilisi. This beautiful historic avenue was planned in the nineteenth century and is abundant with typical buildings of the same period as well as numerous theatres. The road also features numerous chic bars and hotels and, of particularly interest, a unique and futuristic building with a vertical garden of flowers and plants.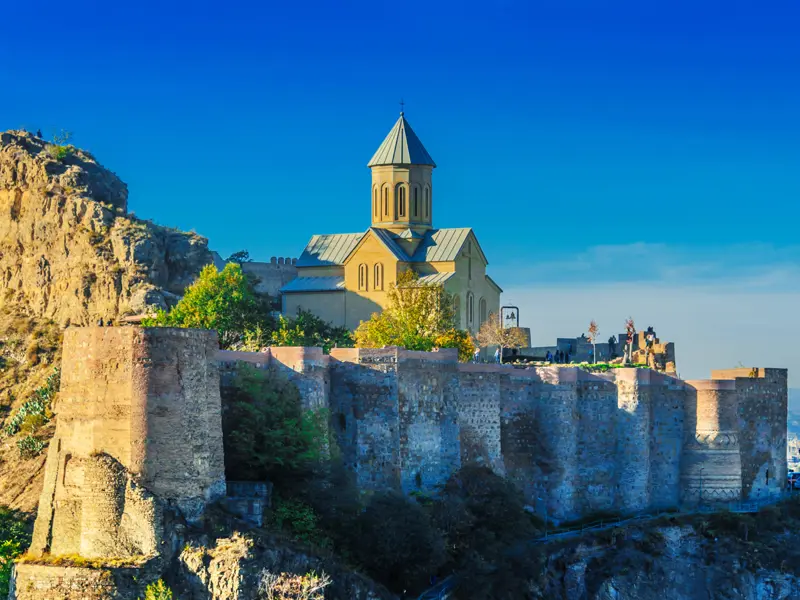 NARIKALA FORTRESS
Narikala Fortress dominates the city and consists of two walled sections on a steep hill between the sulphur baths and botanical gardens of Tbilisi, a vast green oasis ideal for relaxation. Here visitors can admire a waterfall and the Kartlis Deda monument (mother of Kartli), a 20-metre statue that depicts a woman in Georgian clothing holding a glass of wine in her left hand and a sword for those who come as enemies in her right hand.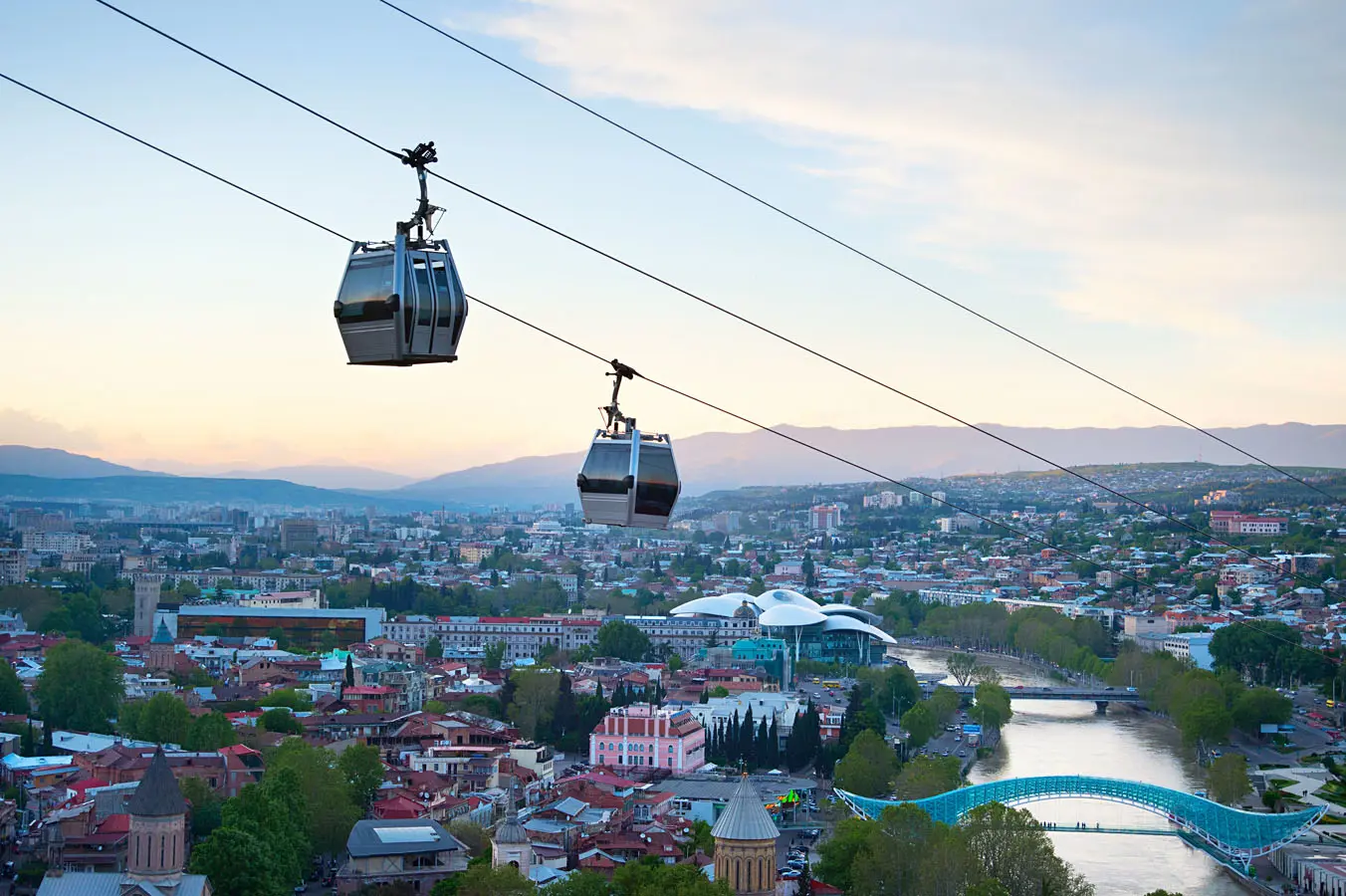 TBILISI FUNICULAR
Tbilisi Funicular is one of the main attractions of the city, which offers a ride from the centre to Mtatsminda Park in a few minutes. At 700 metres altitude, the park features funfair rides and a panoramic wheel. A beautiful view of the city can be enjoyed from the comfortable cabins of the cable car, which has leather seats decorated with Tbilisi historical motifs and glass floors.
Museums in Tbilisi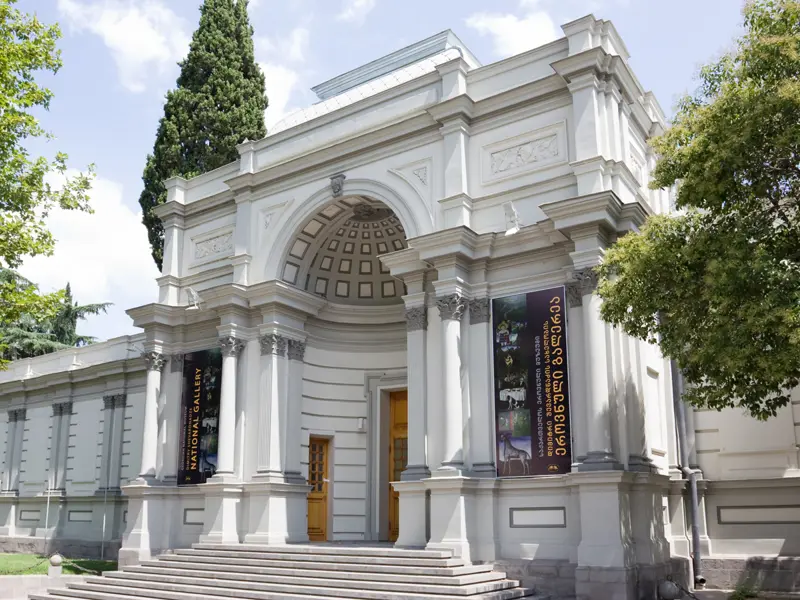 Tbilisi. Photo: Sisterscom.com / Kharkhan Oleg /
Shutterstock
NATIONAL GALLERY
The National Gallery of Tbilisi displays contemporary works of art by Georgian artists, but also nineteenth and twentieth century oriental and Russian works. Particularly important are the rich collections of art by the famous Georgian painter Niko Pirosmani or the works by the illustrious painters David Kakabadze and Lado Gudiashvili, as well as the sculptures of Iakob Nikoladze.
GEORGIAN MUSEUM OF FINE ARTS
In this great museum, inaugurated in 2018, the private collection of its founders, Gia Jokhtaberidze and Manana Shevardadze, is exhibited, with works that intend to promote Soviet and post-Soviet art. Thousands of works of art created by different Soviet artists can be admired, following different paths: socialist realism, period of the cold war and the Iron Curtain, until the collapse of the regime with the independence of Georgia.
Recommended tours and excursions in Tbilisi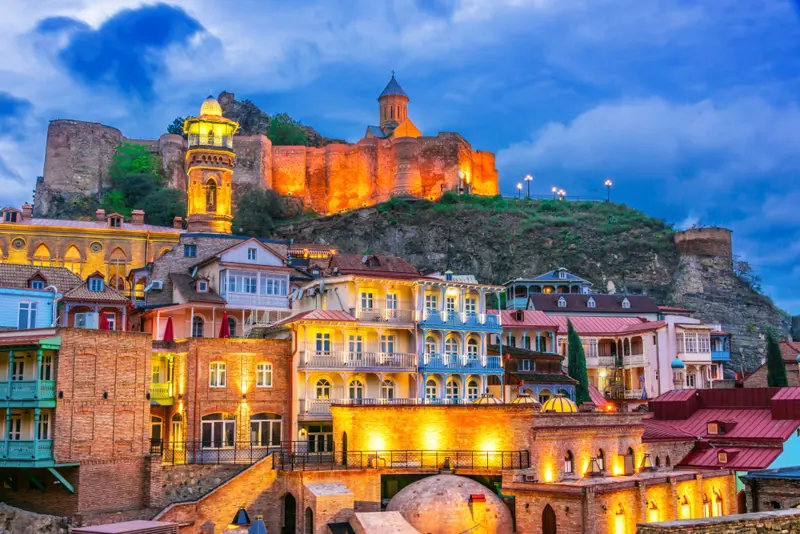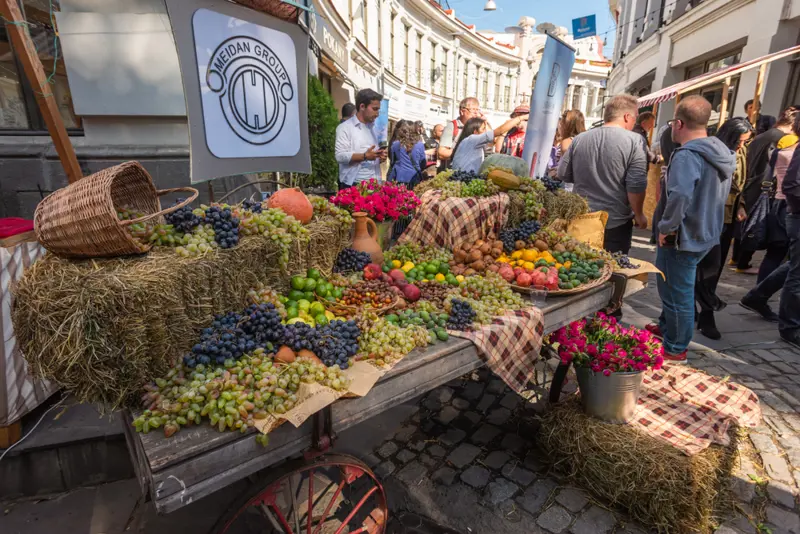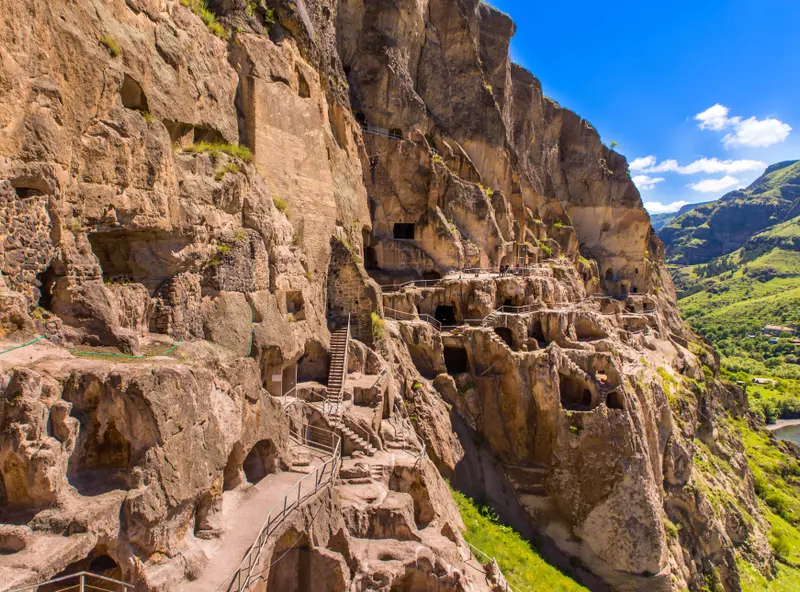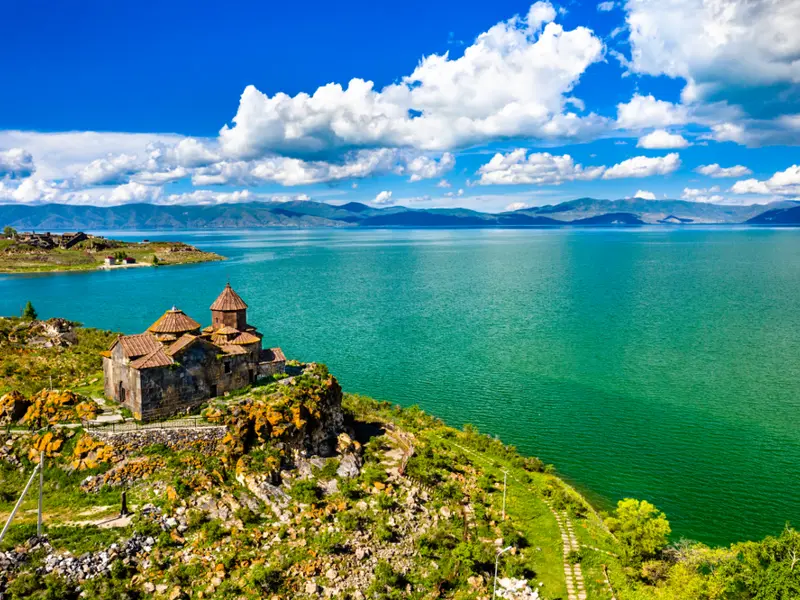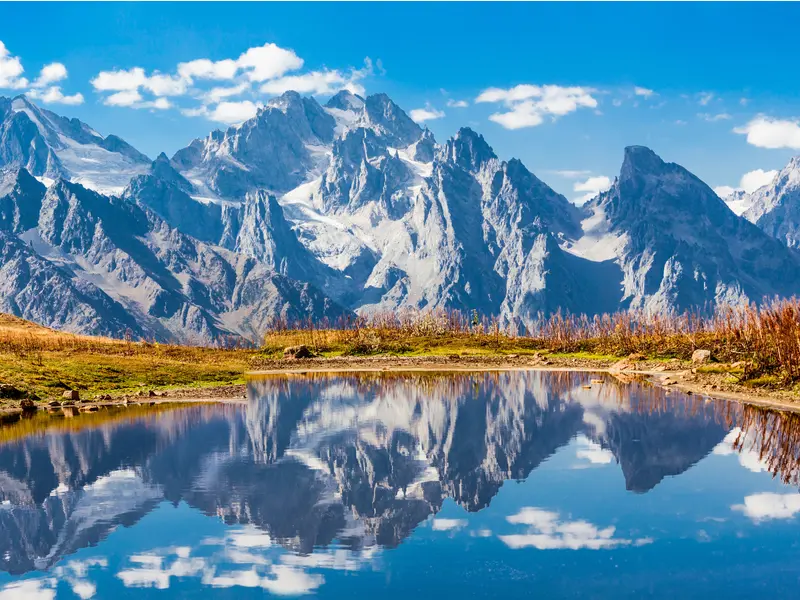 You might be interested in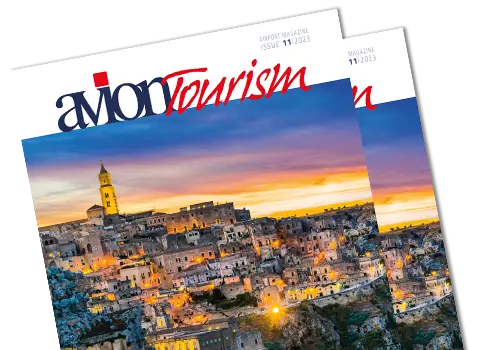 AVION TOURISM MAGAZINE
in digital version
On this issue: The World Heritage Sites of Basilicata and Puglia.