Comiso Airport is situated in the province of Ragusa, 5 km to the north of the town of
Comiso
. The airport land extends into the municipalities of Comiso and Chiaramonte Gulfi.
The airport, which is named in memory of Major General Vincenzo Magliocco, is equipped with a runway of 2,538 metres. Built as a military airport, it has been converted to civil and cargo use and is part of Sicily's regional air transport plan, which envisages the formation of two aeronautical hubs: the airports of
Palermo
and
Trapani
in the west, and the airports of
Catania
and Comiso in the east. The Airport was opened to civil traffic in May 2013.

INFORMATION
Management company: SOACO S.p.A.
Address: S.P. 5 Vittoria Cannamellito Pantaleo - 97013 Comiso (Ra)
Telephone no.: +39 0932 961467
Website: www.aeroportodicomiso.eu

TECHNICAL DATA
IATA Code: CIY
ICAO Code: LICB
Country code: IT
Flights

Transportation to/from the airport
Train
The airport can be reached by bus or taxi from
Comiso
Railway Station, from where regional trains arrive from Ragusa (Trenitalia). The train from Ragusa to Comiso takes 30 minutes.
Bus
Several buses managed by various bus companies (Azienda Siciliana Trasporti, Autolinee Regionali Srl, Tumino, etc…) travel to the airport, coming from Ragusa and Comiso.
Car
From Ragusa, follow State Road SS.115 for 22 km and in approximately 30 minutes you will arrive at the airport. From Comiso, take Provincial Roads SP5 and SP4 for 6.5 km to the airport, which takes approximately 12 minutes.
Taxi
A taxi service operates from both Comiso and Ragusa (Radio Taxi) to the airport, stopping in the Arrivals area.
Car hire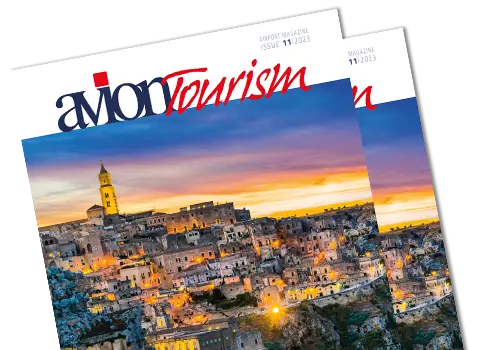 AVION TOURISM MAGAZINE
in digital version
On this issue: The World Heritage Sites of Basilicata and Puglia.