13 November 2023
Il Gruppo Lufthansa vola al COP28 con SAF
Carburante per aviazione sostenibile al 100% per i passeggeri in viaggio verso la Conferenza mondiale sul clima delle Nazioni Unite a Dubai da Germania, Austria, Svizzera e Belgio
Altri componenti includono un'opzione di riprenotazione gratuita e un buono per il noleggio di biciclette per una settimana di noleggio a
Dubai
e
Abu Dhabi
. Gli ospiti della
Business Class
possono anche usufruire del trasferimento aeroporto-hotel in e-limousine. L'offerta speciale è disponibile in tutte le classi di prenotazione e può essere prenotata fino al 10 dicembre sul sito web di Lufthansa.
Il Gruppo Lufthansa e la sostenibilità
Il
Gruppo Lufthansa
si è posto ambiziosi obiettivi di protezione del clima e mira a raggiungere un
bilancio neutrale di CO2 entro il 2050
. Già entro il 2030, il Gruppo Lufthansa vuole dimezzare le proprie emissioni nette di CO2 rispetto al 2019 attraverso misure di riduzione e compensazione. L'obiettivo di riduzione per il 2030 è stato convalidato dall'iniziativa indipendente
Science Based Targets
(SBTi) nell'agosto 2022. Il Gruppo Lufthansa è stato il primo gruppo aereo in Europa con un obiettivo di riduzione della CO2 basato sulla scienza in linea con gli obiettivi dell'
Accordo di Parigi
sul clima
del 2015. Per un'efficace protezione del clima, il Gruppo Lufthansa si concentra in particolare sull'accellerato
ammodernamento della flotta
, sull'uso del
SAF
, sull'ottimizzazione continua delle
operazioni di volo
e offre ai suoi viaggiatori privati e clienti aziendali la possibilità di rendere un
volo o il trasporto di merci più sostenibile
. Inoltre, il Gruppo Lufthansa sostiene attivamente da molti anni la
ricerca globale sul clima e sulle condizioni meteorologiche
.
Background sull'uso di SAF
Non è previsto il rifornimento di carburante dei singoli voli con
SAF puro
. In quanto combustibile cosiddetto "drop-in",
il SAF è compatibile con i combustibili fossili e può essere miscelato
con essi senza problemi. Prima di essere trasportato all'
aeroporto
, il SAF viene miscelato con
combustibile fossile (blending)
e quindi immesso nelle
infrastrutture aeroportuali
. Il Gruppo Lufthansa garantisce che la
quantità di SAF necessaria per compensare le emissioni individuali di CO2
venga immessa nelle operazioni del Gruppo Lufthansa entro sei mesi dall'acquisto.
A cura della redazione
Avion Tourism Magazine
Fonte testo e foto visual: Ufficio Stampa Lufthansa Group
---
Voli

---
Cosa vedere a Monaco di Baviera
---
Hotel a Monaco di Baviera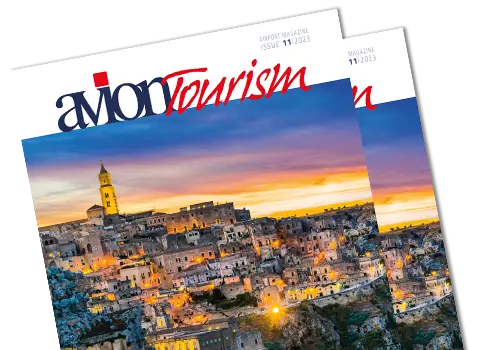 AVION TOURISM MAGAZINE
in digital version
On this issue: The World Heritage Sites of Basilicata and Puglia.