17 May 2023
Eurowings launches sales partnership with Volotea
Volotea will fly from Berlin, Dusseldorf, Hamburg and Stuttgart for the first time from Bordeaux, Lyon, Nantes, Florence and Verona
The sales partnership between Eurowings and the Spanish airline Volotea has now been officially sealed: following the letter of intent already issued in March, the corresponding cooperation agreement has now been signed. The sales partnership covers the sale of tickets for 150 European routes operated by both airlines on each other's websites. These include 104 routes offered by Eurowings and 46 by Volotea. As the route networks of the two airlines do not overlap, the partnership will result in a strong growth in flight offerings, both on Volotea's website and for Germany's largest vacation carrier.
Jens Bischof, CEO of Eurowings: "The partnership with Volotea is another milestone on our way to strengthening the 'Euro' in the Eurowings brand name. From now on, our customers will benefit from a much wider range of affordable direct flights within Europe. In addition to this, we are significantly strengthening our sales power, particularly in southern Europe."
Carlos Muñoz, founder and CEO of Volotea: "We are thrilled to make our partnership with Eurowings official and expand our reach to the German market, an important step in our larger growth plans in Europe. This agreement represents an exciting opportunity for Volotea to offer even more customers affordable, non-stop flights to explore new destinations across our extensive network."
Edited by editorial staff, Avion Tourism Magazine
Text source and visual: © Eurowings and Volotea Press Office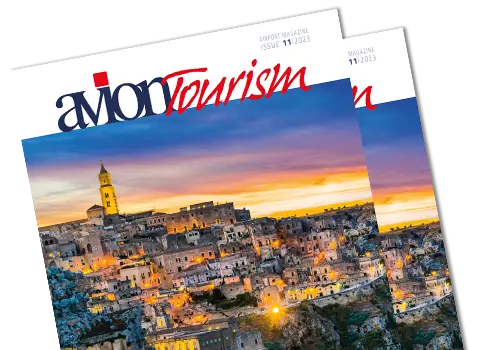 AVION TOURISM MAGAZINE
in digital version
On this issue: The World Heritage Sites of Basilicata and Puglia.