04 March 2019
The Five Star Service of American Airlines
Private airport entrance for New York JFK o Los Angeles LAX, security screening, helicopter transfers
American Airlines
is expanding its exclusive
Five Star Service
options for its top customers traveling through
Los Angeles (LAX)
and
New York (JFK)
. The new additions offer
off-terminal entrance
and
private screening service
with The Private Suite in LAX and a unique effortless travel experience to JFK or LAX airports with Blade, a digitally powered aviation company.
Un rapido Security Screening all'ingresso del terminal Private Suite
American Airlines Five Star Service is a premium and personal airport experience available for departures, connections or arrivals in select markets. Customers purchasing a Five Star Service experience can take the worry out of travel and customize their experience to fit their interests. The services provided by Blade and The Private Suite will be available as add-ons for customers purchasing Five Star Service or Five Star Select - an elevated Five Star Service experience with access to Flagship Lounge and Flagship First Dining.
"We understand the value our customers put on their time and a personalized end-to-end travel experience - whether it is a private travel experience, a little more luxury, fine dining in the airport or getting to the gate quickly, we have them covered," said Janelle Anderson, Vice President of Global Marketing. "This gives our customers a range of choices when traveling on American."
Customers in the
Los Angeles
or the
New York
areas can skip the traffic and
get to the airport faster
with a
private helicopter transfer
from Blade. When traveling with Blade, customers will be
picked up in the city
at a destination of their choice and flown to LAX or JFK where they'll be greeted by an American Airlines team member and escorted
via Cadillac to Flagship First Check-In
. After clearing security, customers can spend their extra time relaxing or working in the Admirals Club, Flagship Lounge or Flagship First Dining before their flight. Blade service is also available for arriving customers.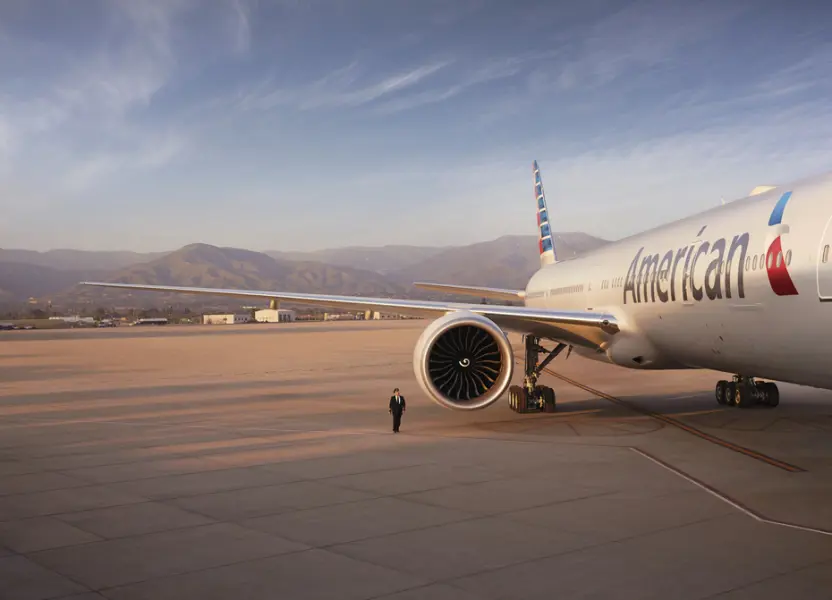 Transfer privato in elicottero offerto Blade
"The No. 1 pain point of traveling from New York City and Los Angeles to the airports is traffic. Our Blade airport transfer product turns an hour-and-a-half drive into a helicopter flight that's five to seven minutes," said Rob Wiesenthal, founder and CEO of Blade. "Blade and American Airlines will now provide customers with a seamless experience from the door of the helicopter to their seat on their American flight."
Premium cabin customers who value efficiency, luxury and privacy when traveling through LAX can choose to access The Private Suite's private entrance to LAX, away from crowds and traffic. The exclusive, first-of-its-kind terminal offers customers with departing flights private, expedited security screening on site with Cadillac escort across the tarmac directly to their gate or to the Flagship Lounge and Flagship First Dining. Similarly, arriving customers can clear international customs in fewer than five minutes at The Private Suite's own dedicated international arrivals hall.
"LAX is one of the busiest airports in the country," said Josh Gausman, co-founder and Chief Operating Officer of The Private Suite. "Now, American Airlines customers will be able to skip typical airport congestion, clear security in seconds, and be whisked across the airfield directly to their flight or to the exceptional Flagship First Dining. There aren't many better ways to experience LAX."
Blade transfer service will be available to customers who book a private transfer through the Blade app. The Private Suite service will be available for customers traveling in premium cabins and can be booked by calling the Five Star Service team.
Blade
Blade
is a
digitally-powered aviation company
and the largest arranger of
helicopter flights for civilian travel
in the
United States
. By leveraging its technology backbone, strategic
lounge network
of 10 dedicated properties, and its partnerships with over 30 aviation operators, the company has expanded its offerings from one route in one state to 22 core routes in seven U.S. states. BLADE has proven to grow the size of the short distance aviation market in the areas in which it operates. Over 75% of BLADE's first-time
helicopter passengers
have never flown in a helicopter before flying BLADE.
Private Suite
Private Suite
at
LAX
is a new terminal designed for
First and Business Class
travelers
seeking the highest convenience,
privacy, and luxury
. Offering a dramatically improved airport experience, The Private Suite includes private
TSA screening
and Customs processing,
private suites
for awaiting boarding, and direct-to-aircraft transportation across the airfield. The Private Suite is operated by Gavin de Becker & Associates, the 775-person consulting and service firm that protects many of the world's most prominent people. Headquartered in
Los Angeles
, Gavin de Becker & Associates has operations in 27 cities and 7 countries.
American Airlines Group
American Airlines
and
American Eagle
offer an average of nearly 6,700 flights per day to nearly 350
destinations
in more than 50 countries. American has
hubs
in
Charlotte, Chicago, Dallas/Fort Worth, Los Angeles, Miami, New York, Philadelphia, Phoenix
and
Washington
, D.C. American is a founding member of the oneworld® alliance, whose members serve more than 1,000 destinations with about 14,250 daily flights to over 150 countries. Shares of American Airlines Group Inc. trade on Nasdaq under the ticker symbol AAL. In 2015, its stock joined the S&P 500 index.
Find a flight

Edited by Alisè Vitri
Source and photos: Ufficio stampa American Airlines
All rights reserved. Copyright © Sisterscom.com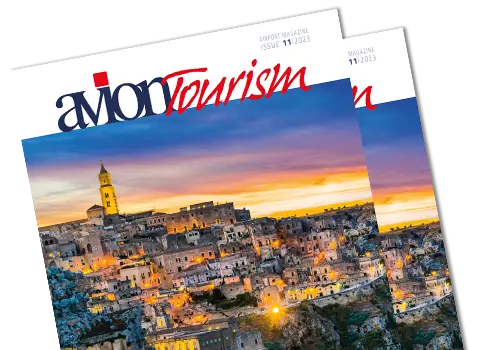 AVION TOURISM MAGAZINE
in digital version
On this issue: The World Heritage Sites of Basilicata and Puglia.