05 May 2020
EASA: Safety Information Bulletin & Preparation for aerodromes to resume operations
It is important that airports are prepared in order to resume operations safely
The European Union Aviation Safety Agency (EASA) published Safety Information Bulletin (SIB) 2020-07 giving guidance to aerodromes to prepare for a return to normal operations. This is part of a wider project to offer guidance across the various aviation domains.
Following the outbreak of COVID-19 and limitations imposed by individual States, the majority of flights have been suspended and aerodromes have been forced to scale down or suspend their operations until flights resume.
In many aerodromes across Europe, operational areas such as runways and taxiways are used for the long-term parking of grounded aircraft; aerodrome systems such as airfield lighting and radio navigation aids have been switched-off and regular inspections and maintenance may not always be performed according to schedule.
Although it is not defined yet when operations will restart, it is important that
airports
are prepared in order to
resume operations safely
. For this reason, under their
safety management system
and in cooperation with
air navigation service
providers, the
aerodrome
operators should establish a plan that should be implemented prior to the start of operations.
Edited by Alisè Vitri
Text source: EASA Press Office
All rights reserved. Reproduction prohibited.
Copyright © Sisterscom.com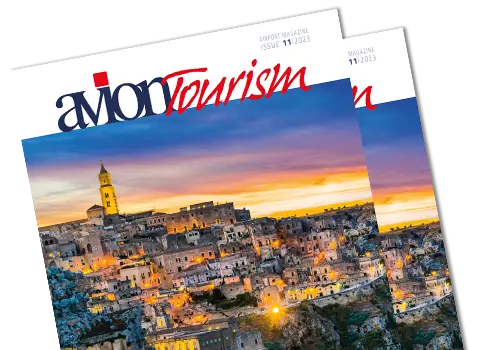 AVION TOURISM MAGAZINE
in digital version
On this issue: The World Heritage Sites of Basilicata and Puglia.