17 April 2023
Codeshare ITA Airways and Hainan Airlines
Hainan Airlines applies the "HU" code on 7 Italian destinations connecting with Fiumicino (Catania, Naples, Bari, Venice, Florence, Bologna, Turin) and on 2 international destinations (Paris and Athens)
ITA Airways, the National carrier of Italy and Hainan Airlines, the company based in Haikou, Hainan, People's Republic of China, have signed a codeshare agreement linking the networks of the two airlines.
Available from 21 April for sale to fly,
Hainan Airlines
will apply its
"HU" code
on 7 Italian national
destinations
in connection with
Rome Fiumicino airport
(
Catania, Naples, Bari, Venice, Florence, Bologna, Turin
) and on 2 international destinations (
Paris and Athens
).
The new codeshare flights are available for sale through airline websites (hainanairlines.com), reservation systems and travel agencies. The two airlines are working in order to expand the scope of their cooperation in the coming months and to offer customers even more affordable travel options. The agreement with Hainan Airlines activates the codeshare n. 31st of ITA Airways, a result achieved in a year and a half since the foundation of the company
ITA Airways
is a company wholly owned by the Italian Ministry of Economy and Finance for the exercise of activities in the air transport sector. The airline has been active since November 2020. ITA operates a fleet of 76 aircraft.
Hainan Airlines is based in Haikou, Hainan, People's Republic of China, is the fourth largest airline in terms of fleet in the People's Republic of China and is Skytrax "5-star" carrier. Hainan Airlines operates a fleet of 217 aircraft..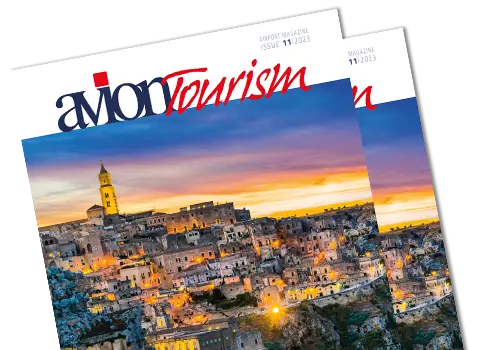 AVION TOURISM MAGAZINE
in digital version
On this issue: The World Heritage Sites of Basilicata and Puglia.