11 June 2019
The new OTAM 85 GTS has been launched
A "100% one off" project official debut at Cannes Yachting Festival 2019
OTAM is pleased to announce that OTAM 85 GTS full custom version was launched ahead of schedule, having successfully achieved greater speeds than the ones established in the contract. Its official debut will be at the upcoming Cannes Yachting Festival (10-15 September 2019). "The 85 GTS is the natural evolution of Otam's 'one off' philosophy, which aims at offering the greatest flexibility and no restrictions to Owners who are looking for exclusive solutions that meet their personal needs, and who therefore are looking for 'true Custom'," says Gianfranco Zanoni, CEO of OTAM. "The genesis of the 85 GTS goes back to the 2017 edition of the Cannes Yachting Festival," explains Matteo Belardinelli, Sales & Communication Manager for OTAM. "We were presenting the OTAM 80, which raised a lot of interest because of its performance and its second, full-beam master suite in the centre of the yacht. A number of clients expressed their interest in a 'different and open or semi-open' version of that yacht, which was therefore the starting point for our R&D."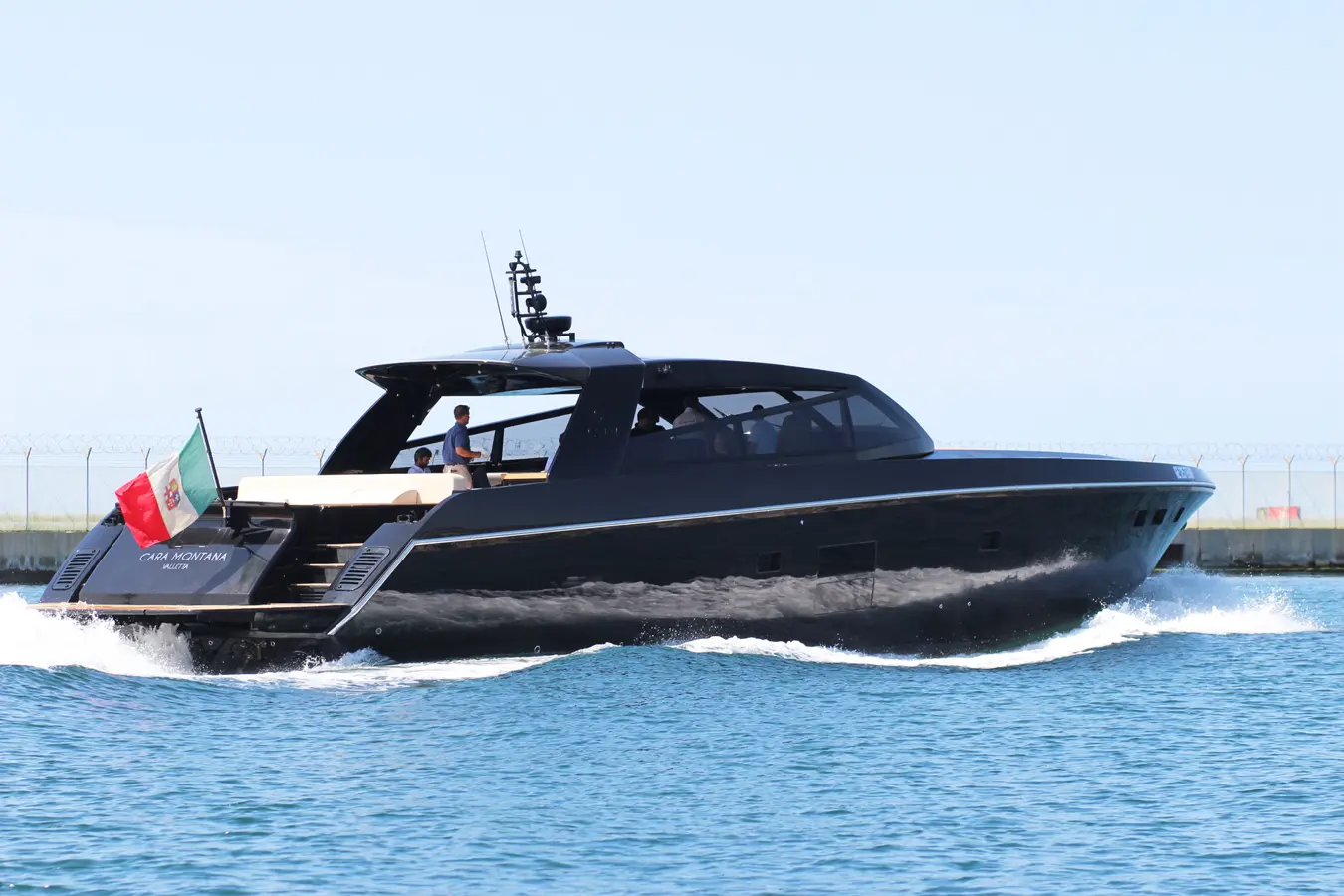 The design and engineering of this one-off fast cruiser, powered by a pair of 2600 hp MTU engines and Arneson transmission that can reach and exceed 45-knot maximum speed and 35-knot cruising speed, is the result of the collaborative efforts of CEO Gianfranco Zanoni, who is also Production director and tester (as an OTAM mechanical engineer), and Umberto Tagliavini, from Marine Design & Services.
The Paris-based "JDA" Joseph Dirand Architecture firm, represented by Maxime Foster, dealt with all the details of the interior layout and design, according to the wishes of the Customer. Max Riedl, from the German company Cornelsen & Partner, was the Technical Surveyor representing the Owner, with Damien Sauvage from Sauvagepowerboats acting as commissioning supervisor.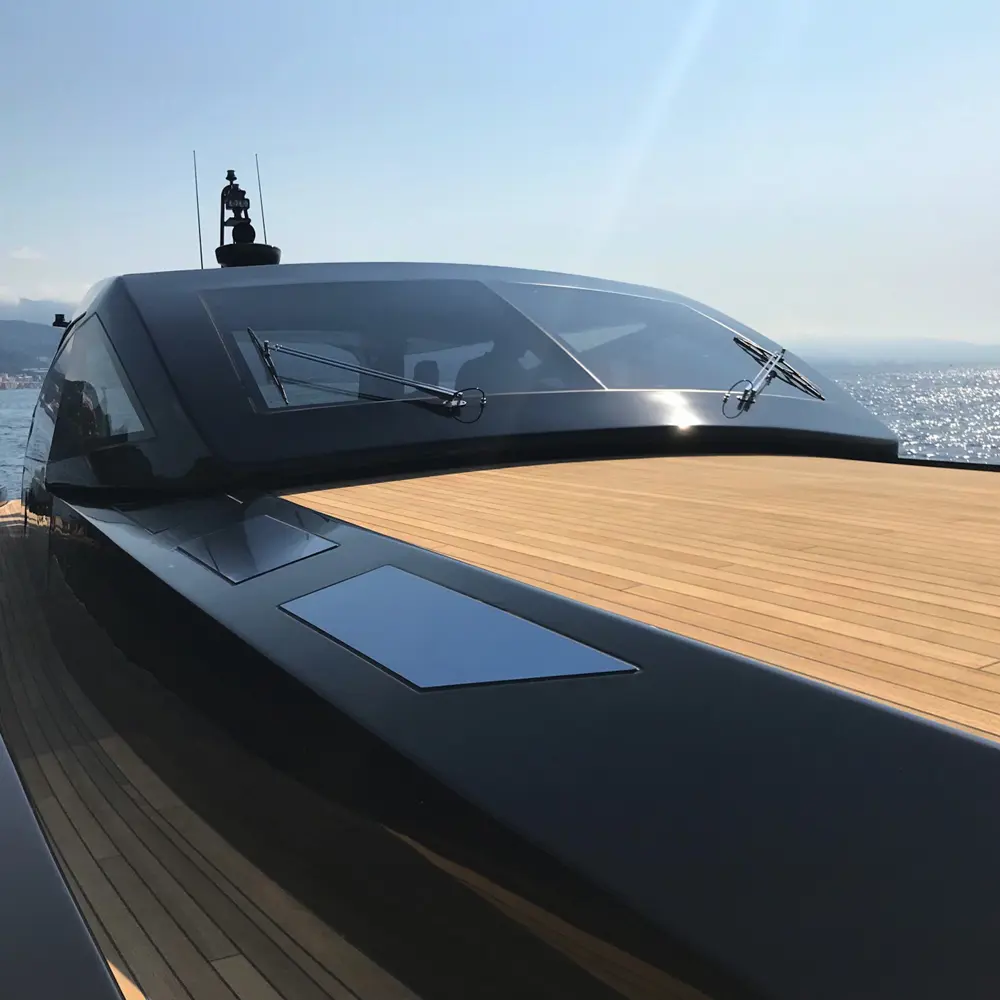 © Photos protected by copyright and License OTAM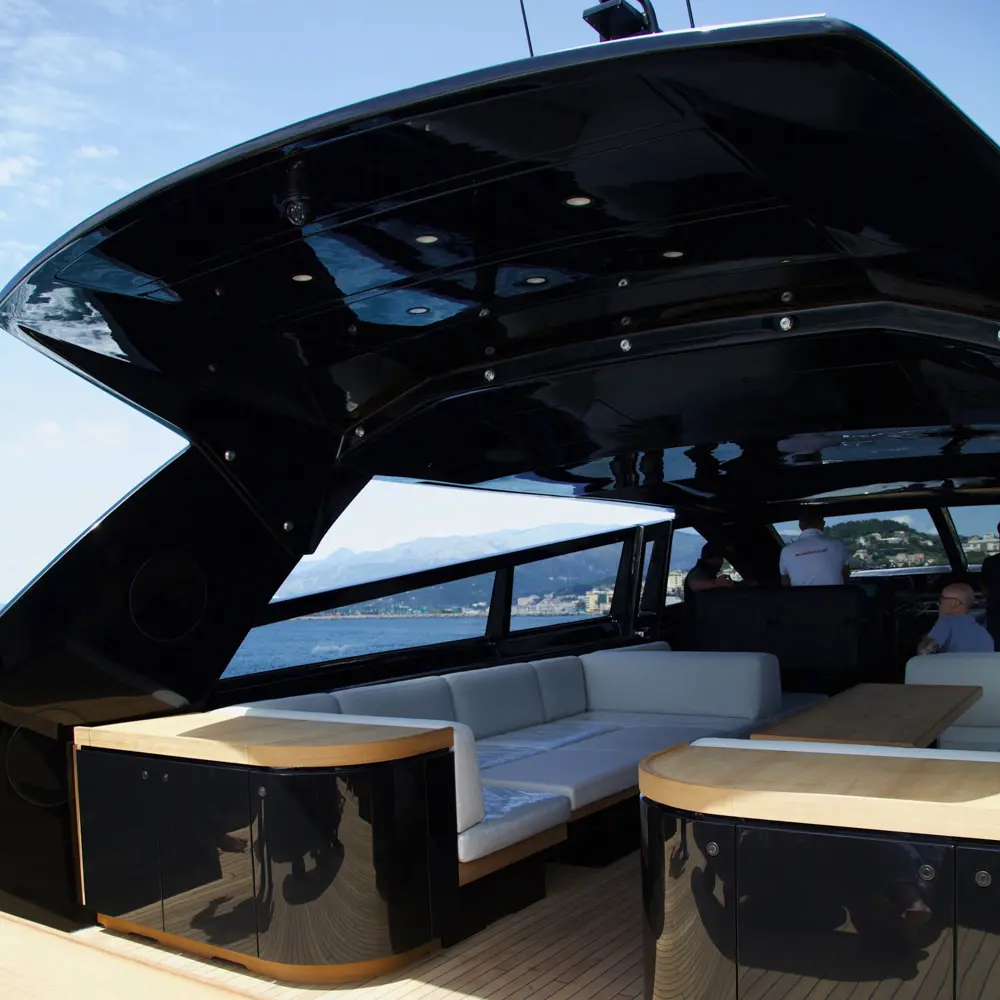 © Photos protected by copyright and License OTAM
The external layout offers huge convivial and relaxation areas, translating the needs and requests of the Customer who wanted to customise and build this unit as an Open Day Boat for his summer property. This 85 semi-open GTS is therefore able to cruise safely and without turbulence, ensuring the greatest comfort aboard even at top speeds above 45 knots.
The shape of the semi-open hard top is made with advanced composite materials that have been specifically modelled according to the Customer's specific style. It integrates the engines' air inlets, protects the areas served by grills for outdoor lunches and dinners and perfectly conceals the mechanism for opening the top, which is also fully customised.
With the two large master-suites (each with their own bathroom) in the bow and at the centre of the yacht with max beam, in addition to the practical galley and the living room/dinette opposite (with another bathroom for the guests), the spaciousness of this yacht's internal layout can be immediately perceived. The crew's quarters in the bow can be accessed independently from the VIP and Guest areas for high quality of life on board 24h.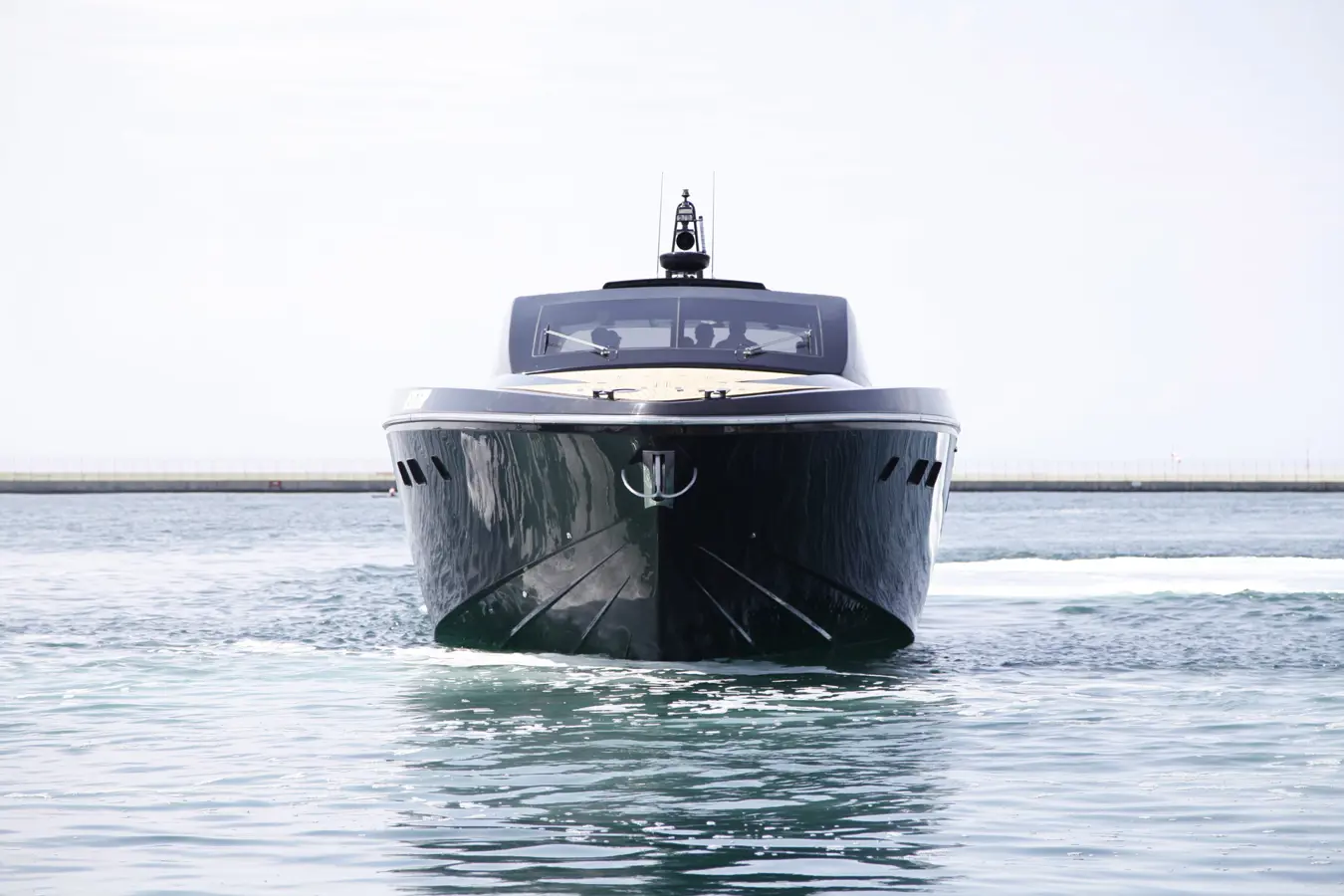 Technical features
LOA 25.85 mt; Max beam 6.00 mt; Loaded displacement 67 t; Light displacement 57 t; Fuel tank capacity 8000 lt; Water tank capacity 1000 lt; Greywater holding tank capacity 350 lt; Blackwater holding tank capacity 350 lt; Main Engines no. 2 x MTU M96L 2600 Hp@2450 RPM; Gear Boxes no. 2 x ZF 3070 Rid 2.5:1; Propulsion system 2x Arneson Drive ASD 15°1L; Cruising speed 38+ knots; Maximum speed 45+ knots; Autonomy @ cruising speed 350 nm; RINA CE category "A" classification.
OTAM  
OTAM is the acronym of
Organizzazione Tigullio Assistenza Motoscafi
, which was established in 1954 as one of the first shipyards in the region of Liguria. "Made in Italy one off" is the expression that encompasses all the Brand's values, such as specialisation, research, flexibility, iconic design, top performance and outstanding efficiency. In Otam, a 100% Italian shipyard, state-of-the-art technology and mechanical engineering become the emblem of the deeply-rooted specialisation of Italian powerboating quality all over the world. The Otam range is currently divided into FAST&ICONIC and CUSTOM RANGE. "Fast and Iconic" includes the 45', 58 Open or HT, 65 HT and the 80HT yachts, together with the youngest members of the Otam family, the 85 GTS and 100' yachts. The production of
full-custom aluminium
superyachts
between 24 and 42 mt in length began in 2014. OTAM CUSTOM RANGE works closely with customers to translate their vision into a
full-custom
"One Off" yacht, which is very different from creating mass-produced products. Otam is based in
Genoa
and spreads over a 17,000 square-metre site, which includes direct access to the sea, a dock with 35 berths and a 180-ton travel lift. There are about 40 workers in the shipyard. The Otam process is entirely in-house, completed by craftsmen and professionals who have been involved with the shipyard for many years. The legendary "Pontile Otam" dock in Santa Margherita Ligure has room for over 70 yachts and offers complete service assistance. 
Otam Co-Design Lab 
The shipyard is a laboratory in which customers or designers can bring, develop and build their projects. Otam Co-Design Lab currently enjoys the collaboration of some of the most important Italian and international design firms, including Tommaso Spadolini, Umberto Tagliavini, Hot Lab, Achille Salvagni, Paolo Martin, Cristiano Gatto, Francesco Guida Design and BG Design Firm. The Paris-based JDA Architecture firm has recently joined as well.
Edited by Lisa Maria River
Source and photos: OTAM
Photos protected by copyright and License: © OTAM.
Copyright © Sisterscom.com
AVION LUXURY MAGAZINE
in digital version
DESTINATIONS Aruba, un viaggio ai Caraibi. HOTELS Un Bvlgari Hotel a Roma. JETS La serie Phenom 300 di Embraer - La cabina Executive di Bombardier. CARS Bugatti Chiron Profilée -1000 Miglia Experience UAE.
YACHTS Grande 26M di Azimut - Nautica e benessere con Arcadia. WATCHES Planetarium Dunes of Mars Limited Edition.