19 June 2020
On board a yacht like a seafront villa
Holidays in the heart of nature, privacy, comfort and direct contact with the sea with every model of Ferretti Group
Take it easy as you enjoy new horizons and boundless freedom. The top priorities in summer 2020 are privacy, social distancing and spending as much time as possible in natural surroundings with family and friends. Therefore, the ideal choice is a holiday by the sea, or even better on board a yacht: it is a perfect solution because it enables you to combine freedom, safety and unbeatable comfort as you discover spellbinding landscapes on an unforgettable private cruise.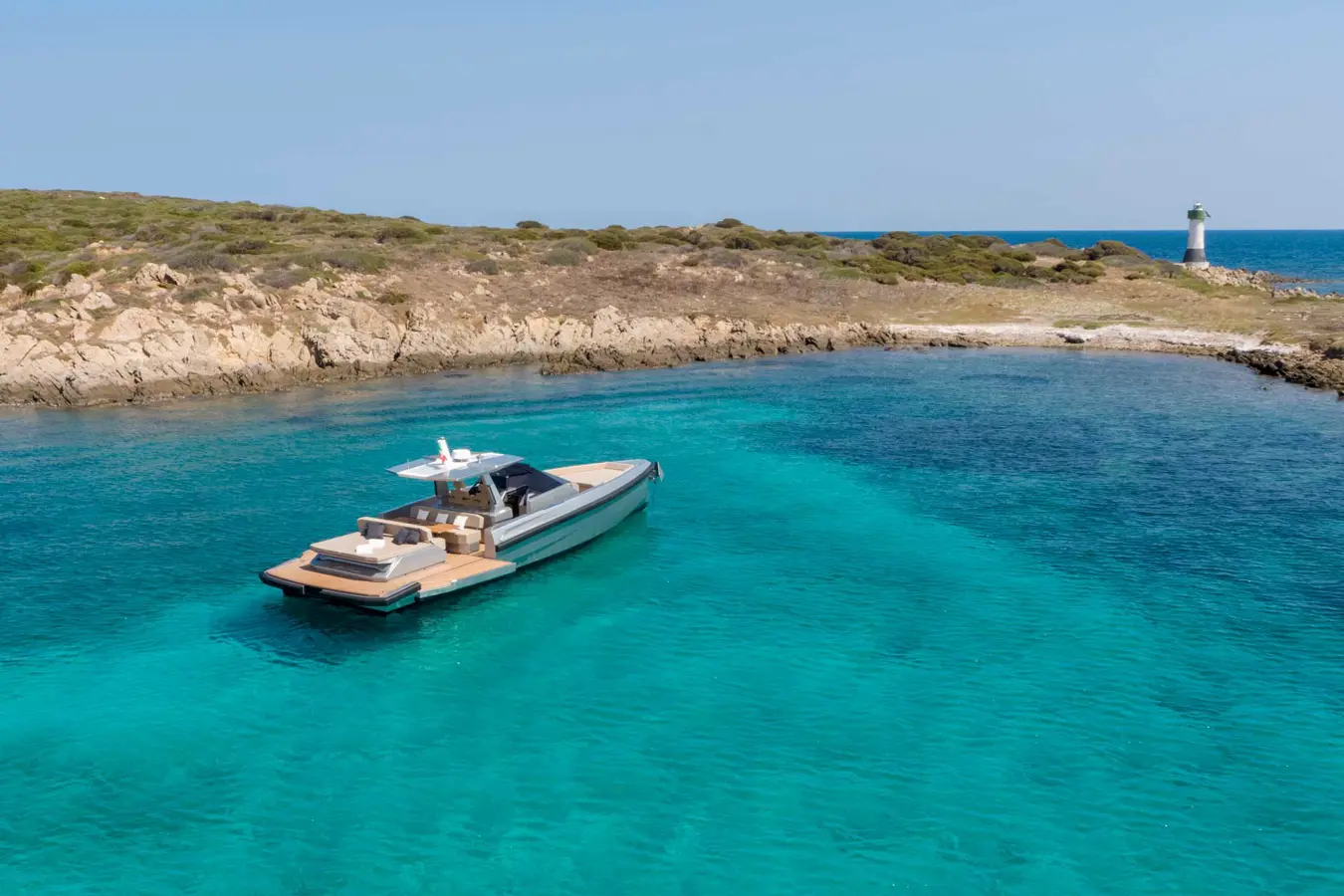 Wally 48 Wallytende. Photo credits: Copyright © Gilles Martin Raget.
Every model of Ferretti Group flawlessly fuses practical aspects and visual appeal. Life on board is luxurious thanks to exceptional designs that cater to all needs, with features such as large cabins, beach clubs providing direct access to the sea, bright and spacious inside lounges, Jacuzzi decks, sun pads, bars, gyms, cinemas, tenders and personal watercraft for endless fun and relaxation.
Pershing 7X, the ideal yacht for discovering stunning sights in Ibiza
Crystal-clear water, romantic sunsets and heavenly beaches. Although it is renowned for its lively summer nightlife, the island of Ibiza is also a great place for fun, relaxing family holidays on board the new Pershing 7X.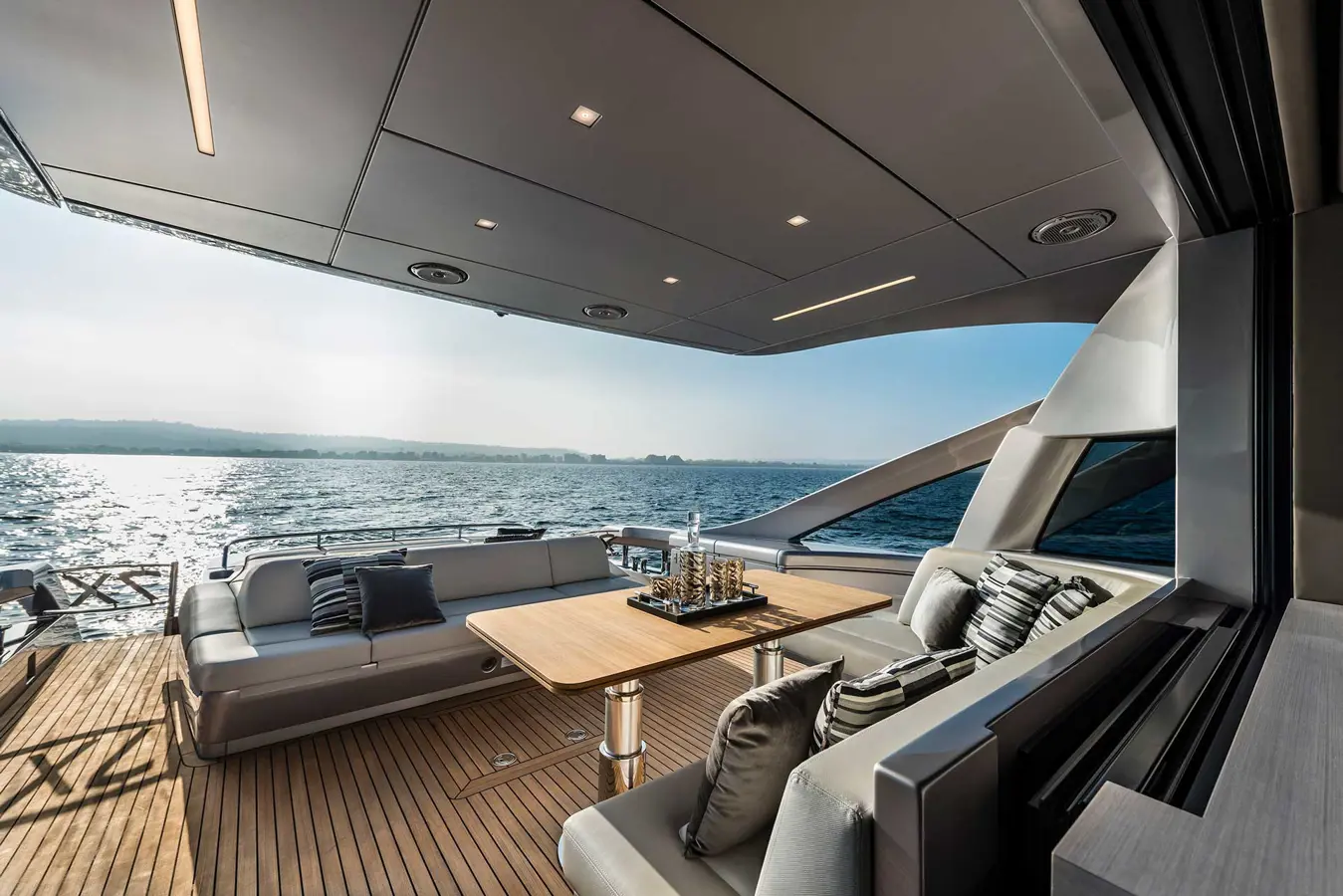 New Pershing 7X. Photo: Copyright © Ferretti Group.
The most recent addition to the brand's Generation X range is the epitome of lightweight speed and performance. It marvellously blends the latest Pershing technology with an unmistakable design featuring a sporty, streamlined shape, by
Fulvio De Simoni
. With a length of 21 metres (approximately 69') and a beam of 5.35 metres (approximately 17'), it is perfect for exploring the magnificent
coves of the
White Island
and sailing to the
Pershing Yacht Terrace
: a truly unique cocktail bar in the heart of the
luxury five-star 7Pines Resort
of
Ibiza
. Created by Pershing designers and architects to reflect the style and qualities that make the range unique, at the Pershing Yacht Terrace you can unwind and sip a superb cocktail as you admire the view of the enchanting rocky
island of Es Vedrà
.
Riva 90' Argo, legends and enchanting views among the islands in Croatia's Kvarner Gulf
Whether you stay out in the open sea or head closer to the coast, the islands in the Kvarner Gulf form one of the most picturesque archipelagos in the Mediterranean. The perfect yacht for exploring this part of Croatia is the Riva 90' Argo, a flybridge with a mythological name that is already legendary in nautical circles for its innovative, sleek design. Its large hull windows, long, full-height glazed windows and aft lateral structures with glass surfaces offer both protection and a sense of freedom, allowing your eyes to wander between the blue sea and the verdant landscape of Croatia.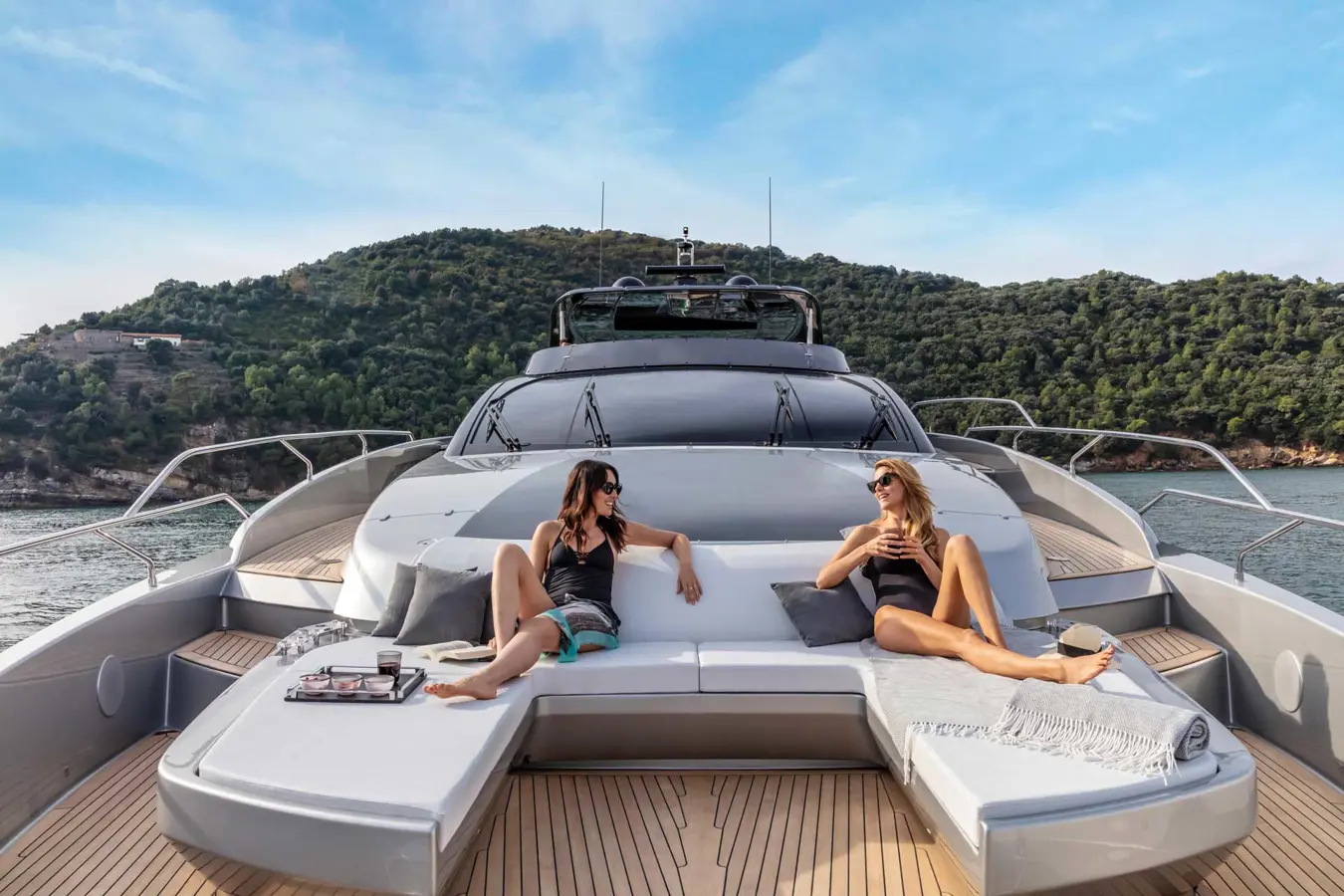 Riva 90' Argo. Photo: Copyright © Ferretti Group.
It is a wonderful way to feel at one with nature. What's more, there is room in the aft garage on the main deck for both a
Williams Sportjet 395 tender
and a personal watercraft, which can be used to explore
hidden coves
. If you would like to enjoy dinner or a cocktail in quintessential
Riva style
but on dry land, simply head for the
port of Opatija
. It is a destination that never fails to delight the globe-trotting elite and the authentic essence of the
shipyard from Sarnico
is encapsulated there by the
Riva Lounge and Privée
at the
Ikador Luxury Boutique Hotel & SPA
. The interior design is reminiscent of the
1950s Dolce Vita style
, while inimitable details such as steel trims and lacquered mahogany instantly call to mind a golden, celebrated era.
Ferretti Yachts 720, comfort and well-being "just like home" off Portofino
Nestled between the Gulf of Tigullio and the headland of the same name, the exclusive village of Portofino and its famous bay have always attracted prestigious figures from across the globe. Among other reasons, they come to admire and visit the entrancing landscape. It is an ideal destination for those who like to move in high society but also want to savour the wonders of peaceful bays that are only accessible by sea, perhaps in a Ferretti Yachts 720. Being on board is like being at home, or in a villa. This exceptional flybridge offers unprecedented luxury, comfort and well-being thanks to painstaking dedication to quality in its design, furnishings and details.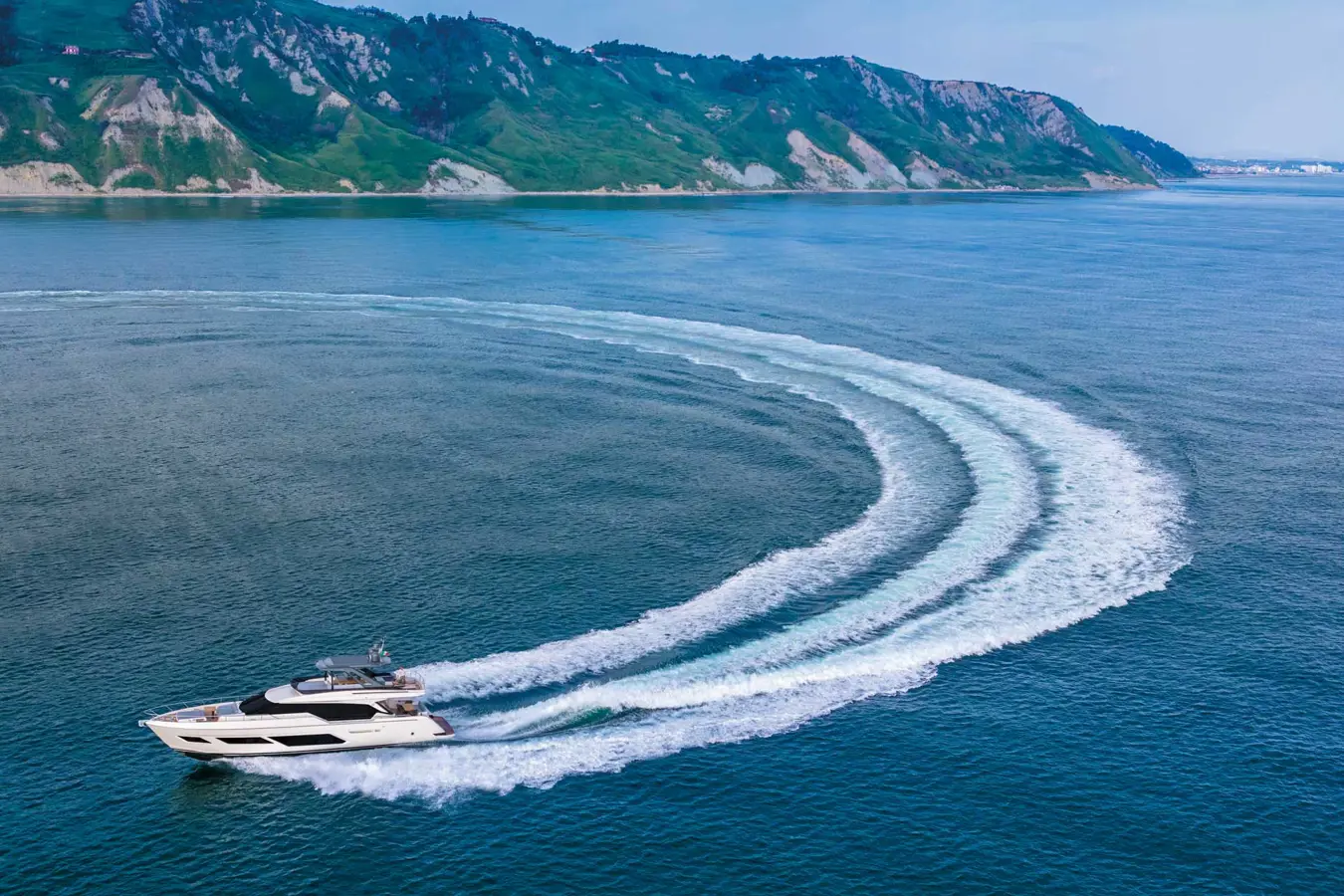 Ferretti Yachts 720. Photo: Copyright © Ferretti Group.
On board the Ferretti Yachts 720 are a number of functional and styling solutions that are highly innovative for a vessel of its size. They lay the foundations for a new living concept: well-being on the waves. After the summer, the eagerly awaited new Ferretti Yachts 500 will also head out onto the water and mark the beginning of a new era for the brand thanks to its welcoming, versatile spaces. It combines the vibrancy of external lines by architect Filippo Salvetti with an interior design scheme that for the first time comes with a choice of two different moods: Classic, with warm hues, and Contemporary, which is inspired by the colours of the Mediterranean.
Custom Line 120', travel all of the way to the Caribbean on board a made-to-measure marvel
If you are fond of long voyages at sea, why not go from the Mediterranean to the crystal-clear Caribbean in a Custom Line 120'. It is like an ocean-going villa that offers unbeatable comfort on the waves thanks to its first-rate reliability and safety in all conditions. The Custom Line 120' is the brand's first planing yacht by Francesco Paszkowski Design. Leading from the cockpit to the lounge is an innovative glass door: it slopes at 45° and boasts not only the customary sliding opening systems for the two glass panels but also an up-and-over mechanism that lifts up completely and slots into the ceiling.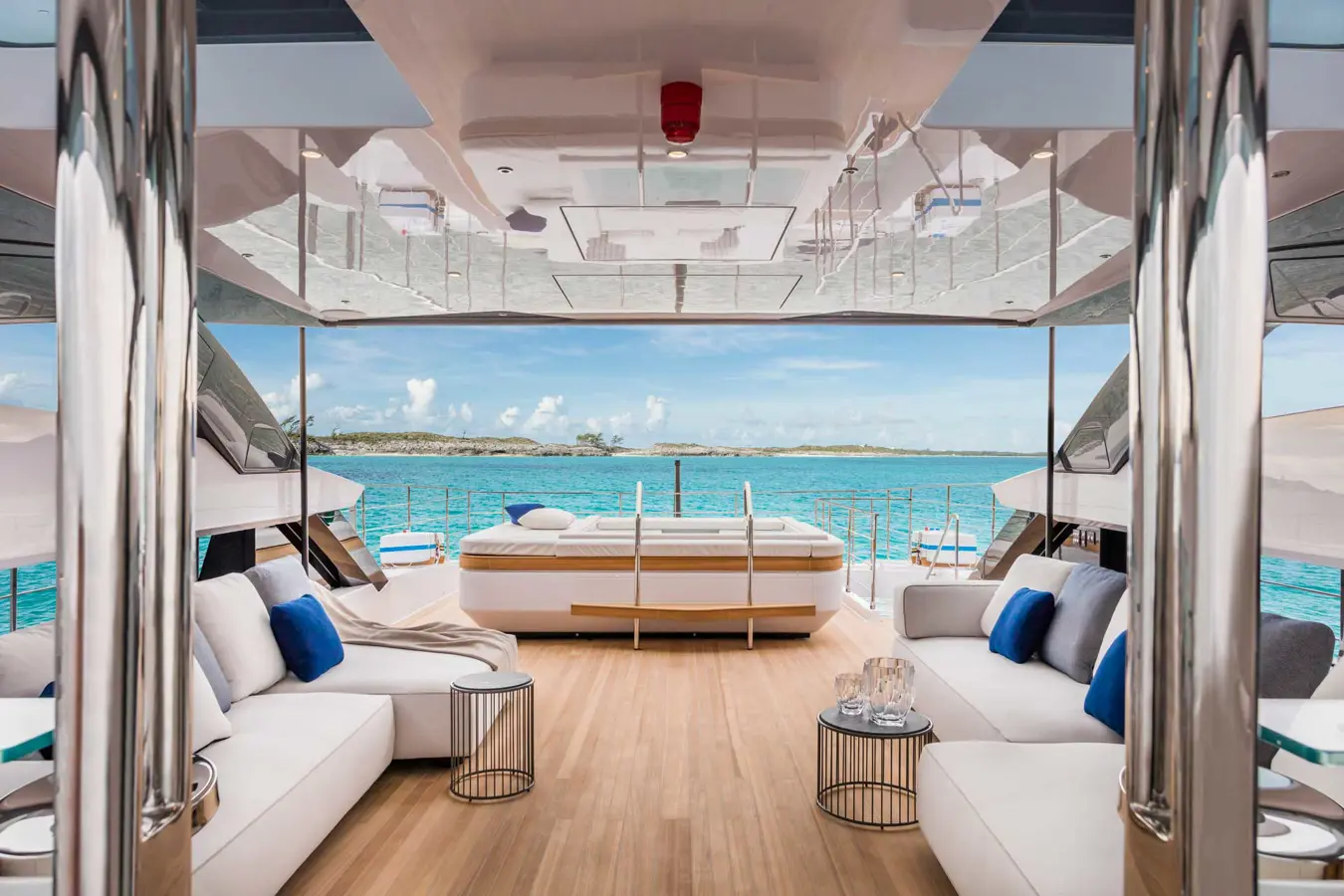 Custom Line 120'. Photo: Copyright © Ferretti Group.
This ingenious solution means that the cockpit and the lounge can be joined together to form one big room spanning more than 80 m• (861 ft•), which is complemented by dividing curtains and teak panelling. The hull windows are generously broad, while a sense of direct contact with the sea is offered by the full-length deck windows. In the external areas, the comfort of a flybridge and the sportiness of a coupé are blended admirably on the sun deck, where the panoramic views can be enjoyed in total privacy. The latter also boasts a relaxation area with a whirlpool tub and free-standing furniture. Shade can be provided by a bimini top that retracts into the hard top fitted with sky lights. The utmost care has also been taken over acoustic comfort: The Custom Line 120' features a floating floor and supplementary insulation between the bulkheads and in the ceilings, for superior soundproofing.
48 Wallytende, natural wonders and consummate elegance on the Costa Smeralda and the Maddalena Archipelago
Water dappled with countless hues and unblemished natural environments go hand in hand with divinely glamorous and exclusive locations. The Costa Smeralda and Maddalena Archipelago in Sardinia have always been among the most popular destinations for Wally owners. If you are preparing to set sail from Porto Cervo to explore sublime spots such as Caprera, Budelli and Spargi, what better way could there be to do so than on board a 48 Wallytender, with the 960 HP of its Volvo IPS 650 engines to propel you along?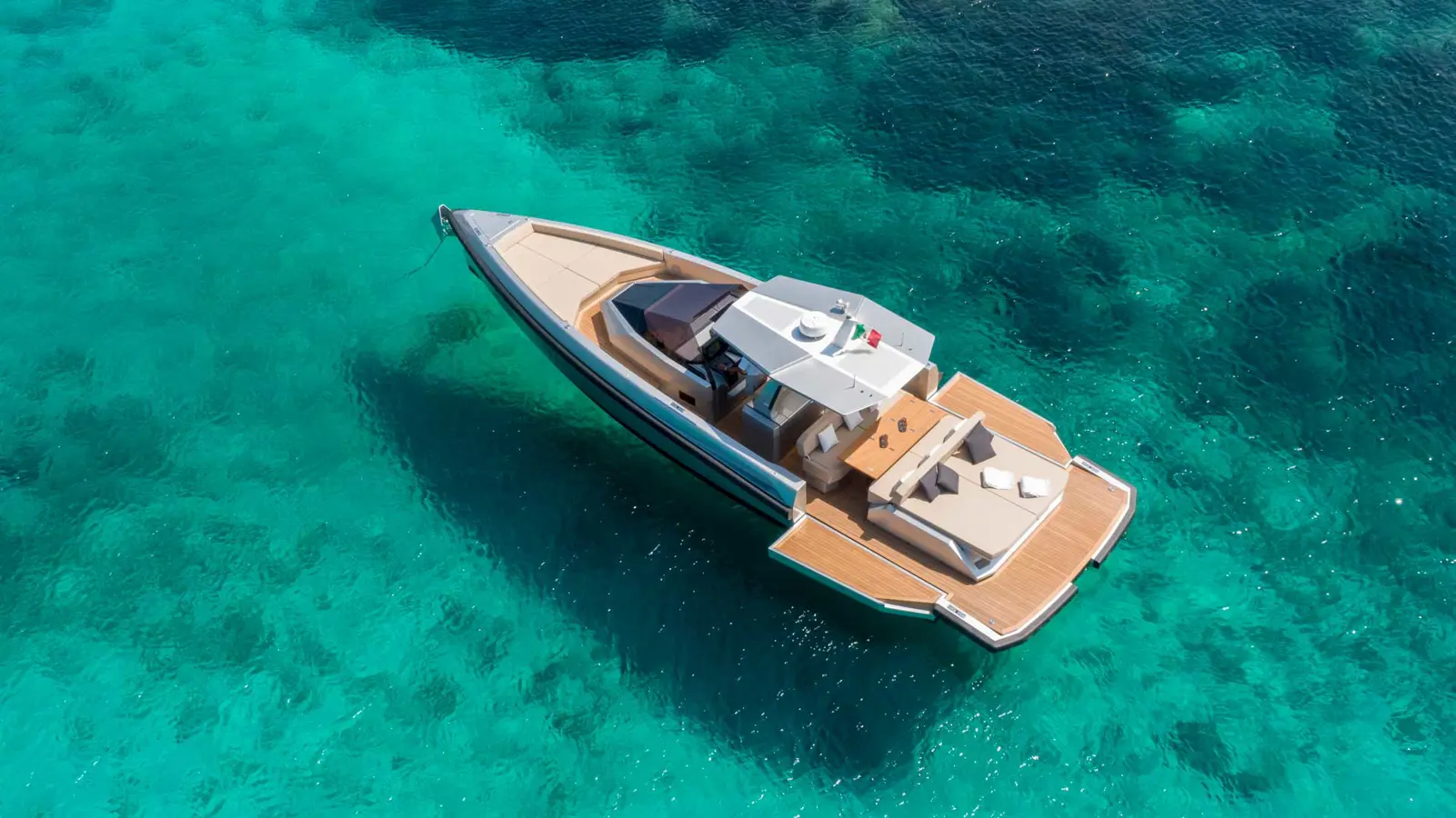 Wally 48 Wallytende. Photo credits: Copyright © Gilles Martin Raget.
Everything on the 14.50 metre vessel has been designed with the pleasures of boating in mind. The external areas are organized for comfort and relaxation, with comfortable seating, large sun pads, and an al fresco dining area served by a well-equipped galley. In this segment of the market, there is nothing else quite like the 48 Wallytender. As standard, it boasts aft bulwark sections that can be folded down on both sides, thus allowing you to expand the living space on deck while you are anchored. After a day at sea, it is a real joy to moor off Phi Beach, which is one of the coolest open air clubs in the Mediterranean, and watch a spectacular sunset as you sip an expertly made cocktail.
Ferretti Group is a leading international name in yachting, with unparalleled know-how in the fields of engineering design and innovation. This is underlined by the impeccable standards of its eight brands: Wally, Ferretti Yachts, Pershing, Itama, Riva, Mochi Craft, CRN and Custom Line. The yachts can cater to any need and offer unmistakable experiences on the water.
Edited by Lisa Maria River
Text source: Ferretti Group Press Office
Photos: Copyright © Ferretti Group; Gilles Martin Raget
All rights reserved. Reproduction prohibited.
Copyright © Sisterscom.com
AVION LUXURY MAGAZINE
in digital version
DESTINATIONS Aruba, un viaggio ai Caraibi. HOTELS Un Bvlgari Hotel a Roma. JETS La serie Phenom 300 di Embraer - La cabina Executive di Bombardier. CARS Bugatti Chiron Profilée -1000 Miglia Experience UAE.
YACHTS Grande 26M di Azimut - Nautica e benessere con Arcadia. WATCHES Planetarium Dunes of Mars Limited Edition.