The Canary Island where to sunbathe and swim in the middle of winter
Over 3,000 hours of sunshine and mild temperatures make Fuerteventura a paradise to be enjoyed all year round. The temperature of the sea, which varies between 24 and 19°C, is ideal for swimming at any time, and sunbathing on Fuerteventura is possible every day of the year.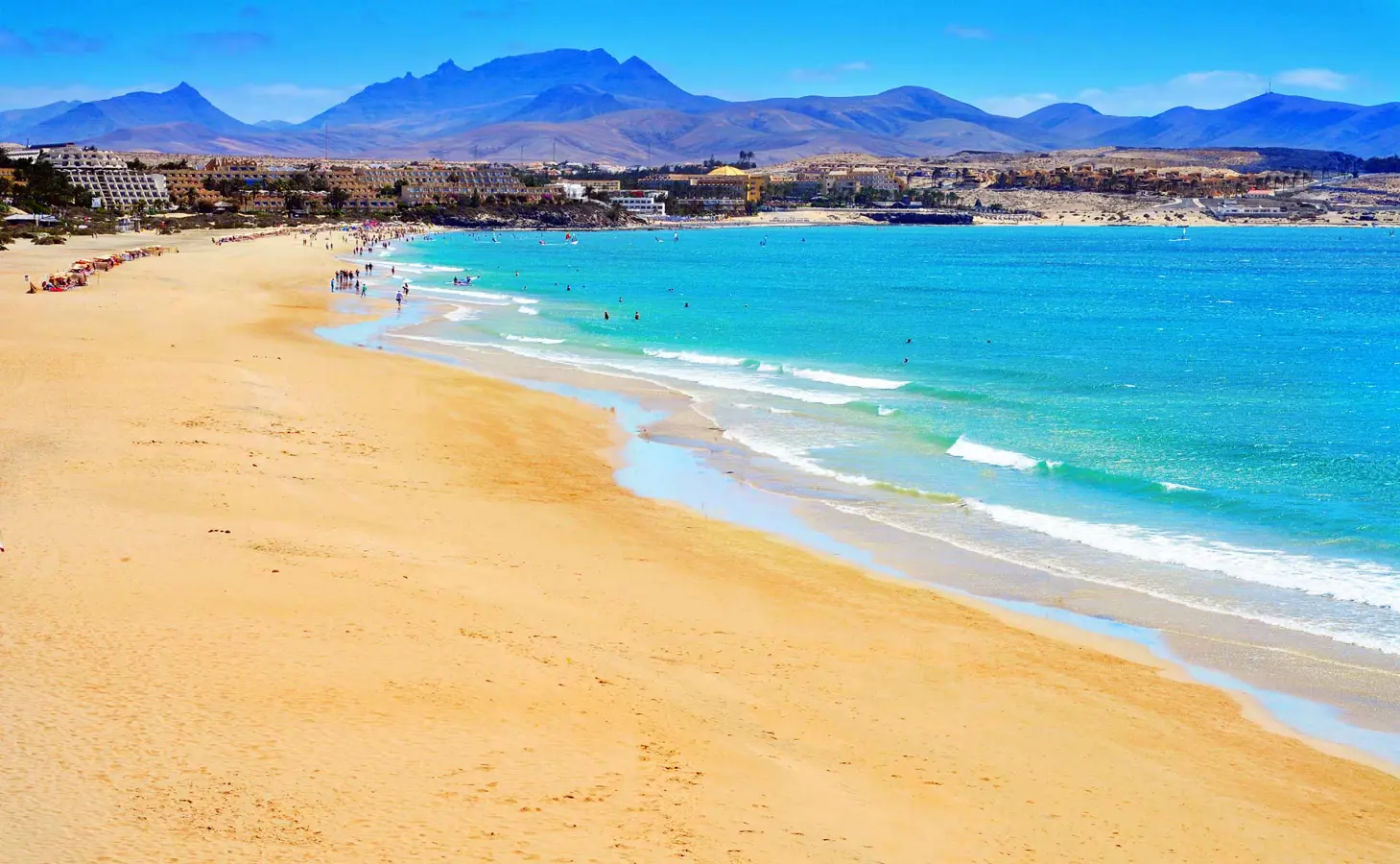 Fuerteventura. Playa Esmeralda. Copyright © Sisterscom.com /
Shutterstock
The island provides the best combination of beaches and climate in the Canary Islands in a unique, unspoilt setting. The coastline offer much variation, with beautiful cliffs and bays, and well-equipped beaches to enjoy with the family or on holiday with friends, where you can meet people from all over the world savouring this small corner of paradise in the Atlantic Ocean.

Fuerteventua offers its visitors over 150 km of beaches, and among these you are sure to find a corner just for yourself. You can stroll along golden sands bathed by turquoise waters on the beaches of Barlovento and Sotavento in the south, or take walks on the large beaches of Corralejo in the north, to name just a few examples. If you prefer rugged natural beauty, there are numerous small sandy bays and wild corners tucked away on the island.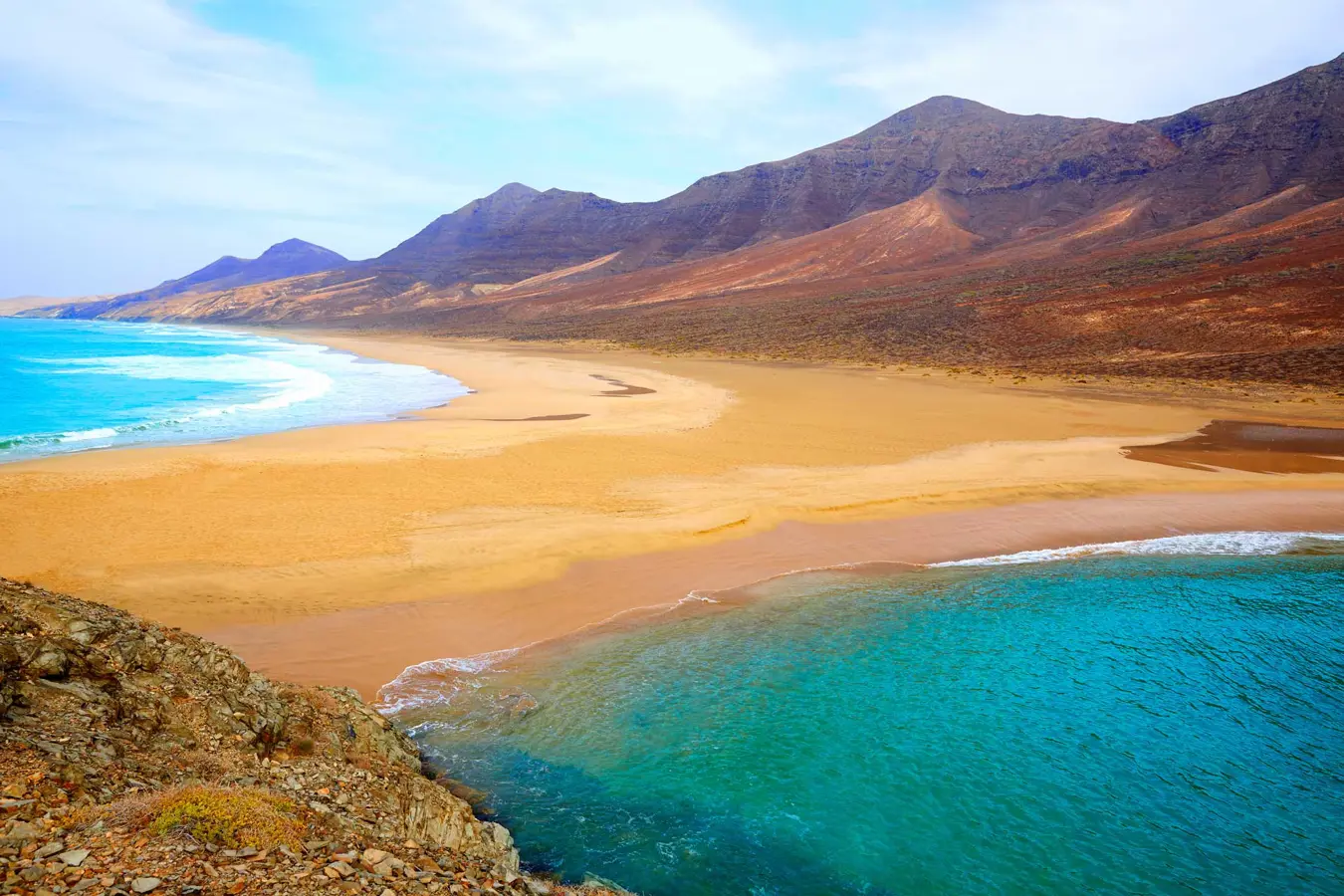 Fuerteventura. Cofete beach. Copyright © Sisterscom.com /
Shutterstock
Fuerteventura is an ideal destination for nature lovers. The land and all surrounding waters have been declared a UNESCO World Biosphere Reserve. The island offers over 350,000 hectares of rural areas, nature parks, monuments and scenery, as well as living witnesses of its volcanic origins such as the rocky expanses inhabited by a great variety of plants and animals of inestimable value, carefully protected by specific projects, which include the reintroduction of species typical to the Canary Islands such as the loggerhead sea turtle (Caretta caretta) or the Egyptian Vulture, an indigenous bird of prey also known as the "guirre".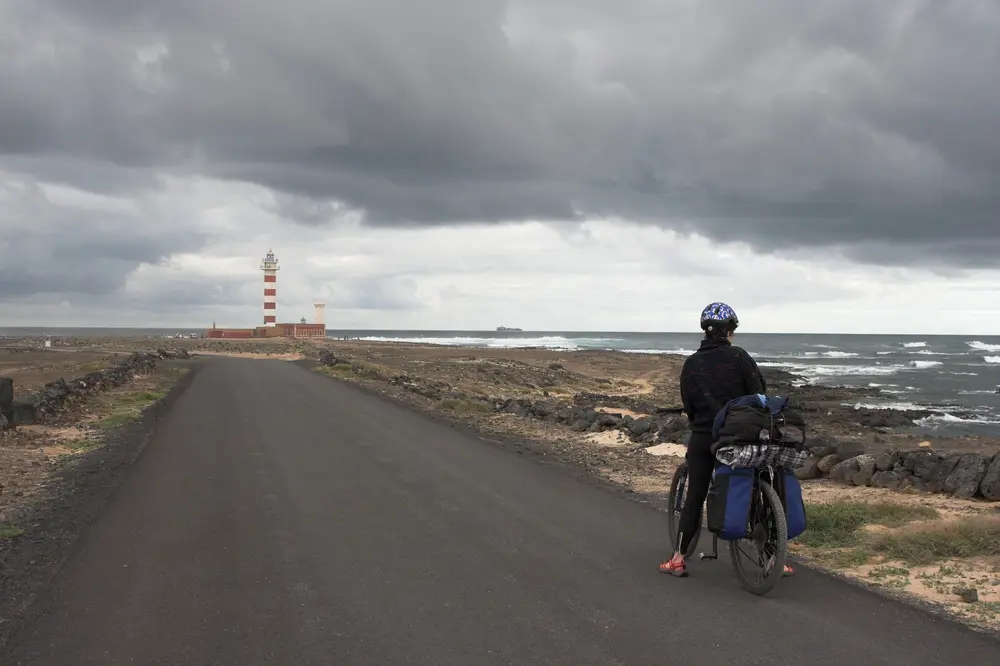 Fuerteventura. Toston lighthouse. Copyright © Sisterscom.com /
Shutterstock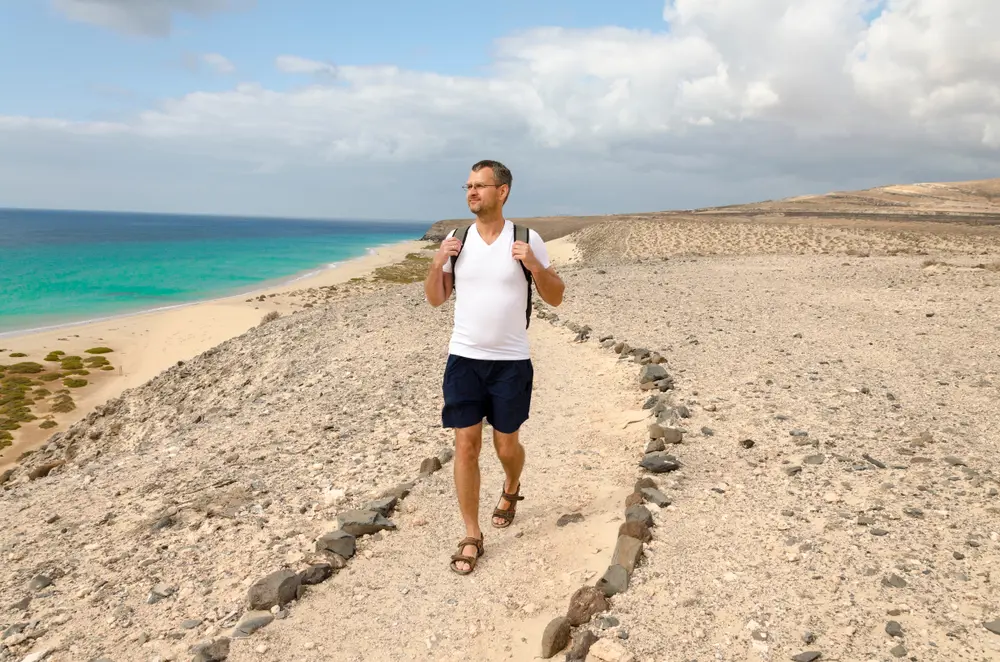 Fuerteventura. Sotaveto beach. Copyright © Sisterscom.com /
Shutterstock

You can discover these unique places by following the dense network of paths that run from one end of the island to the other, either on foot, by bike or even on the back of a camel. If instead of a simple stroll to get to know the island, you prefer to practise a sport, the mild climate of Fuerteventura makes it perfect for open-air activities throughout the year. You can try hiking over the numerous panoramic paths or golf on courses hidden among the dunes with sea views or set in lunar-type volcanic landscapes. Mountain bike, quad or motocross enthusiasts will find the ideal geographical and weather conditions for practising their favourite activity. Excursions in quads or safari jeeps, climbing volcanos and crossing desert landscapes, are adventures not to be missed.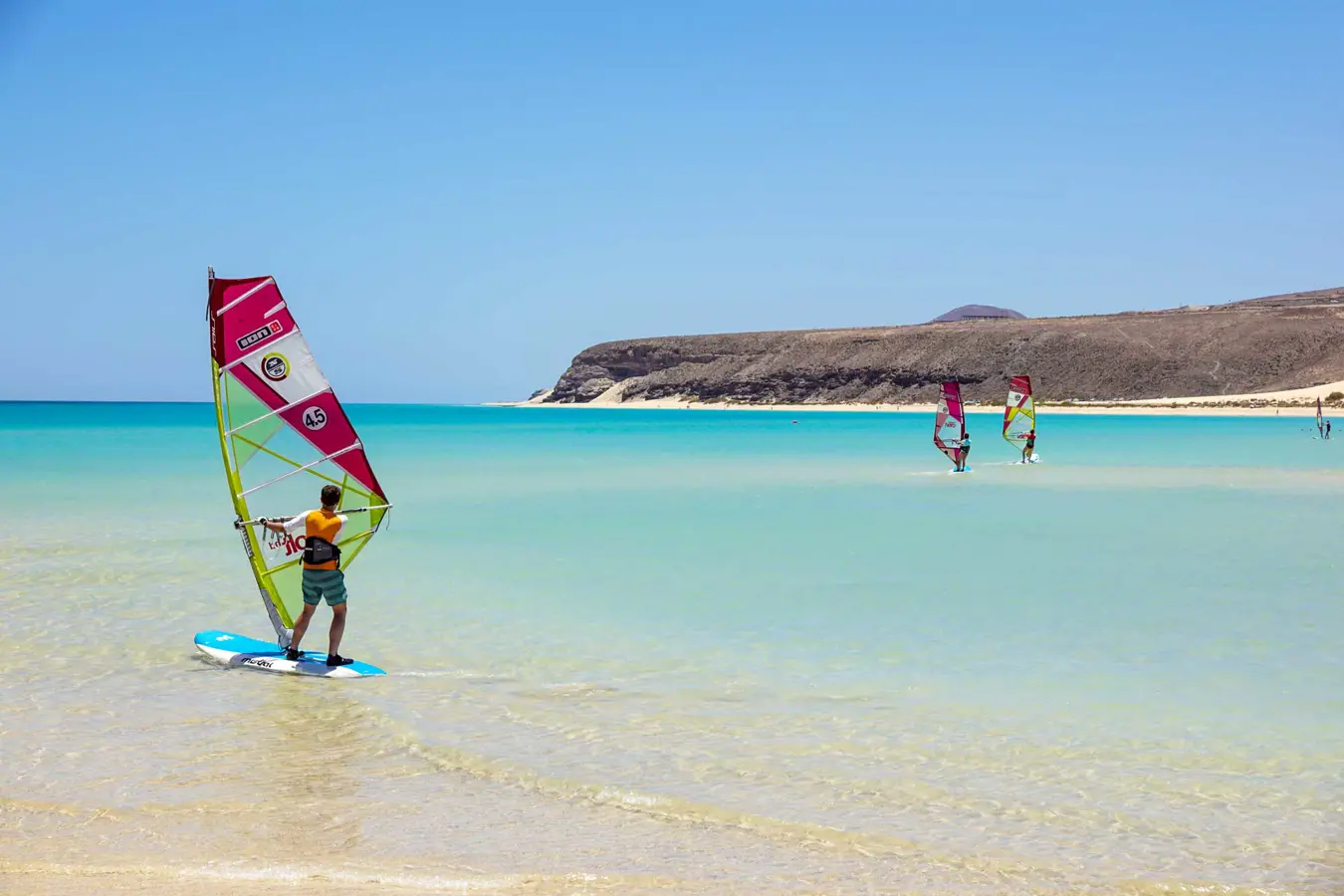 Fuerteventura. Copyright © Sisterscom.com / Stefano Carnevali /
Shutterstock

Even the ocean around the island is famous throughout the world for having the perfect conditions for aquatic sports such as windsurfing, kiteboarding, sailing, scuba diving and fishing.
The island's flavours of Fuerteventura
In Fuerteventura, wellness and nature are elements found everywhere; the island's flavours are a result of a fusion between ancient traditions and foodfrom the pristine land and sea.
Fuerteventura. Port Gran Tarajat. Copyright © Sisterscom.com /
Shutterstock
Cheese and fish are staples, and to enjoy them at their best, we recommend visiting one of the many fishing villages nestled on sandy shores, with their characteristic fishing boats and alleyways and numerous restaurants offering dishes made with ingredients freshly harvested from the sea.

Text by Lea Tocchi
Updated by Alisè Vitri
Avion Tourism Magazine
Photos: Sisterscom.com, Shutterstock.
All rights reserved.
Video: © visitfuerteventura.es
Video: © visitfuerteventura.es
Tourism Board
www.visitfuerteventura.es
www.spain.info
Where to sleep in Fuerteventura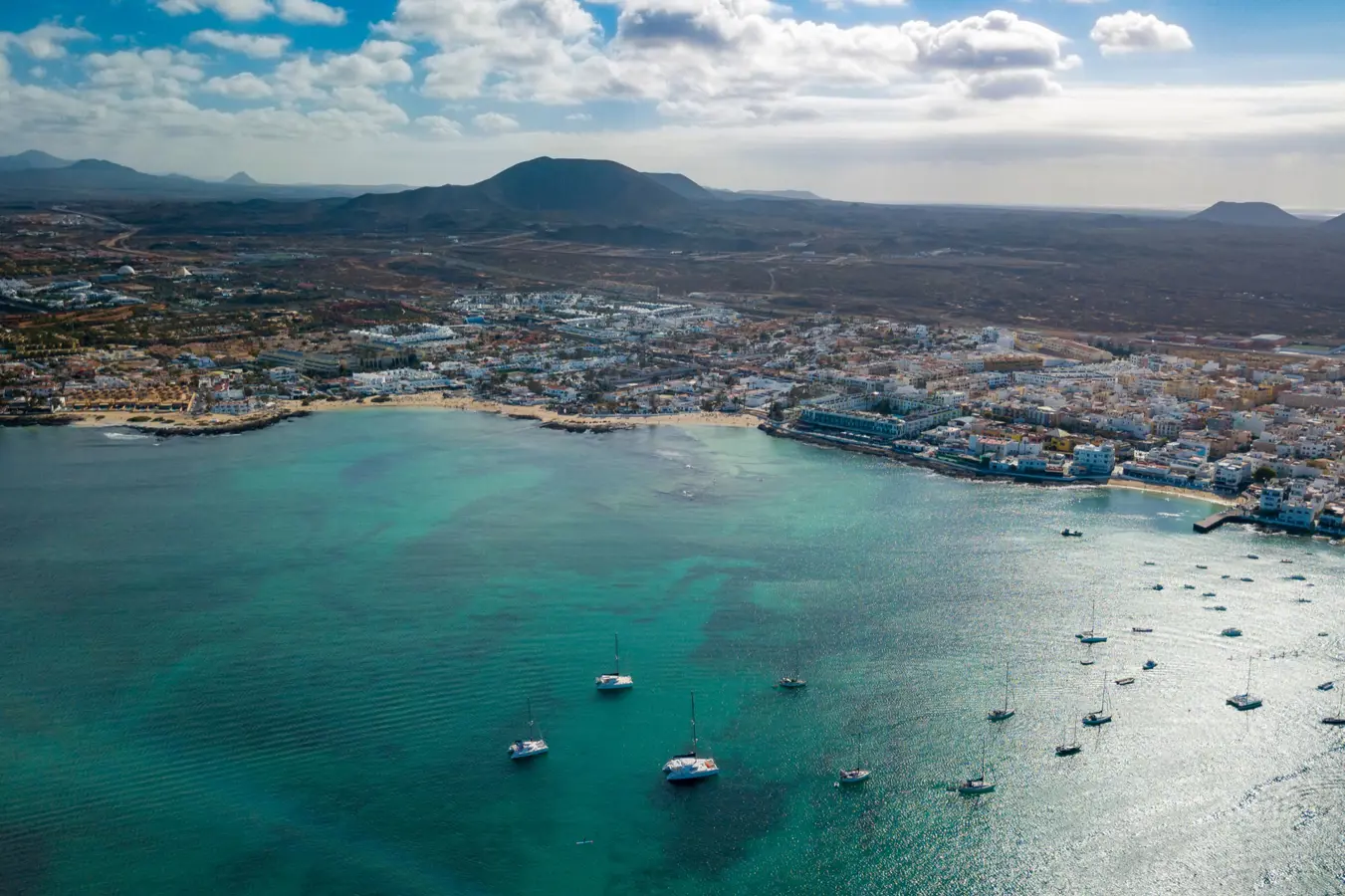 Fuerteventura. Aerial view of Corralejo. Copyright © Sisterscom.com /
Shutterstock
Fuerteventura is a welcoming city and offers different possibilities for accommodation.
To find the ideal hotel and the best offers you can do a search for the stars, services and locality.
STARS - Fuerteventura
Hotels for stars, differentiated by type of services:
LOCALITY
Hotels in the locality
AIRPORT
Hotels near the airport
WHERE TO GO in fuerteventura
Museums in Fuerteventura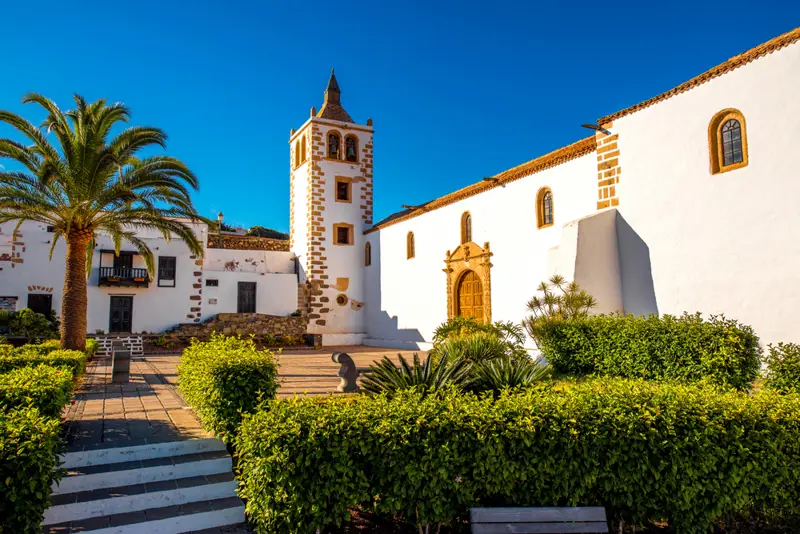 ARCHAEOLOGY MUSEUM OF BETANCURIA
This museum illustrates the native culture of the island with objects of great archaeological and ethnographic value.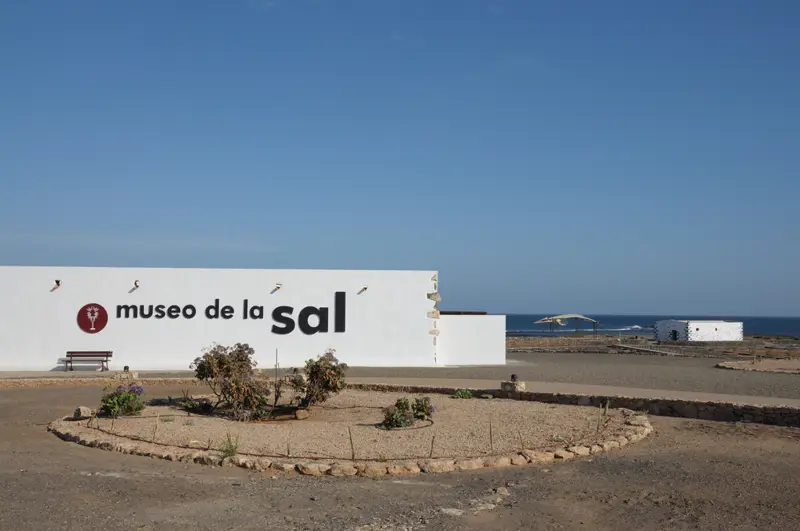 MUSEO DE LA SAL
The Salt Museum, located in the area of Salinas del Carmen, was built in 1910. It is devoted entirely to providing information on salt and its extraction from the sea.
Natural monuments in Fuerteventura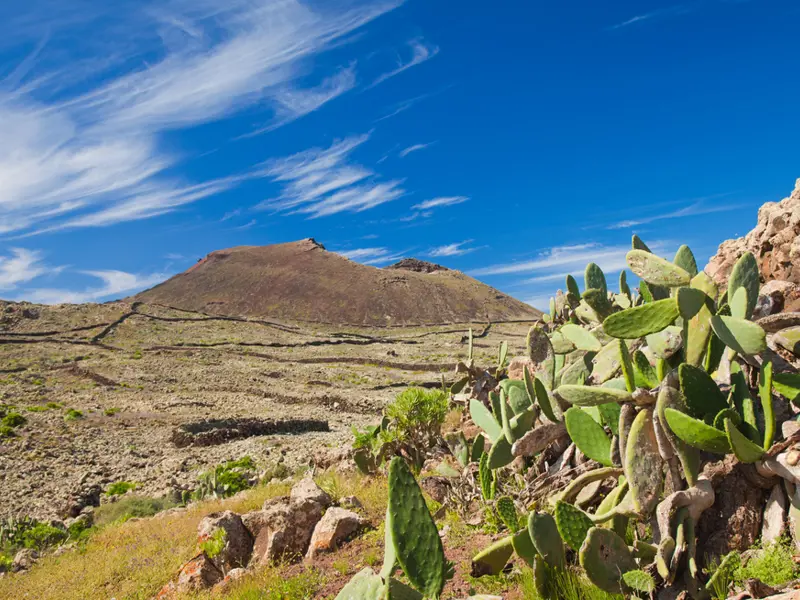 NATURAL MONUMENT OF MALPAÍS DE LA ARENA
This volcanic crater, created following eruptions occurring over ten thousand years ago, is an impressive place of great scientific, geological and geomorphic interest. The flora and fauna are also extremely interesting with species that are endangered and protected. The area is also intriguing from an archaeological point of view. The archaeological site dates back to the pre-European time, in particular to the time of the indigenous people, the Mahos.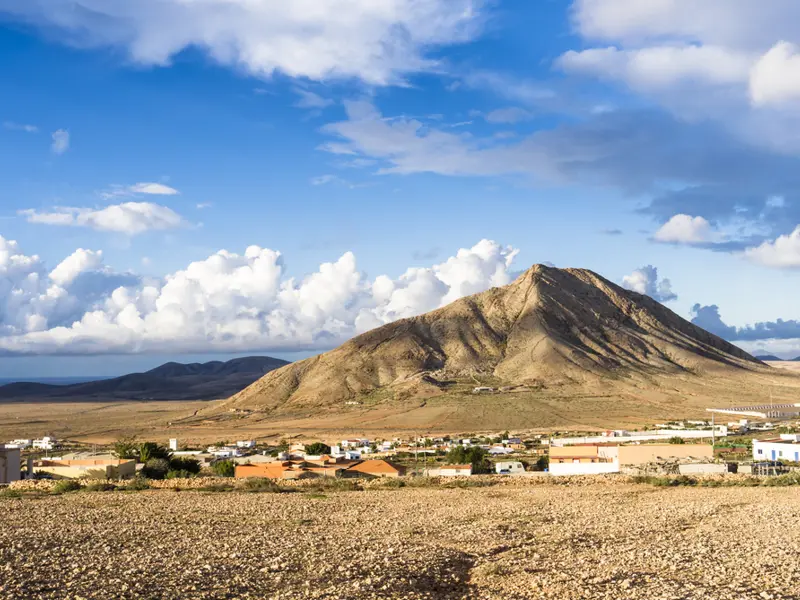 NATURAL MONUMENT OF MOUNT TINDAYA
This is one of Fuerteventura's most symbolic landmarks for its geological, scientific, archaeological and cultural significance. The area features many rare endemic species and the mountain peak has over 300 carvings of feet (podomorphs), created by the indigenous people who lived on the island.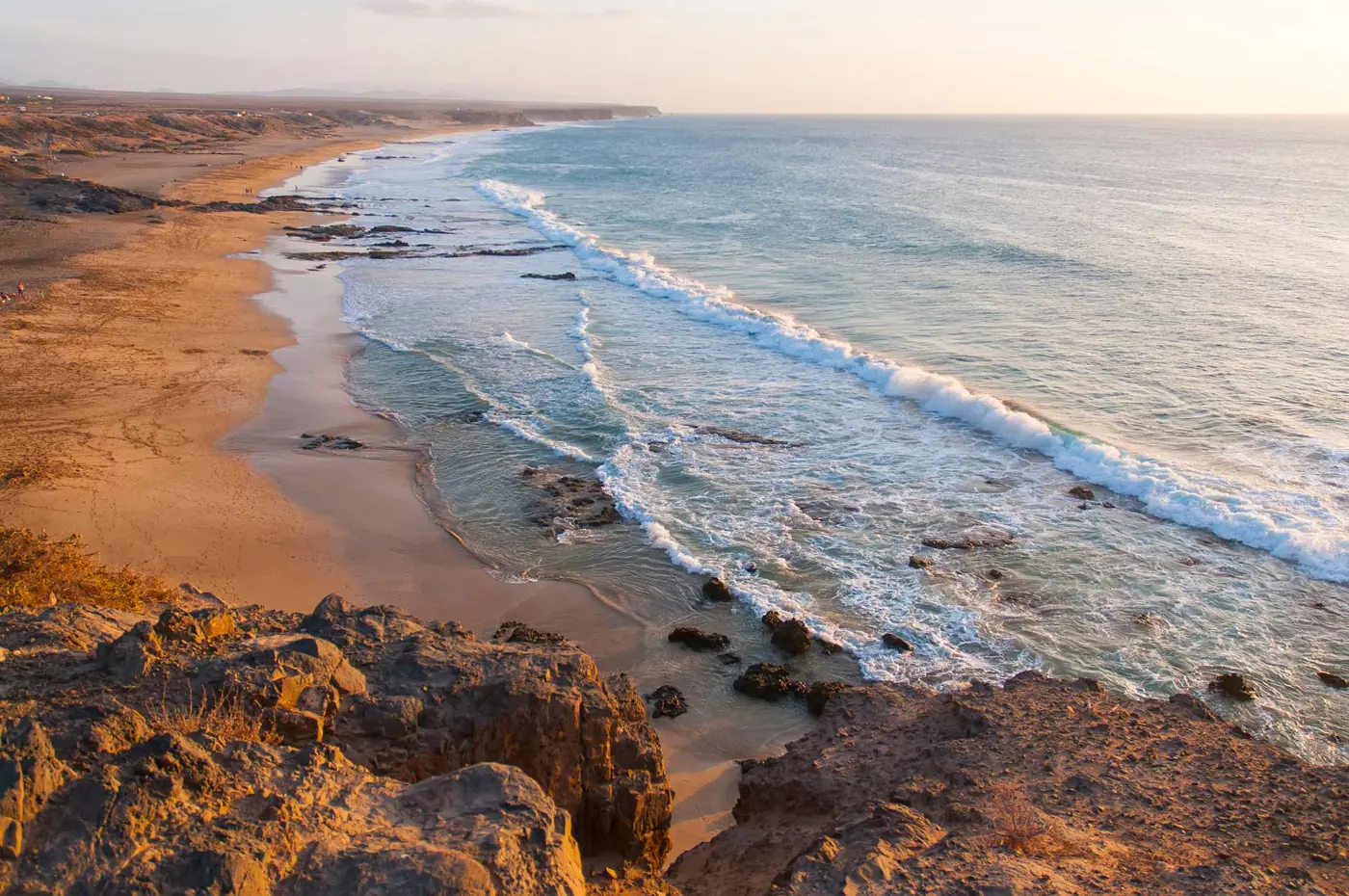 NATURAL MONUMENT OF CUCHILLOS DE VIGÁN
This is a series of unique dagger-like mountains of incredible beauty, home to the "guirre" (Egyptian vulture), the Fish Eagle and the Barbary Falcon. It also offers examples of fossil marine fauna.
Nature reserves in Fuerteventura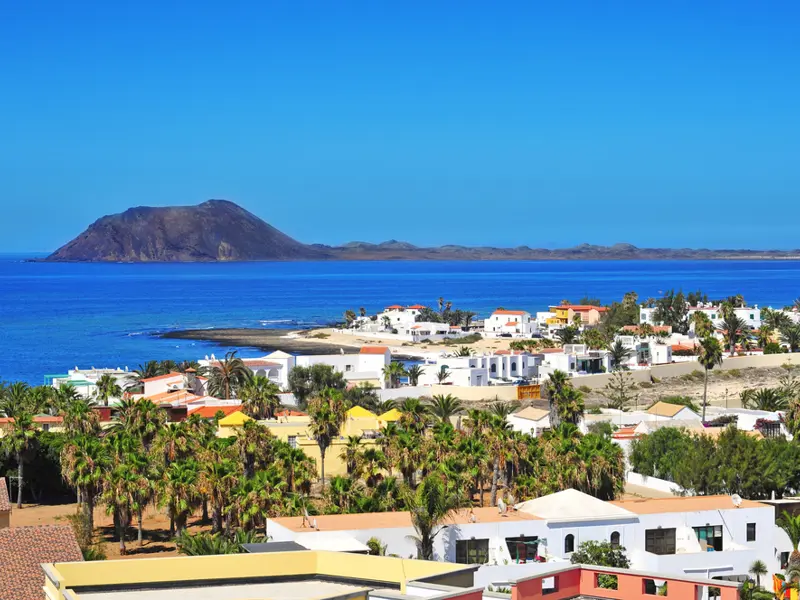 THE ISLAND OF LOBOS NATURE RESERVE
Separated from the land by a small stretch of water, this small island is home to a varied and well-preserved number of habitats with many endemic species and fossil remains. It was the last home in the Canary Islands of the Mediterranean Monk Seal. Today it is a protected ornithological area.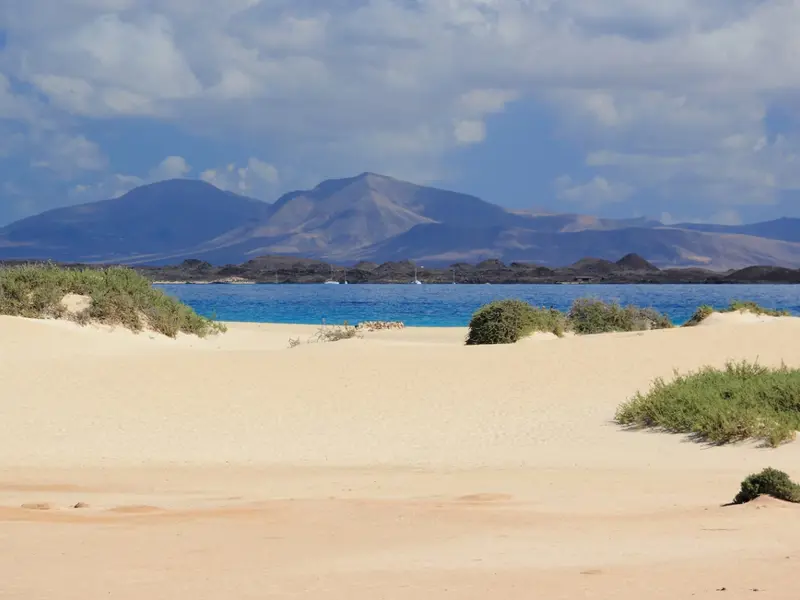 CORRALEJO NATURE RESERVE
The sand dunes are of great scientific interest and the area itself offers exceptional landscapes and is home to species adapted to life in the dessert. It is a protected ornithological area.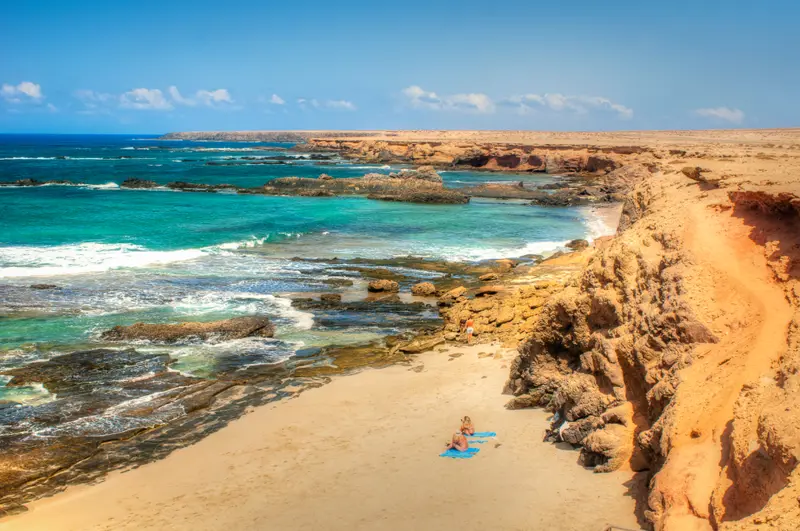 JANDÍA NATURE RESERVE
This reserve covers an area of almost 15,000 hectares and is home to most of the endemic flora of the island. The most attractive features, however, are its virgin landscapes, such as the spectacularly beautiful beach of Cofete, one of the most majestic examples of nature in the Canaries. It is a protected ornithological area.
BETANCURIA RURAL RESERVE
This area of outstanding beauty is formed of valleys and steep-sided ravines where rare rock plants live. It is also home to oceanic sediments and marine fossils of inestimable scientific value.
Destinations found in the vicinity
Airports nearby Fuerteventura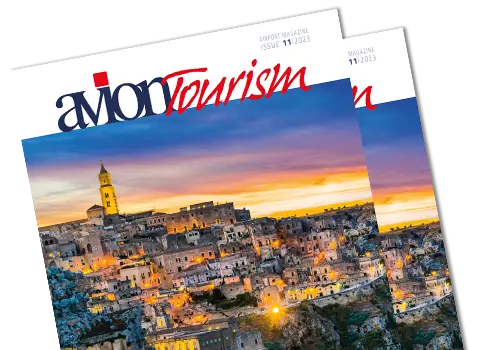 AVION TOURISM MAGAZINE
in digital version
On this issue: The World Heritage Sites of Basilicata and Puglia.