26 September 2018
Passengers' safety
Safe, fast and punctual air traffic, thanks to ENAV control towers
For over 30 years, ENAV S.p.A., a leading company in air navigation services, has been controlling air traffic over Italian skies, guaranteeing safety, efficiency and punctuality 24 hours a day.
All aircraft crossing Italian air space must provide ENAV with their Flight Plan, which gives the identification data of the vehicle and pilot, time of take-off, and the departure and destination airports.

The flight control stages managed by ENAV control towers are four:
Control of airport.
After the control tower has authorised ground movement, the pilot starts the aircraft and moves from the parking area to the runway. When it can be guaranteed that the aircraft is a safe distance from all other aircraft, the control tower authorises take-off.
Control of climb in the take-off stage.
After take-off, the control tower assists the pilot in climbing to the airway or air route assigned.
Control en route.
Once the airway has been reached, the aircraft is handed over to the Area Control Centre (ACC), which assigns the flight level and trajectory to follow so that it always maintains a safe distance, both vertically (1,000 feet) and horizontally (5 nautical miles), from other aircraft.
Control of approach in the landing stage.
Near the destination airport, the aircraft is controlled by the destination control tower, which guides the pilot in descent according to an arrival and runway alignment sequence, up to parking at the terminal.

When, instead, an aircraft enters or leaves Italian air space, Italian air traffic controllers communicate with the air traffic controllers in foreign air space, sending and receiving information on traffic in the area.
To ensure that millions of people travel safely and to guarantee fast, punctual air traffic, ENAV controls and manages the Italian skies, investing continuously in training experts and developing advanced technology.
Text by Alisè Vitri
Published on Avion Tourism N67/2018
Copyright © Sisterscom.com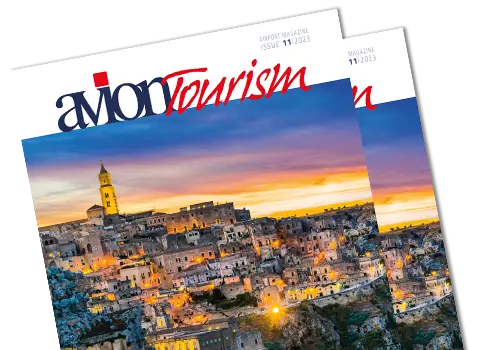 AVION TOURISM MAGAZINE
in digital version
On this issue: The World Heritage Sites of Basilicata and Puglia.