10 September 2018
Transport of liquids in cabin baggage
Why can't I carry liquids in my cabin baggage?
To protect passengers from the terrorist threat of explosives in liquid form, the European Union has adopted safety rules that limit the quantity of liquid substances that travellers may carry on board in their cabin baggage.
The restrictions apply to all passengers departing from airports in the European Union and from those in Norway, Iceland and Switzerland on all flights. There are no restrictions for liquids placed in checked baggage.
The liquids transported must be kept in containers each with a maximum capacity of 100 millilitres (1/10 of a litre) or equivalent (e.g. 100 grams) and placed in a transparent, re-sealable plastic bag with a capacity of no more than 1 litre (or with dimensions, for example, of 18x20 cm approximately). Each passenger (infants included) may only carry 1 single plastic bag.
The following items can be transported outside the bag, and have no volume restrictions
liquid medications (in this case, a medical prescription may need to be shown as proof of necessity)
prescription liquids for dietary purposes
food for children.
Security checks are carried out separately from those for cabin baggage.
The liquids include:
water and other drinks, soups, syrups
creams, lotions and oils
perfumes
sprays
gels (including hair gels and shower gels)
contents of pressurised containers (including shaving foam, other foams, aerosols and deodorants)
pastes (including toothpastes)
liquid/solid mixtures
mascara
The following products, with a consistency similar to liquids, are also not permitted
Yoghurt
Fresh cheese
Chocolate cream
Cream cheese (e.g. Certosa, Camembert)
Peanut butter
Liquid mascara
Liquid lip gloss
Aerosol and roll-on deodorants
The European Union does not impose limits on liquid substances such as drinks and perfumes purchased at stores and duty-free shops located after the security check points (air side) and on board the airlines of EU airlines.
It recommended not to open the products purchased (contained in sealed bags) before arriving at your final destination.
Otherwise, when passing through intermediate airports, the liquids purchased could be confiscated at security check-points.
When travelling through European airports, liquid products purchased at stores and duty-free shops in non-EU countries or outside Norway, Iceland and Switzerland may be confiscated if the security measures between the country concerned and the European Union are not the same.
If, instead, the flight is direct, liquids can be transported normally.
Text by Alisè Vitri
Published on 04 April 2018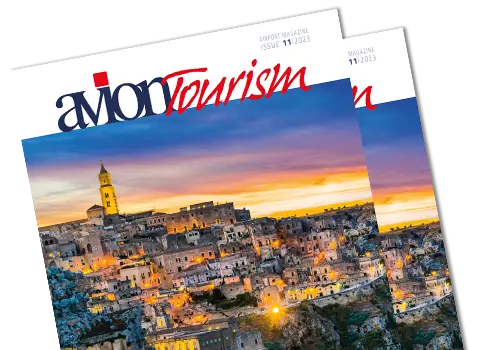 AVION TOURISM MAGAZINE
in digital version
On this issue: The World Heritage Sites of Basilicata and Puglia.