26 September 2018
The offers of low-cost flights
How do you choose a low-cost flight?
Throughout the year, we are bombarded almost every day with adver tisements for flights at low-cost prices, but when the moment arrives to book the flight, all the offers seem to have disappeared!
However, even in the high season it is always possible to find low-cost flights, you just have to be shrewd and patient when searching on the internet.
Firstly, you must understand which airlines have direct flights to your chosen destination, whether these are for
holiday or business. Instead of losing time consulting all the websites of the airlines you know, we recommend
looking at the website of your departure airport and seeing which airlines operate the route you are interested
in. Alternatively, you could consult a flight search engine - there are dozens - and to find them, all you need to
do is enter "low-cost flight research engine" in
Skyscanner
for example, and choose the destination.
Many oppor tunities for savings are lost if you are restricted by fixed flight dates, par ticularly if you decide to
fly during high season. Flexibility with dates, instead, allows you to choose from a wider combination of flights
and times, enabling you to find different price options. Generally, weekend flights are more expensive, so
consider this when you are planning your depar ture. Pay particular attention when entering dates and names
during booking and don't make any mistakes. Changing dates or names can be very expensive, and often it's
more convenient just to book a completely new flight.
When booking your flight, pay particular attention to selecting any additional services that are offered (travel
insurance, choice of seat, priority boarding, VIP lounge services, meal menu, city-airpor t transfers, car hire,
limousine service, airport parking, travel gadgets, hotels, tourist guides, etc…) because the addition of these
services could double the initial cost of your ticket!
Text by Alisè Vitri
Photos: Sisterscom.com,
Shutterstock
Copyright © Sisterscom.com
Published on Avion Tourism Magazine N48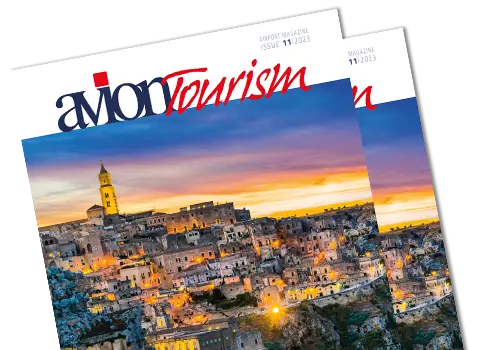 AVION TOURISM MAGAZINE
in digital version
On this issue: The World Heritage Sites of Basilicata and Puglia.