04 September 2018
Low cost Airlines
What are low cost airlines?
The factors that allow for "low-cost" flights to be more affordable are the same that that differentiate a "low-cost" airline from a flag carrier:
The use of a single type of aircraft
to achieve economies of scale on the management, maintenance and purchase of spare parts
The use of new and modern aircraft
to reduce fuel consumption
Aircraft that are configured for a single class
there is no business class
The airports served are smaller and cheaper
allowing for a greater efficiency during the stages of departure and arrival
The transit time between an arrival and a new departure is reduced to 25 minutes.
This allows for an increase in the aircrafts' productivity as they carry out more flights in one day
Use of internet as the main sales channel
to reduce distribution costs;
The use of the internet as a major sales channel to reduce distribution costs;
An almost mandatory on-line check-in policy to save time and management costs compared to traditional check-ins
Flights are always carried out from point to point
(the passenger is transported from airport A to B), transit to other airports is not guaranteed and is at the passenger's risk;
Extra fees are applied to:
Baggage in excess of the maximum allowed;
Choice of seat and priority boarding;
On-board catering.
Text by Alisè Vitri
Photos: Sisterscom.com,
Shutterstock
Copyright © Sisterscom.com
Published on Avion Tourism Magazine N48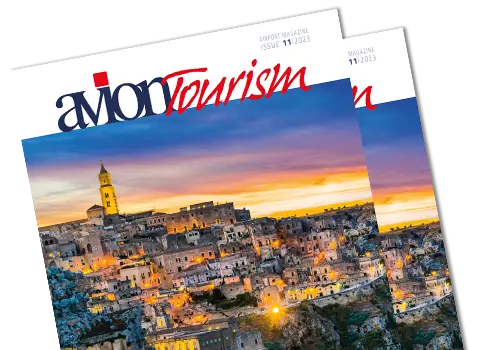 AVION TOURISM MAGAZINE
in digital version
On this issue: The World Heritage Sites of Basilicata and Puglia.