28 February 2023
Swiss expands its 'Green Fares' Europewide
The offsetting of the carbon dioxide emissions generated by the customer's air travel is included in the price
Following successful trials in Scandinavia, SWISS is expanding its 'Green Fares' programme throughout Europe together with the Lufthansa Group. With SWISS's Green Fares, the offsetting of the carbon dioxide emissions generated by the customer's air travel is included in the price. The new Green Fare option complements SWISS's existing range of products in the sustainability field.
Swiss International Air Lines (SWISS) is expanding its 'Green Fares' to all its European markets with immediate effect, together with the further airlines of the Lufthansa Group. The new fares were introduced in SWISS's Scandinavian markets on a trial basis in August 2022.
Any SWISS customer choosing a Green Fare for their flight will be automatically offsetting the carbon dioxide emissions generated by their individual air travel – 20% through the use of sustainable aviation fuel or SAF and the remaining 80% through a contribution to quality climate protection projects. The present generation of sustainable aviation fuels generates 80% less carbon dioxide emissions than traditional aviation kerosene. SAF also offers the future prospect of almost carbon-neutral flying.
"With our Green Fares, which we have already successfully trialled in Scandinavia, we are offering our customers a further attractive and simple option for making their air travel more sustainable and, by purchasing SAF, helping to transform the aviation sector," says SWISS Chief Commercial Officer Tamur Goudarzi Pour. "Working together in this way, we can send strong signals to the market to continue to pursue SAF's development and production. We will only be able to scale up SAF production to the extent required through a joint drive of this kind from customers, airlines and technology providers alike, and with the appropriate political support."
The new Green Fares also offer additional Miles & More status miles and free-of-charge rebooking. The new offer can be booked in both Business Class and Economy Class. The Green Fare is offered alongside the other fare options available when booking online at www.swiss.com. Travellers booking an Edelweiss flight on the SWISS website will also be offered the new Green Fare option.
In addition to its new Green Fares, SWISS offers its customers further attractive products to help them make their air travel more sustainable. Any customer can offset the carbon dioxide emissions that will be generated by their air travel before concluding the flight booking process on www.swiss.com, by purchasing a corresponding volume of SAF, by contributing to climate protection projects or through a combination of the two. Miles & More members can offset their air travel's carbon dioxide emissions on the Miles & More app and using premium miles. Travellers on SWISS long-haul services can even offset their carbon emissions during their flight. And SWISS's corporate clients, too, are offered various options to make their employees' and their customers' air travel more sustainable and help promote the scaling up of SAF production. SWISS has already concluded corresponding agreements here with a number of reputed companies and organizations such as Breitling, Switzerland Tourism and Finass. SWISS is steadily developing a range of innovative actions together with the Lufthansa Group to achieve its ambitious objective of making its operations carbon-neutral by 2050.
Edited by editorial staff, Avion Tourism Magazine
Text source and photo: © Swiss Media Relations
---
What to see in Zurich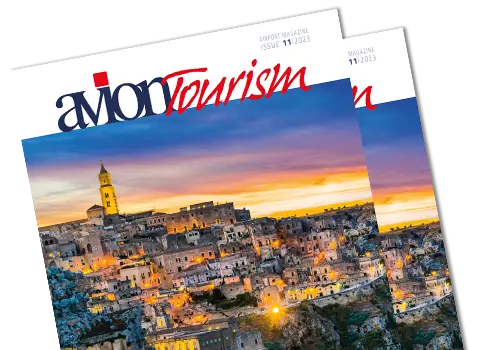 AVION TOURISM MAGAZINE
in digital version
On this issue: The World Heritage Sites of Basilicata and Puglia.