27 October 2023
Il manifesto della sostenibilità di ITA Airways
Esposto sulle pareti esterne della lounge «Piazza di Spagna» della Compagnia al nuovo terminal E dell'Aeroporto di Roma Fiumicino
ITA Airways racconta il proprio impegno nella Sostenibilità con il Manifesto Under The Same Sky, la responsabilità che la Compagnia si assume nei confronti del pianeta e delle persone.
Il
Manifesto di Sostenibilità di
ITA Airways
è presente sulle pareti esterne della
lounge «Piazza di Spagna»
della Compagnia al nuovo
terminal E
dell'
Aeroporto Leonardo Da Vinci di
Roma
Fiumicino
. L'opera dell'artista
Emiliano Ponzi
, traduce e racconta graficamente i 10 Sustainability Commitments di ITA Airways - allineati con gli obiettivi dell
'Agenda ONU 2030
- e comunica il contributo che la Compagnia si impegna a dare nella costruzione di un mondo ambientalmente, socialmente ed economicamente sostenibile (the Same Planet, the Same People, the Same Commitment).
Emiliano Ponzi
ha interpretato - con due bimbi - la voglia di crescere della Compagnia: in
ITA Airways
. si vuole realizzare, far accadere, le cose che si sono immaginate, come potrebbero fare due bimbi, forti della loro fanciullesca ingenuità. Poi c'è l'azzurro della livrea che si armonizza con il cielo, quasi a scomparire, per lasciarlo vero protagonista.
"ITA Airways promuove la Sostenibilità, pilastro fondamentale del Piano Strategico, in ogni sua forma. La Compagnia nasce per contribuire alla crescita del nostro Paese garantendo una connettività di qualità con una forte attenzione all'impatto ambientale e sociale"
ha dichiarato
Andrea Benassi
Direttore Generale di ITA Airways.
"Per noi è un orgoglio veder rappresentato il nostro Manifesto da un celebre illustratore italiano quale Emiliano Ponzi che ha trasformato, con la sua opera, i nostri Commitments nel linguaggio universale delle immagini".
"Ho usato il blu di ITA Airways come colore avvolgente in grado di permeare tutte le immagini" ha dichiarato l'artista Emiliano Ponzi. "Il cielo diventa l'aeromobile e vice versa per un'integrazione estetica e di sostenibilità"
Video: Copyright © Ufficio Stampa Ita Airways
Accanto alle illustrazioni sono state posizionate due colonnine con un QR code che inquadrato con il proprio device, dà l'accesso all'area dedicata alla sostenibilità del sito ITA Airways con un invito a guardare il video-racconto animato del Manifesto dove le immagini di Under the Same Sky prendono vita in forma animata.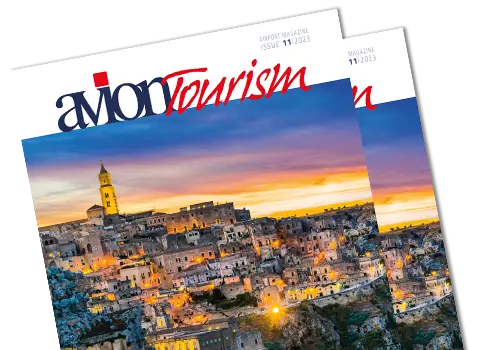 AVION TOURISM MAGAZINE
in digital version
On this issue: The World Heritage Sites of Basilicata and Puglia.