02 December 2019
Heathrow reveals the top Christmas questions
'How does Santa get to every house in the world in one night?' is the most frequently asked festive question amongst children under 10.
Over a third (35%) of parents tell children it takes Santa's elves a year of preparation to prepare for the big night. Heathrow keeps the magic alive as it unveils a collection of periscopes, revealing the buzz of elvish Christmas preparations happening underneath passengers' feet. Given the magical feat achieved by Santa and his team of elves each year – it's no wonder 2.6 million1 children up and down the country wonder and question their parents about Santa's delivery logistics.
To help parents this Christmas, Heathrow has unveiled a magical installation of periscopes at Terminals 2 and 5 that will allow children (and adults) to immerse, and witness, themselves of the inner workings of Santa's incredible logistical feat for the very first time.
By peering through the periscopes, innovative 360-degree films will give passengers the chance to watch a range of elvish activity taking place right underneath them – with scenes from Santa's Toy Factory, Department of Wrapping and Mail Room all acted out by Heathrow's very own colleagues. The scenes reveal Heathrow's long held secret: that Santa, like many others around the world, relies on the UK's hub airport to get to where he needs to be during the holidays, and what's more, has built his entire workshop right underneath Heathrow's terminals.
Christmas questions
The revelation follows new research(*2) by Heathrow, which shows the toughest questions kids under 10 ask their parents in the run up to the big day - with the top question being "How does Santa really get to every house in the world?"
1. How does Santa really get to every house in the world? (32%)
2. How come Santa doesn't run out of time delivering presents to children all over the world? (24%)
3. How does Santa know what I'd like for Christmas? (24%)
4. How does Santa know if I have been naughty or nice? (23%)
5. Do Santa and his elves make all of the toys? (22%)
6. How can Santa speak all the different languages around the world? (14%)
7. How do Santa's elves know how to make toys? (12%)
8. How many elves work with Santa? (12%)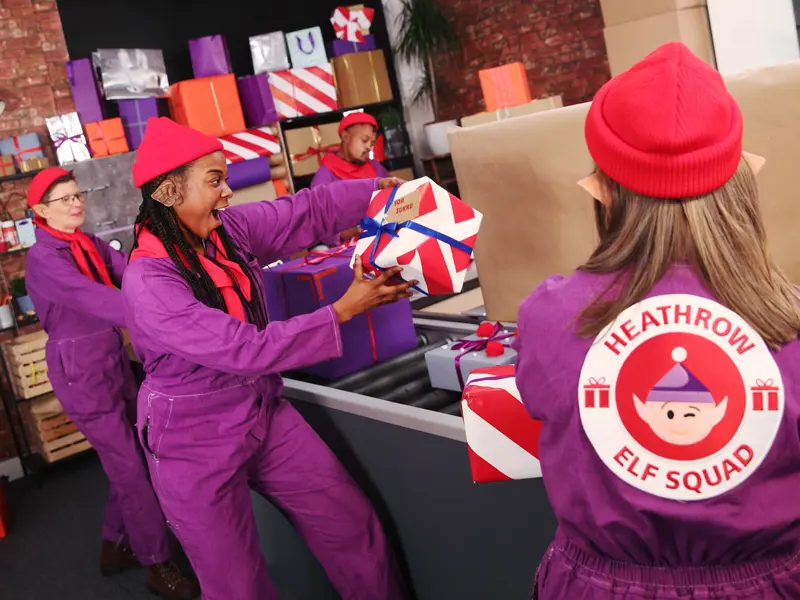 Heathrow Airport. Copyright Heathrow Airports Limited. All content are reserved.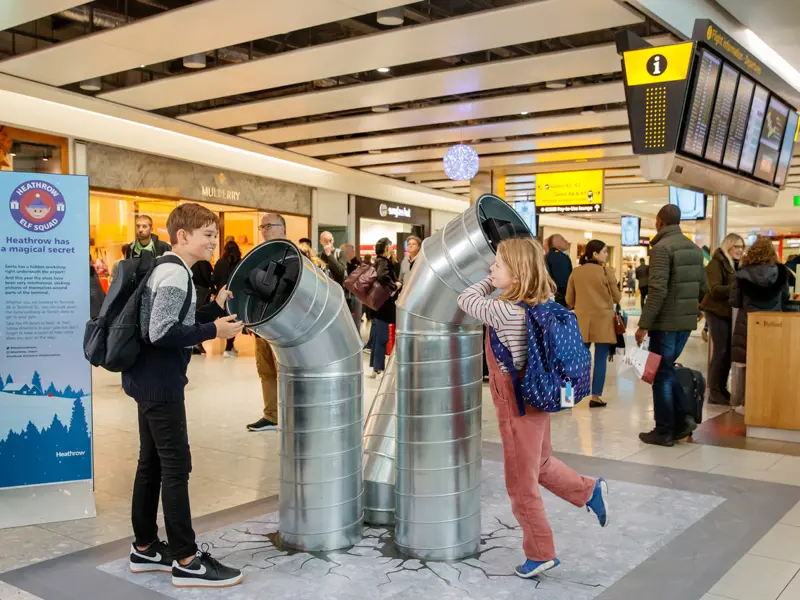 Heathrow Airport. Copyright Heathrow Airports Limited. All content are reserved.
As the UK's global gateway connecting more than 200 destinations around the world, Heathrow makes the perfect destination for Santa to base his workshop - with its long runways, cargo facilities and world-class air traffic controllers, Santa can deliver around the world on schedule. Operating at near-full capacity, Europe's largest airport expects 6.5m passengers to go in and out of its doors this December (*3) with 255,133 passengers expected to fly in and out on the busiest day – December 20th – alone.
Until now, parents around the UK have had to rely on telling 'tall tales' to keep the Christmas magic alive for their children, such as:
1. It takes Santa's elves year-round preparation in the workshop for the big night - they help Santa with his Naughty/Nice list and keep tabs on children's whereabouts for when he is doing his rounds (35%)
2. No one knows, its magic (33%)
3. Santa's reindeers have special powers: they can balance on rooftops, can see well in the dark, and can travel at lightning speed (33%).
But it's not just children who Heathrow is keeping the magic alive for, nearly three quarters (74%) of British adults say they still believe in the magic of Christmas.
Elizabeth Hegarty, Director of Customer Relations & Service commented: "Christmas is a magical time, whatever your age, so we are excited to offer all our passengers the chance to see right into Santa's workshop, seeing first-hand how hard his Heathrow elves work". "December is a busy time for Heathrow, with lots of families travelling over the Christmas period. This experience hopefully provides a little festive fun during their time at the airport – and helps parents to answer curious children's questions!"
The films can be viewed by passengers travelling through the departure lounges at Terminals 2 and 5 throughout December.
Notes
(*1) The 2.6 million stat is calculated using the UK population of children under 10 of 8,052,552 32% of parents said that their children who are under ten asked How does Santa really get to every house in the world? 32% of 8,052,552 = 2,576,816
(*2) Source: Research conducted by Censuswide, on behalf of Heathrow. Censuswide surveyed 2,005 UK respondents aged 18+ who celebrate/have celebrated Christmas, with 716 parents with children 18 and under – between 4th and 8th October 2019. Censuswide abide by and employ members of the Market Research Society which is based on the ESOMAR principles.
(*3) Passenger numbers forecasted December 1st – 31st 2019
1. Total forecast departing passengers in December = 3,366,607
2. Total forecast arriving passengers in December= 3,145,160
* Heathrow would also like to thank its elf colleagues from Security, Engineering and HR departments for starring in the new Christmas films: Katie, Theo, Nataly, Hannah, Caroline, Morven, Sinae, Simba, Samantha, Donna and Jayne.
About Heathrow
Heathrow
is
Europe's largest airport
and one of the
world's top international aviation hubs
. As the UK's global gateway, Heathrow welcomes more than 80 million
passengers
every year. The
airport
is home to more than 80
airlines
and is Britain's largest cargo port, helping to drive British trade growth by connecting the nation to more than 200
destinations
around the world.
Heathrow
is currently ranked by passengers as the "Best Airport in Western Europe" for the fifth year running and the "Best Airport for Shopping" for 10 years in a row.
Terminal 5
holds the title of the "World's Best Airport Terminal" and
Terminal 2
is the
airport's most sustainable
, now powered by 100% renewable gas and electricity.
Edited by Alisè Vitri
Source text: Copyright Press Office Heathrow Airports Limited.
Photos, Video: Copyright Heathrow Airports Limited.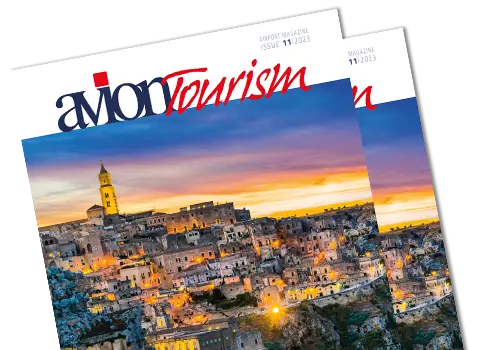 AVION TOURISM MAGAZINE
in digital version
On this issue: The World Heritage Sites of Basilicata and Puglia.