30 September 2019
UIA to cease operations Almaty
Effective October 27, 2019, Ukraine International is to cease operating non-stop scheduled flights between Kyiv and Almaty. The UIA passengers may reach Kazakhstan due to a code-share agreement with Air Astana on Kyiv – Nur-Sultan and Kyiv – Almaty flights.
The decision to cease operations to Almaty is triggered by negative profitability caused by the prohibition of flying over the territory of the Russian Federation. For Ukraine's carriers, the inability to use the Russian airspace resulted in substantial prolongation of Kyiv – Almaty flights – from 5 h 20 min to 6 h 35 min – and, therefore, extra costs that the airlines seem to be unable to cover even if transit effect is considered.
In December 2018, UIA ceased operations to Nur-Sultan (previously Astana) since accumulated losses in 2016 – 2018 reached as high as USD 7.28 million.
"This was a forced and logical decision. It is directly related to the problems of implementing the hub model repeatedly raised earlier. Losses of more than $ 7 million do not allow us to continue operating this loss-making flight," noted Yevhenii Dykhne, UIA CEO.
Between 2013 and 2019, UIA operated 2120 Kyiv – Almaty – Kyiv flights, carried 528510 passengers and 3600 tons of cargo and mail, as well as provided Kiev Boryspil International Airport with 380 thousand transit passengers.
Schedule of
code-share flights
between
Kyiv
and
Almaty
empowers UIA to partly maintain transit travel opportunities across the carrier's route network. The decision to close the
Kyiv – Almaty flights
disrupts the UIA network model. However, the company's management regards it as a compulsory measure to re-enter the profit zone.
UIA
Ukraine International
(UIA)
was founded in 1992. UIA is a 100% privately owned carrier. The
airline
connects
Ukraine
with over 50 capitals and key
cities of Europe, Asia, America, Africa, the Middle East
, and
CIS countries
and provides connections with its international
partners' flights
to over 3,000 other
destinations worldwide
. UIA operates over 1100
scheduled flights
per week. Currently, UIA operates 42
aircraft
. The fleet's average age amounts to 11.6 years. The base airport for UIA is
Kiev Boryspil (KBP)
.
Edited by Alisè Vitri
Text: Ukraine International Airlines Press Service
Photo: Sisterscom.com, Editorial use only, © FrimuFilms /
Shutterstock
All rights reserved. Copyright © Sisterscom.com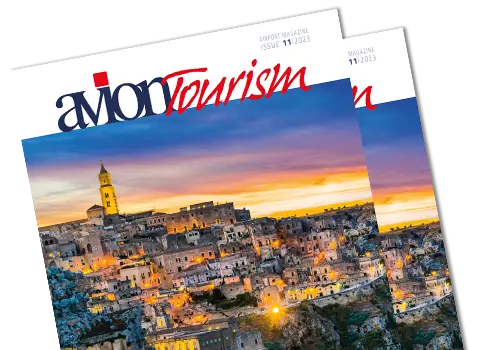 AVION TOURISM MAGAZINE
in digital version
On this issue: The World Heritage Sites of Basilicata and Puglia.