23 July 2021
Qatar's International Airport is the Best Airport in the World 2021
Qatar's gateway to the world ranked first by Skytrax World Airport Awards 2021
Hamad International Airport (HIA) has been recognised as the 'Best Airport in the World 2021", ranking number one by Skytrax World Airport Awards 2021. HIA has been steadily rising up the 'World's Best Airports' rankings since the start of its operations in 2014. HIA has also been awarded "Best Airport in the Middle East", "Best Airport 25 to 35 million Passengers", "Best Airport Staff in the Middle East", and "COVID-19 Airport Excellence".
HIA's operational resilience during the COVID-19 pandemic is the result of strong stakeholder collaboration, technological adoptions, and the hard work of its staff. HIA continued its operations to make sure the people of Qatar are reunited and connected with their loved ones, while globally delivering essential supplies and cargo to those in need. In addition, HIA prioritised a vaccination drive for all its staff to safeguard their health and the safety of its passengers. HIA showcased a clear understanding of passenger needs in times of crises by implementing new arrivals procedures for the people of Qatar to ensure a seamless and stress-free journey back home.
Despite the impact of the pandemic on the aviation industry, HIA's robust strategy has been indispensable in the face of the global crisis. With internationally accredited pre-existing business continuity plan and cleaning and disinfection protocols, Qatar's International Airport was able to promptly adapt to the new normal and adjust its procedures while keeping the airport operational.
Owing to its forward-thinking strategic approach, HIA was one of the first airports in the world to implement thermal screening at key touchpoints and ensured the availability of sanitisers and personal protective equipment (PPE) throughout the terminal, whilst intensifying cleaning and disinfection protocols. Foreseeing the critical need for facial masks on the onset of the health crisis, HIA searched for a solution to ensure the compliance of wearing face masks. HIA's internal teams developed their very own automated facial detection system in-house using computer vision and artificial intelligence to ensure the safety and wearing of masks for all its staff.
Amidst travel restrictions, HIA was able to identify and procure innovative solutions to cope with the pandemic in record-time. HIA's teams worked with partners and providers to develop custom-made products specifically for the airport, such as Smart Screening Helmets that enable contactless temperature measurement, and autonomous disinfectant robots, which are fully automated mobile devices emitting concentrated UV-C light that are deployed in high passenger flow areas to reduce the spread of microorganisms. HIA's passenger experience was also safeguarded with touchless capabilities, such as contactless self-check-in, self-bag-drop and terminal elevators.
HIA's successful, adaptive, and innovative response was recognised by industry leading regulatory bodies such as British Standards Institution (BSI), which certified HIA for its Business Continuity Management System and its compliance with the safety and hygiene measures issued by the International Civil Aviation Organisation's Civil Aviation Recovery Taskforce. In December 2020, HIA became the first in the Middle East and Asia to be awarded a 5-Star COVID-19 Airport Safety Rating by Skytrax – a testament to the airport's efforts, resilience, and operational excellence during the pandemic. By effectively staying operational throughout the pandemic, HIA entered the top ten global ranks in terms of international passenger traffic, rising from the 16th position in 2019 to 6th in 2020.
Engr. Badr Mohammed Al-Meer, Chief Operating Officer at Hamad International Airport, said: "It is with great pride that we announce that Qatar's Hamad International Airport has been named the World`s Best Airport 2021, and ranked first at the Skytrax 2021 World Airport Awards. This is a truly remarkable achievement for HIA and the State of Qatar, and an endorsement from our travellers for our commitment to service excellence. HIA continues to serve as a global benchmark for airports around the world, thanks to the dedication and collaboration of our team and stakeholders. HIA continues to be recognised by leading industry institutions also due to its crisis preparedness, business continuity, agility, and effectiveness. As we look towards the future, HIA remains devoted to boosting our efforts in providing the best airport experience to all our passengers."
Edward Plaisted, Chief Executive Officer of Skytrax said: "We are delighted to announce that Hamad International Airport has been voted the World's Best Airport 2021. Inaugurated in 2014, Hamad International Airport has rapidly become a customer favourite and moved from No 3 in the world in 2020 to be ranked World's Best Airport this year. Achieving this honour is very much a team effort, and our congratulations go to the Management, staff and stakeholders at Hamad International Airport that help make this happen. As travel hubs worldwide have been impacted by the pandemic, Hamad International Airport was undeterred by the global travel disruptions and continued with its expansion plans while introducing additional airport health and safety standards. As the Official Airport Partner for the FIFA World Cup Qatar 2022 we wish Hamad International Airport every success in helping to host such a major event."
With preparations underway for the
FIFA World Cup Qatar 2022™
, as the Official Airport Partner for the much-anticipated global event, HIA's expansion timeline remains uninterrupted, with Phase A due to be completed prior to the FIFA World Cup Qatar 2022™, which will see the airport's capacity increase to 58 million passengers per year. Phase B of the expansion will commence post FIFA World Cup Qatar 2022™ and will increase capacity to more than 60 million passengers per year. By serving passengers and airlines with excellence, adopting new procedures and innovative solutions, while simultaneously looking toward the future,
Qatar's airport
has been an example to other
airports around the world
.
Edited by editorial staff of Avion Tourism Magazine
Text source: Copyright © Hamad International Airport
All rights reserved. All rights reserved. Copyright © Sisterscom.com
Hotel in Doha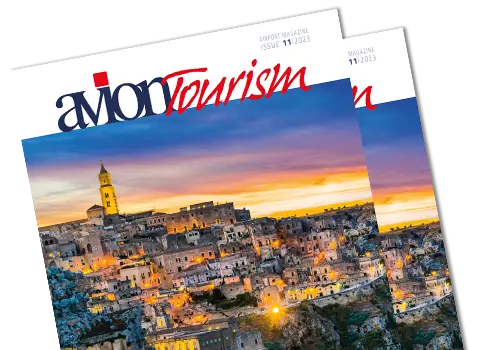 AVION TOURISM MAGAZINE
in digital version
On this issue: The World Heritage Sites of Basilicata and Puglia.