16 December 2022
Iberia: "flights that change your life"
The company's Christmas initiatives aimed at connecting people with a social media giveaway of five tickets to New York
For the holidays, to close a deal, for an Erasmus year, for love, to look for a better future.... We have all taken a trip that has made us mature, grow, and, in short, change our lives. This year's Christmas campaign is dedicated to all those passengers who one day decided to board an Iberia plane to embark on a new path, in what is a clear allusion to the airline's missión, "to generate prosperity by connecting people with the world".
Through the story of a young woman who flies to
New York
for work, Iberia celebrates the
journeys
that completely change people, as has happened to so many customers who have flown with the airline across the Atlantic. This year, Iberia's Christmas wishes are accompanied by a story about personal growth, which begins and ends on one of the
airline's planes
.
Por un 2023 lleno de viajes que nos cambien la vida. Copyright © Iberia.
The story ends with the protagonist returning home to celebrate Christmas with her new family and, once on board, an Iberia PCC welcomes her "home", alluding to that feeling expressed by many customers who are away from Spain for a long time: when they board an Iberia plane, they already feel that they have arrived home.
New York gfights giveaway
Next year, other people will be able to make their dreams come true by flying with Iberia. In addition to the audiovisual campaign, the airline will carry out other activities as part of its Christmas plans, such as a giveaway for five
trips to New York
, with the winners selected among those who share the
story of a trip
that changed their lives on Iberia's social media channels.
More info:
iberia.com
.
Edited by editorial staff of Avion Tourism Magazine
Visual and photos: Copyright © Iberia.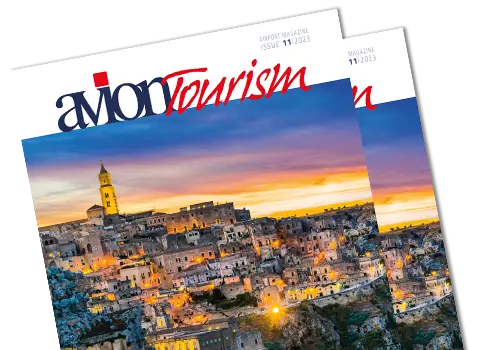 AVION TOURISM MAGAZINE
in digital version
On this issue: The World Heritage Sites of Basilicata and Puglia.