28 February 2022
Finnair anticipates airspace closure and cancels partly its flights to Asia and Russia
Suspension of flights to Moscow and St. Petersburg for one week
Finnair joins many other European airlines and suspends its flights in Russian airspace for one week. With this action, Finnair prepares for the possible upcoming regulatory changes.
Finnair cancels its
passenger and/or cargo flights
to
Seoul
,
Osaka
,
Tokyo
,
Shanghai
and
Guangzhou
in Asia and to
Moscow
and
St Petersburg
in
Russia
between 28 February and 6 March.
Flights to
Hong
kong
were cancelled until the end of March already earlier.
Finnair continues to operate passenger and/or cargo flights to
Bangkok
,
Phuket
,
Singapore
and
Delhi
but reroutes the
flights to avoid Russian airspace
. This lengthens the flight times by approximately one hour.
Finnair flies to Bangkok and Phuke
t also from
Stockholm
(Arlanda) in addition to
Helsinki
.
Finnair communicates flight cancellations directly to customers who have bookings on the
cancelled flights
and does its best to reroute customers to their
destinations
on other flights. Customers can also apply for a full
refund for the unused ticket
. In addition, Finnair has made changes to its refund policy. Customers can cancel their flight and apply for a refund if they have a
flight to South Korea, Japan or China
between 27 February and 13 March. A full
refund is possible for flights to Russia
for the time being.
The decision on Russian airspace usage after March 6 will be made later as the possible regulatory changes clarify.
Finnair
Finnair is a network airline
, specialising in connecting passenger and cargo traffic between
Asia and Europe via the short northern route
.
Sustainability
is at the heart of everything we do – Finnair intends to reduce its net emissions by 50% by the end of 2025 from the 2019 baseline and achieve
carbon neutrality
latest by the end of 2045.
Finnair
is a member of the oneworld alliance. Finnair Plc's shares are quoted on the Nasdaq Helsinki stock exchange.
Edited by Alisè Vitri
Avion Tourism Magazine
Text source and photos: Finnair Press Office
Photos and Visual: Copyright © Finnair
All rights reserved. Reproduction prohibited.
What to see in Helsinki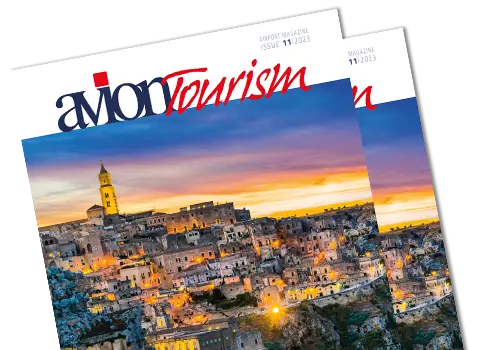 AVION TOURISM MAGAZINE
in digital version
On this issue: The World Heritage Sites of Basilicata and Puglia.