28 April 2023
Direct flights from Madrid to the Land of Santa Claus with Iberia
From December to February, Iberia will offer two weekly frequencies between Madrid and Rovaniemi in Lapponia to see Santa Claus Village and the Northern Lights
This winter, it will be Santa Claus who eagerly awaits the arrival of Iberia customers. The airline will
fly to Rovaniemi
for the first time starting in December, becoming the first airline to operate regular
direct flights from Madrid to Lapland's capital
, also known as the official
hometown of Santa Claus
.
The route starts on 2 December and will be available until 10 February with two weekly frequencies, on Wednesdays and Saturdays. Customers will be able to purchase roundtrip tickets to visit Rovaniemi from €199 each way. In total, almost 7,000 seats will be offered.
This route will be operated by Airbus 320neo aircraft, the most technologically advanced and efficient in Iberia's short- and medium-haul fleet. Equipped with CFM Leap-1A type engines, it is 50% quieter and allows for a reduction in emissions of between 15% and 20%. In total, Iberia already has 15 of these aircraft.

Visit the Official Hometown of Santa Claus from Madrid
Since 2010, Rovaniemi has been the official hometown of Santa Claus and, of course, it is possible to visit the most famous inhabitant of the area every day of the year in the Santa Claus Village, located in the Arctic Circle. The Santa Claus Village hosts activities, shops, restaurants, and cafes. Visitors can enjoy husky and reindeer sleigh rides, snowmobile tours, and visit snow and ice constructions.
The Santa Claus Village is Lapland's best-known attraction and the quintessential tourist spot, but not the only one the area has to offer. Every year, Rovaniemi attracts more than 500,000 travellers from all corners of the world thanks to its many attractions, which in addition to visiting Santa Claus, include everything from winter sports to watching the Northern Lights.
According to traffic data from Rovaniemi Airport, Spain ranked fourth among European countries in terms of the number of visitors, behind only the United Kingdom, France and Germany. In 2022, around 19,000 visitors flew from Spain to Lapland, 7% more compared to 2021, evels and shows the great importance of the Spanish market for the Finnish region, which is increasingly consolidating its position as a source of tourists.
"Rovaniemi is a destination where we have seen growing interest from our customers, and our goal is to always offer the best connectivity from Spain with new routes that diversify our range of destinations and add value to our Madrid hub," explains María Jesús López-Solás, Iberia's Head of Sales, Network and Alliances.
"We are excited to welcome Iberia as the first airline to operate direct flights between the Spanish capital and Rovaniemi Airport, the official airport of Santa Claus! The route will open Lapland to passengers from Madrid perfectly in time for the winter holiday season. The flights will also connect passengers to Iberia's extensive network in their Madrid hub, says Petri Vuori, Finavia's Director of Route Development.
"Visit Rovaniemi welcomes warmly Iberia and the brand new flight route from Madrid to Rovaniemi, the Official Hometown of Santa Claus®. There has been remarkable growth of Spanish visitors in Rovaniemi last years and currently it is the fourth biggest market for Rovaniemi. This is truly a great connection for ones seeking for magical winter holidays in Lapland",
stated
Sanna Kärkkäinen
, Visit Rovaniemi´s CEO.
Edited by editorial staff, Avion Tourism Magazine
Text source and photos: Iberia Press Office
Photo visual: Copyright © Iberia.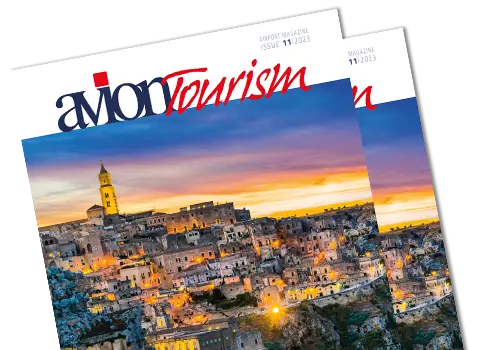 AVION TOURISM MAGAZINE
in digital version
On this issue: The World Heritage Sites of Basilicata and Puglia.