09 December 2019
Alitalia signs codeshare agreement with Azul Brazilian Airlines
Customers can conveniently connect to Azul's unrivaled domestic network when flying Alitalia into and out of Brazil
On 4 December 2019, Alitalia has signed a codeshare agreement with Azul Brazilian Airlines, the largest airline in Brazil by number of cities served. As part of this agreement, customers can conveniently connect to Azul's unrivaled domestic network when flying Alitalia into and out of São Paulo (Guarulhos) and Rio de Janeiro (Galeão).
The benefits and convenience of a codeshare ticket include those of thru check-in and thru-baggage.
Under the agreement, the codeshared network will include 19 domestic Brazilian destinations served by Azul in connection with Alitalia services to/from São Paulo (Guarulhos) and Rio de Janeiro (Galeão):
Belém, Porto Seguro, Brasilia, Cuiabá, Belo Horizonte, Curitiba, Florianópolis, Fortaleza, Goiânia, Foz do Iguaçu, Ilhéus, Navegantes, Porto Alegre, Ribeirão Preto, Recife, Rio de Janeiro Santos Dumont, Salvador, Vitória and Campinas-Viracopos.
"Alitalia is always seeking new partnerships that provide our passengers with the best travel experience when flying to an increasingly larger number of destinations. This new cooperation agreement significantly enlarges our presence in Brazil, a key market which presents great growth opportunities for the airline, because of the significant presence of the Italian community, and where we operate 42 weekly inbound and outbound flights, thanks to the double-daily service to São Paulo and the daily service to Rio de Janeiro," said Fabio Maria Lazzerini, Chief Business Officer at Alitalia.
Codeshared flights are already available on sale systems.
About Alitalia
Alitalia
- Società Aerea Italiana is the
Italian largest airline
. As part of its 2019-2020 winter schedule,
Alitalia
flies to 81
destinations
, including 24 Italian and 57
international destinations
, with 3,600 weekly flights and 102 routes.
Alitalia
boasts one of the most modern and efficient fleets in the world. It is a member of the
SkyTeam alliance
and is part of the Transatlantic Joint Venture alongside
Air France - KLM
and
Delta Air Lines
.
Edited by Alisè Vitri
Source text and photo: © Alitalia Media Relations
Riproduzione riservata. Copyright © Sisterscom.com
Find a flight of Alitalia

Find an hotel in Brasile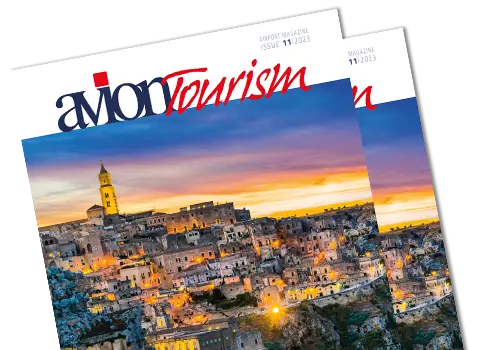 AVION TOURISM MAGAZINE
in digital version
On this issue: The World Heritage Sites of Basilicata and Puglia.