31 October 2018
Shopping in aeroporto: Calzedonia
Uno shopping esclusivo nella boutique dello scalo di Roma Fiumicino
Calzedonia rappresenta il brand storico che dà il nome al Gruppo e che esprime l'essenza dell'Heritage aziendale. Dal 1986 ha saputo dare forma - in ogni collezione - alle ultime tendenze in fatto di calze e costumi da bagno, per donna, uomo, bambino, coniugando la qualità della manifattura e dello stile a prezzi accessibili. Calzedonia, nei suoi primi 30 anni di storia, ha affermato i propri valori all'interno di un settore complesso e in continua evoluzione, intercettando le esigenze del pubblico e proponendo uno stile sempre originale in cui l'accessorio è l'indiscusso protagonista.
Il marchio, ad oggi, è presente in 43 paesi con oltre 2.000 punti vendita, di cui circa 600 solo in Italia. I negozi Calzedonia sono focalizzati su una estrema cura dell'immagine degli store e sul posizionamento strategico nelle zone nevralgiche delle città più importanti.
Sai che un
negozio di Calzedonia si trova anche a
Roma
in aeroporto
? Se sei in attesa del volo all'
aeroporto di Roma Fiumicino
, ecco le informazioni del negozio dove fare
shopping in aeroporto
prima dell'imbarco.
Boutique Calzedonia
Aeroporto di Roma Fiumicino FCO
Via dell'Aeroporto di Fiumicino - 00054 Fiumicino RM
Terminal/Area d'imbarco: C - Gate: C08-C16
T. 06/65011898 - Orario di apertura: 06:00 - 21:30
Cosa comprare: calze e costumi da bagno da donna, uomo e bambino.
Sono tante le idee per rinnovare il tuo look con modelli sempre nuovi tra: collant (modellanti, basic, moda, rete, autoreggenti); calze donna, uomo, bambino; calze corte, lunghe, sportive; calze antiscivolo; pedulini; leggings; costumi da bagno donna e uomo; idee regalo.
Elemento distintivo del Gruppo Calzedonia è anche la comunicazione. I video per trovare spunti d'ispirazione per i prossimi acquisti.
Video, foto e testi: © Calzedonia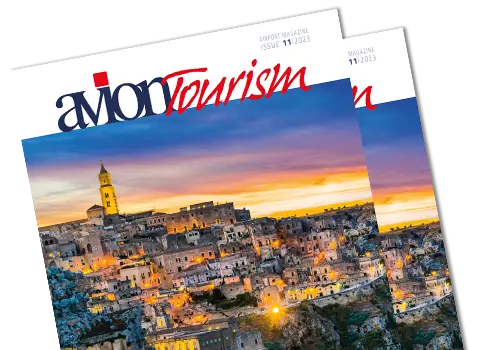 AVION TOURISM MAGAZINE
in digital version
On this issue: The World Heritage Sites of Basilicata and Puglia.