FLYING TOWARDS FASCINATING DESTINATIONS
Dubai, Bergen, Tel Aviv, Lyon, Oviedo, and Catania are incredible and charming destinations, each with its own peculiarities and beauty. In addition to their unique allure, these destinations offer a personalized travel experience, customizable through a wide range of one-of-a-kind activities and explorations, ranging from history, art, architecture, nature, adventure, or culinary culture.
For each of these fascinating travel destinations, there are numerous and exciting options to choose from, to better explore and follow one's passions: from the most thrilling and captivating desert tours or cruises to be taken in Dubai, to the spectacular excursions to visit the fjords near the city of Bergen; from the must-see tourist attractions in the historic sites of Tel Aviv, to the artistic beauty of architecture and museums not to be missed during a city break in Lyon, to the gastronomic delights to be savored during a visit to the characteristic city of Oviedo and the Asturias.
And in Italy, the itineraries to be organized, starting from Catania, to discover southeastern Sicily and the eight late baroque cities, included in the UNESCO World Heritage List, are truly numerous.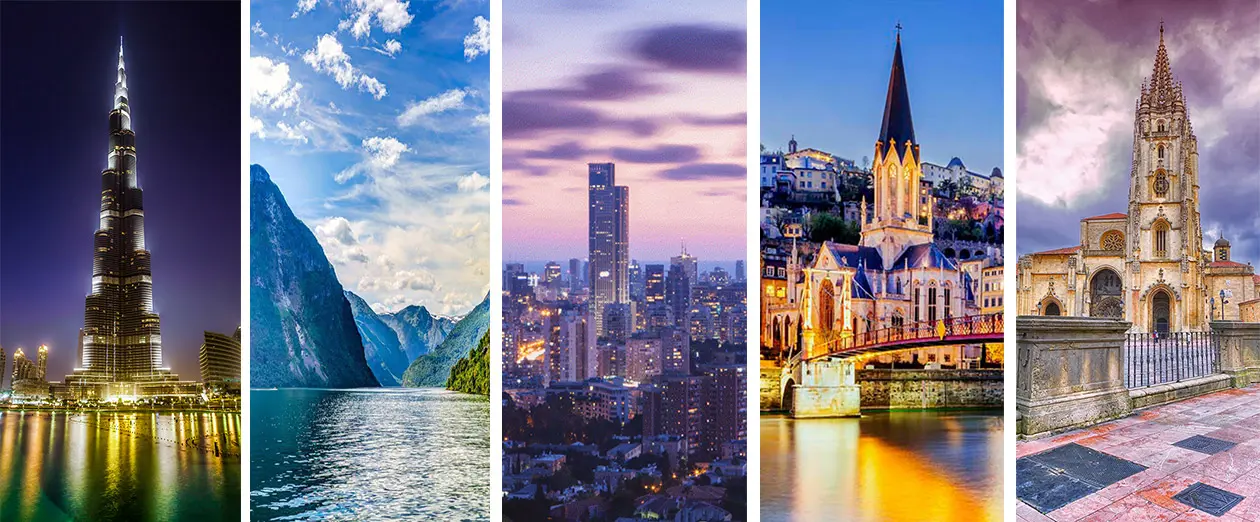 Dubai, Bergen, Tel Aviv, Lyon, Oviedo. Avion Tourism Magazine. Photo: Copyright © sisterscom.com / Depositphotos
For your next trip, imagine flying to these unique destinations, not forgetting to plan exciting experiences to fully immerse yourself in a vacation full of thrilling moments. These destinations are just a few hours' flight from Milan Bergamo Airport. You can fly to Dubai with Flydubai, to Bergen with Norwegian, to Tel Aviv with Bluebird Airways, Aeroitalia and Ryanair, and to Lyon and Oviedo with the airline Volotea. Catania can be reached thanks to Aeroitalia, Neos, and Rayanair.
THE BEST tourS iN Dubai
Text by Nicolò Villa
Finding things to do in Dubai during a vacation is never a problem, as the city offers several opportunities to explore its attractions based on one's interests and available time. You can begin by taking a tour of Dubai city and the historic Al Fahidi neighborhood, visiting interesting museums such as the Museum of the Future or mosques, or climbing the world's tallest skyscraper, the Burj Khalifa. You can also indulge in a shopping tour at the city's most famous malls, such as the Dubai Mall. Among the most interesting tours to take are the Dubai Desert Safari, a cruise along Dubai Creek, exploring Dubai's artificial islands, or visiting the Dubai Miracle Garden.
Dubai Desert Safari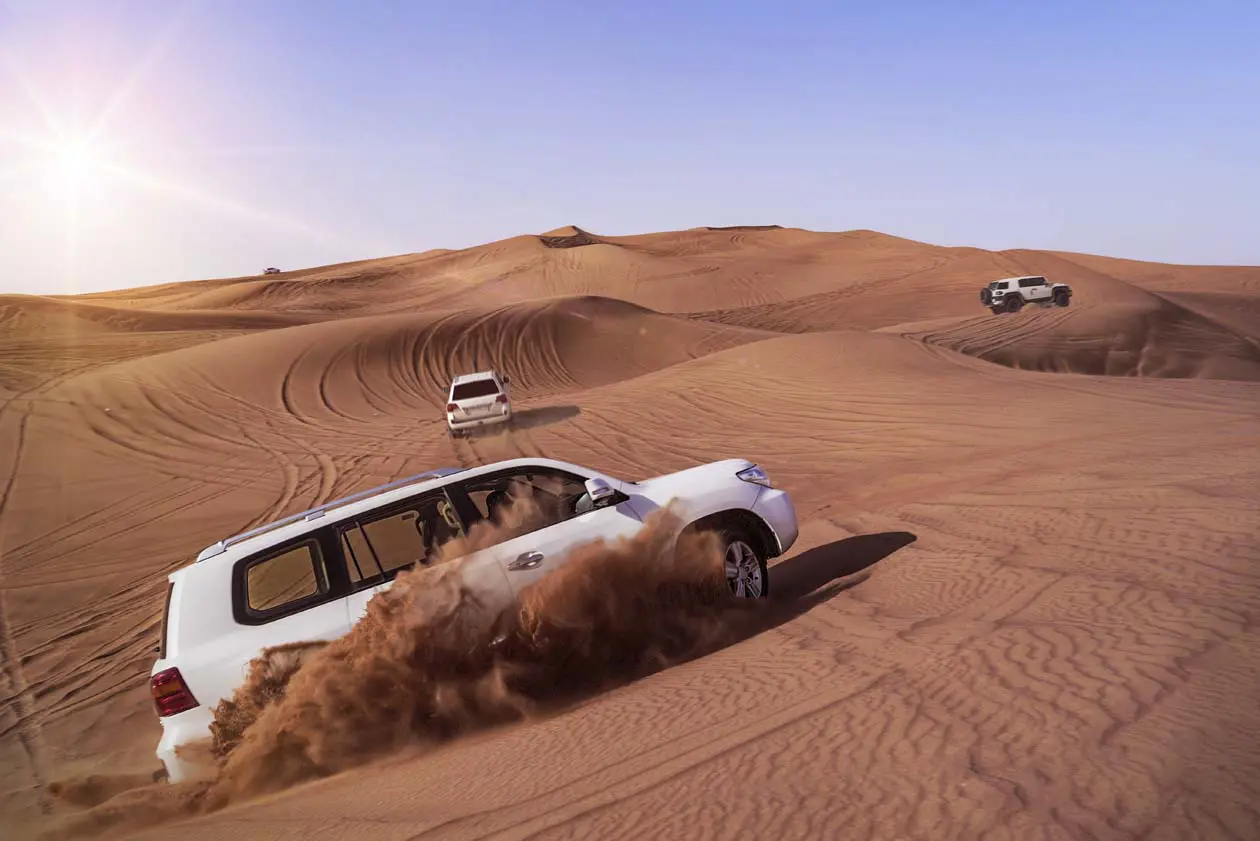 Dubai Desert Safari. Photo: Copyright © sisterscom.com / Depositphotos
The tour offers an opportunity to explore the Dubai desert with the guidance of an expert in a 4x4 off-road vehicle. It's a unique experience that allows you to discover Arab culture and the beauty of the desert with spectacular views of the sand dunes. Once you reach the base camp in the desert, there are several activities to do, such as walking, sandboarding, quad or camel riding, trying traditional costumes, getting henna tattoos, enjoying a traditional Arabian barbecue dinner, watching a belly dance show, and finally admiring the stars in the desert night sky, an unforgettable experience.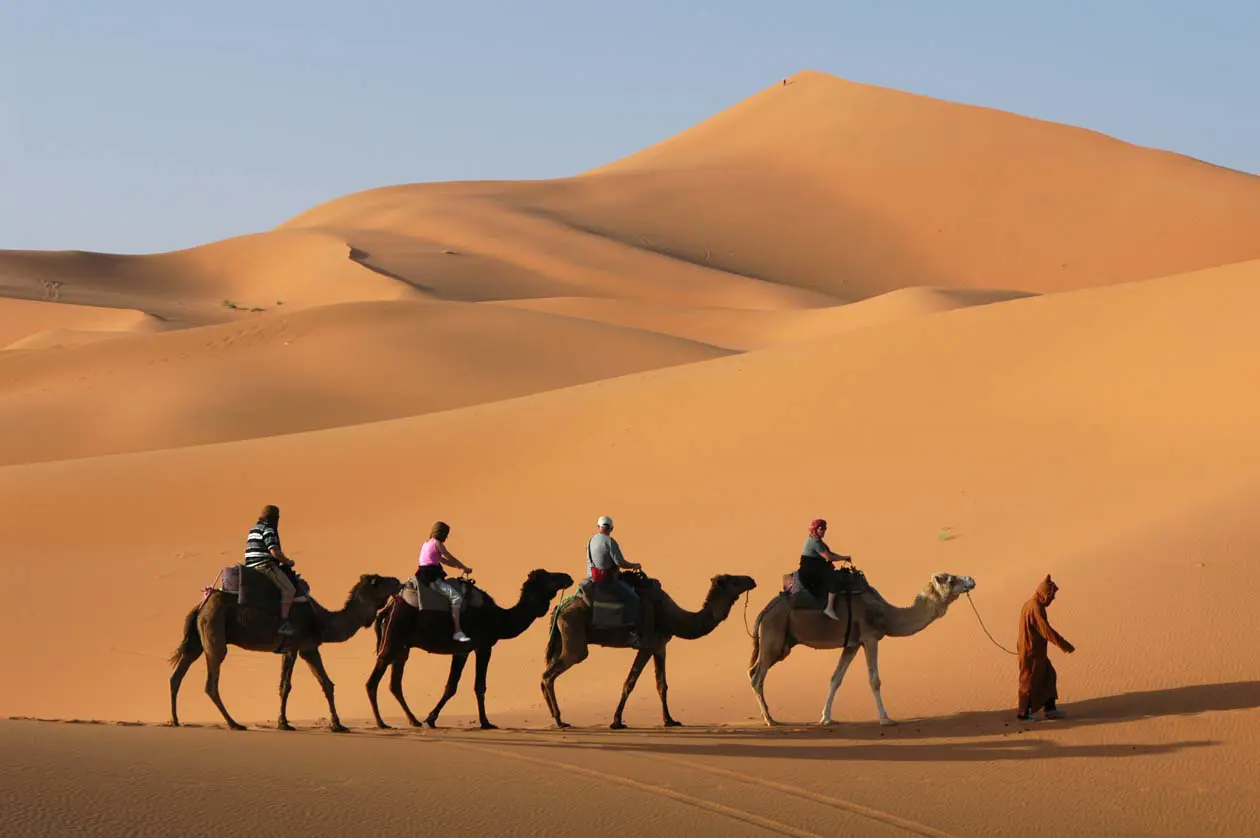 Dubai Desert Safari. Photo: Copyright © sisterscom.com / Depositphotos
The tour lasts for about 6-7 hours and comfortable clothing with a scarf to protect from sand during the desert drive is recommended, and since temperatures in the desert can be quite high during the day, it's best to bring water and sunscreen.
Dubai Creek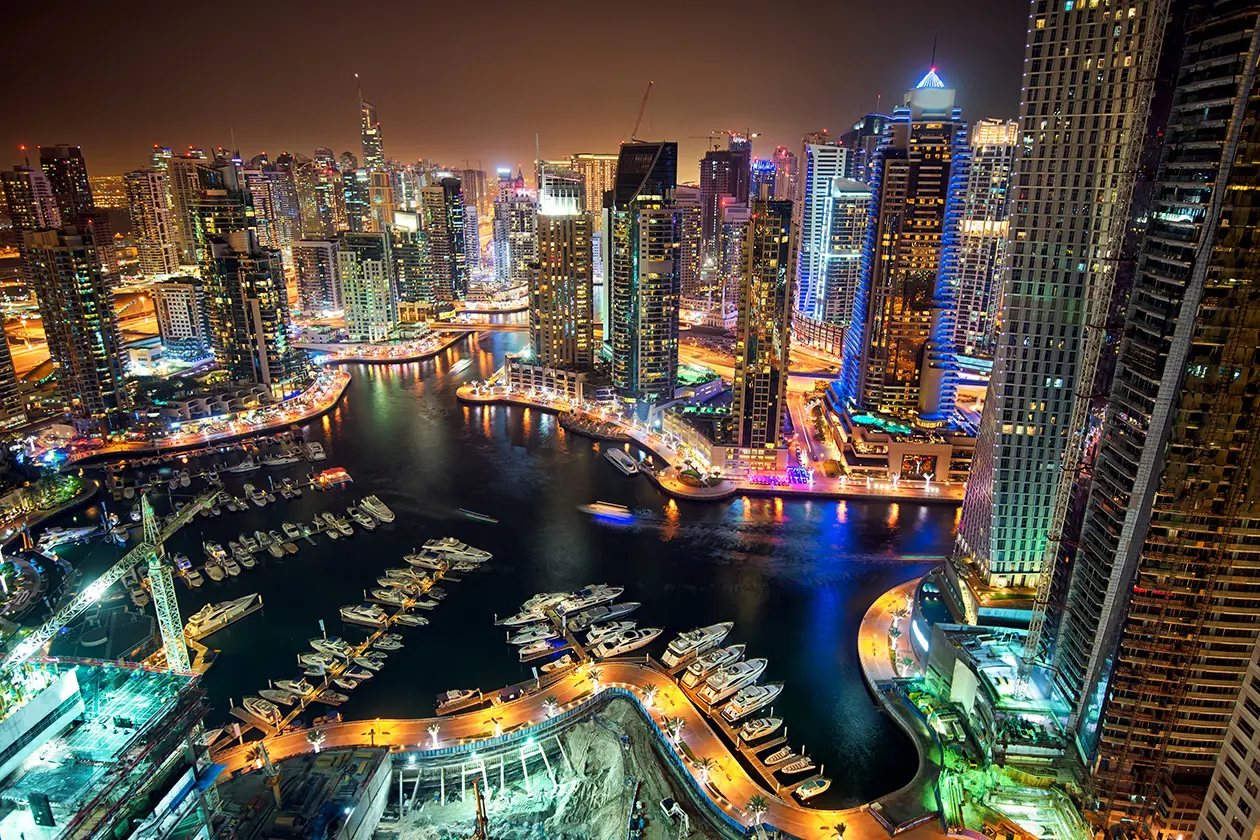 Dubai Marina. Photo: Copyright © sisterscom.com / Depositphotos
The
Dubai Creek boat tour
is an incredible experience to explore one of
Dubai
's most iconic landmarks in a unique and fascinating way. The tour usually starts at the
Deira bridge
, where there are several options to choose from, such as a motorboat or a traditional boat called an
abra (a small flat-bottomed boat, usually made of wood
, used to cross the Creek from one shore to the other). On board the boat, you can enjoy breathtaking views of
Dubai's skyline
with its famous skyscrapers, the
Jumeirah Mosque
, the
Emir's Palace
, and the
Al Fahidi Fort
. The tour continues with a cruise along the
Creek, Dubai's canal
that divides the city into two parts,
Deira
and
Bur Dubai
.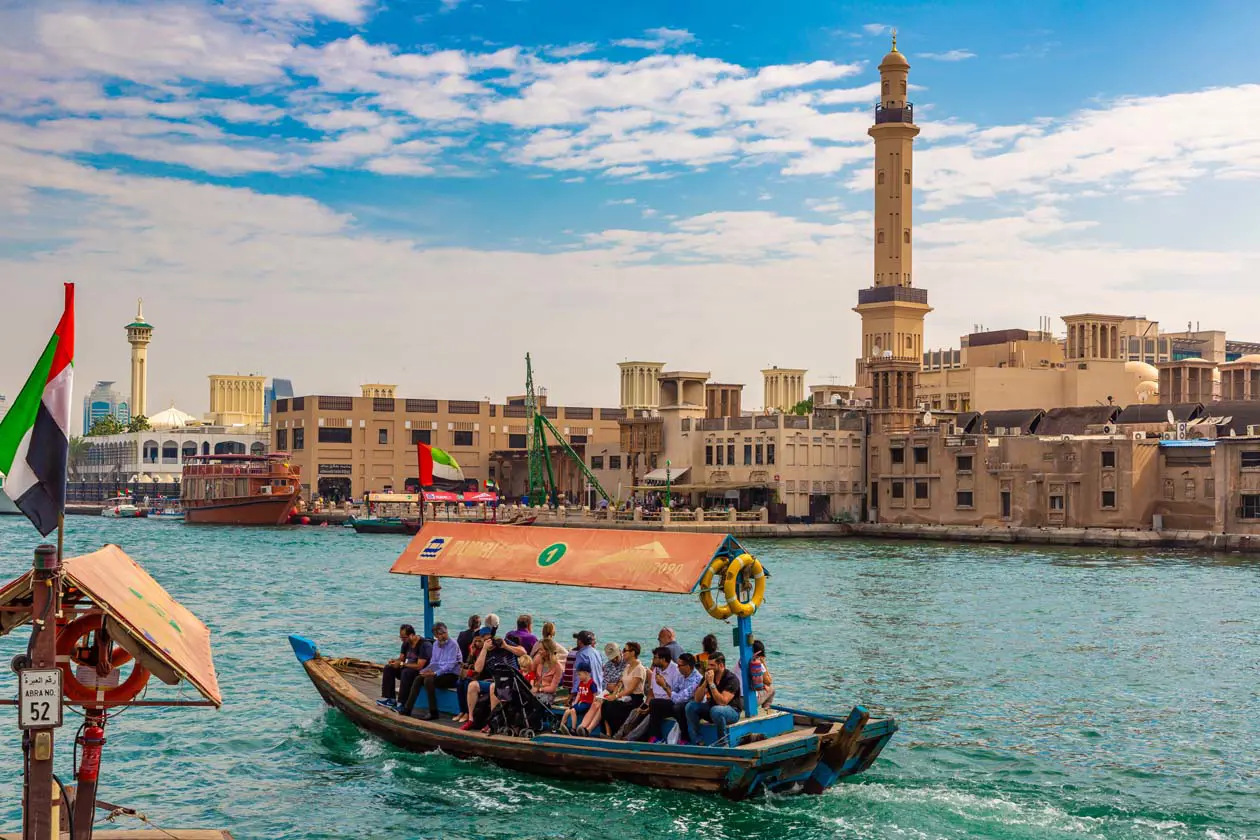 Dubai Creek tour by boat. Photo: Copyright © sisterscom.com / Depositphotos
During the tour, you can admire local markets, souks (the Grand Souk of Al Ras is one of the most beautiful), which sell spices, fabrics, gold, and local crafts. The cruise is relaxing and allows you to observe Dubai's most important places from a different perspective.
Dubai's Artificial Islands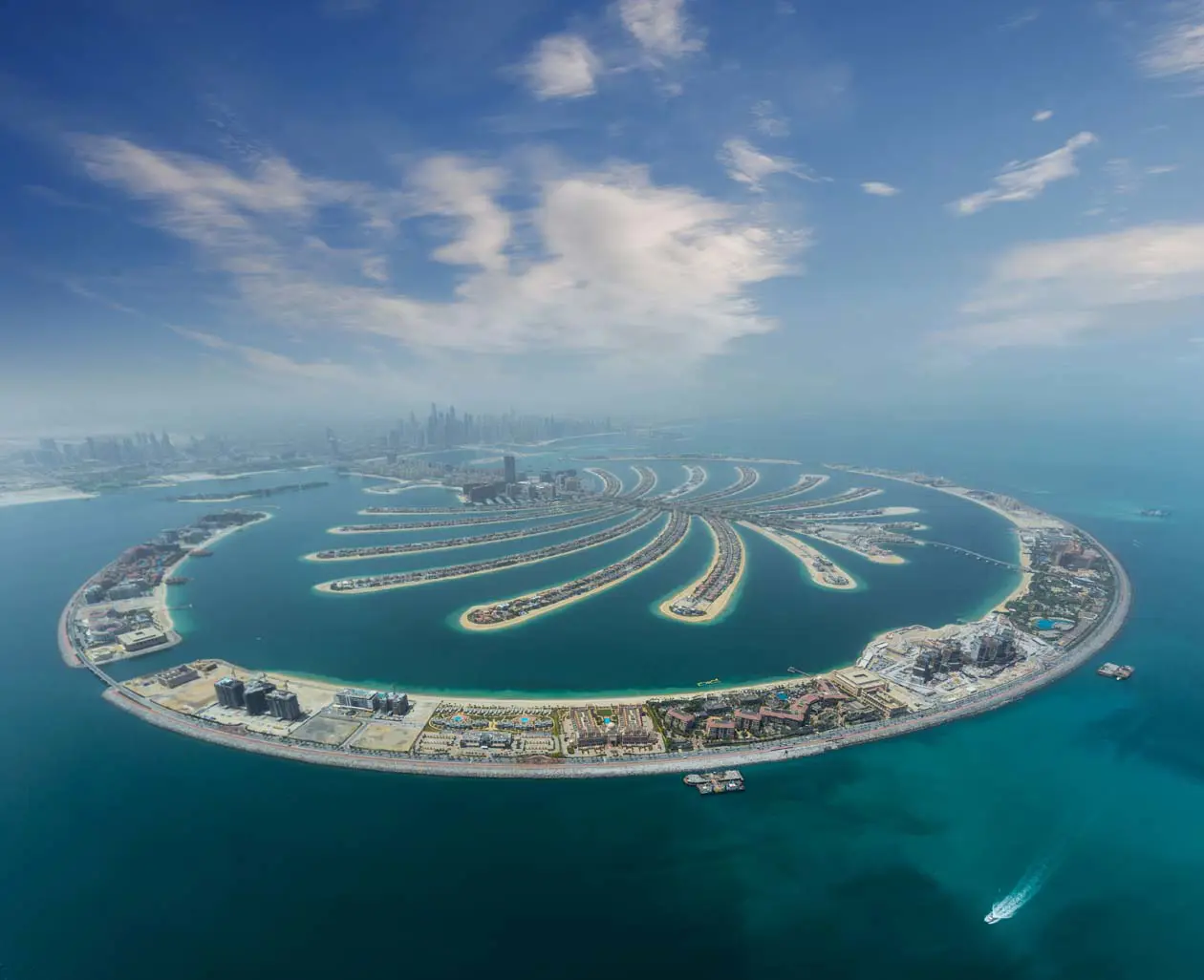 Palm Jumeirah Island in Dubai Photo: Copyright © sisterscom.com / Depositphotos
The tour of Dubai's artificial islands is an interesting excursion to explore Palm Jumeirah, Deira Island, and World Island. Starting from the city's coast, you can admire spectacular views, imposing skyscrapers, white beaches, and the blue Arabian Sea. On Palm Jumeirah, an artificial island shaped like a palm tree, you can discover the luxurious architecture of hotels, restaurants, and private villas. Here, among the most interesting places to visit, there is the famous Atlantis The Palm Hotel and the Atlantis Mall.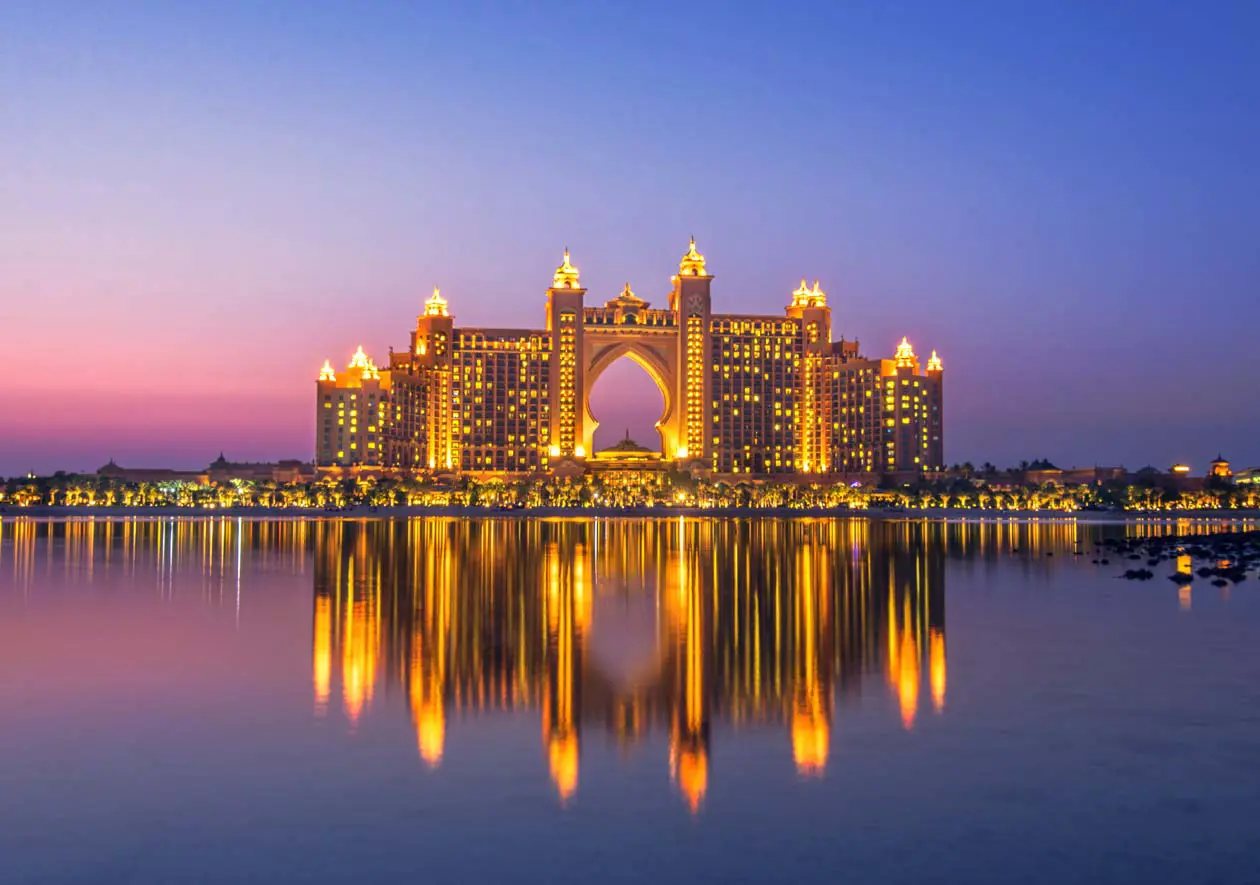 Atlantis The Palm Hotel in Dubai Photo: Copyright © sisterscom.com / Depositphotos
Deira Island, another artificial island in front of Dubai's coast, is renowned for its modern and luxurious architecture and Deira Mall, one of the city's largest shopping malls. World Island, where some of Dubai's most exclusive villas are located, is an artificial archipelago of islands shaped like a world map. The tour, which lasts about 4-5 hours and includes transportation to and from the hotel with an expert multilingual guide, is a beautiful experience to see Dubai's architecture up close while enjoying splendid landscapes.
Dubai Miracle Garden
Dubai Miracle Garden in Dubai Photo: Copyright © sisterscom.com / Depositphotos
The Dubai Miracle Garden, located in the Dubailand area, is one of the largest and most spectacular gardens in the world, housing over 50 million flowers and plants. Here, you can admire the incredible beauty of artistically cultivated flowers that form record-breaking floral shapes and sculptures. There are several varieties of flowers, including petunias, carnations, roses, and daisies. The garden is divided into themed sections such as the Children's Garden, the Heart Garden, the Butterfly Garden, the Numbers Garden, and the Dubai Garden where you can stroll amidst the spectacle of flowers.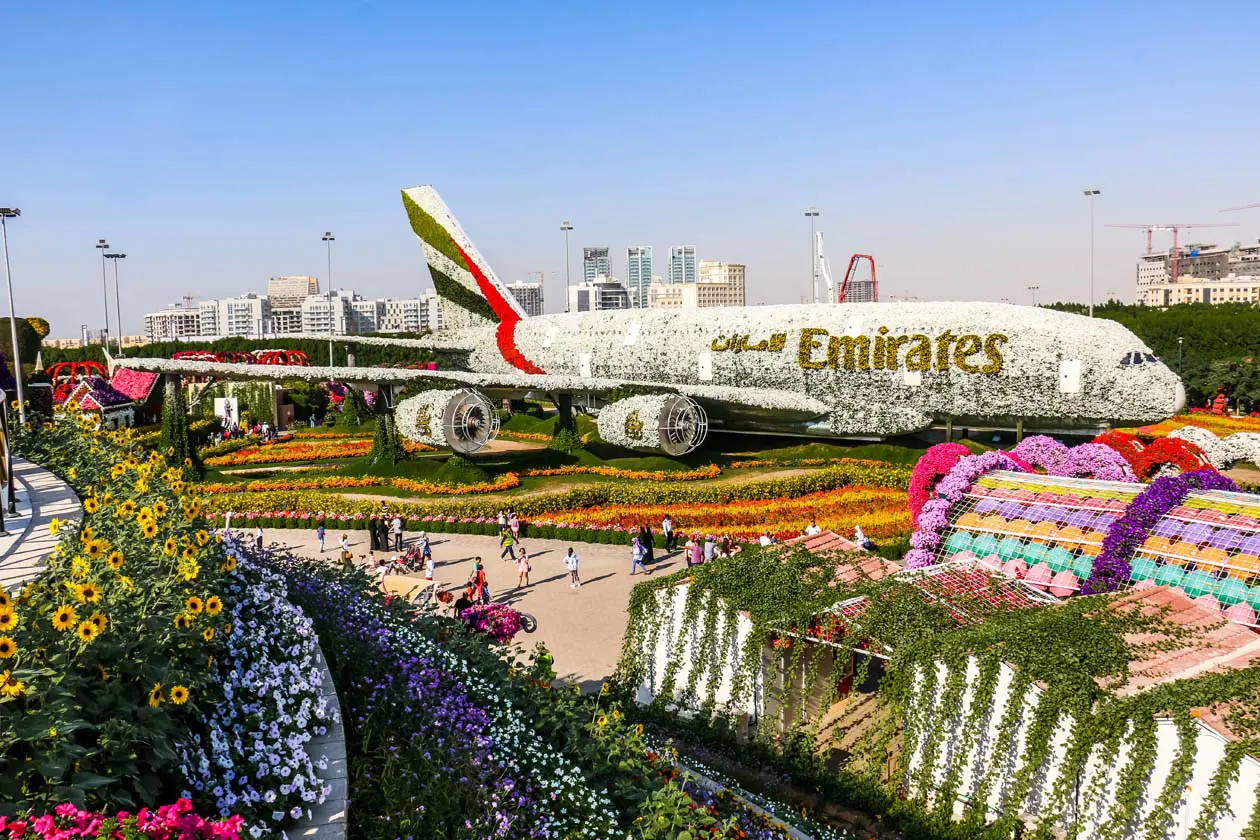 Dubai Miracle Garden in Dubai Photo: Copyright © sisterscom.com / Depositphotos
The garden also hosts concerts, live performances, local craft exhibitions, and activities for children. You can also taste local dishes and drinks at the refreshment points and buy souvenir gifts. The Dubai Butterfly Garden, featuring 15,000 butterfly species, is also located nearby. The tour lasts approximately 1-2 hours and is a wonderful and unforgettable experience that combines the beauty of nature with human art and creativity.
Sponsored content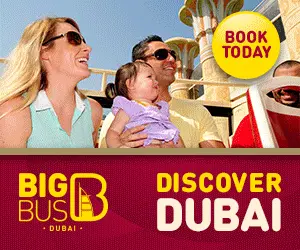 Big Bus Tours
is the largest open-air tourist tour operator in the world, operating in many cities. The buses take you to the tourist attractions and you can get on and off whenever you want. Recorded audio guide in multiple languages.
DUBAI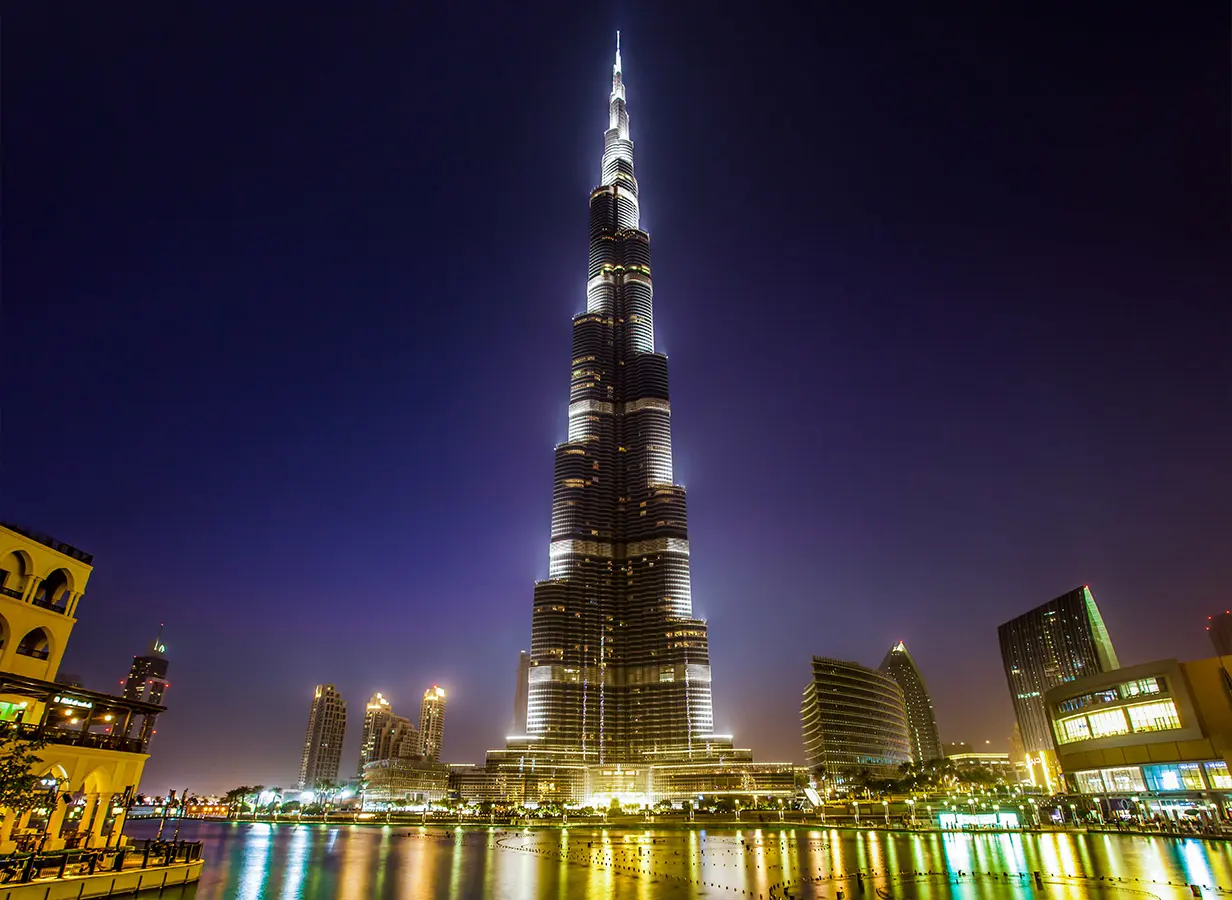 Dubai. Copyright © Sisterscom.com / Depositphotos
Sponsored content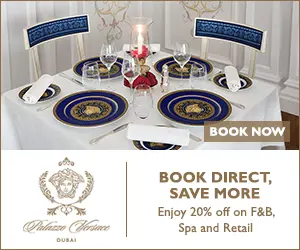 Palazzo Versace Dubai
is a 5-star hotel on the seafront in Jaddaf, less than 15 minutes from Dubai International Airport and 8 minutes from the Burj Khalifa and downtown Dubai.
THE fJordS OF Bergen
Text by Lisa Maria River
Bergen, one of the largest cities in Norway, is famous for its spectacular fjords with unspoiled landscapes, included in the UNESCO World Heritage list.
The Norwegian fjords are one of the most fascinating tourist attractions in the world and a preferred destination for nature and landscape wonders lovers.
The fjords, narrow sea arms that extend deep into the mainland formed through different glacial eras, are surrounded by imposing mountains and, near
Bergen
, there are several fjords starting from the sea that can be seen from the city's port which is a fjord called
Byfjorden
.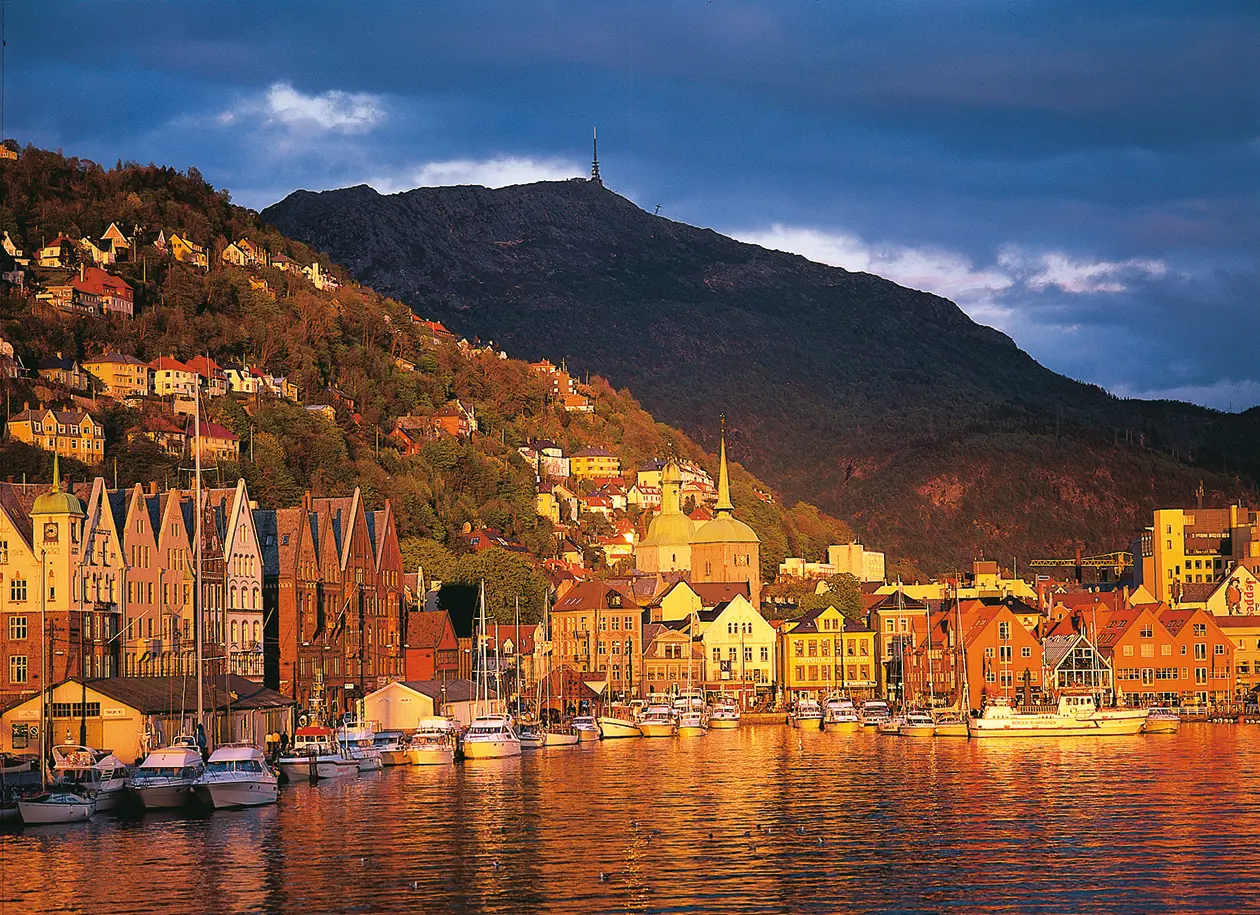 Bergen Photo: Copyright © Ente del Turismo di Bergen / Willy Haraldsen
Starting from Bergen, you can explore some of the most famous fjords in Norway. The city is located between the Sognefjord to the north and the Hardangerfjord to the south, both can be visited in a day or two throughout the year. The best way to visit them is definitely by boat from Bergen, for an adventurous cruise through the fjords.
The Sognefjord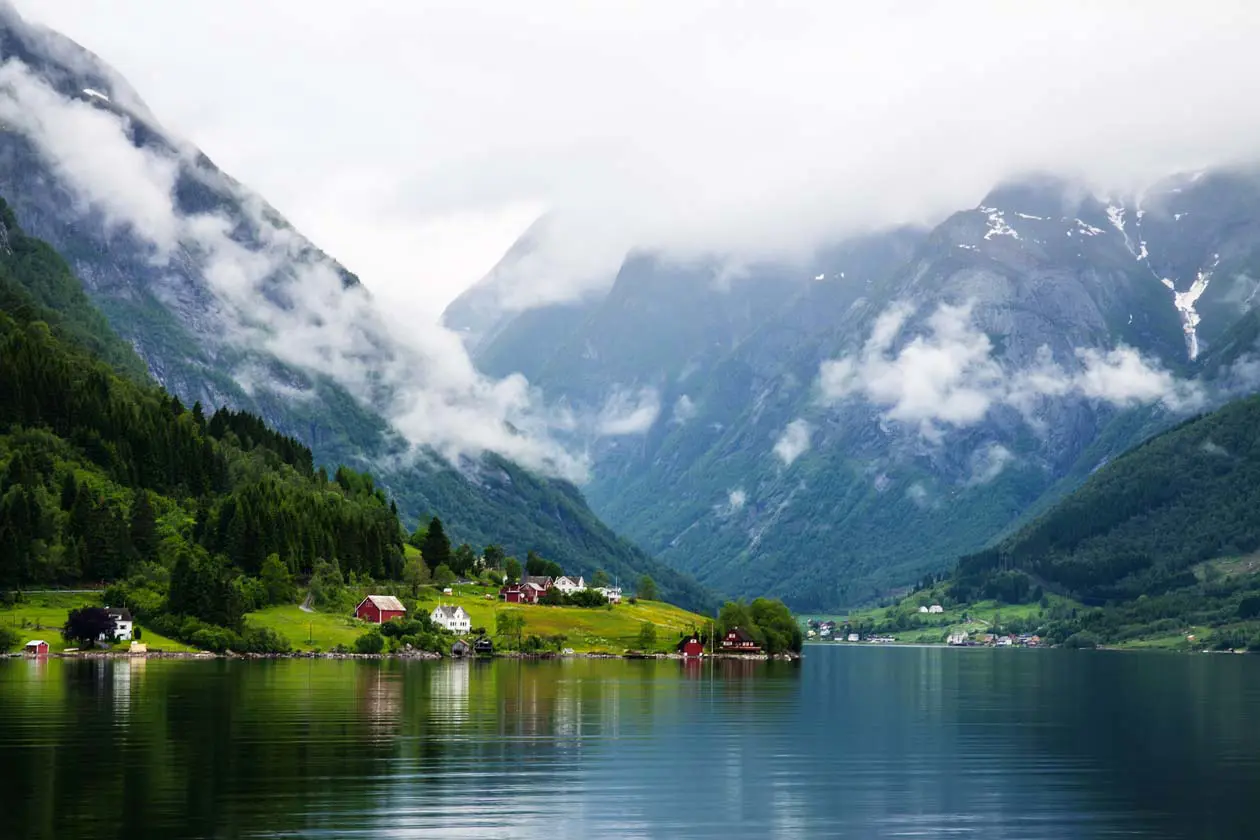 The Sognefjord Photo: Copyright © Sisterscom / Depositphotos
The Sognefjord, the longest and deepest fjord in Norway, is 205 km long and has a maximum depth of 1308 meters. This fjord offers a breathtaking view of high mountains, waterfalls, small fishing villages, and fruit orchards farms. To fully enjoy the scenery, you can choose a cruise along the fjord starting from Bergen with the ship to Flåm, which takes 5.5 hours along the Sognefjord stopping at the Stegastein viewpoint or at the panoramic Flåm railway, one of the steepest in the world.
The Nærøyfjord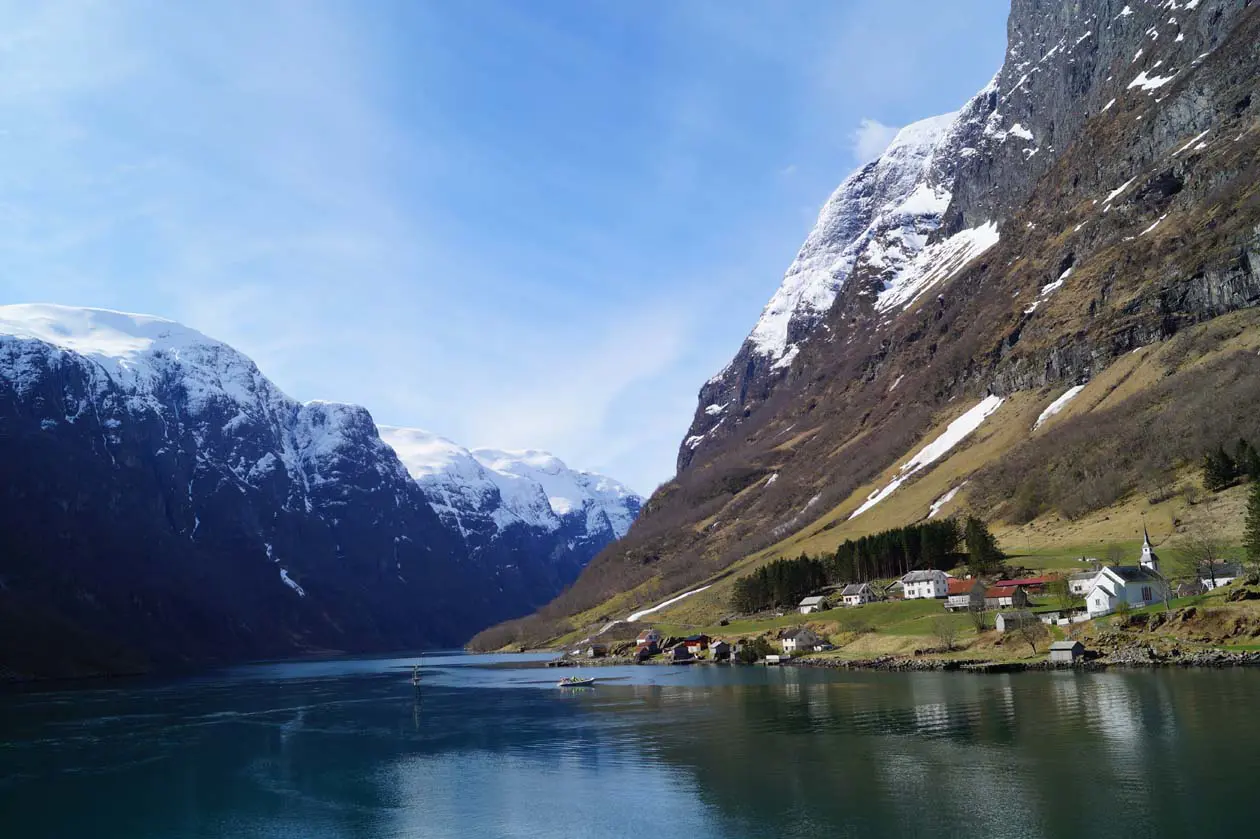 The Nærøyfjord Photo: Copyright © Ente del Turismo di Bergen / Gjertrud Coutinho
Other fjords, which are part of the Sognefjord, are absolutely worth visiting and among them is the Nærøyfjord, one of the narrowest fjords in the world, declared a World Heritage Site by UNESCO with panoramic views of imposing mountains, green valleys, and crystal-clear waters. The end of the fjord is home to the village of Gudvangen.
Instead, in the
Aurlandsfjord
there is the beautiful
village of Flåm
right at the end of the fjord. Many of the
daily tours from Bergen to Sognefjord
include the
cruise from Gudvangen and Flåm
, ideal to see both the
Nærøyfjord
and the
Aurlandsfjord
.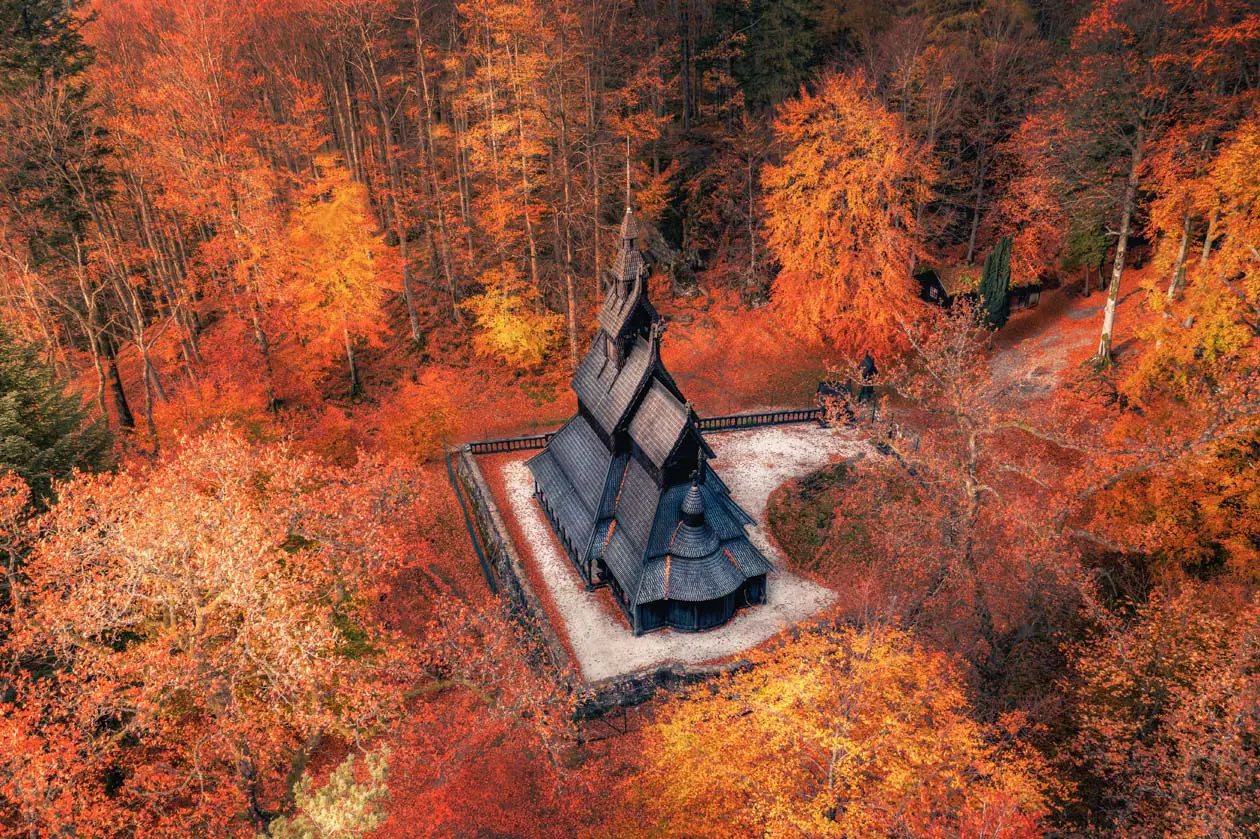 The Urnes wooden church Photo: Copyright © Ente del Turismo di Bergen / Karol Bartnik
Not to be missed is also the Fjærlandsfjord, a starting point to admire the Jostedalsbreen glacier or visit the Norwegian Glacier Museum in Fjærland. And before leaving the Sognefjord area, you can also make a stop at the Urnes wooden church, included in the UNESCO World Heritage list.
The Hardangerfjord
The Sognefjord Photo: Copyright © Sisterscom / Depositphotos
Southeast of Bergen, there is instead the Hardangerfjord, 178 km long from the coast, which is the third-longest fjord in the world. This fjord passes through several islands including Bømlo, Stord, and Tysnes and is famous for its natural beauties and the Hardangervidda National Park. Here you can observe wild orchids, valleys, high mountains, forests, the Steinsdalsfossen waterfall in the village of Eidfjord, the Folgefonna glacier, picturesque fishing villages, and farms that grow apples and produce cider, such as Hardanger's.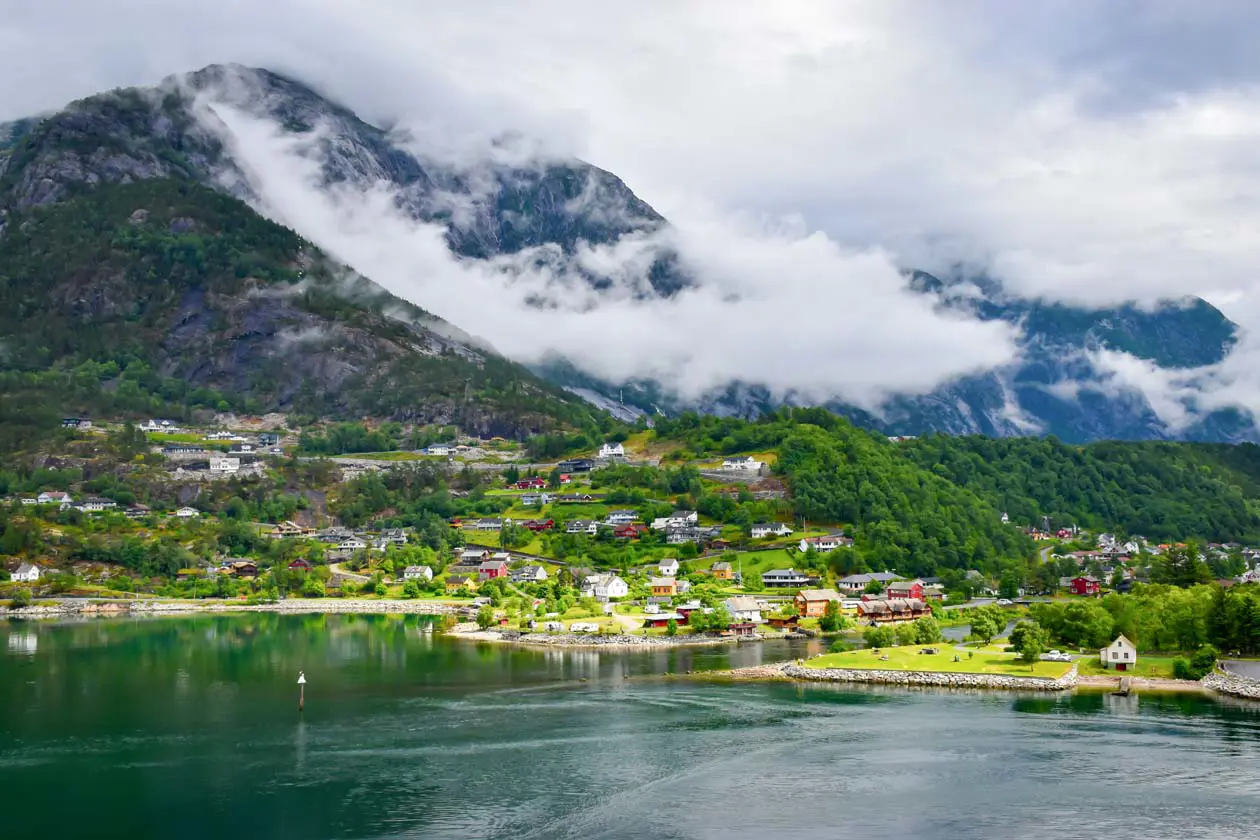 The village of Eidfjord Photo: Copyright © Sisterscom / Depositphotos
A cruise along the fjord leads to the discovery of the
Vøringsfossen waterfall
, one of the most famous in Norway. To reach the
Hardangerfjord
from Bergen, it takes just over an hour by car or, for a nature excursion, it is better to opt for one of the many
fjord cruises
.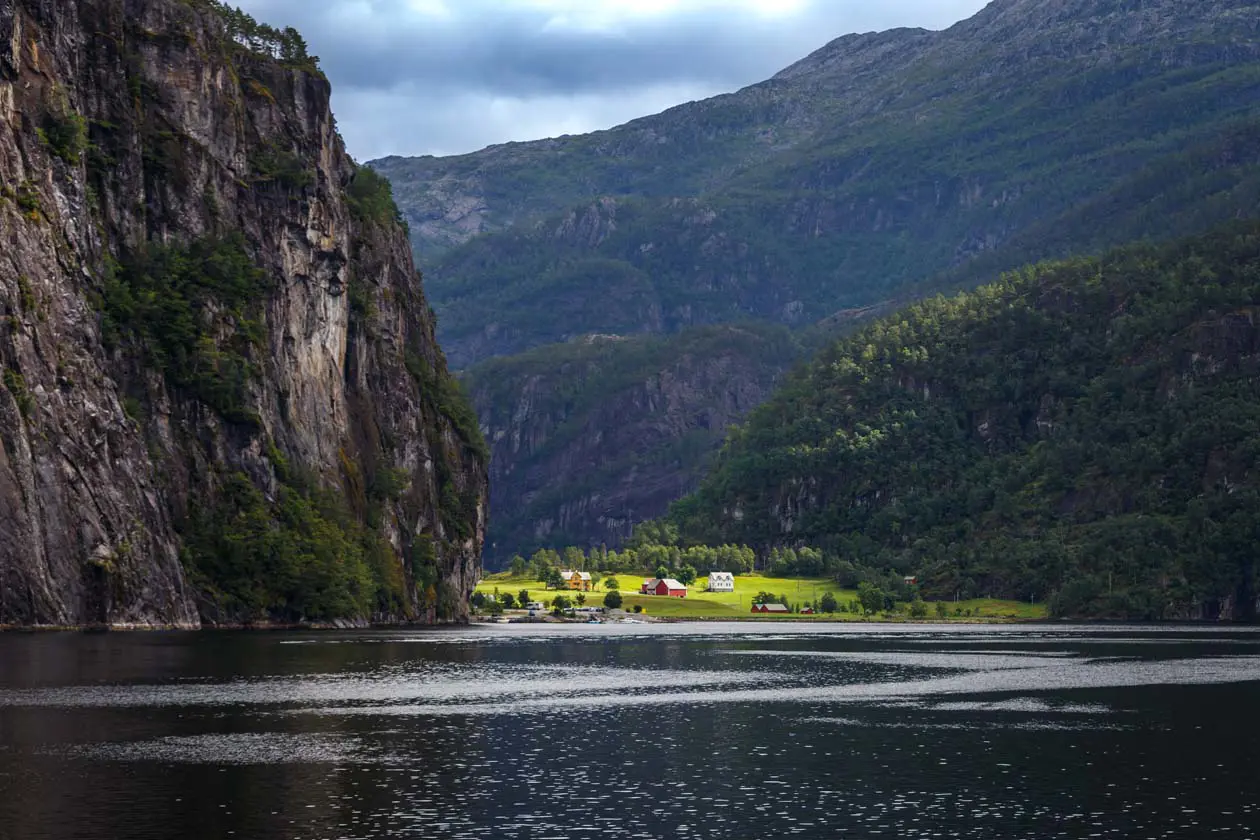 Fjord cruises from Bergen Photo: Copyright © Ente del Turismo di Bergen / Mathias Falcone
The Norwegian fjords of Bergen are an essential stop that completes the city tour, making the vacation fascinating. If time is limited, you can choose a 3-hour mini cruise departing from the fish market in the center of Bergen, heading to the Mostraumen fjord.
Bergen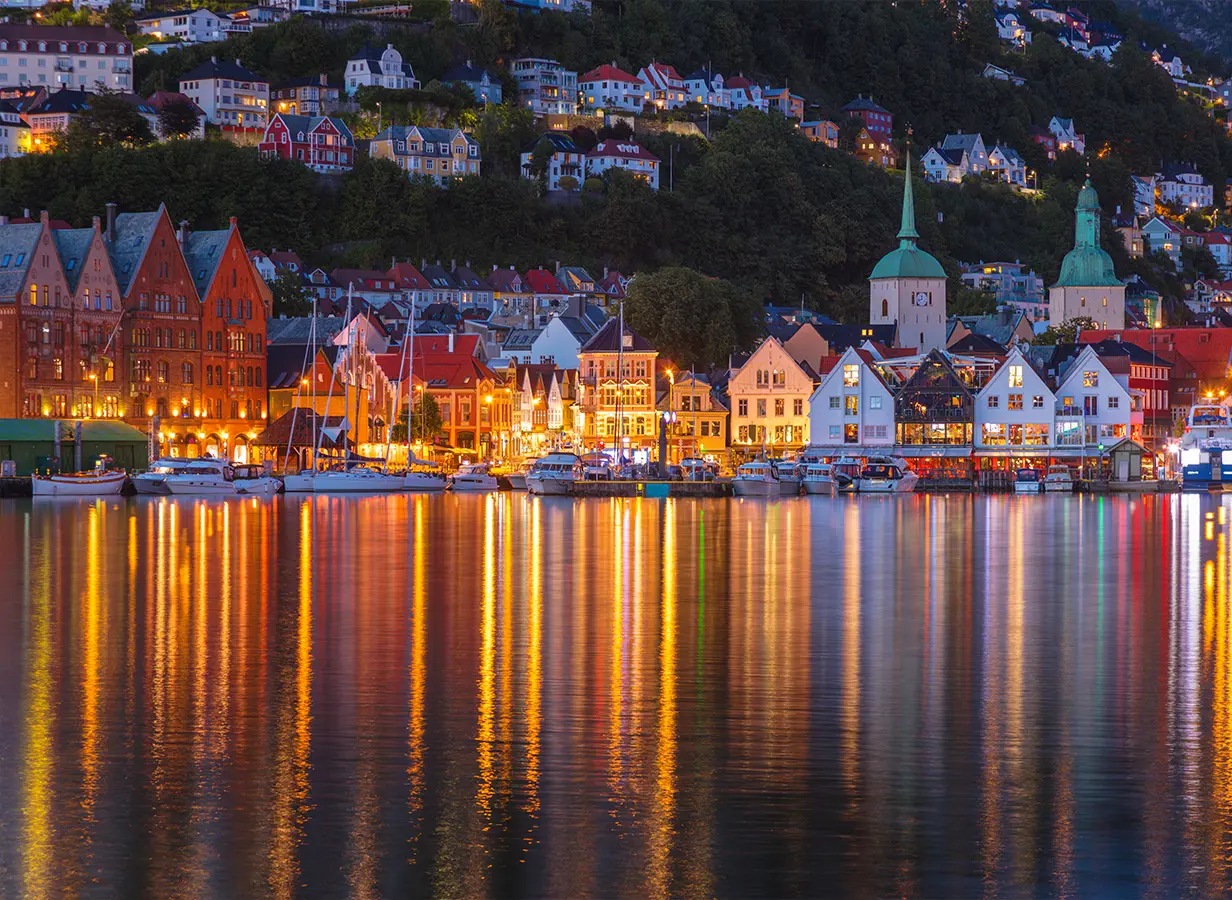 Bergen. Copyright © Sisterscom.com / Depositphotos
Sponsored content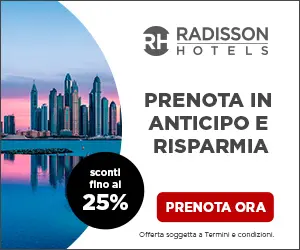 Book your hotel in Bergen with
Radisson Hotels
. The property is located next to Bryggen, the historic dock area of the city. Rooms and suites, restaurant, bar, fitness center and sauna.
Text by Enzo Cuppatri
Tel Aviv is the largest metropolitan area in Israel, loved for its mild climate throughout the year which makes it an ideal vacation destination, attracting tourists not only for its beautiful beaches but also for its rich history and culture, typical cuisine and lively nightlife. There are many things to see and do in Tel Aviv but five are truly essential even if you only have a few days.
In this article, we discover what not to miss to get to know the city in its various peculiar aspects, from cultural to landscape and naturalistic, to delicious cuisine and lively entertainment.
Old Jaffa and its port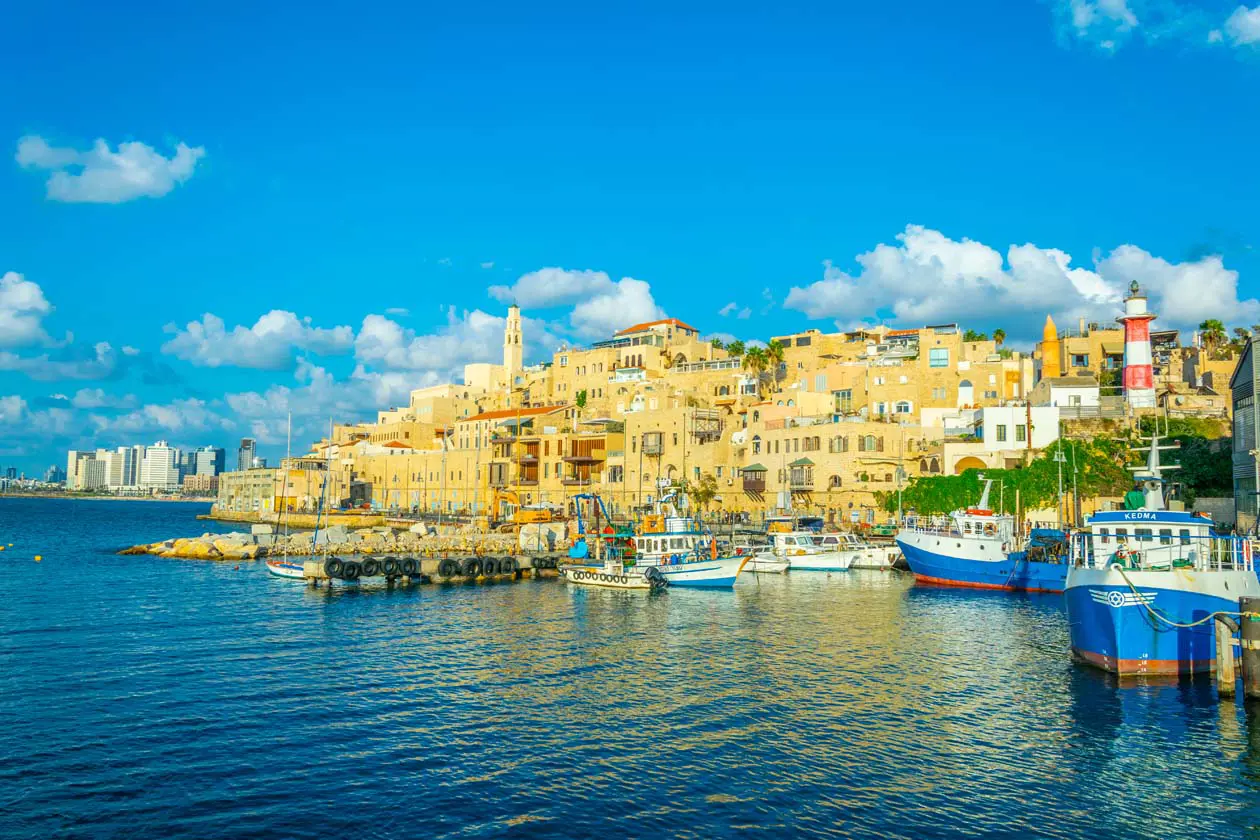 Old Jaffa and its port Photo: Copyright © Sisterscom.com / Depositphotos
Jaffa is the ancient port city of Tel Aviv
with its port being one of the oldest in the world dating back thousands of years.
Jaffa
is located on a hill overlooking the Mediterranean Sea, in the southern part of
Tel Aviv
, and is interesting to explore, walking along the narrow cobbled streets starting from the Clock Tower square up to the famous
Jaffa flea market
passing through historic buildings, monuments, art galleries, shops, and markets. In the highest area of the old port, you can admire the
Church of St. Peter
, the
Bridge of Wishes
, the
Museum of Old Jaffa
, and the
Ilana Goor Museum
. To better enjoy the panorama of the city, you can climb up to
Ha'Pisga Park
and contemplate the view from the top of the hill.
Tel Aviv's White City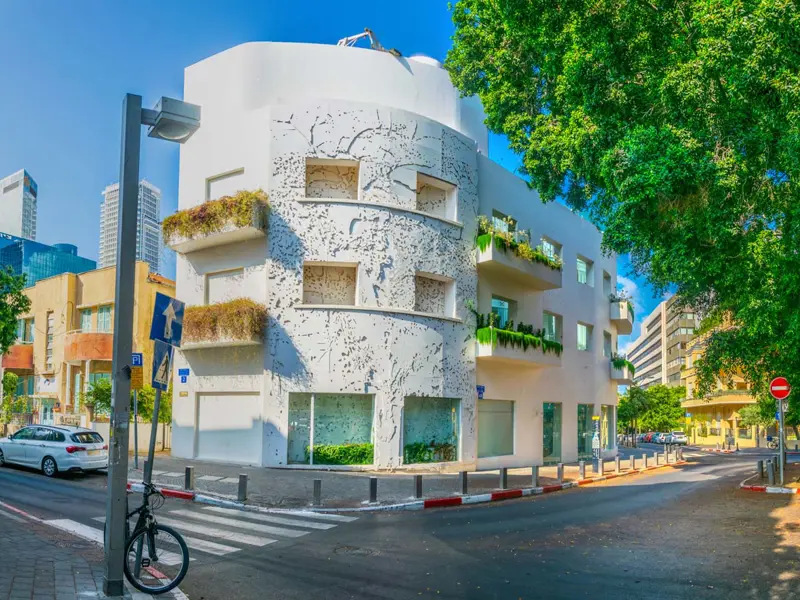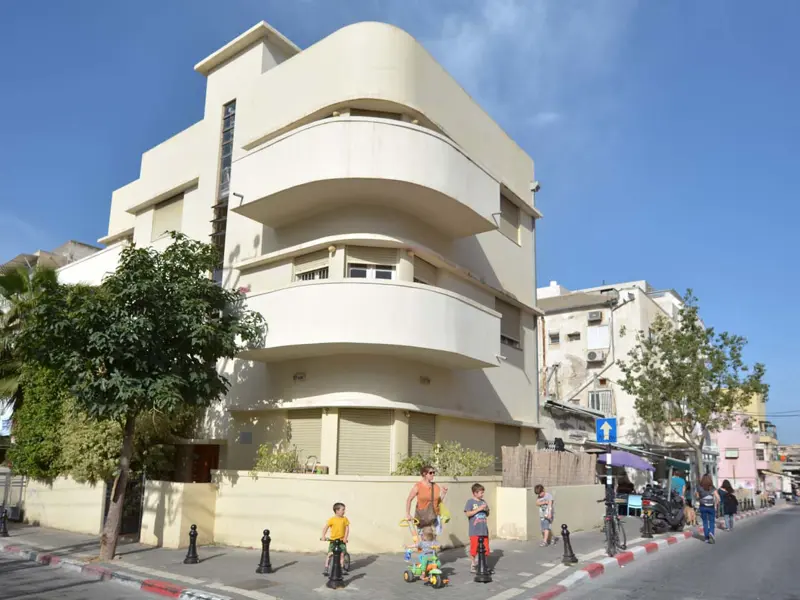 Tel Aviv's White City in Bauhaus Style Photo: Copyright © Sisterscom.com / Depositphotos
The "White City" of Tel Aviv, so called for the white color of the Bauhaus-style houses, was declared a World Heritage Site by UNESCO in 2003 as an example of 20th-century architecture and hosts one of the largest groups of International-style buildings, known as Bauhaus. Built between 1920 and 1930, it has been restored to enhance this invaluable architectural heritage that counts more than 4,000 buildings inspired by the essential design conceived by the German architect Walter Gropius. The Bauhaus buildings are located along Rothschild, Dizengoff, and Bialik streets. Architecture and design lovers can continue the tour by visiting the Tel Aviv Museum of Art, the Design Museum Holon designed by Rad Arad, or the Florentin neighborhood rich in colorful murals.
Tel Aviv beaches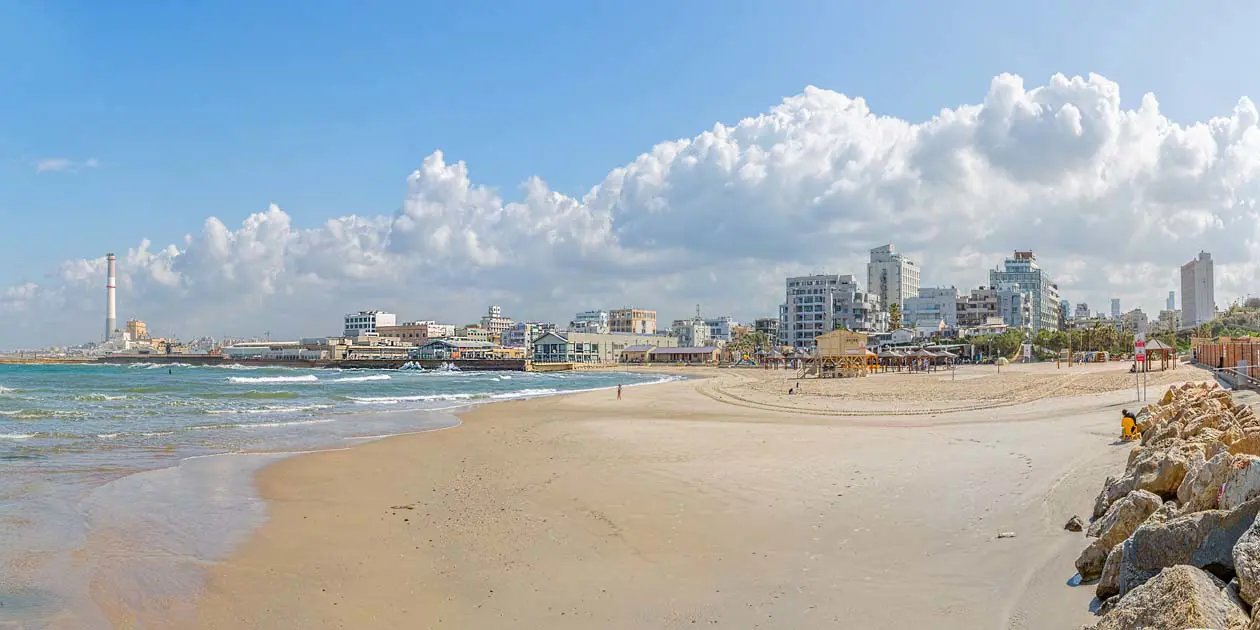 Tel Aviv beaches Photo: Copyright © Sisterscom.com / Depositphotos
Tel Aviv's beautiful sandy beaches, lapped by the warm and transparent sea, have made it one of the world's top tourist destinations. The Tel Aviv coast has 13 beaches, each with a different panorama and experience to live, from the crowded and trendy ones to the quieter and more relaxing ones. Each beach has its own characteristics, and some are ideal for specific activities, such as Dolphinarium beach known for windsurfing and percussion shows, Gordon Beach for volleyball, Hilton beach frequented by surfers, the one next to the Marina is quiet and uncrowded while Aviv Beach is for kitesurfing and volleyball. The north side of the city hosts the Tzuk, Tzuk north, Metzizim, and Hilton beaches accessible to people with disabilities. The official bathing season to fully enjoy the beauty of the beaches and the warm sun runs from May to October.
Tel Aviv Street Food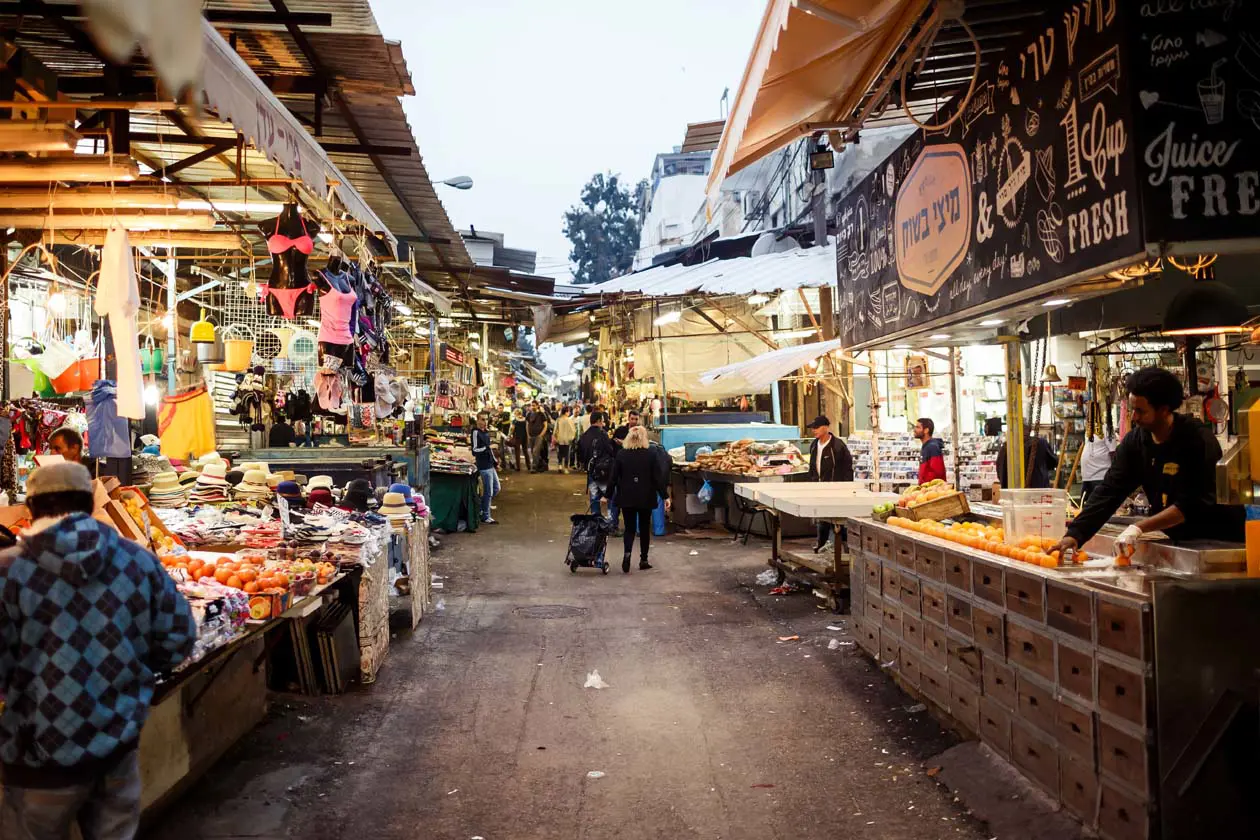 The Carmel Market in Tel Aviv Photo: Copyright © Sisterscom.com / Depositphotos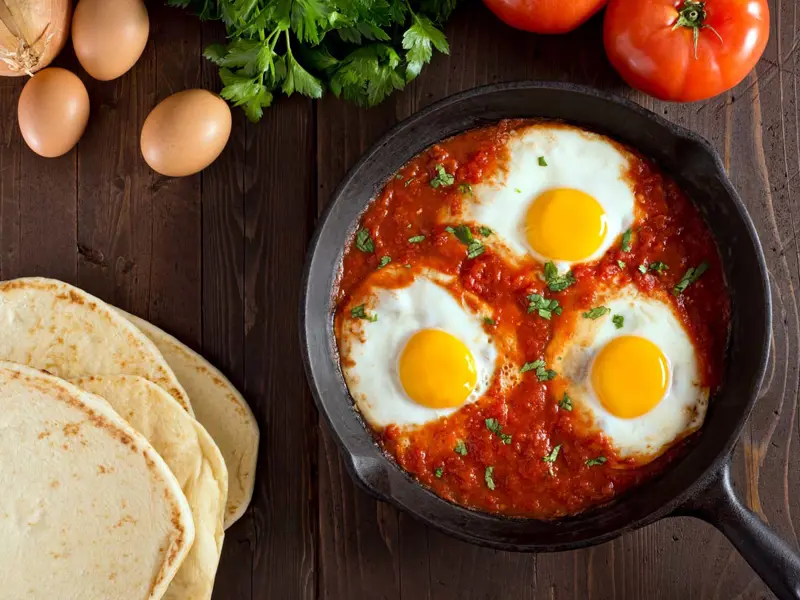 Shakshuka with eggs Photo: Copyright © Sisterscom.com / Depositphotos
Sabich sandwiches Photo: Copyright © Sisterscom.com / Depositphotos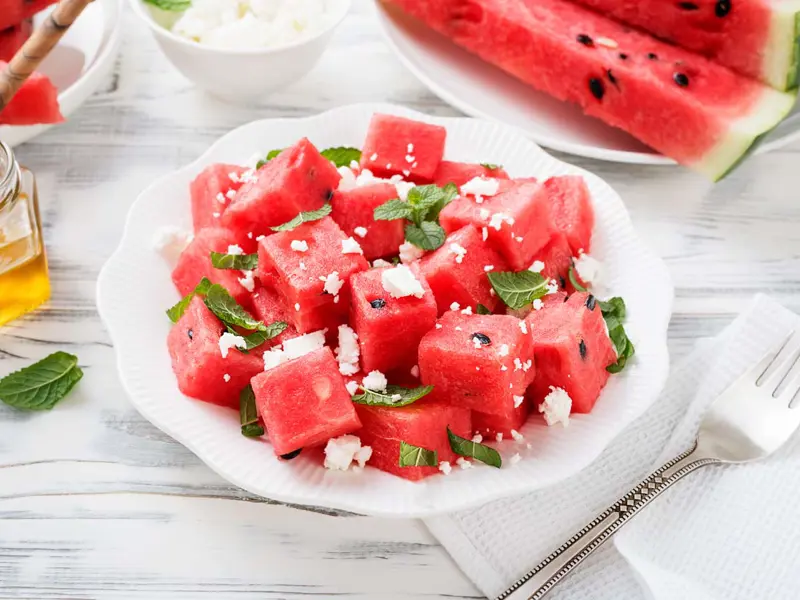 Watermelon with feta cheese Photo: Copyright © Sisterscom.com / Depositphotos
In
Tel Aviv, street food
is a must. To taste typical products, just take a
tour of the Carmel Market or Shuk HaCarmel
, the famous and large open-air market for fruits and vegetables, well-known for
Israeli street food
where you can taste traditional dishes such as fried vegetable and spice-based
falafel meatballs
,
pita bread with chickpea hummus
,
shakshuka with eggs
, peppers, and tomato or
borekas pastry rolls
filled with cheese or meat and vegetables, but also
sabich sandwiches
made with eggplant and eggs or
watermelon with feta cheese
. Around the market, there are several bars where you can try the best
Turkish coffee
in the country and restaurants that cook dishes with fresh market products.
Tel Aviv
is also a
vegan-friendly city
for its rich vegan cuisine that offers fresh seasonal vegetables grown locally in numerous vegetarian restaurants where you can enjoy creative salads, legume bowls, fruit smoothies, kebab, and vegan burgers.
Tel Aviv nightlife
Night view of Tel Aviv Photo: Copyright © Sisterscom.com / Depositphotos
Tel Aviv is commonly referred to as the city that never sleeps. Recently restored, the Tel Aviv port area at night is really super trendy. If during the day the Tel Aviv port is a meeting point for strolling among hangar-style spaces, boutiques for shopping or having lunch at one of the restaurants overlooking the sea, at sunset, the atmosphere transforms with its trendy bars and clubs, becoming an ideal location for those who love nightlife. The four most frequented clubs in the city center are Kuli Alma, The Block, Jimmy Who?, and Sputnik Bar. Beach parties are also very popular, which continue until late at night on the popular Gordon Beach, Alma Beach, Hilton Beach, and Metzitzim Beach.
TEL AVIV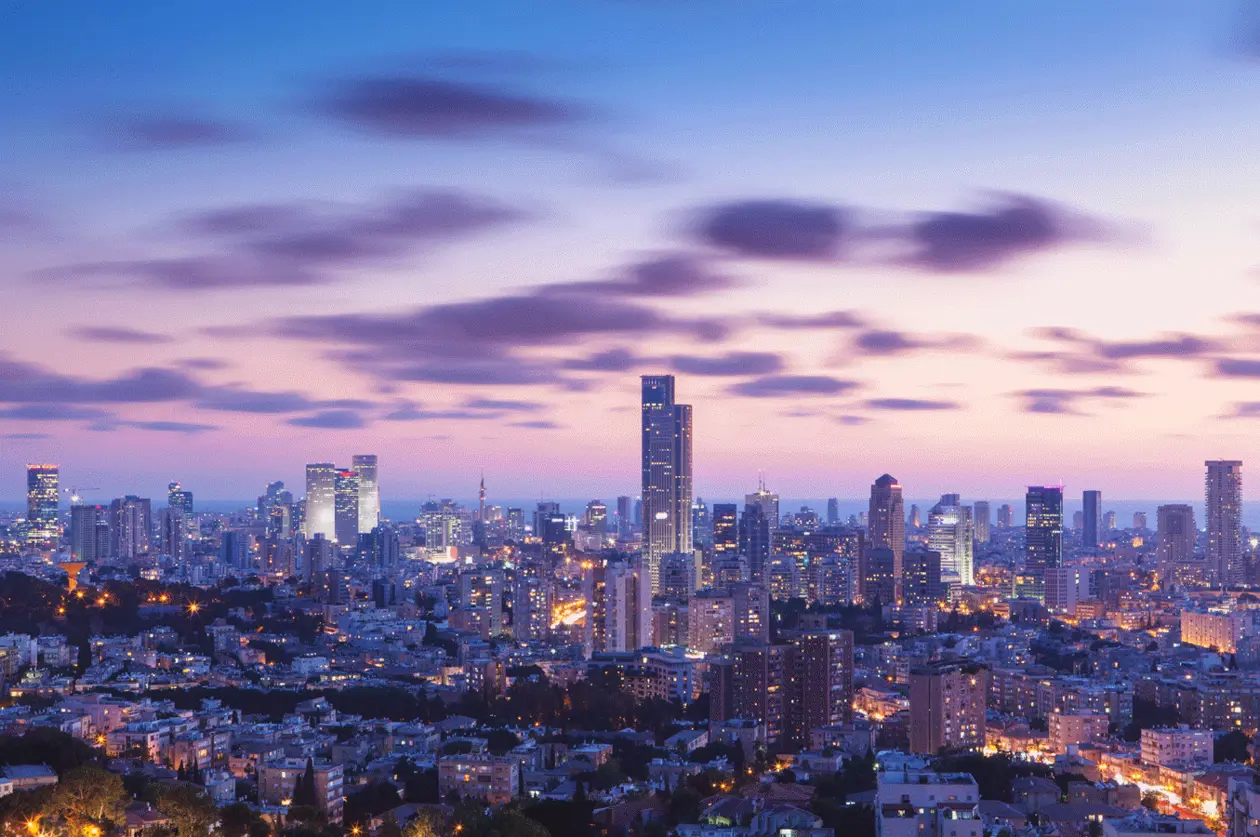 Tel Aviv. Photo: Copyright © Sisterscom.com / Shutterstock
Sponsored content
Find many experiences, excursions and tours to do in Tel Aviv on the
Getyourguide
website to discover the main sites of the city and the most important attractions not to be missed.
UNFORGETTABLE CITY BREAK IN LYON
Text by Lisa Maria RIver
The French city of Lyon is located in the Auvergne-Rhône-Alpes region and is an ideal destination for a city break, where you can admire the city's main attractions among historical monuments, museums, art galleries, parks and gardens, but also enjoy a delicious gastronomic experience.
Lyon Photo: Copyright © Sisterscom.com / Depositphotos
Walking through the historic streets of Vieux Lyon (Old Lyon), visiting the main tourist sites of Presqu'ile and discovering Croix-Rousse and its traboules, stopping to taste the local cuisine, is essential to getting to know the city better and immersing yourself in its history, art and culture.
The historic center of Lyon has been declared a UNESCO World Heritage site and is a must-see. The city is divided into historic neighborhoods: Fourvière, Presqu'ile, Croix-Rousse and Vieux Lyon, each with unique attractions and characteristics.
The Vieux Lyon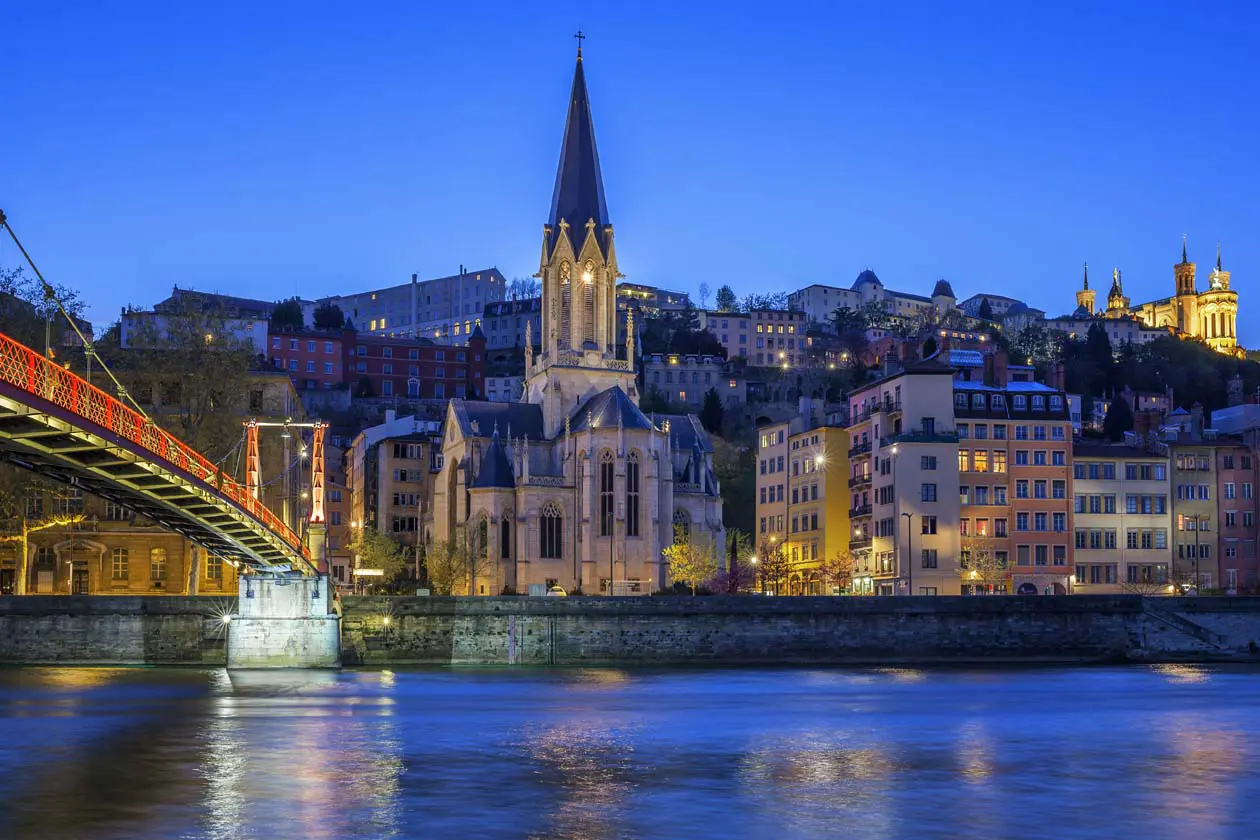 Sunset view of Lyon, Photo: Copyright © Sisterscom.com / Depositphotos
You can start your tour of Lyon by exploring the historic center of Vieux Lyon, the oldest part of the city, characterized by ancient streets, historic churches, small squares and local markets. Walking along Rue Saint-Jean, the main street of Vieux Lyon, you can admire historic buildings and the ancient gates of the city. It is worth visiting the Cathedral of Saint Jean, one of the most important places of worship in the city dating back to the 13th century, and the Basilica of Notre Dame de Fourvière, a church built in 1872 by Pierre Bossan located on top of the Fourvière hill which offers a breathtaking view of the city, accessible on foot, by elevator or by funicular.
The Presqu'ile of Lyon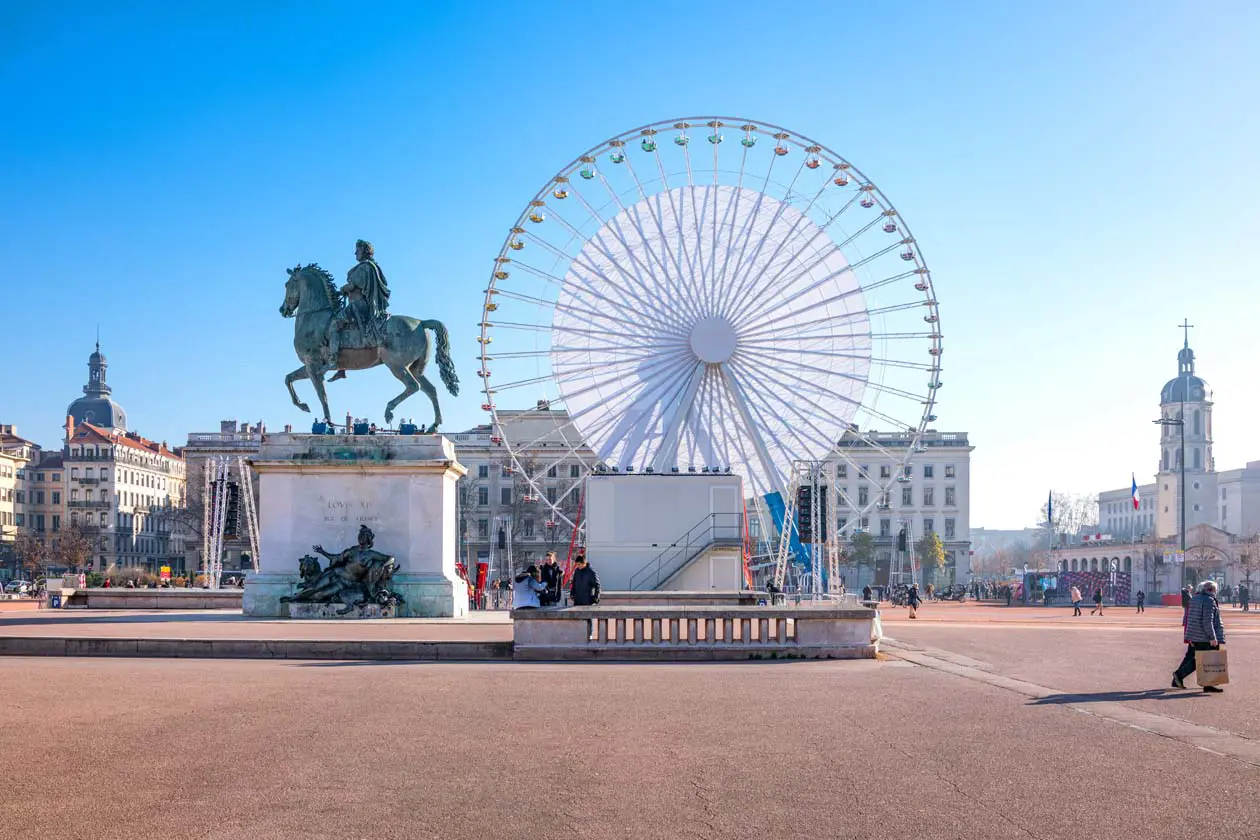 Lyon Photo: Copyright © Sisterscom.com / Depositphotos
The tour continues on
Presqu'ile
, the central part of
Lyon
, which is a pleasant area for shopping and strolling along the river. Here you can find several tourist attractions of the city, such as
Place Bellecour
, the largest square in Lyon, and the
Opera Garnier
, a historic 19th century building that hosts ballet and opera performances. You can also visit two beautiful churches: the Gothic-style
Church of Saint-Nizier
and the Romanesque-style
St-Martin d'Ainay Basilica
.
The Croix-Rousse of Lyon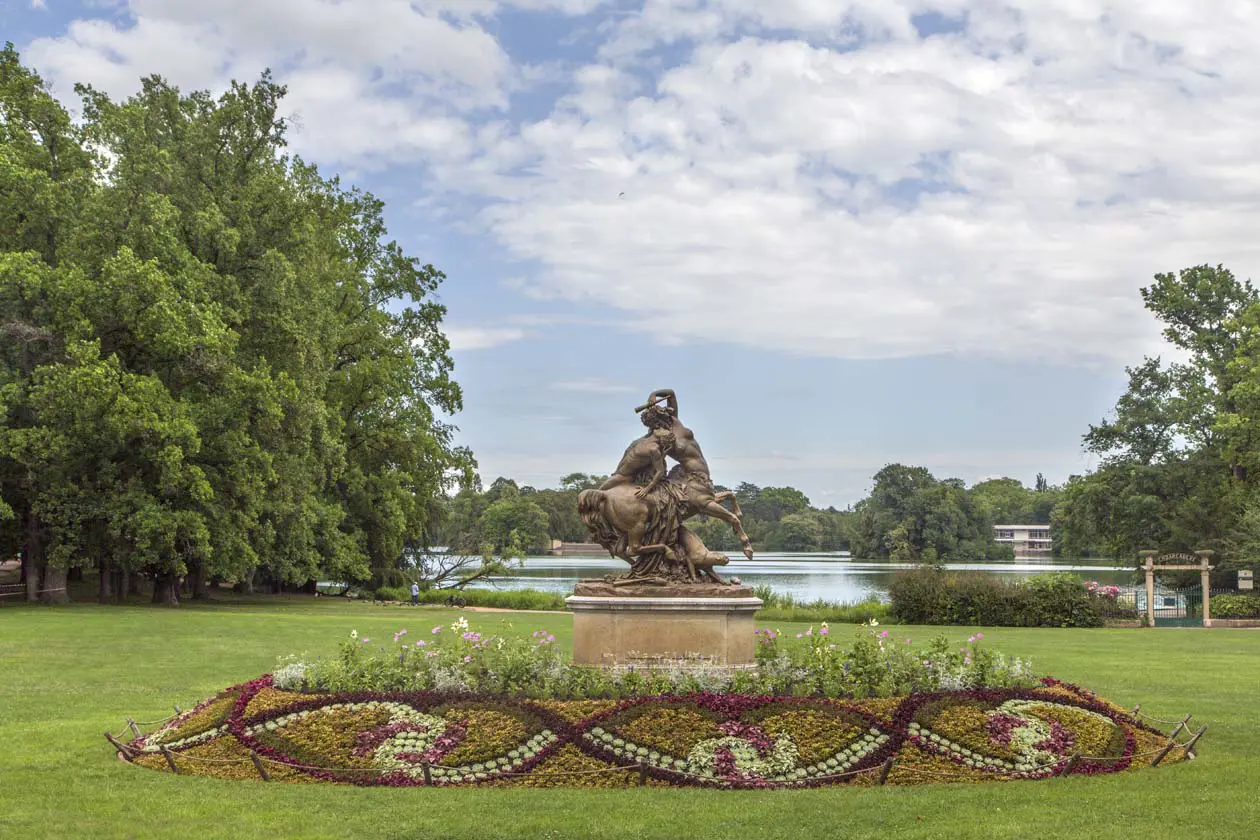 Lyon Photo: Copyright © Sisterscom.com / Depositphotos
Croix-Rousse is the hilly area of Lyon, known for its traboules, an intricate system of pedestrian passages between courtyards, and street art. Here you can visit the Museum of the History of Lyon to learn about the city's history and its evolution over the centuries. For art lovers, you can opt for a visit to the Musée des Beaux-Arts de Lyon, one of the most important art museums in France where you can admire works by famous artists such as Rubens, Rembrandt, Monet, Gauguin or Picasso and, after the visit, relax at the Parc de la Tête d'Or which houses an artificial lake, deer and other animal species as well as a botanical garden.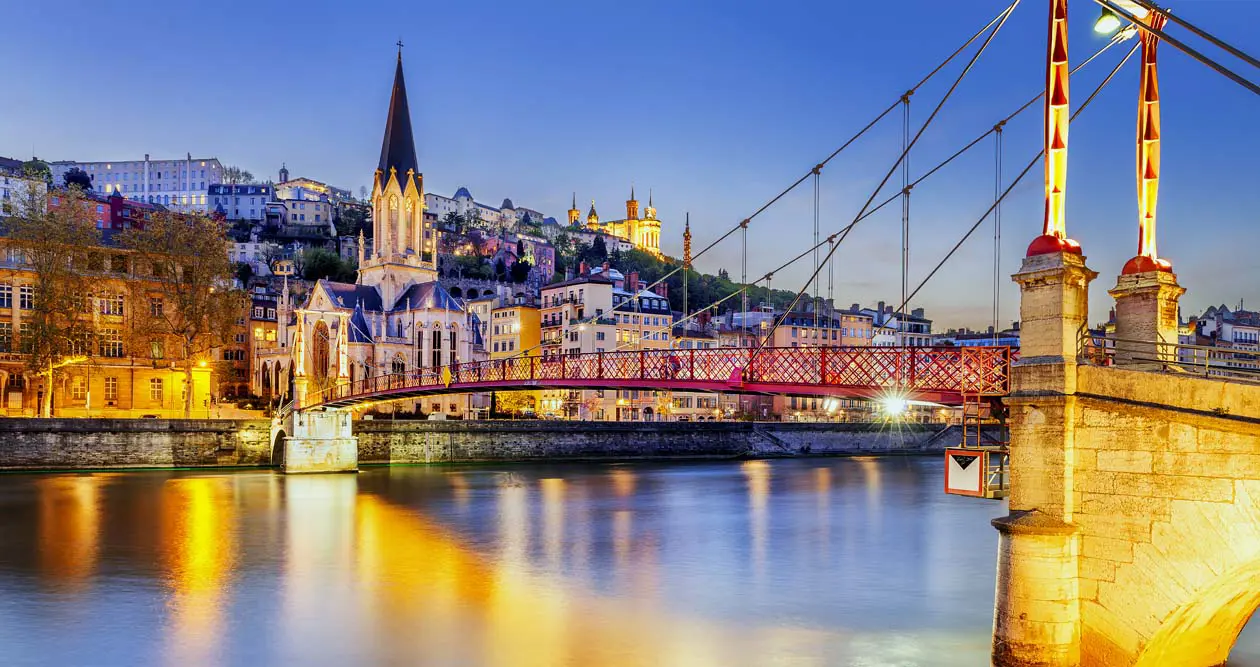 Lyon Photo: Copyright © Sisterscom.com / Depositphotos
The visit to Lyon concludes with a night walk when the "city of lights" illuminates, giving a unique atmosphere to monuments and emblematic sites such as the Basilica of Fourvière, the Jacobins Fountain, the banks of the Saône and the Rhône crossed by luminous bridges, the Palace of Justice, the Jean Nouvel National Opera, the Grand Hotel-Dieu or the Théâtre des Célestins to be admired in their splendor in the darkness of the night.
The traditional cuisine of Lyon
Another way to discover the city is through its cuisine. Not surprisingly, Lyon is famous as the "world capital of gastronomy", with numerous Michelin-starred restaurants and local bistros where it's worth stopping to taste succulent dishes.
The traditional cuisine of Lyon offers local specialties such as cervelles de canut (fresh cheese with aromatic herbs), quenelles (oval-shaped dumplings made with flour, bread crumbs or pâte à choux, served with shrimp sauce), Saint-Marcellin (sweet and creamy cheese), saucisson brioché (sausage garnished with pistachios or black truffle in brioche dough), rosette de Lyon (dry pork sausage), tablier de sapeur (marinated and breaded tripe and offal), bugnes lionesi (flat and crispy fritters) and sweet pink pralines. These dishes can be accompanied by Beaujolais, the light and fruity red wine produced in the Beaujolais region near Lyon.
LYON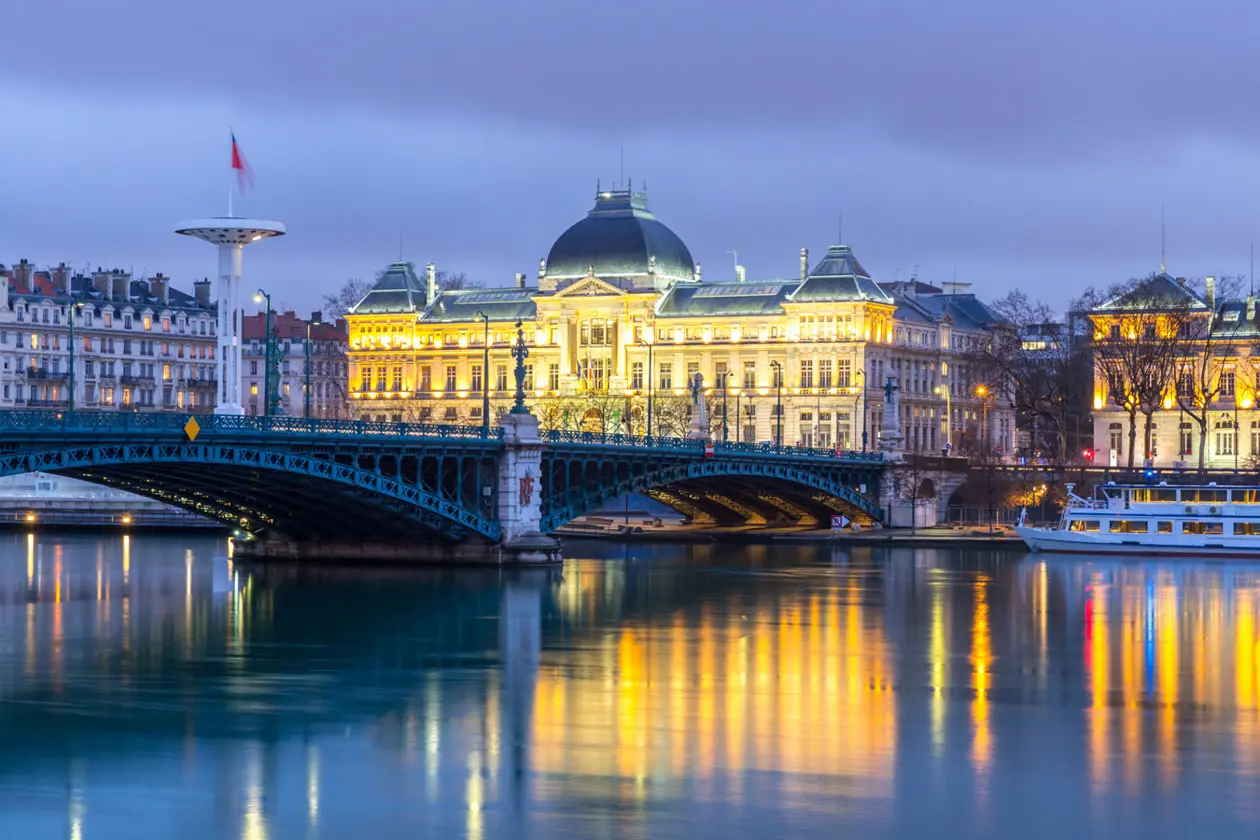 The University of Lyon overlooking the river Photo: Copyright © Sisterscom.com / Shutterstock
Content sponsored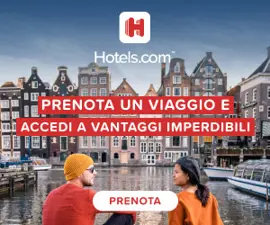 On
Hotels.com
you can find many hotels in the city of Lyon from 2 to 5 stars, ideal for a stay in the city close to the tourist attractions to visit.
The flavors of Asturias
Text by Alisè Vitri
Asturias
, a region in the northern part of Spain, is also known for its delicious cuisine made from fresh and local ingredients such as products from the land and sea.
Oviedo
,
the main city in Asturias
, offers a wide range of typical dishes and culinary delicacies that make its cuisine unique and delicious.
Asturian cuisine is renowned for its quality and variety of local products such as cider, cheese, fish, meat, and legumes. Cider is a fermented juice made from local apples and is often served in wooden glasses called "culines" and can be tasted in sidrerías (restaurants where cider is served).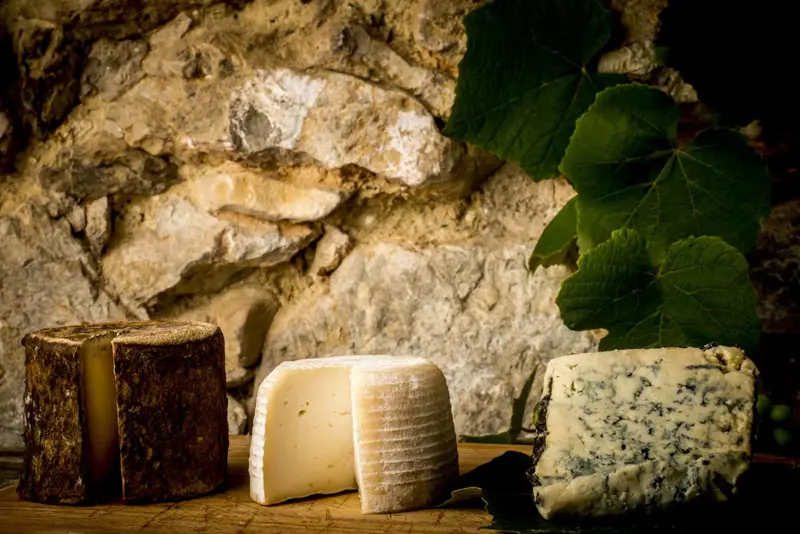 Queso cabrales, Photo: Copyright © Sisterscom.com / Depositphotos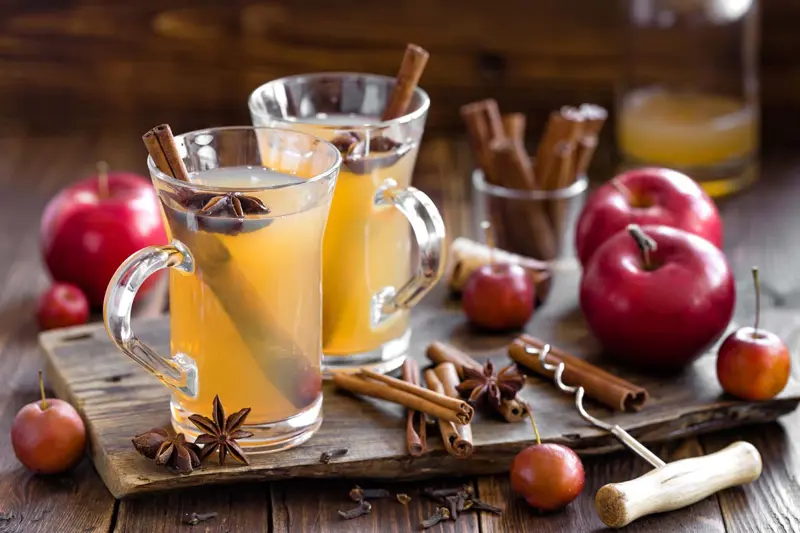 Sidro, Photo: Copyright © Sisterscom.com / Depositphotos
Another typical product of Asturias is queso cabrales, a soft cheese made from cow, goat, and sheep's milk, which is aged in natural caves, where it develops an intense aroma and a strong and spicy flavor.
Fabada asturiana is a traditional dish made with white beans, sausage, bacon, and other cuts of meat, such as ham, which is cooked slowly for several hours so that the flavors blend well.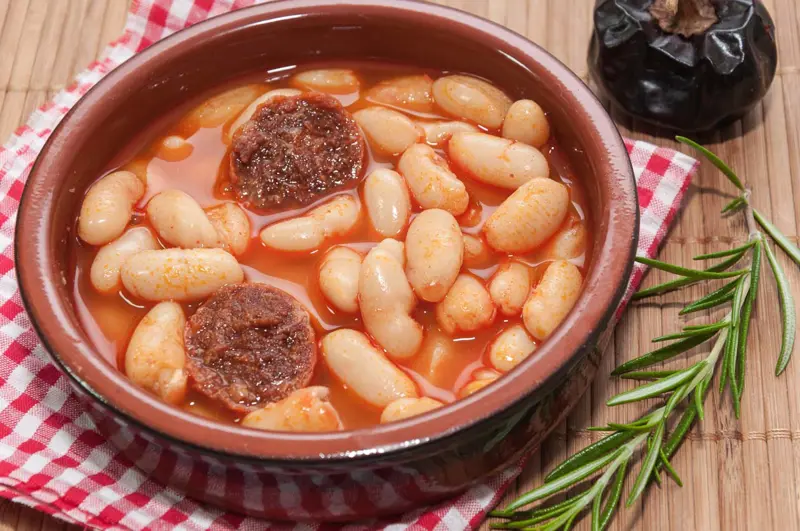 Fabada asturiana, Photo: Copyright © Sisterscom.com / Depositphotos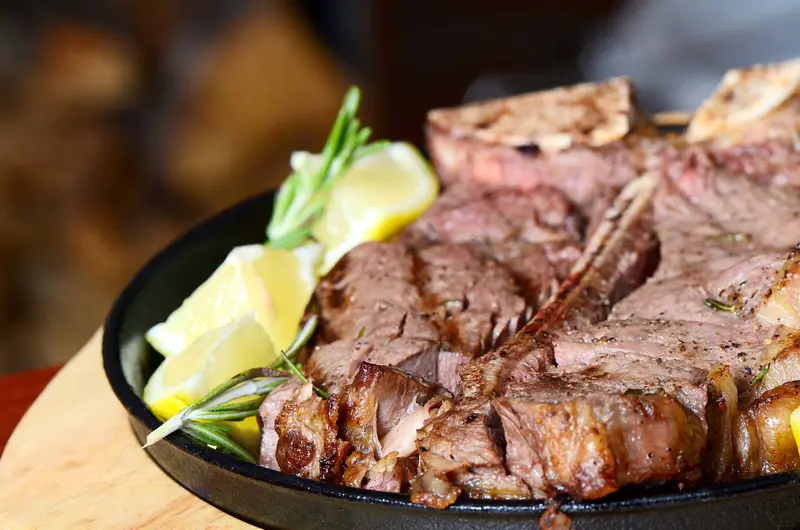 Cordero a la estaca, Photo: Copyright © Sisterscom.com / Depositphotos
Meat is also an important element in Asturian cuisine. Cordero a la estaca, for example, is a lamb dish that is slowly cooked while cochinillo asado, a dish made from pork, is another specialty of the region.
What to eat in Oviedo
Oviedo is a city full of restaurants and bars that offer typical dishes of Asturias. One of the most popular places to eat in Oviedo is the Gascona area, known as "La Ruta de los Vinos" (the wine route), where you can taste traditional dishes accompanied by cider.
To start the day, many places serve churros y chocolate for breakfast, a meal consisting of fried doughnuts served with a cup of dense and creamy hot chocolate.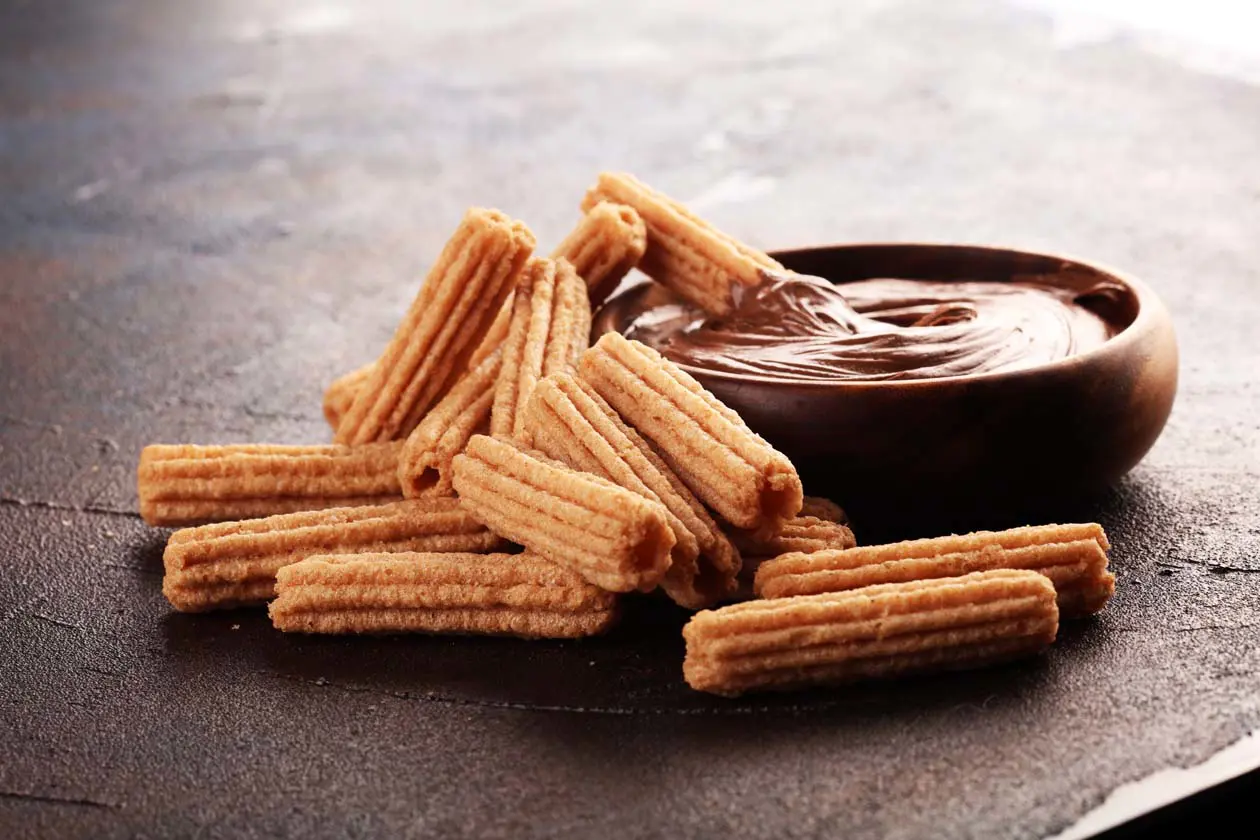 Desayuno churros y chocolate, Photo: Copyright © Sisterscom.com / Depositphotos
The Spanish lunch menu, known as "menú del día," is an excellent option to taste local cuisine and includes a choice of appetizers, a main course, a dessert, and a drink. You can often choose between dishes such as fabada asturiana, cordero a la estaca, or cochinillo asado.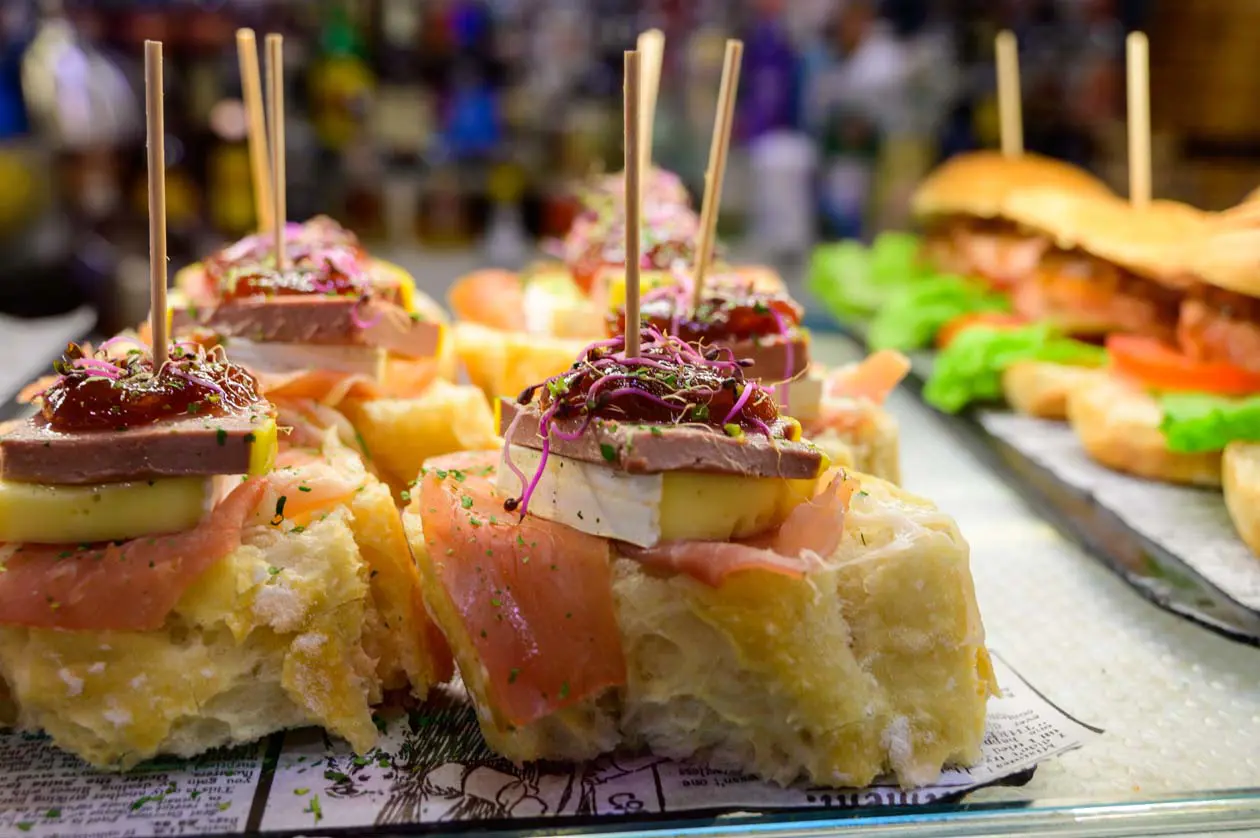 Tapas, Photo: Copyright © Sisterscom.com / Depositphotos
Tapas, one of the most popular traditional dishes in Spain, are small portions of food of different varieties of dishes to be enjoyed together with a glass of cider, beer, or Cangas wine. One of the most common tapas in Oviedo are Pinchos, small snacks served on a slice of bread prepared with various ingredients, including ham, cheese, tuna, sausage, and potatoes. In addition, it is common to find patatas bravas, spicy fried potatoes served with a spicy sauce.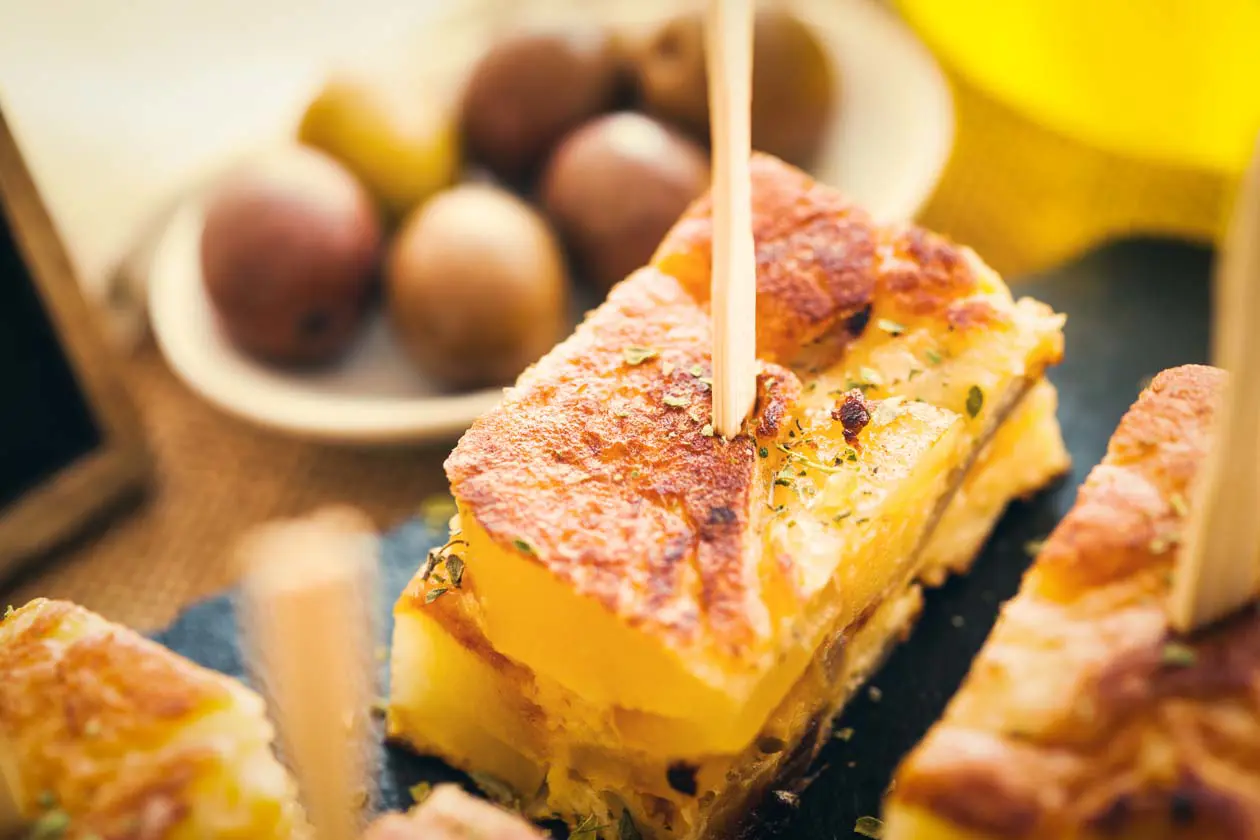 Tapas, Photo: Copyright © Sisterscom.com / Depositphotos
Another popular tapa in Oviedo is tortilla de patatas, a potato and onion omelet served in small cubes and accompanied by a slice of bread with tomato sauce. It is also common to find tapas based on cheese, such as queso cabrales, a local cheese with a soft texture and a strong flavor served with a slice of bread and honey.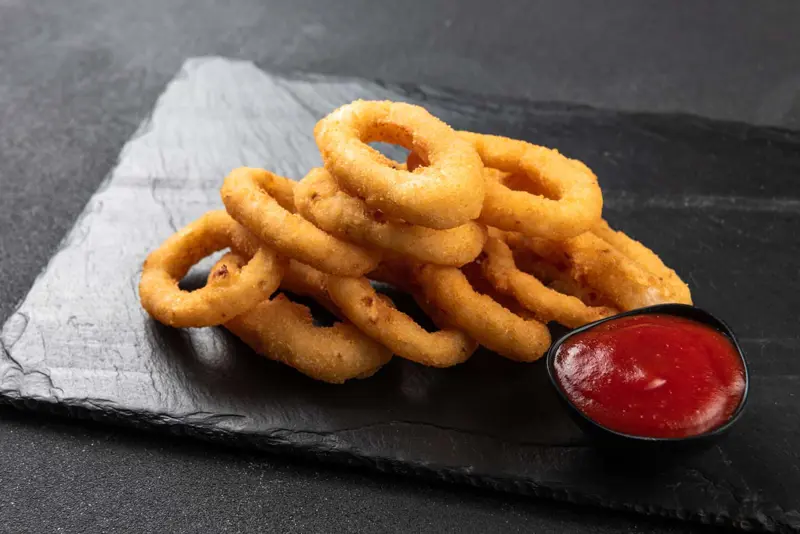 Chipirones, Photo: Copyright © Sisterscom.com / Depositphotos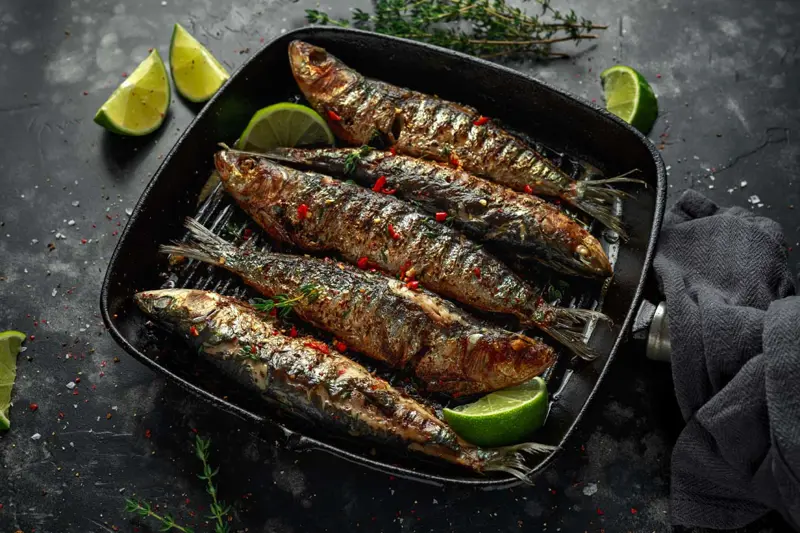 Sardinas asadas, Photo: Copyright © Sisterscom.com / Depositphotos
As for seafood dishes, in Oviedo you can taste chipirones (calamari fried in batter) or sardinas asadas (grilled sardines with a bit of salt and olive oil).
OVIEDO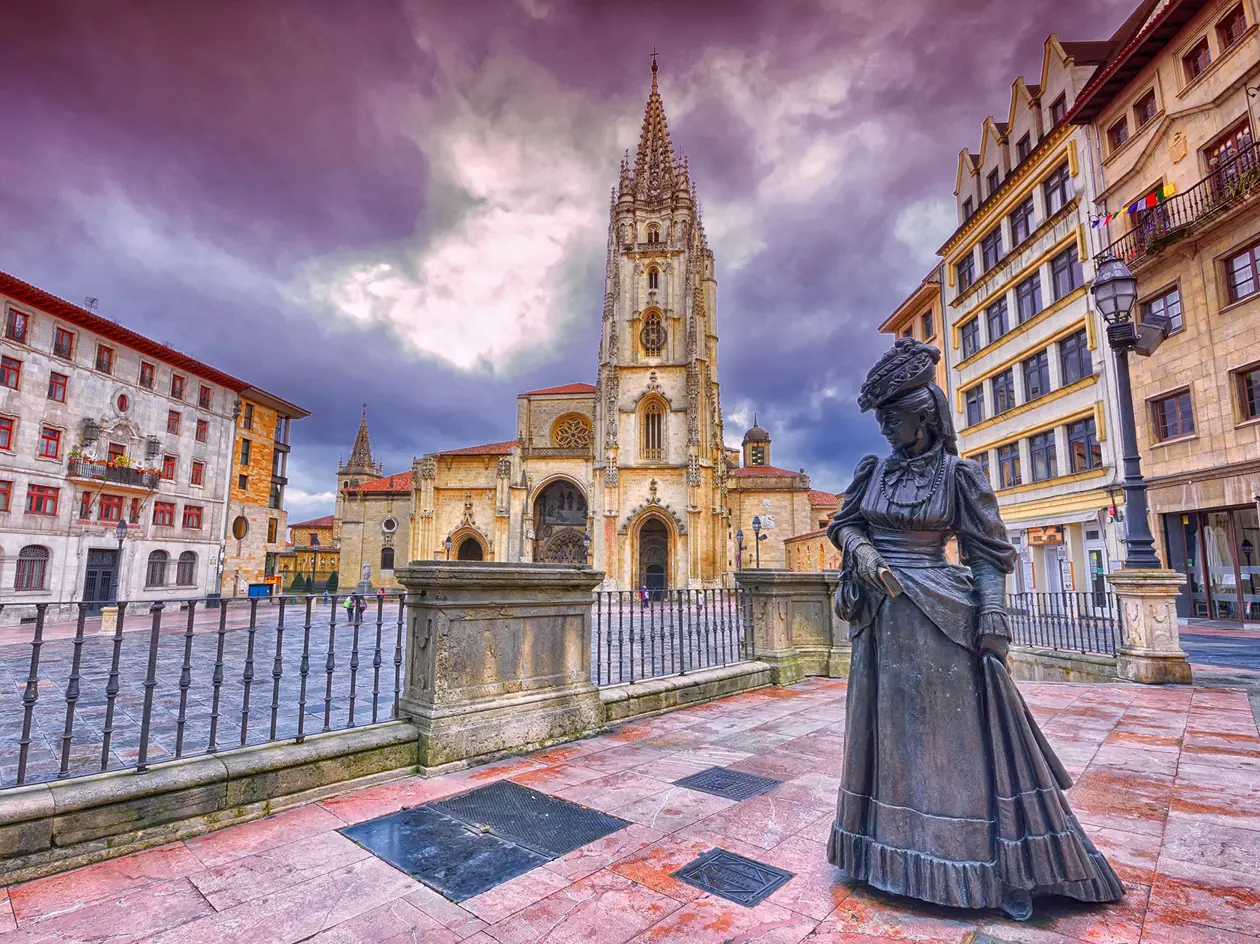 The Cathedral of San Salvador in Oviedo Photo: Copyright © Sisterscom.com / Depositphotos
Sponsored content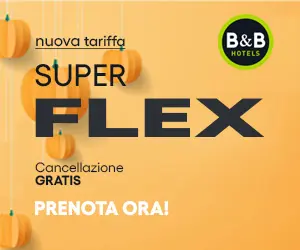 The
B&B Hotels
in Oviedo is located in a quiet location in the residential area of La Fresneda, a five-minute walk from Principado Park and 700 meters from Fresneda station.
THE UNESCO HERITAGE OF VAL DI NOTO
In southeastern Sicily, there are eight late Baroque cities
that have been included in the UNESCO World Heritage since 2002.
This area of the island represents the highest expression of Late Baroque in Europe and is characterized by sumptuous palaces, churches with precious interiors, intricate facades, and urban layouts built in a unique style. The eight cities in this site are Caltagirone, Militello Val di Catania, Catania, Modica, Noto, Palazzolo, Ragusa, and Scicli, all of which were rebuilt after the devastating earthquake of 1693.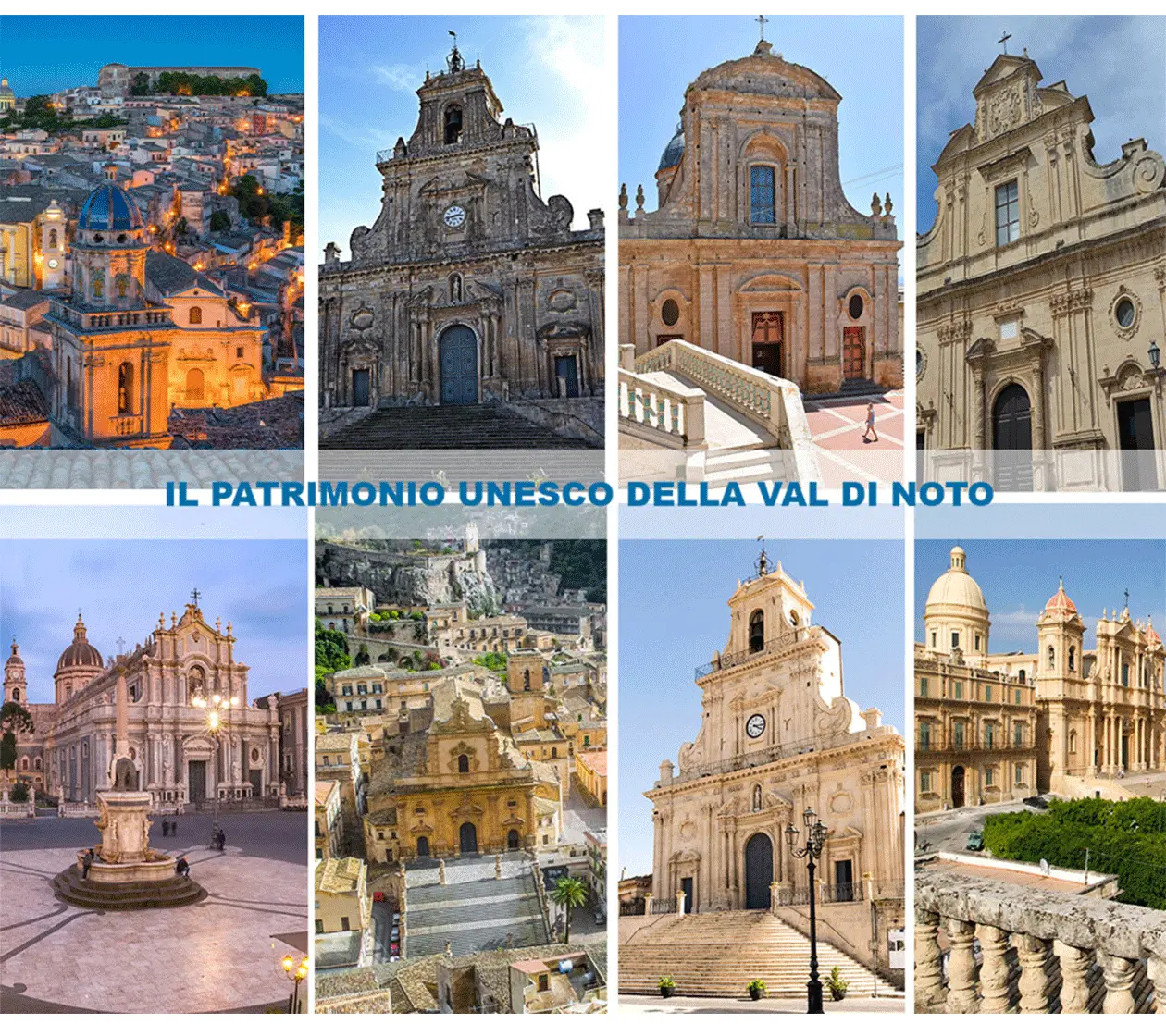 The UNESCO heritage of Val di Noto. Avion Tourism Magazine. Photo © Sisterscom.com / Depositphotos
The result was the rebirth of cities that are true masterpieces of 17th-century Late Baroque architecture, where the Baroque architectural style varies from city to city based on the different materials used for reconstruction: dark grey lava stone prevails in Catania, while local stone with its characteristic honey color is used in Noto.
Video UNESCO World Heritage Sites - Val di Noto © Copyright Treccani
The historic centers of Caltagirone, Noto, and Ragusa are entirely worth exploring and represent, with their churches and palaces, the triumph of Sicilian Late Baroque, while in Catania and Scicli, there are some urban areas that are part of the site, such as the Piazza Duomo of Catania with the Town Hall and the Norman Cathedral, or the Via Mormina Penna, rich in eighteenth-century palaces, and the famous Beneventano Palace in Scicli.
In Modica, Palazzolo Acreide, and Militello Val di Catania, some isolated monuments are part of the site, such as the Cathedral of San Giorgio in Modica, the Church of San Sebastiano in Palazzolo Acreide, and the Monastery of San Benedetto in Militello Val di Catania.
Recommended tours in Val di Noto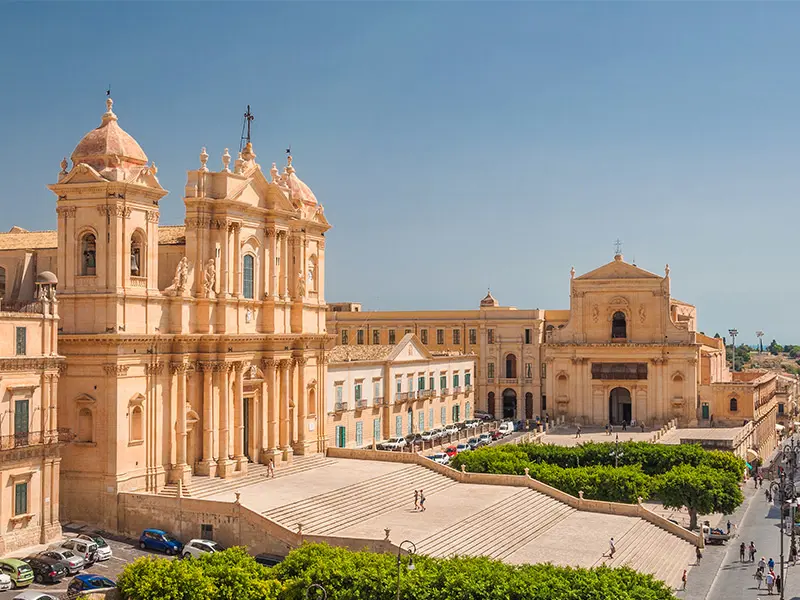 Baroque tour of Noto,
Modica, and Ragusa
A day in the heart of Sicilian Baroque departing from Catania, with pick-up and transportation in air-conditioned car or minivan.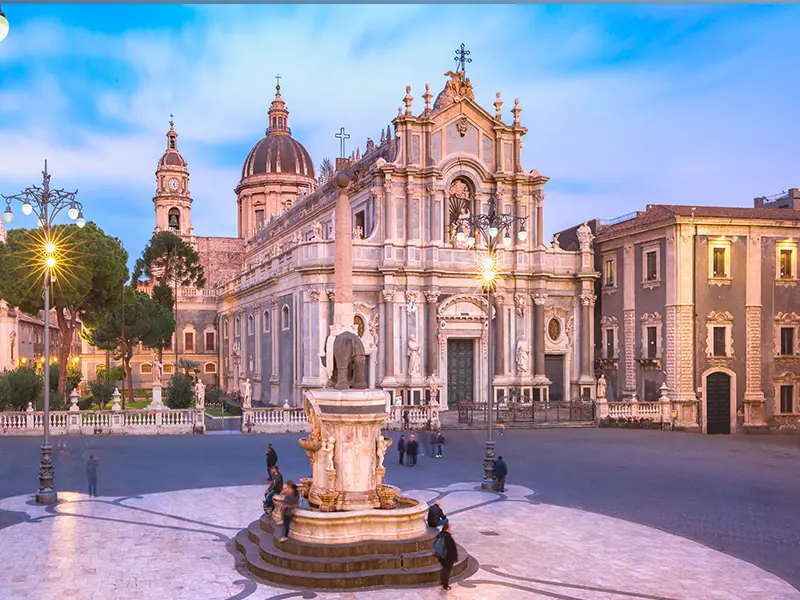 Walking tour
of Catania's main attractions
A guided walk through the city center to discover the history, squares, and monuments of Sicilian Late Baroque.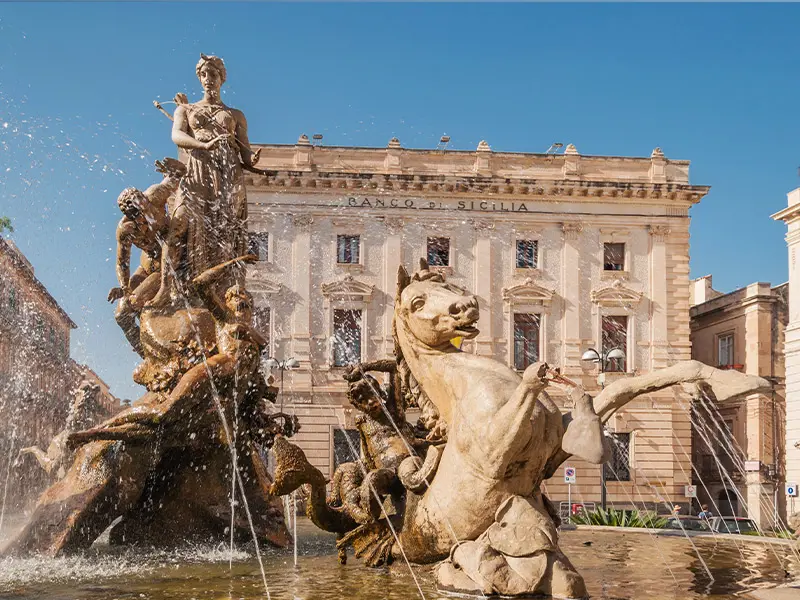 One-day tour from Catania
to Syracuse, Ortigia, and Noto
Visit Greek and Roman monuments of the Neapolis Archaeological Park, island of Ortigia, and Baroque palaces and churches of Noto.
Sponsored content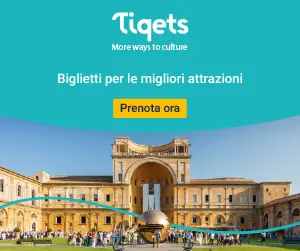 Visit the
Tiqets
website to find activities to do in Catania or visit the city's most beautiful attractions, including castles, ancient theatres, museums or archaeological parks.
CATANIA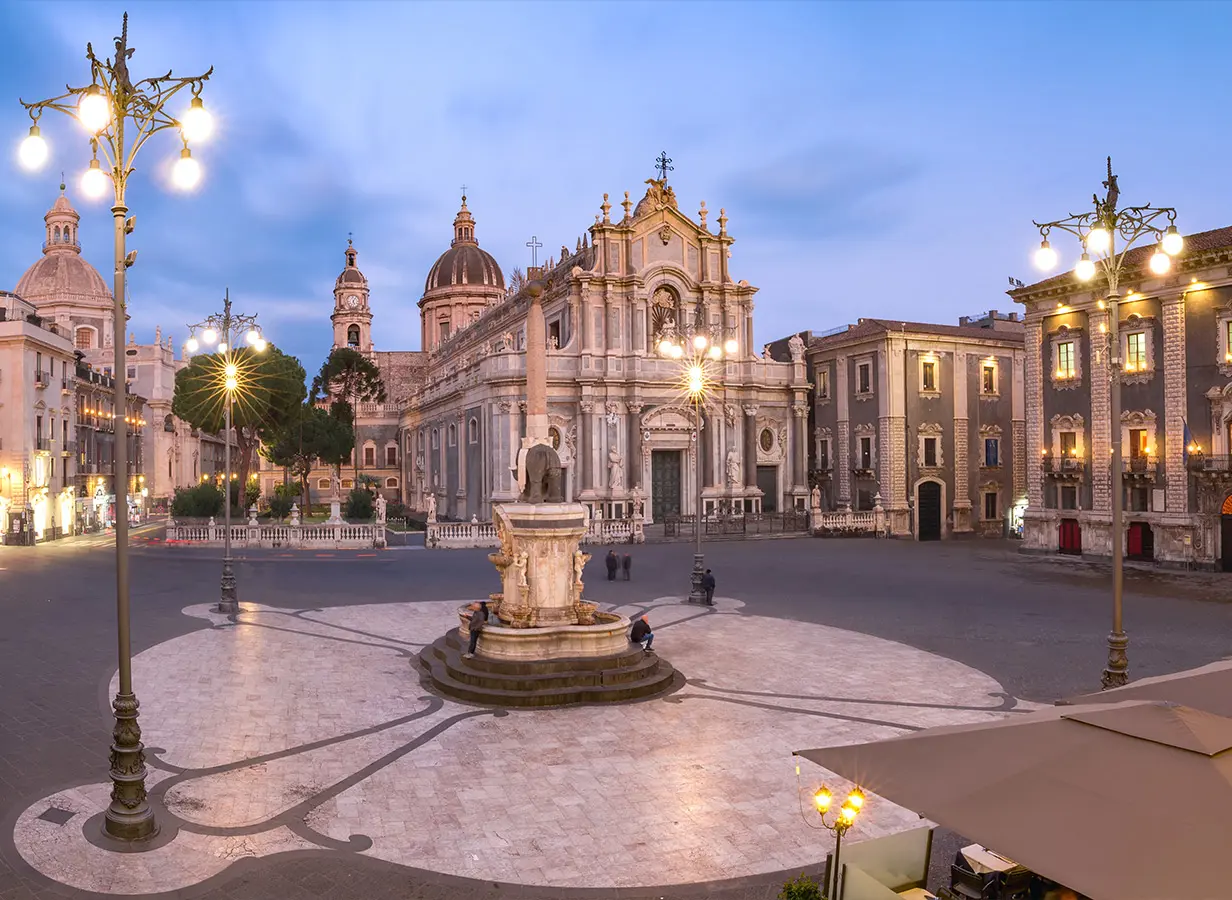 Catania Photo: Copyright © Sisterscom.com / Depositphotos
Sponsored content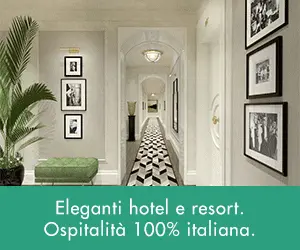 The
UNA Group's Palace Catania hotel
is located in the city center and offers a spectacular view of Mount Etna. A modern, luxury hotel with a Turkish bath, a fitness room and two elegant restaurants.
The Html digital edition of Avion Tourism Magazine enables anyone to read the contents published on any device and access the website pages and multimedia content. It can be read vertically, scrolling the articles DESTINATIONS, AIRPORTS, AIRLINES, NEWS & USEFUL INFO and horizontally, passing directly from one item to another in the navigation menu found under the header or by clicking on the BLUE ARROWS < >. After reading the in-depth articles proposed, you can return to the Html digital version of the magazine by clicking on the relevant key "RETURN TO AVION TOURISM MAGAZINE". During offline reading mode, it will not be possible to access the multimedia content and in-depth articles of the magazine, which will become available again as soon as the connection is restored.
Avion Tourism Magazine N77/2023 Special Edition for Milan Bergamo Airport
Issue closed by Editorial Staff on 14 April 2023
Editor in chief: Angela Trivigno. Contributors: Alisè Vitri, Enzo Cuppatri, Lisa Maria River, Nicole Villa, Nicolò Villa. Cover photo: Copyright © Sisterscom.com Snc / DedMityay / Depositphotos.com. Photos: Copyright © Sisterscom.com Snc with image usage license purchased from Shutterstock.com and Depositphotos.com (Photo for editorial use only. Credits specified under each published photo or video). Press Office: visitdubai.com, visitbergen.com, goisrael.it, atout-france.fr, turismoasturias.es, visitbergamo.net; Sacbo S.p.A.. Avion Tourism Magazine Special Edition for Milan Bergamo Airport N.77/2023: issue closed by Editorial Staff on 14/04/2023 and published on www.aviontourism.com Registration: Registered at Bergamo Law Court Bergamo N.1 of 09/01/2003 and N.9/2019 of 03/07/2019. Periodicity: semiannual. Publisher, Editing, Administration and Advertising: Sisterscom.com Snc - Via Piave, 102 - 23879 Verderio (Lc) - Italy. P.Iva/C.F. 03248170163 - Registro delle Imprese di Lecco Numero LC-304260. Literary and artistic property: Copyright © Sisterscom.com Snc. All rights reserved. Reproduction prohibited in any form and medium.