"Everything has beauty, but not everyone sees it".
Confucius
Editorial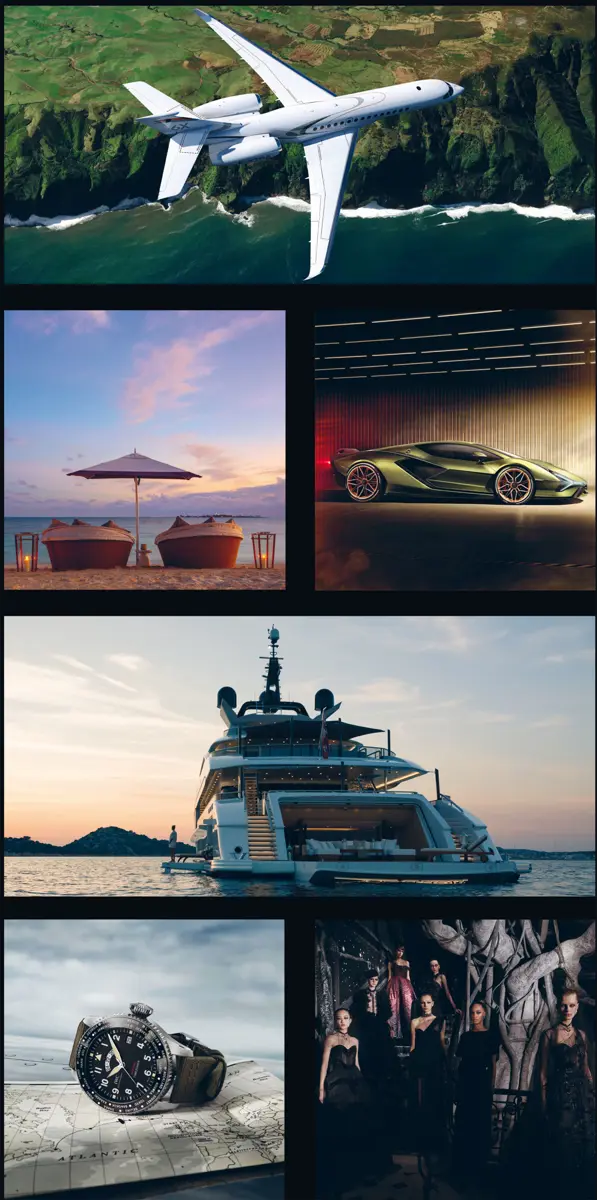 Out with the old, in with the new. Innovation today is accompanied by an unprecedented can-do approach, which demands competence, knowledge, experience and technological vision while remaining open to change and looking to the future. In areas of excellence, emerging trends and advanced technologies are inspiring confidence because they also pay special attention to values and on making the least possible impact on the planet. Strong foundations from which to begin or flourish: high quality, limited production, attention to detail, precision, business ethics and construction skills are just some of these values. The latest offers for crossing the skies are jets with enhanced performance, which emit less pollution but have exquisite details in both their exterior and interior design, for discerning, conscientious customers. Distances seem reduced thanks to increasingly faster speeds; passengers are taken ever further in the shortest time possible, pampered in the cocooned, quiet cabins of jets equipped with every amenity, including faster and better quality connections, even among the clouds; new, comfortable and unrivalled jets developed thanks to incredible skills. Projects to develop environmentally friendly and efficient mega-yachts are also on the increase. Yachts that make their debut at yacht shows, which are powered by hybrid propulsion systems to save fuel and reduce noise levels, and designed to sail for the most part in hybrid mode with their engines off. With dynamic, modern designs, they can be customised for owners who want to enjoy life on the waves in total privacy in an intimate, cosy environment, distinguished by a timeless elegance and tailored furnishings. The latest supercars feature vintage inspiration, highly customizable style details and advanced hybrid technology, but the spotlight is focussed on the sector of four-wheel drive vehicles where the first fully electric models have begun to appear, indicating, at last, that the era of electric mobility has begun. Thus, cars are becoming increasingly innovative, exciting, but place the focus on sustainability. There has been a welcome return to precious Haute Horlogerie timepieces that, in this fast-paced digital era, require you to pay greater attention to time, which seems to fly by at ever increasing speeds. These watches require you to stop and savour each moment, offering a calm pleasure that is revealed through observation, observation of a handmade item, of timeless details, of the art of engraving and inlay: the fruit of artisan craftsmen. A pause to appreciate the beauty of small details that define great masterpieces, unique and collectible, to wear on the wrist. Moments of sheer beauty that women can enhance with exclusive High Jewellery pieces, precious creations with rare gems, exclusive and wearable artistic creations. To be worn with the creative proposals of the Haute Couture fashion houses, which are tailored and made by hand by ateliers of excellence, who with their creations, reveal today's innovations, at times even transcending them or projecting them into the near future, but always interpreting them through the values of knowledge, tradition, art and culture, thanks to the inestimable ability of embroiderers and artisans who represent the epitome of man's ability to create, admirably revealed in exquisite collections.
Angela Trivigno
NOTES ON THE HTML EDITION
The new HTML digital edition of Avion Luxury Magazine enables anyone to read the contents published on any device and access the website pages and multimedia content. It can be read vertically, scrolling the articles DESTINATIONS, BUSINESS & GENERAL AVIATION, and LIFESTYLE, and horizontally, passing directly from one item to another in the navigation menu found under the header. After reading the in-depth articles proposed, you can return to the HTML digital version of the magazine by clicking on the relevant key.
Avion Luxury Magazine #23/2019
Editor in Chief: Angela Trivigno. Contributors: Franco Bruno, Alex D'Agosta, Lisa Maria River, Francesco Salerno, Alisè Vitri. Translations: Juliet Halewood. Photos contributors & Press Offices: A. Lange & Söhne; Acqua di Parma; Alia Yachts (Photos Credits Jeff Brown); Aston Martin Lagonda Limited; Automobili Lamborghini S.p.A.; Aviazione Generale Aeroporto Cagliari; Baglietto S.p.A.; Beauty and Luxury; Benetti - Azimut Benetti S.p.A.; Bentley Motors Ltd; Bugatti Automobiles S.A.S.; Camille Vivier for Dior (Dior Haute Couture); Cessna Aircraft Company/Textron Aviation Inc.; Chanel Haute Couture; de Grisogono S.A.; Dessault Aviation/Dessault Falcon Jet Corp.; Dior Haute Couture; Dior High Jewellery; Dior; Dolce & Gabbana S.r.l.; Eccelsa Aviation S.r.l.; Embraer Executive Jets; Estée Lauder Companies (London); Ferrari S.p.A.; Gaultier Paris Haute Couture; G.E.T. Grace Executive Tourism; Georges Chakra Haute Couture; Giorgio Armani Privé; Givenchy; Grazia Lotti Relazioni Pubbliche; Gruppo Lvmh; Guerlain; Gulf Craft; Gulfstream Aerospace Corporation/General Dynamics Company; Guo Pei Paris Haute Couture; Harry Winston Timepieces; IWC Schaffhausen; Jaeger-LeCoultre/Richemont International SA; La Prairie S.p.A.; MB&F SA; Passaparola Relazioni Pubbliche; Piaget (Richemont Italia S.P.A.); Pininfarina S.p.A. Head of Communication; Porsche Italia S.p.A./Dr. Ing. h.c. F. Porsche AG.; Pressjam Snc; PressReader/NewspaperDirect Inc.; Ralph & Russo Haute Couture; Roger Dubuis; Rolex Italia S.p.A.; Rosewood Hotels/Rosewood Baha Mar; Sand People Communication; Sculati & Partners; Sea Prime S.p.A.; Shutterstock, Inc.; Sky Services S.p.A.; TAG Farnborough Airport; Tankoa Yachts S.p.A.; Tiffany & Co.; Tom Ford Beauty; Tom Kuest/Shutterstock; Ufficio Stampa Richard Mille; Universal Weather and Aviation, Inc.; Vacheron Constantin/Richemont International SA; Viktor&Rolf Haute Couture; Yannis Vlamos for Gaultier Paris Haute Couture; Ziad Nakad Haute Couture (Imaxtree for Méphistophélès). Sisterscom.com Snc photos archive: licenza acquistata da Shutterstock Inc./Shutterstock.com: © Copyright Chz_mhOng; Tom Kuest. Frequency semiannual (Winter 2019-2020). Avion Luxury Magazine N23/2019-2020, published 31/11/2019. Registration Tribunale di Bergamo (Italy) N5 27/02/2009 and N6 3/07/2019 Registro Stampa. Publisher, Management, Administration ans Advertising: Sisterscom.com Snc di Annalisa e Angela Trivigno - Via Piave 102, 23879 Verderio (LC) Italy. Registro delle Imprese di Lecco - Numero LC-304260 - P. IVA/C.F. 03248170163. Literary and artistic property: © Copyright Sisterscom.com Snc. All rights reserved. Reproduction prohibited.