Rosewood Baha Mar.
Exclusive resort in the heart of the Bahamas
An elegant retreat, Rosewood Baha Mar offers a unique holiday celebrating the island's local traditions with elegance in a welcoming destination that is ideal for sharing special moments and creating memories that last a lifetime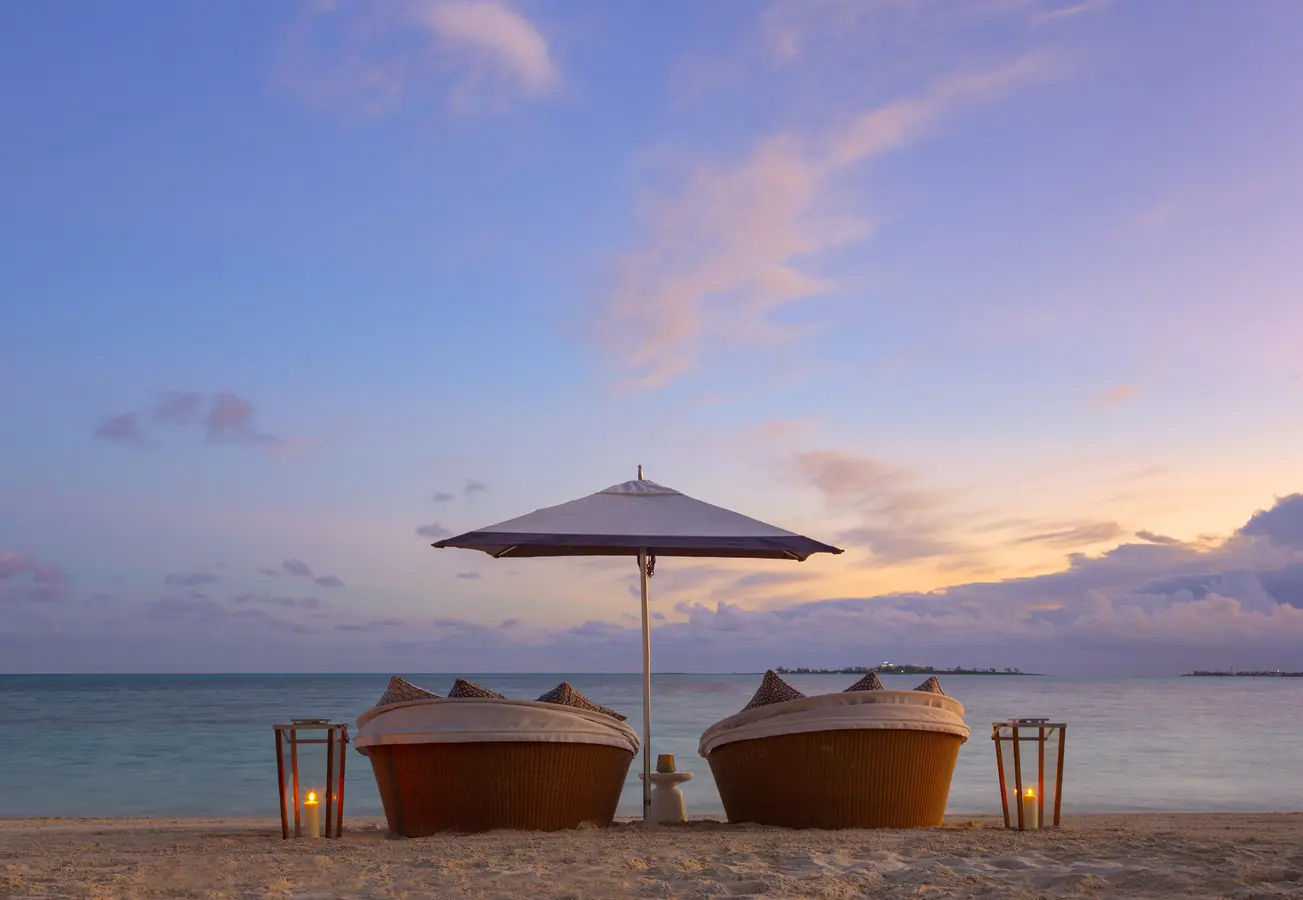 Copyright © Rosewood Baha Mar.
Copyright © rosewoodhotels.com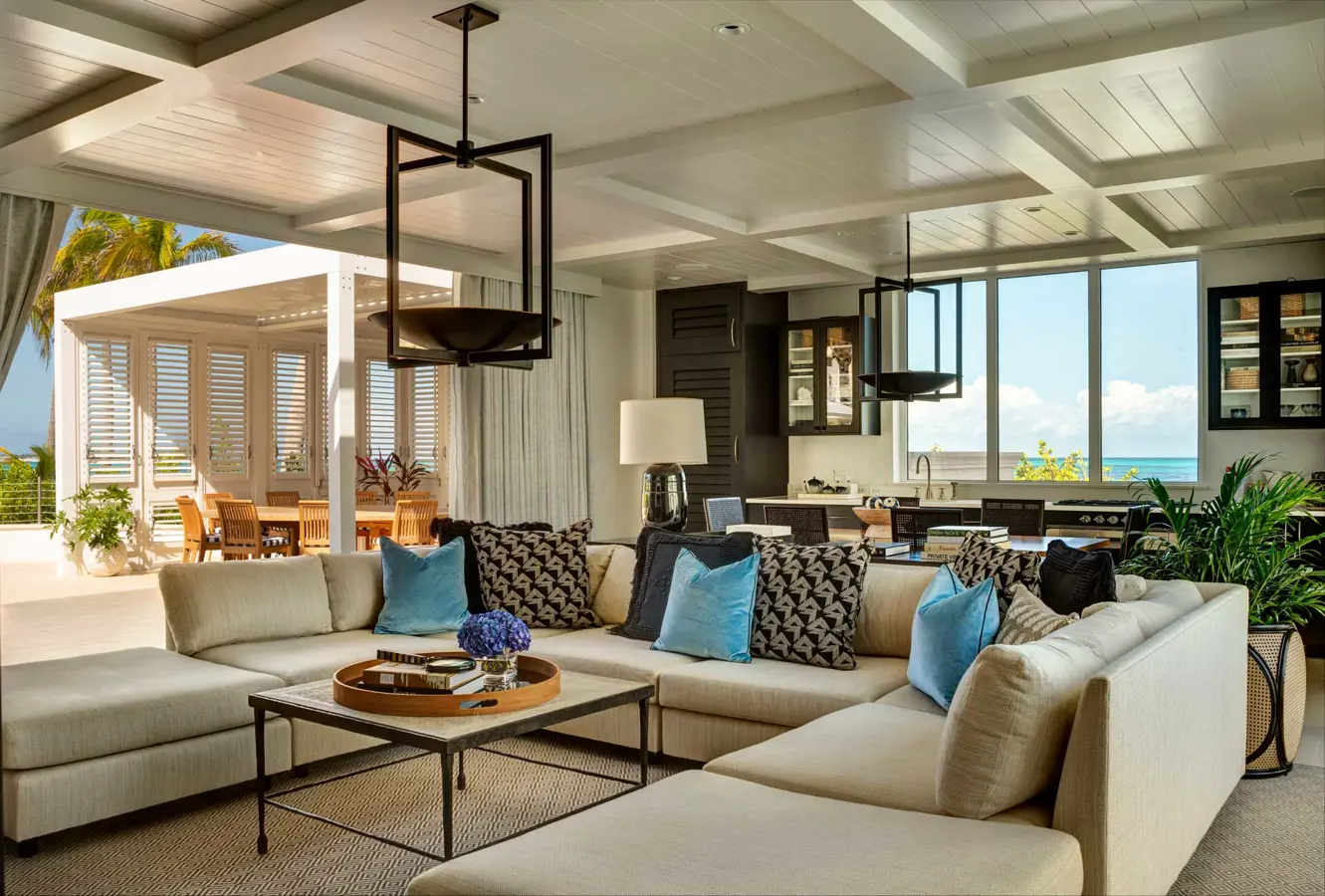 Copyright © rosewoodhotels.com
The Resort, sitting a stone's throw from the sea among the pristine white sands of Cable Beach on the island of New Providence, one of the most beautiful in the Bahamas, is an exclusive retreat within the residential complex of Baha Mar, set in a peaceful environment and surrounded by lush gardens. For discerning travellers who love unique experiences, it offers 233 exquisitely designed rooms and suites, 185 of which are beachfront, and four large luxurious villas set on the beach, three of which have three bedrooms and one with six bedrooms for exceptional barefoot seclusion, equipped with special luxury amenities, butler and private plunge pool. The sophisticated and exceptionally private accommodation takes its inspiration from the relaxed rhythm of the island, its palette of light colours ranging from blue and coral to lavender and the island's sunsets. Five fine dining experiences in the resort's two restaurants and three lounge bars, which offer both international and local cuisine, exclusive access to the beach and the Sense® Spa with a complete range of gentle therapies and Bahamian-inspired treatments complete this wonderful stay. The resort is an oasis of exclusivity within easy access not only of nearby Nassau, the capital and beating heart of the Bahamas, but also the well-known destinations of Lyford Cay, Old Fort and Albany. From Rosewood Baha Mar, it is easy to explore the coast by sea, taking a trip to the nearby islands thanks to the impeccable organisation of the resort.
Sponsored content
The Villiers network aggregates over 10,000 aircraft, through 40,000 destinations worldwide. Search and compare private jets worldwide with
Villiers
.

Avion Luxury Magazine #23/2019
Editor in Chief: Angela Trivigno. Contributors: Franco Bruno, Alex D'Agosta, Lisa Maria River, Francesco Salerno, Alisè Vitri. Translations: Juliet Halewood. Photos contributors & Press Offices: A. Lange & Söhne; Acqua di Parma; Alia Yachts (Photos Credits Jeff Brown); Aston Martin Lagonda Limited; Automobili Lamborghini S.p.A.; Aviazione Generale Aeroporto Cagliari; Baglietto S.p.A.; Beauty and Luxury; Benetti - Azimut Benetti S.p.A.; Bentley Motors Ltd; Bugatti Automobiles S.A.S.; Camille Vivier for Dior (Dior Haute Couture); Cessna Aircraft Company/Textron Aviation Inc.; Chanel Haute Couture; de Grisogono S.A.; Dessault Aviation/Dessault Falcon Jet Corp.; Dior Haute Couture; Dior High Jewellery; Dior; Dolce & Gabbana S.r.l.; Eccelsa Aviation S.r.l.; Embraer Executive Jets; Estée Lauder Companies (London); Ferrari S.p.A.; Gaultier Paris Haute Couture; G.E.T. Grace Executive Tourism; Georges Chakra Haute Couture; Giorgio Armani Privé; Givenchy; Grazia Lotti Relazioni Pubbliche; Gruppo Lvmh; Guerlain; Gulf Craft; Gulfstream Aerospace Corporation/General Dynamics Company; Guo Pei Paris Haute Couture; Harry Winston Timepieces; IWC Schaffhausen; Jaeger-LeCoultre/Richemont International SA; La Prairie S.p.A.; MB&F SA; Passaparola Relazioni Pubbliche; Piaget (Richemont Italia S.P.A.); Pininfarina S.p.A. Head of Communication; Porsche Italia S.p.A./Dr. Ing. h.c. F. Porsche AG.; Pressjam Snc; PressReader/NewspaperDirect Inc.; Ralph & Russo Haute Couture; Roger Dubuis; Rolex Italia S.p.A.; Rosewood Hotels/Rosewood Baha Mar; Sand People Communication; Sculati & Partners; Sea Prime S.p.A.; Shutterstock, Inc.; Sky Services S.p.A.; TAG Farnborough Airport; Tankoa Yachts S.p.A.; Tiffany & Co.; Tom Ford Beauty; Tom Kuest/Shutterstock; Ufficio Stampa Richard Mille; Universal Weather and Aviation, Inc.; Vacheron Constantin/Richemont International SA; Viktor&Rolf Haute Couture; Yannis Vlamos for Gaultier Paris Haute Couture; Ziad Nakad Haute Couture (Imaxtree for Méphistophélès). Sisterscom.com Snc photos archive: licenza acquistata da Shutterstock Inc./Shutterstock.com: © Copyright Chz_mhOng; Tom Kuest. Frequency semiannual (Winter 2019-2020). Avion Luxury Magazine N23/2019-2020, published 31/11/2019. Registration Tribunale di Bergamo (Italy) N5 27/02/2009 and N6 3/07/2019 Registro Stampa. Publisher, Management, Administration ans Advertising: Sisterscom.com Snc di Annalisa e Angela Trivigno - Via Piave 102, 23879 Verderio (LC) Italy. Registro delle Imprese di Lecco - Numero LC-304260 - P. IVA/C.F. 03248170163. Literary and artistic property: © Copyright Sisterscom.com Snc. All rights reserved. Reproduction prohibited.