Top range cars
A series of exciting new features for the latest collection of models presented at the end of 2019 in terms of power, luxury and sophistication, with details still rare among competitors. But even the highest segments have made the leap to electric cars.
By Alex D'Agosta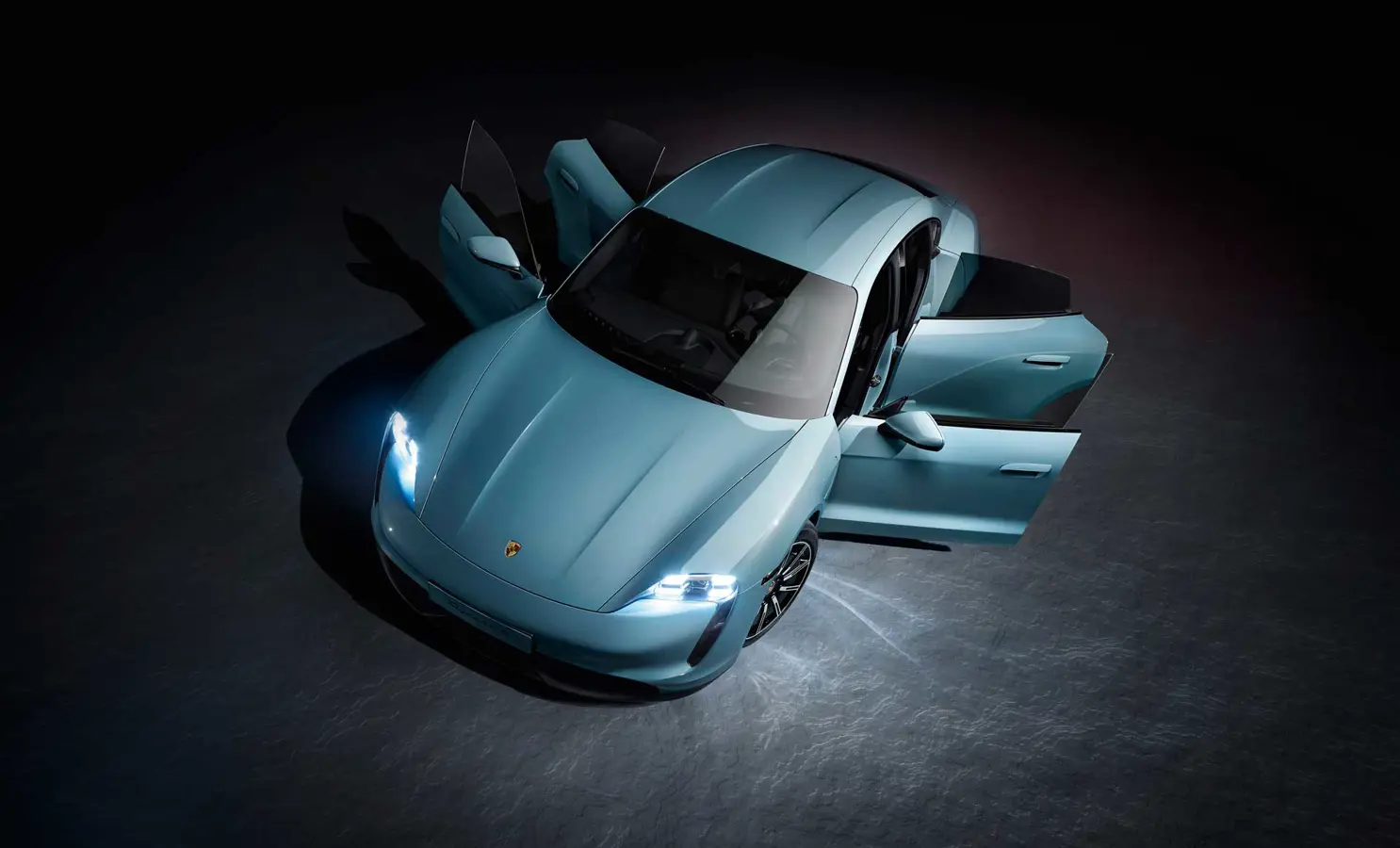 We'll be seeing Bill Murray, Dan Aykroyd and Sigourney Weaver in 2020 on the big screen in the new Ghostbusters. And Tom Cruise and Val Kilmer again in Top Gun. In the car world, after seeing the SUVs from Lamborghini, Rolls Royce and Bentley, with the announcement of the model from Ferrari, it seems we will be bowled over again. The "best" is still to come. Our "electric odyssey" has a history yet to be written. On "normal" cars, electric details have been seen for some time, but 2020 will be the year of the Porsche Taycan, Porsche's first full electric vehicle designed and created with sporting flair. It is a truly sporty saloon car with a coupé soul, combining the classic proportions of both, but with lines reminiscent of the 911. Apart from its design, the Taycan was developed to astonish, doing so by offering the usual versions produced by the brand, including a four-wheel drive vehicle, and keeping its traditional method of naming: therefore, there will be "turbo" models, even when a turbine does not exist. On this issue the super car of Porsche, Lamborghini, Bugatti, Aston Martin and Ferrari.
Yachts of excellence
New philosophies and enhanced values in yacht construction. Top shipbuilders are focussed on yachts with limited production runs, attention to detail, use of high-quality engineering and precision together with luxury, versatile design.
By Alex D'Agosta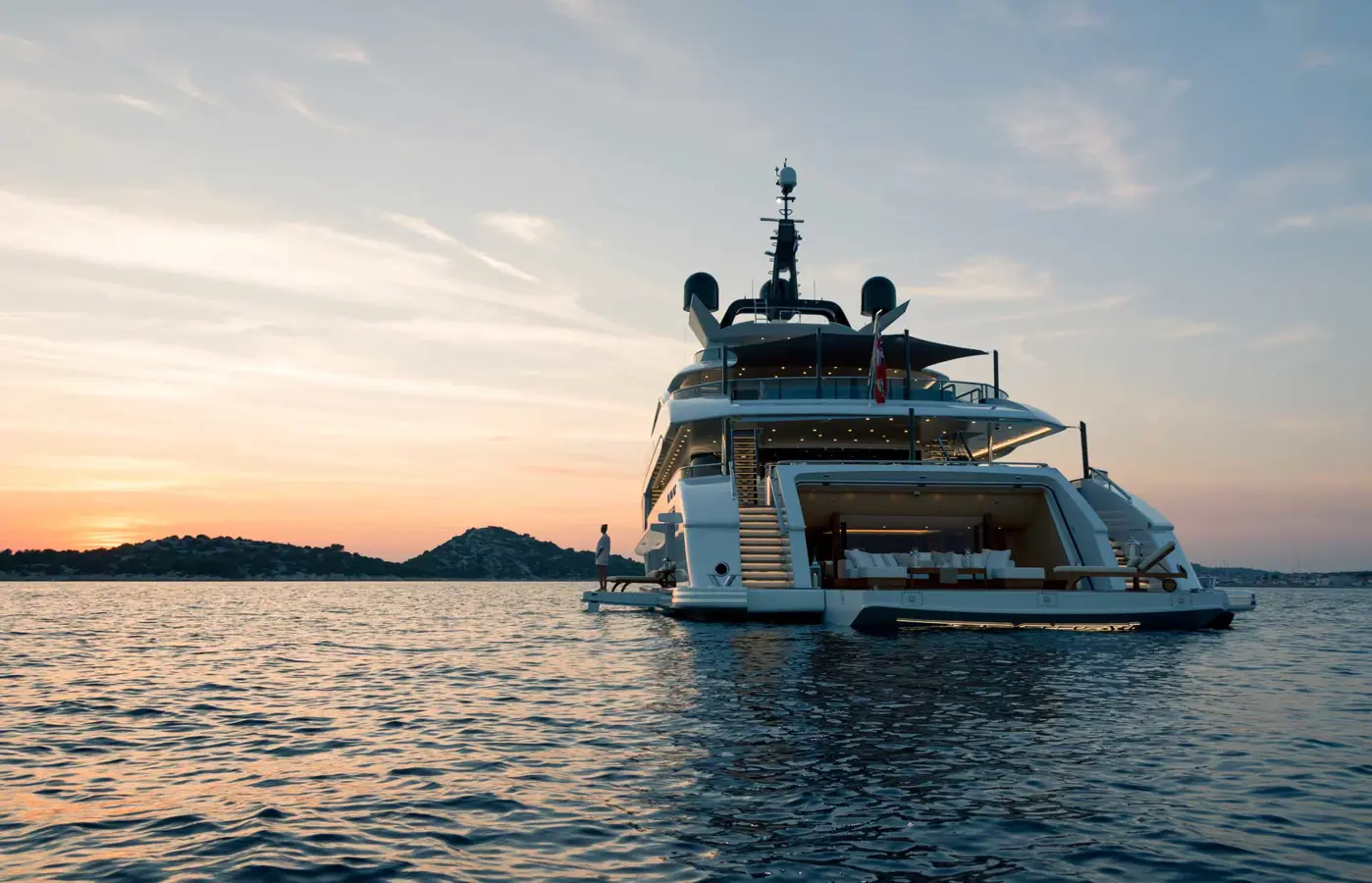 Copyright © Jeff Brown.
They are extravagant choices, they are a desire for opulence, they are a craving for uniqueness, they are technology and luxury combined in exclusive items accessible only to the few. They are mega, super and sometimes giga, predominately built in Italy, owned by people from all over the world, but often from Asia. They are the most beautiful yachts in the world, which each year become even more beautiful. With too many to review, selecting a few was challenging. Alia Yachts brings its significant yacht-building knowledge from Turkey. Over the years it has used increasingly acclaimed designers: the exteriors, for example, of the 60-metre Samurai are styled by Omega Architects, who also work with the superb Heesen Yachts as well as the Ferretti Group. The interiors are by Redman Whiteley Dixon. The unusual arrangement provides accommodation for 10 guests and a full-beam master suite on the main deck, but the fifth and most spacious guest cabin is on the bridge deck near the captain's cabin. Having already achieved success with a rental price of €400,000 a week, Alia revealed the yacht to the public 3 years after its launch. A very different offer, the Project Al Waab II is due for delivery in 2021 and boasts another important designer, the Danish Vripack. On this issue the mega yacht di Alia Yacht, Baglietto, Benetti, Gulf Yachts, Rossininavi and Tankoa.
When art interprets technique
Dynamic. Propositive. High horology crosses new boundaries. In the search for aesthetics and functionality. To determine the exact time. Always
By Francesco Salerno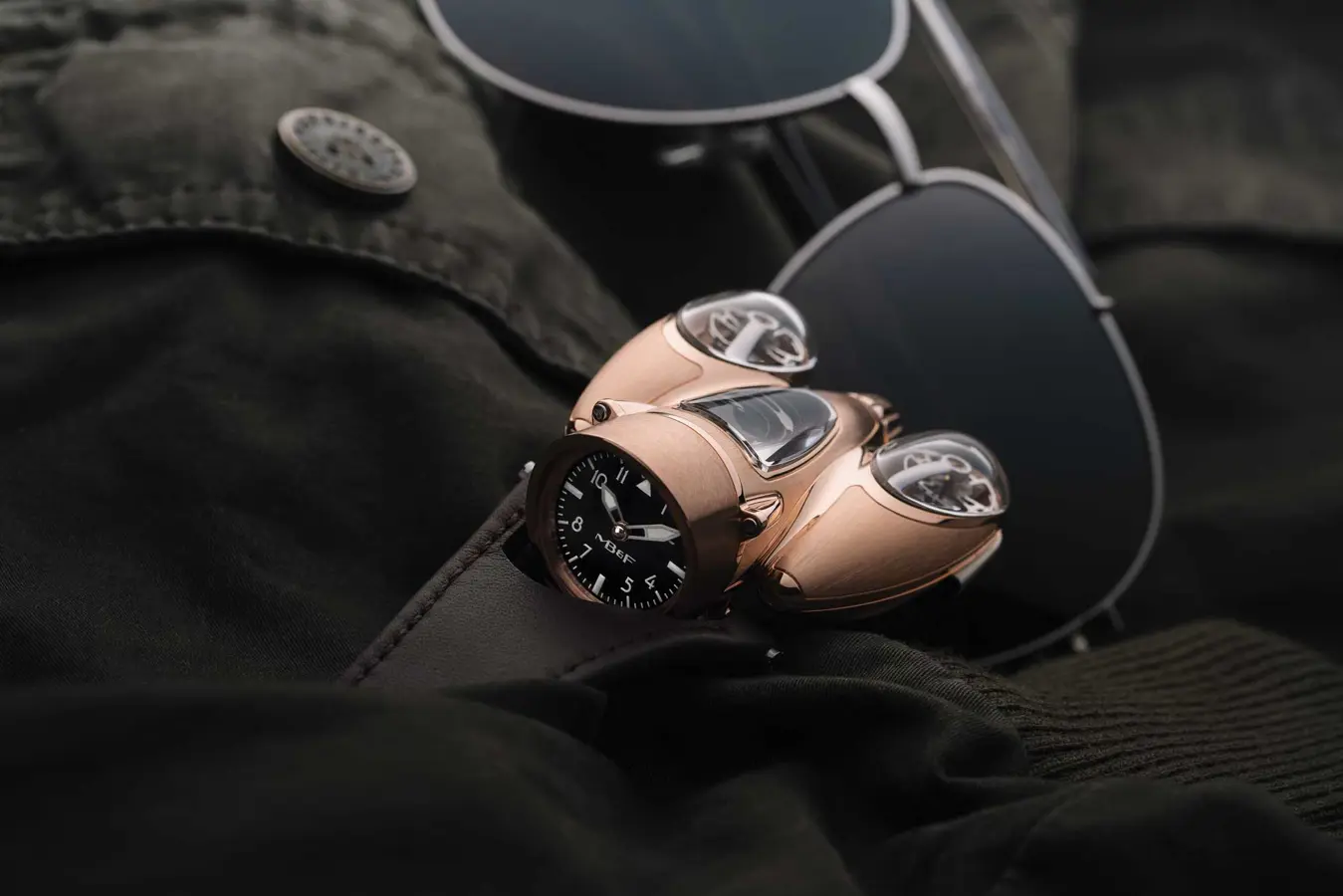 Horological Machine N°9 'Flow' di MB&F. Copyright © MB&F.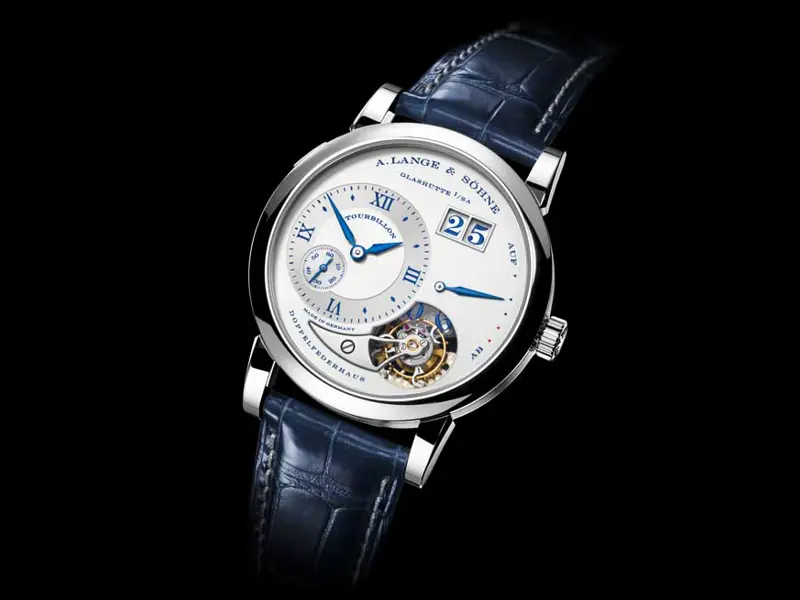 25th Anniversary, Lange 1 Tourbillon, A. Lange & Söhne. Copyright © A. Lange & Söhne.
Excalibur Spider Unique Series by Roger Dubuis. Copyright © Roger Dubuis.
New trends move forwards but look backwards. Experience linked to traditions. A noble heart. All the characteristics can be found in the Rolex Oyster Perpetual Day Date 36, with its iconic middle case made of 18k white gold, bezel with 52 brilliant-cut diamonds and dial radiating the rainbow colours of 10 baguette-cut sapphires, which conceals the Perpetual (Calibre 3255) movement with bidirectional automatic winding. Paying tribute to the first tourbillon debuted at the Paris Universal Exhibition of 1900, A. Lange & Söhne proposes the «25th Anniversary», Lange 1 Tourbillon. Presented in silver and blue, it has 38.5 mm white gold case that encloses a silvered dial and burnished silver hands. Inside, the calibre (L961.4) is precision-adjusted in five positions, while the outsize date is engraved in blue on the intermediate wheel cock. The tourbillon, held between two diamond endstones, is visible in an aperture on the dial and through the glass units disc. The Dior Grand Soir Reine des Abeilles No. 14 jewel timepiece, sparkling with white gold and paved with snow-set round-cut diamonds, features a bee on the dial with white mother-of-pearl orb and precious stones on yellow gold wings. On this issue the exceptional watches of Rolex, A. Lange & Söhne, Dior, Richard Mille, Dolce&Gabbana, Jaeger-LeCoultre, Harry Winston, Vacheron Constantin, IWC, MB&F and Roger Dubuis.
Autumn-Winter 2019/2020
By Lisa Maria River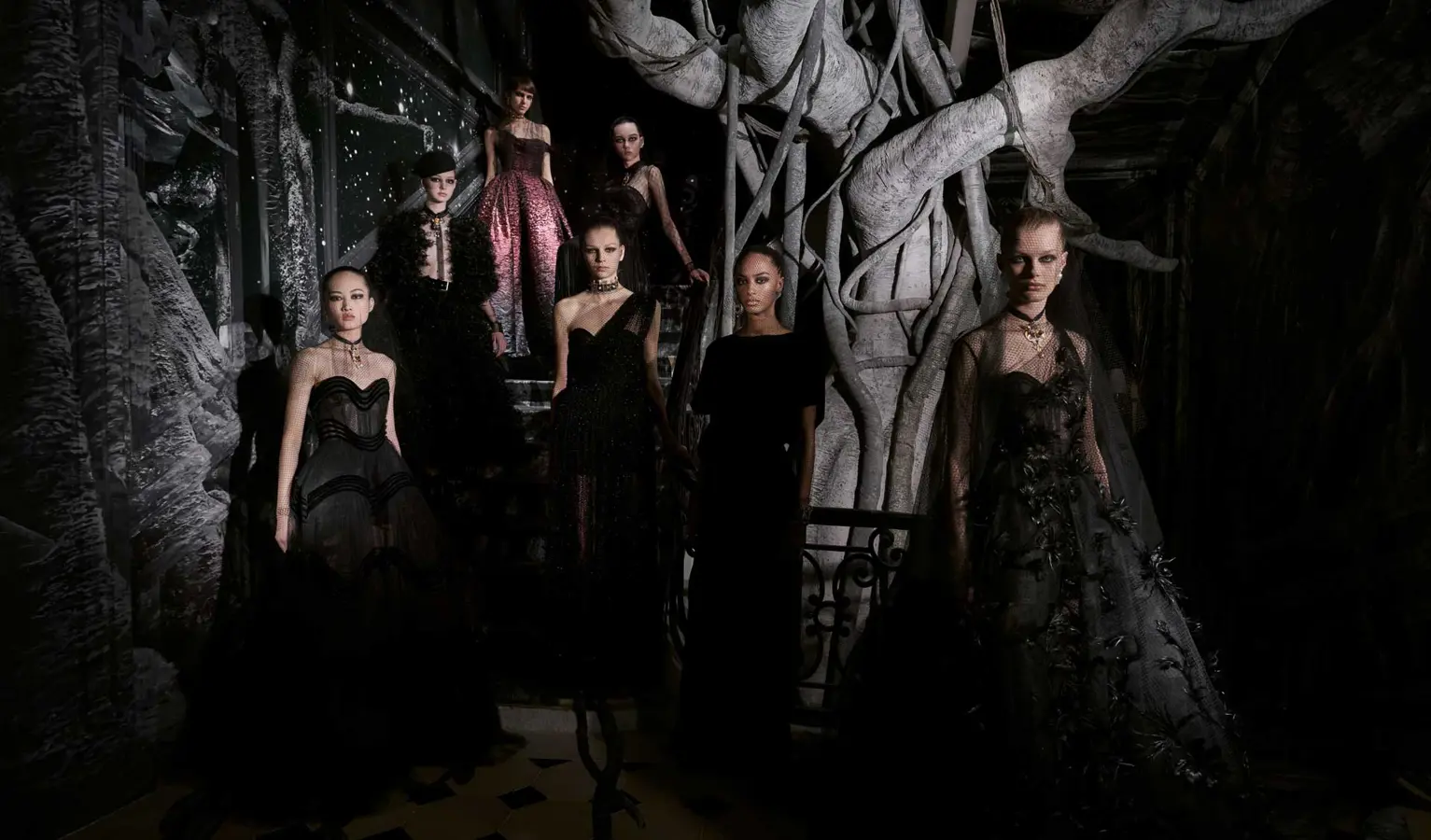 Dior Haute Couture Autunno-Inverno 2019-2020. Copyright © Dior.
Fall-Winter 2019/20 Haute Couture by Chanel. Copyright © chanel.com
Guo Pei Fall Winter 2019/20 Haute Couture. Copyright © guo-pei.fr
The Haute Couture collections for Autumn-Winter 2019/2020 clothe women with casual elegance using fluid forms and unique glamour. A new chic nonchalance enveloped in light, lithe volumes is highlighted by colours, as well as black and white, which are expressed using a strong, sensual language for women with bold personalities. The savoir-faire of ateliers is visible in every detail, from the raw materials - satin, tweed, wool, velvet, chiffon, linen, organza, lace, embroidery, feathers and pearls - to the tailored cuts with delicate, graceful lines. Femininity dances among dresses, trousers, skirts, blouses and warm coats. Exquisite details and cuts introduce a new approach to allure. On this issue the Haute Couture of Christian Dior, Chanel, Giorgio Amani Privé, Georges Chakra, Gaultier Paris, Ziad Nakad, Ralph & Russo, Viktor&Rolf and Guo Pei.
Haute Joaillerie de GRISOGONO. Copyright © de GRISOGONO.
The Mediterranean collection by de GRISOGONO comprises Haute Joaillerie creations in turquoise that conjure up the magnificence of the sea in all its intense reflections of turquoise blue or emerald green, which have been translated by the Geneva jeweller into sophisticated compositions. In the white gold necklace and ring, diamonds and natural turquoise gems are combined with amethyst or pink sapphires that evoke the richness of Mediterranean flora. Earrings display turquoise pendants, emeralds and blue sapphires that recall the waves of the ocean. On this issue the Haute Joaillerie by de GRISOGONO, Dior, Piaget and Tiffany & Co.
PARFUMES
By Alisè Vitri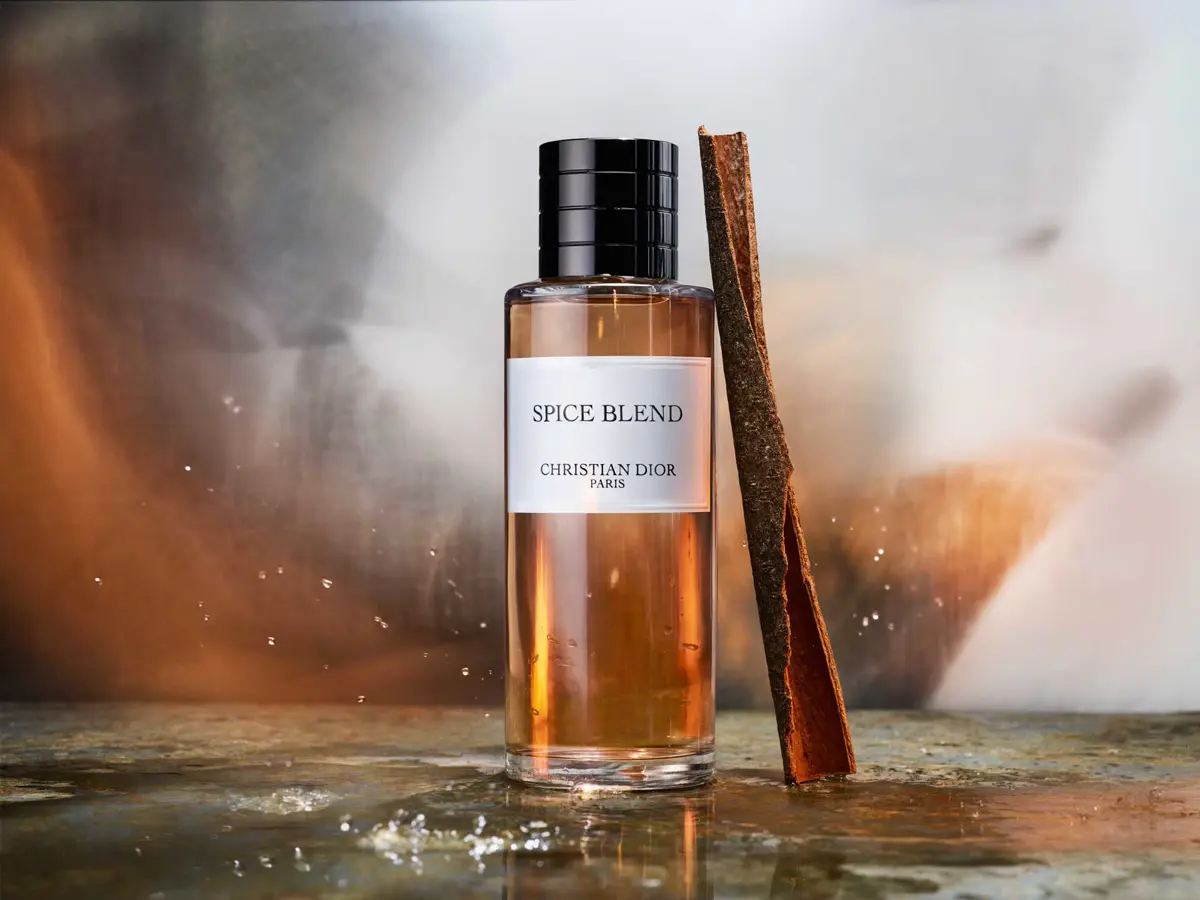 Maison Christian Dior. Spice Blend. Copyright © Dior.
Spice Blend is the olfactory translation of an exotic image gleaned from the childhood of François Demachy, Dior's Parfumeur-Créateur. The warm signature of this fragrance is highlighted by a surprising multitude of spices. Spice Blend has been created with rum absolute, extracted from Martinique rum. The fresh and piquant spicy blend includes legendary Bay St. Thomas from the Dominican Republic, which emanates an irresistible woody nuance. Maison Dior offers personalised creations with engraving on the fragrance bottle. On this issue the parfumes by Maison Christian Dior, Acqua di Parma, Tom Ford and Van Cleef & Arpels.
By Alisè Vitri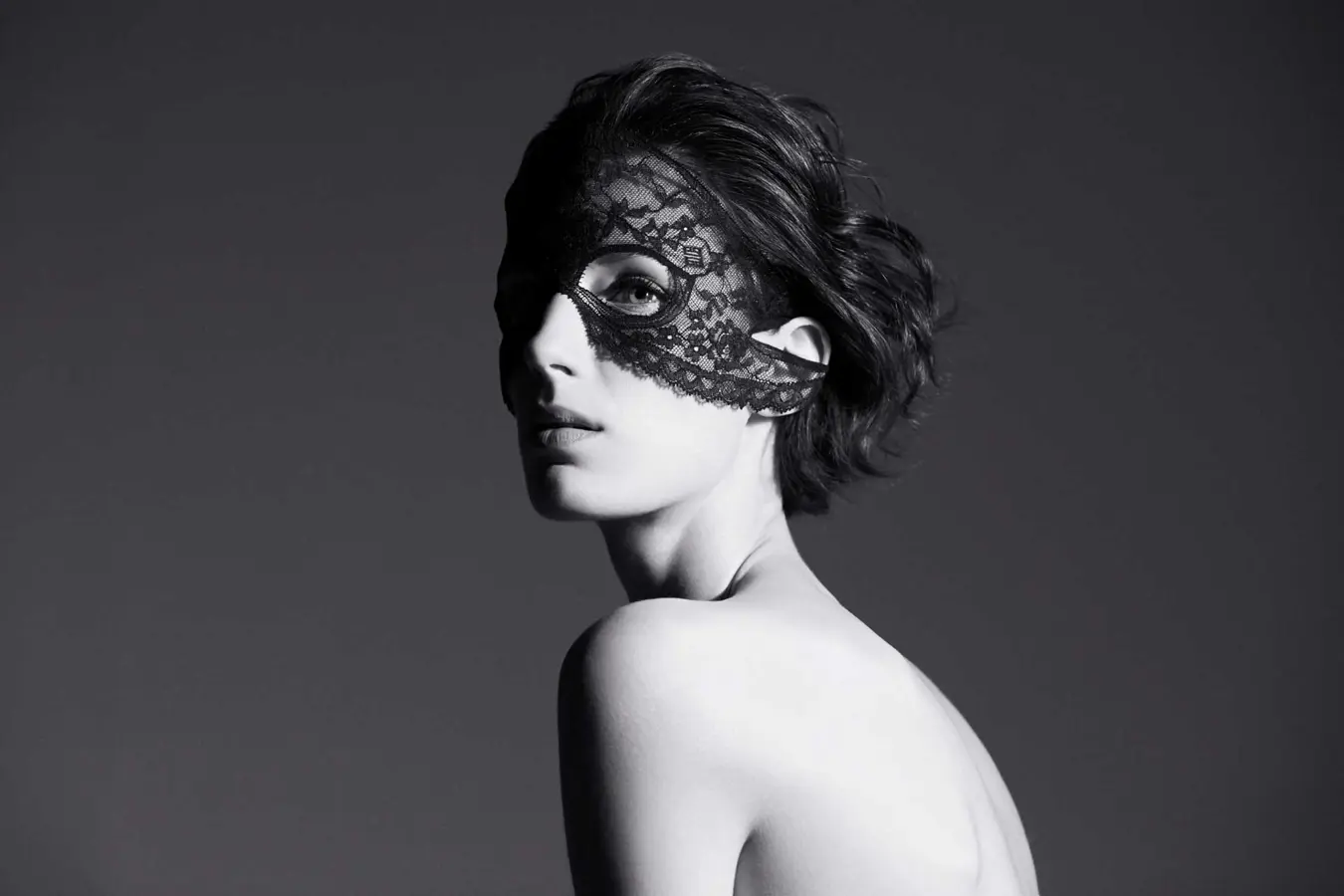 Givenchy. Le Soin noir, la Masque Dentelle Regard. Copyright © Mohamed Khalil.
La Prairie. Skin Caviar Eye Lift. Copyright © La Prairie.
Estée Lauder. Revitalising Supreme+Night. Copyright © Estée Lauder.
A lace mask created for Givenchy according to traditional Calais methods and an exceptional black formula are combined to revitalise the eye zone. The unique experience of a Haute Couture treatment. Filled with the active ingredients of Le Soin Noir, the Masque Dentelle Regard delivers an intense anti-aging infusion with the tightening effect of lace. In ten-fifteen minutes, wrinkles around the eyes are diminished and the face radiates youth. On this issue the beauty treatments by Givenchy, La Prairie, Estée Lauder and Guerlain.
Sponsored content
The Villiers network aggregates over 10,000 aircraft, through 40,000 destinations worldwide. Search and compare private jets worldwide with
Villiers
.

You might be interested in
Avion Luxury Magazine #23/2019
Editor in Chief: Angela Trivigno. Contributors: Franco Bruno, Alex D'Agosta, Lisa Maria River, Francesco Salerno, Alisè Vitri. Translations: Juliet Halewood. Photos contributors & Press Offices: A. Lange & Söhne; Acqua di Parma; Alia Yachts (Photos Credits Jeff Brown); Aston Martin Lagonda Limited; Automobili Lamborghini S.p.A.; Aviazione Generale Aeroporto Cagliari; Baglietto S.p.A.; Beauty and Luxury; Benetti - Azimut Benetti S.p.A.; Bentley Motors Ltd; Bugatti Automobiles S.A.S.; Camille Vivier for Dior (Dior Haute Couture); Cessna Aircraft Company/Textron Aviation Inc.; Chanel Haute Couture; de Grisogono S.A.; Dessault Aviation/Dessault Falcon Jet Corp.; Dior Haute Couture; Dior High Jewellery; Dior; Dolce & Gabbana S.r.l.; Eccelsa Aviation S.r.l.; Embraer Executive Jets; Estée Lauder Companies (London); Ferrari S.p.A.; Gaultier Paris Haute Couture; G.E.T. Grace Executive Tourism; Georges Chakra Haute Couture; Giorgio Armani Privé; Givenchy; Grazia Lotti Relazioni Pubbliche; Gruppo Lvmh; Guerlain; Gulf Craft; Gulfstream Aerospace Corporation/General Dynamics Company; Guo Pei Paris Haute Couture; Harry Winston Timepieces; IWC Schaffhausen; Jaeger-LeCoultre/Richemont International SA; La Prairie S.p.A.; MB&F SA; Passaparola Relazioni Pubbliche; Piaget (Richemont Italia S.P.A.); Pininfarina S.p.A. Head of Communication; Porsche Italia S.p.A./Dr. Ing. h.c. F. Porsche AG.; Pressjam Snc; PressReader/NewspaperDirect Inc.; Ralph & Russo Haute Couture; Roger Dubuis; Rolex Italia S.p.A.; Rosewood Hotels/Rosewood Baha Mar; Sand People Communication; Sculati & Partners; Sea Prime S.p.A.; Shutterstock, Inc.; Sky Services S.p.A.; TAG Farnborough Airport; Tankoa Yachts S.p.A.; Tiffany & Co.; Tom Ford Beauty; Tom Kuest/Shutterstock; Ufficio Stampa Richard Mille; Universal Weather and Aviation, Inc.; Vacheron Constantin/Richemont International SA; Viktor&Rolf Haute Couture; Yannis Vlamos for Gaultier Paris Haute Couture; Ziad Nakad Haute Couture (Imaxtree for Méphistophélès). Sisterscom.com Snc photos archive: licenza acquistata da Shutterstock Inc./Shutterstock.com: © Copyright Chz_mhOng; Tom Kuest. Frequency semiannual (Winter 2019-2020). Avion Luxury Magazine N23/2019-2020, published 31/11/2019. Registration Tribunale di Bergamo (Italy) N5 27/02/2009 and N6 3/07/2019 Registro Stampa. Publisher, Management, Administration ans Advertising: Sisterscom.com Snc di Annalisa e Angela Trivigno - Via Piave 102, 23879 Verderio (LC) Italy. Registro delle Imprese di Lecco - Numero LC-304260 - P. IVA/C.F. 03248170163. Literary and artistic property: © Copyright Sisterscom.com Snc. All rights reserved. Reproduction prohibited.